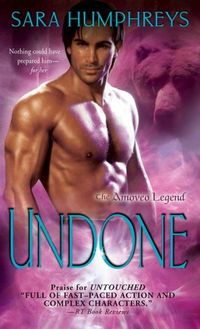 Purchase
Amoveo Legend #4
Sourcebooks Casablanca
May 2013
On Sale: May 7, 2013
Featuring: Pete Castor; Marianna Coltari
288 pages
ISBN: 1402258526
EAN: 9781402258527
Kindle: B00B2AO78I
Paperback / e-Book
Add to Wish List

The Amoveo are shapeshifting animal clans who live secretly among humans and must find their pre-destined soul mates while avoiding the enemy that seeks to destroy them all.
Party girl Marianna Coltari is an unmated pureblood Amoveo who wants nothing to do with the ongoing war that took her father's life and continues to consume her brother Dante's. But when she is targeted by one of the clans, she has little choice but to run and hide in a cabin with Pete Castro, a retired cop from her brother's security firm. There, Pete and Marianna explore an intensifying attraction between them until danger is at the door and there's no escape.
Amoveo Legend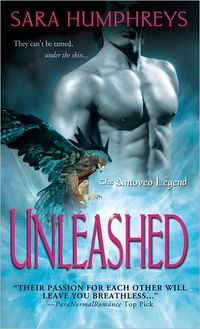 Unleashed
#1.0
Amazon.com | BN.com | | |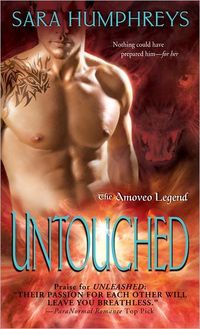 Untouched
#2.0
Amazon.com | BN.com | | |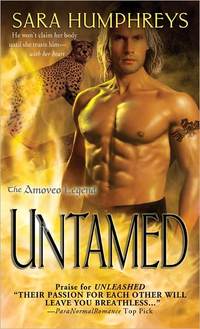 Untamed
#3.0
Amazon.com | BN.com | | |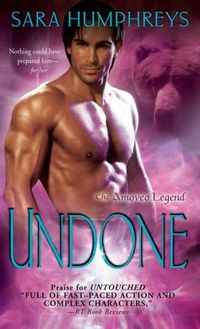 Undone
#4.0
Amazon.com | BN.com | | |
Comments
40 comments posted.
Re: Undone

I love the covers! I agree with you..what makes a romance hero attractive is not necessarily his looks but his protectiveness, desire and loyalty.
(Bonnie Capuano 5:29am May 16, 2013)
Funny enough, those are my top qualities as well. I would
maybe add intelligent to the list, though, since I'm a nerdy
guy fan.
(Karin Anderson 8:42am May 16, 2013)
I also want him to be able to comfort her. Reading a Sabrina Jeffries now and he is doing all except the humor; that will probably come.
(Leona Olson 9:02am May 16, 2013)
When I look for a book, the cover has to grab my attention.
Yours definitely does. Can't wait to read the next book in
the series.
(Tina Meissinger 9:06am May 16, 2013)
Hi Bonnie, Karin, Leona and Tina! Glad to see you gals agree with my list but I'd
agree that intelligence is important as well. A hot book cover will most definitely
grab my attention but the hero I see in my mind, never matches what's on the
cover. How about you?
(Sara Humphreys 9:47am May 16, 2013)
I would say that he would have to be smart, and a bit of an adventurer. By that I mean that he would like to go out and do things with his lady, but also enjoy being at home, snuggling under the covers with his lady!! As far as the other categories, you hit those on the head. Your book sounds great, and the cover isn't too shabby, either!! I can't wait to read it!!
(Peggy Roberson 9:58am May 16, 2013)
I agree with a sense of humour and loyalty! :) I also need intelligence (or at least streetsmart), kind and brave!
(May Pau 10:07am May 16, 2013)
I really like the 4 your listed. I would also add smart. I like smart men.
(Pam Howell 10:07am May 16, 2013)
Your readers seem to agree. The list is pretty much the same
for each of us. Love the cover.
(Mary Hay 10:14am May 16, 2013)
Peggy, May Pau and Pam--I can't believe I left smart off the list. D'oh! I should
amend my post and add intelligence. Nuts.
(Sara Humphreys 10:15am May 16, 2013)
Thank you, Mary!
(Sara Humphreys 10:16am May 16, 2013)
Integrity, Intelligence, Wit/Humor, and the Quiet Strength one needs. I think respect, passion, and general stability are also very great qualities.
(Carla Carlson 10:32am May 16, 2013)
Hi Sara
I love a hero who is sexy, affectionate, protective and funny!
(Nicole Laverdure 11:09am May 16, 2013)
i love the hero that is sexy loving and would do anything for
the women he loves
(Denise Smith 11:54am May 16, 2013)
Qualities of a hero are, honesty, loyalty, charisma, and of course he's got to be
protective!
(Lazydrag0n Puff 12:04pm May 16, 2013)
Hero qualities... loyalty, being protective, & intelligent. :)
(Colleen Conklin 2:52pm May 16, 2013)
HI Carla, Nicole, Denise, Xoun and Colleen--Thank you all so much for coming
by! I like the idea of quiet strength and of course there's charisma but that's so
hard to define. What makes a man charismatic? I think either ya got it or ya
don't.
(Sara Humphreys 4:00pm May 16, 2013)
Laughter is such a very important quality. Patience is another quality that's important. To be able to wait & put up with someone's quirks is all a part of patience.
(Laura Gullickson 4:15pm May 16, 2013)
my must have top quality in a hero is handsome, muscular and brave
(Shirley Younger 4:22pm May 16, 2013)
a sense of humor is so endearing
(Debbi Shaw 4:33pm May 16, 2013)
Loyalty, strength, kind-heart :)
(Aimee Robison 4:36pm May 16, 2013)
Loyalty would be the top one.
(Wilma Frana 5:07pm May 16, 2013)
I agree with all four of your points. He can be scarred up and scary looking but if he's protective, loyal, generous and can laugh and make you laugh that is all you need. I just finished Untouched and I will say I love love love your series and will be looking for them all.
(Annetta Sweetko 5:14pm May 16, 2013)
Loyalty and a sense of humor.
(Mary C 5:44pm May 16, 2013)
I agree with all your qualities and would add smarts, honesty and respect both given and demanded of. Now if only we could find such a man in real life!
(Janis Milford 6:23pm May 16, 2013)
I definitely agree with those four qualities, along with the rogue-type. The smart, does what he wants, adventurer is my ideal (fictional) man.
(Austine Decker 7:11pm May 16, 2013)
I love loyal and honest. Also has a sense of humor. Thanks for a chance to win.
(Linda Hall 8:03pm May 16, 2013)
Yes, I agree Protective Instincts, Loyalty, Generous Lover, A
Sense of Humor and also Add Common Sense, Intelligence,
Charisma, Sexy Body, My Lover and My Friend to the End. Wow,
I Love the book covers and would love to win your great
contest too. Thank You, Cecilia CECE
(Cecilia Dunbar Hernandez 8:41pm May 16, 2013)
I like all your points, and I'd add honorable and intelligent.
(Janie McGaugh 8:53pm May 16, 2013)
Quick wit, athletic!
(Darci Paice 9:16pm May 16, 2013)
care about others
loyal
strong
big heart
love the cover
thanks for the chance
(Jennifer Beck 10:28pm May 16, 2013)
He has to be intelligent, brave, and honorable with a sense of humor.
(Kai Wong 11:30pm May 16, 2013)
most important is that they care more about others than their own self...love the cover..it draws you in...love to win
(Kimberly Hoefs 11:56pm May 16, 2013)
I like a team player -- the hero who works with his heroine to solve problems. She's part of him and her opinions matter.
(Lenna Hendershott 3:06pm May 17, 2013)
Thank you all for coming by! What I love about all of your lists is that there's
little mention of physical attributes and that's cool. Thank you all so much for
coming by and I do hope you'll try the Amoveo Legend series. I should mention
that you can download a forever free short story called UNDENIED on either
Amazon or BN. It's a great way to try the series.
(Sara Humphreys 3:11pm May 17, 2013)
I love a witty and intelligent hero who's loyal and trustworthy!
(Anita H 2:58am May 18, 2013)
He must be intelligent, honorable & a have a wonderful sense
of humor.
(Mary Preston 4:25am May 18, 2013)
Four top qualities - I'd want them myself! I would add intelligence as if a guy is too slow I may like him but could not love him.
(Clare O'Beara 7:04am May 19, 2013)
Sense of humor, intelligence, honesty, loyalty
:)
(Penny Mettert 7:14pm May 20, 2013)
I can't believe that I left "intelligent" off the list. That wasn't very intelligent on
my part. LOL. Thanks for the cover love, ladies! I have to give the art department
at Sourcebooks all the props for that.
(Sara Humphreys 9:59am May 22, 2013)
Registered users may leave comments.
Log in or register now!