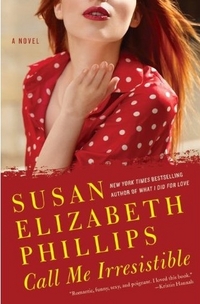 Purchase
The wedding of the decade... Ted Beaudine and ...
William Morrow
January 2011
On Sale: January 18, 2011
Featuring: Meg Koranda; Ted Beaudine; Lucy Jorik
400 pages
ISBN: 0061351520
EAN: 9780061351525
Kindle: B003ZSHULQ
Hardcover / e-Book
Add to Wish List

Other Editions
Paperback (reprint - September 2011), Paperback (April 2012)
RSVP TO THE MOST RIOTOUS
WEDDING OF THE YEAR!
Lucy Jorik is the daughter of the former President of the United States.
Meg Koranda is the offspring of legends.
One of them is about to marry Mr. Irresistible—Ted Beaudine—the favorite son of Wynette, Texas. The other is not happy about it. Not happy at all....
But even though Meg knows breaking up her best friend's wedding is the right thing to do, no one else seems to agree. Faster than Lucy can say, "I don't," Meg becomes the most hated woman in town. A town where she's stuck with a dead car, an empty wallet, and a very angry bridegroom.
Broke, stranded, and without her famous parents at her back, Meg is sure she can survive on her own wits. What's the worst that can happen? Lose her heart to the one and only Mr. Irresistible? Not likely. Not likely at all....
Videos

Reader Letter 2011
Comments
17 comments posted.
I just finished reading Fancy Pants for about the third time and was wondering what was going to happen to Teddy when I read on the web about Call Me Irresistible. I can hardly wait for it to be in paperback. I was disillusioned with romantic fiction until I read Natural Born Charmer. Since then I have read about 20 of your books. They are the only books on the market that have Humour as well as sex,action and story.
(Betty-Jane Hanna 5:07pm January 2, 2011)
Can't wait. From what I understand, she rarely attends book signings. I'm so excited to have the chance to meet her. Love her books!
(Maria Munoz 12:20pm January 15, 2011)
Sounds like an awesomely sinful experience.
(Lisa Richards 7:32pm January 15, 2011)
It would be such a wonderful experience, but I have duties at home and will have to sit here and watch the snow fly. I'll be thinking of all of the lucky ones that get to not only eat things I've never had before, but hear from such a lovely author!
(Peggy Roberson 10:47pm January 15, 2011)
Come North sometime. What do we have to do in Michigan when the snow flies?? I stock up on books and read!!!
Wish I could go to your tea instead!
(Winnie Kowalski 7:30pm January 16, 2011)
WOW sounds like a great event!! Wish I could attend cuz I love her books.
(Vickie Hightower 11:41pm January 16, 2011)
The last time I went to Rose Cottage Tea Room in Ohio, the plate of small sandwiches with egg salad, chicken curry salad and date nut bread was superb. The mix of tea cups with nothing matching reminded me of real shabby chic, how frugal. I love hearing about good places to eat and shop.
(Alyson Widen 1:35pm January 18, 2011)
This will be an excellent occasion with a wonderful author!! Her books always brighten a doldrum day!!
(Charlotte Zimmerman 2:05pm January 23, 2011)
Sounds like alot of fun but I wish you would come to Oregon.
(Vickie Hightower 6:33pm January 23, 2011)
Ted Beaudine - I love your books. The messes your girls get into on the way to romance are great!
(Caroline Kolb 7:09pm February 19, 2011)
Ted Beaudine

I thought the name was familiar. No wonder, if we've read about his daddy.
(Sigrun Schulz 1:03am February 21, 2011)
Ted Beaudine:
I have already written to Susan telling her how much I enjoy reading her books. Other authors could & should pattern their styles of writing to resemble hers.She has humour where other romance authors lack it.

Betty -J Hanna
(Betty-Jane Hanna 2:37pm March 2, 2011)
Ted Beaudine
(Patricia Kasner 4:02pm March 5, 2011)
Ted Beaudine
(Audra Holtwick 8:31pm March 5, 2011)
Ted Beaudine
(Kimberley Coover 11:52am March 6, 2011)
Ted Beaudine
(S W 2:12pm March 16, 2011)
Ted Beaudine

Can't wait to read this book.. Thanks
(Brenda Hill 8:24pm March 16, 2011)
Registered users may leave comments.
Log in or register now!