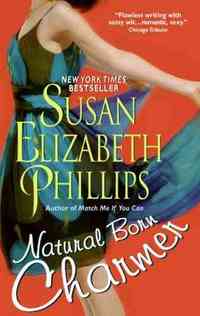 Purchase
Natural Born Charmer is for everyone who's ever thought about leaving their old life in the dust and never looking back.
Chicago Stars #7
Avon
May 2008
On Sale: May 1, 2008
Featuring: Blue Bailey; Dean Robillard
400 pages
ISBN: 0060734582
EAN: 9780060734589
Kindle: B000OI0E4K
Mass Market Paperback / e-Book (reprint)
Add to Wish List

Chicago Stars quarterback Dean Robillard is the luckiest man in the world: a bona-fide sports superstar and the pride of the NFL with a profitable side career as a buff billboard model for End Zone underwear. But life in the glory lane has started to pale, and Dean has set off on a cross-country trip to figure out what's gone wrong. When he hits a lonely stretch of Colorado highway, he spies something that will shake up his gilded life in ways he can't imagine. A young woman . . . dressed in a beaver suit.
Blue Bailey is on a mission to murder her ex. Or at least inflict serious damage. As for the beaver suit she's wearing . . . Is it her fault that life keeps throwing her curveballs? Witness the expensive black sports car pulling up next to her on the highway and the Greek god stepping out of it.
Blue's career as a portrait painter is the perfect job for someone who refuses to stay in one place for very long. She needs a ride, and America's most famous football player has an imposing set of wheels. Now, all she has to do is keep him entertained, off guard, and fully clothed before he figures out exactly how desperate she is.
But Dean isn't the brainless jock she imagines, and Blue— despite her petite stature—is just about the toughest woman Dean has ever met. They're soon heading for his summer home where their already complicated lives and inconvenient attraction to each other will become entangled with a charismatic but aging rock star; a beautiful fifty-two-year- old woman trying to make peace with her rock and roll past; an eleven-year-old who desperately needs a family; and a bitter old woman who hates them all.
As the summer progresses, the wandering portrait artist and the charming football star play a high-stakes game, fighting themselves and each other for a chance to have it all.
Chicago Stars

Match Me if You Can
#6.0
Amazon.com | BN.com | | |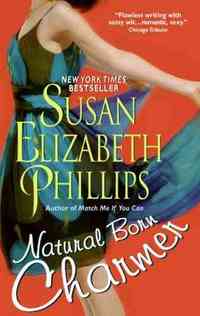 Natural Born Charmer
#7.0
Amazon.com | BN.com | | |
Comments
47 comments posted.
I think this sounds like SUCH a fun book!!
(Pamela Shockley 7:37pm December 31, 2008)
Must Read Book. Love Contemporary humor as this has it ALL. Well a headless beaver for one thing. Now I ask you, You just have to find out more about this dang beaver..LOL plus all the rest of the Fun. Even a bitter old woman that hates everyone..now that is classic. Woot Woot gotta get this book.
(Shirley Sego 11:19am January 31, 2010)
This is a must read book.
(John Ferris 12:33pm January 31, 2010)
I have read almost all of her books. I have always liked the
ones about the Chicago Stars. Great review, if I had not read
the book, I would go out and get it
(Sharon Salituro 12:10pm August 3, 2014)
The opening scene in this one was fantastic and hilarious- I
always laugh out loud (and in public) when reading a SEP
novel.
(Sara Edmonds 9:14pm August 4, 2014)
I'm thinking that it's time for me to go and re-read this book and the rest of the Chicago Stars!! I love SEP's description in this excerpt. I have always thought that this would be the best book trailer ever!
(Cate Sparks 7:19am August 7, 2014)
I need to reread this now. thanks for the great review and reminding me
how much I loved this book.
(Kathleen Christopher 7:26am August 7, 2014)
I have read every book this author has written and have been a fan for a
very long time. As noted in the review, the peripheral characters bring such
added delight to the already wonderful stories. In Natural Born Charmer it
was the little sister story that I fell in love with. Chubby, unloved and hungry
for affection, i saw a lot of the 11 year old me in that child. Loved how SEP
brought her out of the shadows! That was the charmer for me!
(Lyn Foote 7:42am August 7, 2014)
Natural Born Charmer is my all time favorite SEP book!! It is my go to comfort read whenever I am feeling down :) I also have to say this book is what turned me onto audio books. It is my all time favorite audio and Anna Fields narration is just amazing. Even if audio isn't your thing & you love this book I promise you have to listen. Sadly Anna Fields dies of breast cancer but she lives on through her narration of SEP books. Great Review!!
(Kelly Watson 7:46am August 7, 2014)
SEP BOOKS are the best. Your review was right on for anyone new to
SEP's books.
(Shelley Haag 7:46am August 7, 2014)
I have all her books and read them over and over. This one was one of my
favorites. Look forward to each new book coming out. Now I will go read
this one again while waiting for Heroes to arrive.
(Susan Perry 8:16am August 7, 2014)
This book never fails to crack me up! I reread it every now
and then.
(Rebecca Whitehead-Schwarz 8:16am August 7, 2014)
Natural Born Charmer is my fav SEP - easily! The characters,
every single one, are a joy. I laughed, cried, and laughed
some more! Blue is a real firecracker and Dean is, of
course, a charmer. But I also loved the back story of his
parents falling back in love. It's a wonderful book and
deserves a place in the Hall of Fame for romance books!
(Janet McCausland 8:28am August 7, 2014)
Love love loveee this book! And all of SEP's it's an amazing read and you
won't want to put it down! I especially love her novels because she finds
way for past characters to enter is new books, you get so attached to the
characters when reading and having them appear again brings a special
connection. I could (and do!) read any of her novels over and over again!
(Melli Carfagno 8:32am August 7, 2014)
One of my favorites!
(Nicole Giles 8:39am August 7, 2014)
The book hooked me from the beginning too! Wonderful characters, a storyline that ran the gamut of emotions, simply a feel good book! Susan Elizabeth Phillips is a woman who knows how to tell a story!!!
(Pam Cook 8:45am August 7, 2014)
I love SEP! I listen to her books all the time. The combination of SEP and
Anna Fields as a narrator, was fantastic. This is my favorite of her books!
(Mercy Boujarwah 8:45am August 7, 2014)
I have read every Chicago Stars books. I have reread NBC numerous
times. It took me awhile to appreciate her storytelling and her humor. I
think at the time I was too used to reading light and fluffy stories. SEP is
anything but! NBC especially has an underlying depth to the story as well
as back stories that it takes a while for you to stop and say "Whoah! I am
holding a real treasure!" My other favorite is Match Me If You Can. Then
again so are all the others in the series!
(Daniela Caldarola 8:51am August 7, 2014)
I love this book. The main character's chemistry is fantastic ! I also love the
comedy in the book.
(Lois Koch 9:13am August 7, 2014)
I first found SEP with the Chicago Stars books. Being from
Chicago intrigued me, and I love all her books! Now I need to
go start rereading the series :)
(Jenny Wilson 9:20am August 7, 2014)
Blue is, by far, my favorite heroine. I have dipped into the
pool of SEP brilliance on many occasion. I reach for "NBC" on
a regular basis, when I a need the comfort and joy of a good
friend.
(KiKi Zaugg 9:22am August 7, 2014)
LOVE IT! I've loved every book in this series and all her others as well!
(Jessica Alcazar 9:26am August 7, 2014)
Love,Love,Love this book! Romance
and Comedy makes for a great read :)
(Kera Tavares 9:48am August 7, 2014)
My all time favorite book of all time, period. It's my 'comfort' food of books.
Wouldnt it make an amazing movie?? I have listened to the audiobook at
least eight times, and have bought copies of it, and the book, to share. Anna
Fields is also my all time favorite narrator. I was crushed to learn of her
death in a Portland, Oregon flood.
(Mary Beth Miller 10:08am August 7, 2014)
I loved this book and series
(Patricia Wagner 10:26am August 7, 2014)
Thanks so much for your lovely comments. And thanks to Tessa Dare for her
remarks about the book. One of the things I enjoyed most about this book was
writing Jack and April. Fun to also include an older couple. My husband gave me
the idea for the beaver suit! (Don't ask!) :-)
(Susan Elizabeth Phillips 12:24pm August 7, 2014)
I love quirky heroines but ones that have heart , soul and a brain....Blue is
one of those. She and Molly have got to be two heroines that have tugged
at my heart every time I read their books or think of books that have stayed
with me a long time. This book has a nice chunk of fun, love and soul. All
the characters have depth , a good story of their own and touched this
reader enough to want more....I hated when this book ended ..... Great
choice Tessa! And I would have also worried about the PJ's! BTW, your
heroines are keepers too!
(Hope Stern 12:32pm August 7, 2014)
How could I have not heard of SEP until last year?? I have remedied that,
however, and have read every book. Can hardly wait for HEROES....
(Mary Minjares 12:36pm August 7, 2014)
Love this book! In fact every SEP book is
absolutely amazing but there's just
something special about Dean & Blue!
(Nicole Delfs 1:40pm August 7, 2014)
This book is Susan Elizabeth Phillips at her best (and that's saying a lot). Humor, poignancy, healing and self-discovery. If that's not enough, it has the BEST final scene. I defy you not to laugh out loud.
(Debora Zamacona 10:12pm August 7, 2014)
Susan Elizabeth Phillips' books are always enjoyable.
(Kim C 3:17pm August 11, 2014)
I liked this book. so funny.
(Kim C 3:24pm August 11, 2014)
This is one of my two favorite SEP books. (The other is Ain't She Sweet.) I love Blue, the beaver costume, QB hero Dean, the locale, everything. Thanks for the column, Tessa. (And I hope you found great pajamas.)
(G S Moch 1:58pm August 19, 2014)
I've read all of Susan's books and anxiously await her next
one.
(Diane Sallans 8:53pm August 22, 2014)
I'm from Slovenia and i love Susan! She came in Slovenia
once for an interview and slovenian readers just love her!
I've read lots of Susan's books and one of my favourite in
Kiss an Angel and I'm in love with the whole Chicago stars
series...ah, who am I kidding. All Susan's books are just
dinamite! I buy them too because not only they are a must
read but also a must have!
Couple of days ago I entered a quiz who is your Susan's hero
guy and i got Dean Robillard :)
(Irma Jurejevèiè 7:23am August 23, 2014)
SEP's Chicago Stars titles are wonderful and, Natural Born Charmer is no
exception. Go MAINE!!!
(Linda Spearing 7:40am August 23, 2014)
Natural Born Charmers is easily my favorite SEP! It drew me
in, right from the first page. Blue was feisty and spunky,
and her exchanges with Dean were laugh out loud funny! I
loved that he had to actually work to get Blue, and her
crush on his rock star father really made me giggle. All the
characters were so real and interesting and I absolutely did
NOT want their stories to end. I have a Keeper bookshelf
with my favorite books, and the top shelf is Hall of Fame;
once a book makes it there, it's hit the big time and has
found A Forever Home! SEP has two books on that shelf -
Natural Born Charmer and Call Me Irresistible! I love me my
SEP!
(Janet McCausland 8:26am August 23, 2014)
I loved this book, from the beginning to the very end.
(Robin Self 9:48am August 23, 2014)
Love all of Susan's books. Can't wait for the release of the
Heroes are my Weakness
(Julia Levit 1:24pm August 23, 2014)
Natural Born Charmer is one of my favorite all time books. I
still laugh when I think of Blue and her beaver costume - love
it.
(Janie Burke 4:50pm August 23, 2014)
I feel Blue's pain. I spent a few months as Woody Woodpecker. Love a
book that makes me laugh.
(Pat Freely 2:10am August 24, 2014)
I love Susan Elizabeth Phillips books and was lucky enough to attend one
of her book signings in the past. I took all my SEP books (up until the date
of that signing) and she autographed them all! So Fun!
(Shelley Maier 1:46pm August 24, 2014)
I love all of Susan Elizabeth Phillips' books, and her Chicago
Stars series is one of my favorites.
(JoAnn Andrade 2:15pm August 24, 2014)
I love all of Susan E. Phillips books! Am eagerly awaiting Heroes are My
Weakness!
(Susan Scheelk 3:11pm August 24, 2014)
What pajamas did you end up wearing at SEP's house? I would have been nervous wondering what to wear at her house too! How did you end up choosing the name Blue as the heroines name? Congrats on the release Tessa- I look forward to reading it!
(Christine Arcidiacono 8:56pm August 24, 2014)
This is one of my favorites. It was a laugh-out loud story.
(Cheryl Castings 11:36am August 25, 2014)
I know what you mean about Blue. I have always enjoyed SEP
books and her characters. She is one of the reasons I read
today. Like Blue and yourself I love to sleep in Ratty old
T-shirts that have been adjusted on the neckline, thanks to
my mom. Blue is one of those characters that stays with you
and give you the spirit to do things. Love that book!!
(Tina Ullrich 12:51pm August 26, 2014)
Registered users may leave comments.
Log in or register now!