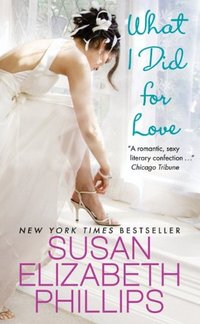 Purchase
New in mass market, this is a witty, fun novel from New York Times bestselling author Susan Elizabeth Phillips, one of the most beloved figures in women's fiction.
Avon
January 2010
On Sale: December 31, 2009
Featuring: Georgie York; Bramwell Shepard
416 pages
ISBN: 0061351512
EAN: 9780061351518
Mass Market Paperback (reprint)
Add to Wish List

How did this happen? Georgie York, once the costar of America's favorite television sitcom, has been publicly abandoned by her famous husband, her film career has tanked, her father is driving her crazy, and her public image as a spunky heroine is taking a serious beating.
What should a down-on-her-luck actress do? Not go to Vegas . . . not run into her detestable former costar, dreamboat-from-hell Bramwell Shepard . . . and not get caught up in an ugly incident that leads to a calamitous elopement. Before she knows it, Georgie has a fake marriage, a fake husband, and maybe (or not) a fake sex life.
It's a paparazzi free-for-all, and Georgie's nonsupporting cast doesn't help. There's Bram's punk-nightmare housekeeper, Georgie's own pushy parent, a suck-up agent, an icy studio head with a private agenda, and her ex-husband's new wife, who can't get enough of doing good deeds and saving the world—the bitch. As for Georgie's leading man, Bram's giving the performance of his life, but he's never cared about anyone except himself, and it's not exactly clear why.
Two enemies find themselves working without a script in a town where the spotlight shines bright . . . and where the strongest emotions can wear startling disguises.
Videos

Love finds a way?

A Dear Reader Letter From SEP
Comments
8 comments posted.
Some of my favorites this year
were According to Jane by
Marilyn Brant, Fire Me by Libby
Malin, and A Most Lamentable
Comedy by Janet Mullany.
(Margay Roberge 9:17am December 29, 2009)
On my favorite list this year are "Twisted Creek" by Jodi Thomas, "Amazon Ink" by Lori Devoti, and all 3 of Betty Hechtman's crochet mystery series.
(Kay Martinez 11:22am December 29, 2009)
Caridad's Sins of the Flesh, mark Haddon's the curious incident of the dog in the night-time, and all three of Steig Larsson's Dragon Tattoo
(Karin Tillotson 2:54pm December 29, 2009)
Some of my favorites: Broken Wing by Judith James, Raven Prince by Elizabeth Hoyt, The Lover by Robin Schone, and Dragonfly in Amber by Diana Gabaldon
(Armenia Fox 3:46pm December 29, 2009)
The Wild Things by David Eggers & Her Fearful Symmetry by Audrey Niffenegger
(Mary Preston 6:26pm December 29, 2009)
I enjoyed Nalini Singh's Branded by Fire, Shiloh Walker's Hunter's Need, Julie Garwood's Sizzle and Nora Roberst's Black Hills
(Diane Sadler 7:19pm December 29, 2009)
Amenia- I didn't see the Robin Schone, and must go get it right away.

Diane- I got Nora's Black Hills for Christmas- the only reason it didn't make the list yet. But I will be reading it right away.
(Sara Edmonds 8:07pm December 29, 2009)
Sounds pretty damn great to me!!!
(Michele Powell 2:15am December 11, 2010)
Registered users may leave comments.
Log in or register now!