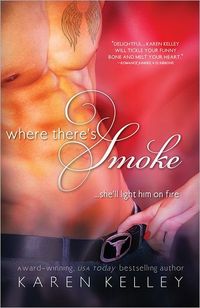 Purchase
she'll light him on fire...
Sourcebooks Casablanca
May 2012
On Sale: May 1, 2012
Featuring: Destiny Carter; Chance Bellew
304 pages
ISBN: 1402263864
EAN: 9781402263866
Kindle: B007GAHTME
Trade Size / e-Book
Add to Wish List

Romance Paranormal | Romance Erotica Sensual
The Devil Went Down to Texas...
Sexy wannabe demon Destiny Carter has pissed off the people downstairs and has been kicked out of hell.
Now she's in Ft. Worth, Texas with one week to corrupt a soul. Or else.
Lookin' For Just One Soul to Steal...
When smokin' hot Destiny strolls into the Stompin' Ground bar in a slinky red dress, she has a feeling her assignment might not be so bad. The cowboy at the bar looks pretty darn delciious and oh–so–corruptible.
But Chance Bellew is no ordinary cowboy, and Destiny gets away more than she bargained for when she rubs up against the sexy dark angel perched on a barstool like sin just waiting to happen...
Comments
51 comments posted.
I am not a big paranormal fan but this books sounds interesting. Ghosts and Vampires seem creepy to me but two angels that are not so angelic should make an unusual story.
(Kathleen Yohanna 1:23am May 25, 2012)
wow i would love this book it sounds so good
(Denise Smith 7:33am May 25, 2012)
happy long weekend for the start of the summer. sounds like a good book to read, thanks for sharing,

Julie
(Julie Barett 8:16am May 25, 2012)
This sounds like a very good book to read...I love two angels getting into trouble. HA Thanks!!!
(Bonnie Capuano 8:17am May 25, 2012)
I love the sound of this book, I love the idea of the heroine being bad instead of the tall, dark hero.
(Barbara Hanson 8:22am May 25, 2012)
ooooooooo this sounds SO good! def want to read, even if I don't win! Thanks for the chance!!!
(Angie Lilly 8:34am May 25, 2012)
Love paranormals so can't wait to read it!
(May Pau 11:07am May 25, 2012)
This is an interesting premise - I like the idea of having to steal a soul "or else". Sounds great!
(Rebecca Whitehead-Schwarz 11:42am May 25, 2012)
I like they way you get humor into your books, especially the silliness of the persons of Nerek. My favorite is Close Encounters.
(Anne Jones 11:44am May 25, 2012)
The description sounds delicious!
(Catherine Lee 11:54am May 25, 2012)
I did not enroll in my last class in high school, so that I could make it home in time for Dark Shadows! Barnabas Collins often was in my dreams. He used to chase me until one time I killed him with a supoerball made of silver. :)
(Sandy Fielder 12:06pm May 25, 2012)
This certainly sounds like something I definitely want to read.
(Marie Manolio 12:29pm May 25, 2012)
This sounds like an intersting book and I look forward to radng it. I hope you have a great day.
(Chelsea Knestrick 1:11pm May 25, 2012)
Kicked out of Hell, you're bad. Book sounds like a great read.
(Sheila True 2:27pm May 25, 2012)
Nice cover! Plus who doesn't love a good cowboy book?
(Holly Sines 2:27pm May 25, 2012)
I saw this book over on another blog and boy has it caught my attention! SOunds great!
(Colleen Conklin 3:07pm May 25, 2012)
whoa good book ahead
(Debbi Shaw 3:46pm May 25, 2012)
This looks great! I'm really new to romance and would love to add this to my stack of books to read over the summer. Can't believe I waited so long!
(Monica Tillery 4:01pm May 25, 2012)
Hi Everyone! Sorry I'm a little late to the party. I rushing toward deadline with the third book in this series and I was caught up in the writing. LOL I was once asked if I sit in front of my computer laughing as I write--the answer is yes, I do. Well, maybe not during the love scenes.
Thanks so much for all the wonderful compliments about Where There's Smoke. LOL I liked the "or else", too. I mean, what are they going to do? Send her to Hell?
Re Close Encounters of the Sexy Kind: Did you read the dedication? If so you'll know where the idea for that series started LOL BTW, my husband gave me the name of the planet--Nerak. A few weeks after I started writing the book he asked if I'd figured it out yet. I asked what? Nerak is my name spelled backwards. Shaking my head. You'll find a lot of my relatives became "creatures" just turn the names around *smiling* I laughed a lot writing that series. Another Dark Shadows fan! Yea! I have got to see the remake with Johnny Depp. He could bite me anytime!
(Karen Kelley 4:37pm May 25, 2012)
Sounds like an interesting story! I was hoping for more camp in the Dark Shadows movie, I wanted to see more of the 70s.
(Lisa Elwood 5:04pm May 25, 2012)
I haven't read a lot of paranormal romance... (I know, I know....it's all the rage
now! Lol) This, however, sounds like a very entertaining read! I mean, really,
what does one have to do to get kicked out of hell! I'm adding this to my 'must
read' pile!
(Jane Limback 5:06pm May 25, 2012)
I want to see how someone gets kicked out of hell---that sounds like fun!
(Sue Farrell 5:07pm May 25, 2012)
Love paranormals and cowboy romances; combined...even better! This book sounds really good, and you've captured my interest. A fun read indeed! Hope I win it!
(Linda Luinstra 5:21pm May 25, 2012)
A little soul stealing after being kicked out of hell...I can't wait to read this great paranormal book!
(Rich Cook 5:40pm May 25, 2012)
Oh pick me. This book sounds great and it is now on my to read
list.
(Jennifer Denning 5:44pm May 25, 2012)
It looks like an intersting story.
(Maureen Emmons 6:28pm May 25, 2012)
I so am eager to read this book. Some day will get to met you
(Judy Flohr 6:28pm May 25, 2012)
This sounds wonderful,I'm a huge fan of paranormal, can't wait to read!
(Shana Bowman 6:37pm May 25, 2012)
I'd love to read this book and even more I'd love to win it!
(Mary Hay 7:46pm May 25, 2012)
Dropped in to wave Hi -

Love the sound of this book - and especially love the cover. It's sizzling hot!
While I loved the original B&W Dark Shadows tv series - can't say I really
enjoyed the new movie. Love Johnny Depp though. Wouldn't mine finding
him buried in my front lawn (grin).
(Donna MacMeans 9:11pm May 25, 2012)
I want to thank you for enclosing such an explosive excerpt in your posting today, otherwise I may have overlooked your book!! I have to admit that I was never into Dark Shadows. Looking back, I couldn't tell you why. I don't know if it was age, or if I was working at the time, but I never had an interest in watching it. My one Sister, however, was a religious watcher, if you could pardon the pun. Anyway, after reading your excerpt, you have now gotten yourself a new reader that has to get their hands on your book, to find out how the story unfolds!! Thank you for taking the time to write today, and best of luck with the book!!
(Peggy Roberson 9:46pm May 25, 2012)
I love paranormal romance. It's my fave genre to read and Where There's Smoke sounds like a wonderful read.
(Kristin Bingham 9:50pm May 25, 2012)
I love paranormal romance. This books sounds fantastic. I have never been disappointed by a Karen Kelley book...and I have read 'em all. Enjoyment front to back! Thanks for the giveaway. Congratulations on the new release
(Kimberley Coover 10:03pm May 25, 2012)
This sounds wonderful. Thanks for the giveaway. Demons and cowboys...oh yes. I also love series.. I am so in!
(Patti Paonessa 10:10pm May 25, 2012)
Hi Again,
Wow, y'all are a great crowd. You're good for my ego LOL I'm definitely making some conferences next year so I hope to meet a lot of you. Judy, someday we'll meet and do lunch! Wouldn't it be great if we could all sit around talking books and watching cute guys walk by. We'll call it research.
Drat, I was hoping Dark Shadows the movie would be really good. Oh well, I always wait for movies to come out on Netflix anyway. Dark Shadows soap "religiously watched" pun--cute! I love the paranormal/fantasy world because it's a magical world where anything can happen--and usually does. Ahh, thanks Kimberley! I hope you continue to enjoy my books!
(Karen Kelley 10:40pm May 25, 2012)
omg i love dark shadows. and i have alway loved the paranormal!! i can't wait to read and i did put on my wish list..thanks
(Jennifer Beck 10:58pm May 25, 2012)
Sounds very good!! Thanks for the chance to win!!
(Natasha Donohoo 12:16pm May 26, 2012)
I know I've never read a story where the heroine was kicked out of hell. Looking forward to reading WHERE THERE"S SMOKE - thanks for the giveaway!
(Mary C 12:27pm May 26, 2012)
Dark Shaddows was the only daytime series I have every watched. I want to see if Johnny Depp (Who I love can make a good Barnabus). I haven't wet my feet into paranormal yet) Looking forward to WHERE THERE'S SMOKE)
Marcia Brooks 6.55am
(Marcia Brooks 6:55am May 26, 2012)
Thanks Everyone for stopping by! I can't tell you how much fun I had. I have a free newsletter group on my website www.authorkarenkelley.com and I'm running a contest each month to give away bling-bling and a book. Enjoy! Karen
(Karen Kelley 8:17am May 26, 2012)
I loved Dark Shadows as a kid. My Dad always made me turn it
off before he went to work, darn...I also make jewelry and am
a book addict. Ask my husband :-). I have most of your books,
winning one would be cool
(Lenna Hendershott 4:30pm May 26, 2012)
Jusst came home from a wedding nice way to start the holiday weekend. Have good weather, good company and have a good safe holiday
Marcia Brooks 05-26-12 4:56
(Marcia Brooks 4:57pm May 26, 2012)
Dark Shadows was a fav of mine too; are we dating ourselves. your book sounds super good. thanks for the draw!!!
(Barbara Studer 10:05pm May 26, 2012)
I never saw Dark Shadows - was working but my daughters loved it whenever they could watch before big brother would tell them to turn off that trash. I am a big fan of paranormals too.
(Betty Breithaupt 1:25am May 27, 2012)
Karen, the first time I saw the word Nephilim was in the book Angelology. I definitely want to read Where There's Smoke. Thanks for the opportunity.
Carol L
Lucky4750 (at) aol (dot) com
(Carol Luciano 5:23am May 27, 2012)
I've been hooked on paranormal books for so long! The premise of Fallen Angels is becoming a very popular genre in the last few years.
(Diane Sadler 7:26am May 27, 2012)
This idea is wild. Did you ever base any of your characters on people you know
or people you wish you didn't? I love paranormals and I have yet to see this
particular idea in print. Looking forward to it!
(Sandra Spilecki 12:03pm May 27, 2012)
I've never been a paranormal fan, but this book sounds really interesting.
(Carol Woodruff 8:04pm May 27, 2012)
I'm a Dark Shadows fan from way back, I can remember watching
it before I really knew what vampires were! Your book sounds
great, I've enjoyed other books about the nephilim, so I
really hope I win. :)
(Dana Reeder 5:41pm May 29, 2012)
I've gradually become a reader of stranger than fiction, paranormals and other imagination stretchers. The cover is hot.
(Alyson Widen 8:53pm May 29, 2012)
Texas. Sounds like a good read.
(Leona Olson 5:31pm December 4, 2012)
Registered users may leave comments.
Log in or register now!