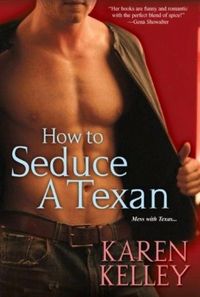 Purchase
Going country takes on a whole new meaning when big city reporter, Nikki Scott, goes undercover after her story, but football player in hiding, Cal Braxton, will make her earn every word.
Kensington Brava
June 2009
On Sale: June 1, 2009
Featuring: Cal Braxton; Nicole (Nikki) "The Barracuda" Scott; Brian Braxton
259 pages
ISBN: 0758225741
EAN: 9780758225740
Paperback
Add to Wish List

Reporter Nikki "The Barracuda" Scott will sink her teeth into anything. So when her editor sends her to get the lowdown on bad boy football star Cal Braxton, Nikki's game to rough it on his family ranch. She just isn't prepared for exactly how rough. Still, the nasty outhouse, noisy animals, and resident ghost won't put Nikki off...especially once she sets eyes (and hands, and mouth) on her subject. If there's a juicy story here, Nikki intends to devour it...
So, the lady thinks she's gonna get the scoop on him? Cal's had his fill of scheming females—hell, his conniving ex-fiancee is the very reason he's hiding out. Then again, if all journalists were as hot as Nikki, he might consider being more open with the press. Too bad she won't be around for long. If the chores and "rustic" conditions don't frighten Nikki off, her haunted accommodations surely will. Tough it turns out Nikki doesn't scare easily. Now Cal's the one who's scared—of falling hard...
Videos

What goes on behind closed doors?
Comments
14 comments posted.
Books on tape and an iPod help with #11, #12, and #18!
(Karin Tillotson 12:05pm June 4, 2009)
You sound like you have a wonderful family and life! I love your attitude! (Made me laugh)Best wishes on your new book and the series coming out next year!
(JoAnn White 12:22pm June 4, 2009)
HI Karin--LOL you're right! And less eye strain.

Awww, thanks, Jo. I have the best ever life and job.
(Karen Kelley 12:38pm June 4, 2009)
Hi Karen:
I'm waiting on How to Seduce a Texan to arrive from Amazon. I preordered after your lecture.
Loved your 20 things we didn't know about you.
Ruby
(Ruby Johnson 1:10pm June 4, 2009)
Your happiness and love comes through your '20 questions'. I have to read 'How to Seduce A Texan'. I need a good laugh.
(Rosemary Krejsa 2:25pm June 4, 2009)
What a fun blog - and great way to find out more about you! Will have to check out American Dreamer - reviews look good.
(Karen Barnett 3:02pm June 4, 2009)
Hi Ruby! Great that you could stop by. I loved pesenting that program to your group. Karl and I had a good time. I hope you enjoy the book.

How sweet, Rosemary. Thanks.

Hi Karen B, I bought American Dreamer on VCR tape years ago, used for $27. I kid you not. I had seen it one time and fell in love with it. I still have a VCR for that one movie LOL
(Karen Kelley 4:44pm June 4, 2009)
I liked the 20 questions format for your interview! Thanks for sharing.
(LuAnn Morgan 5:18pm June 4, 2009)
I have to agree, I really like the 20 questions.. and it looks like I have several books to add to my "need to get" list. Thanks
(Jo Ann Jansing 6:53pm June 4, 2009)
that was fun,anymore questions?
(Diane Sadler 7:09pm June 4, 2009)
Humor is good. There certainly isn't
enough of it in life. I love books that
make you laugh. I feel like an idiot
sitting by myself at 2 AM reading,
unable to stop laughing. I've woken
my husband a time or two. He just
stands there, shakes his head, and
goes back to bed. Laughter is good
for the soul and for your health.
If you think of it that way, you are
doing a public service.
(Patricia Barraclough 9:16pm June 4, 2009)
You're welcome, LuAnn. I hoped it would be a little different.

Hi Jo, Yes, run quickly to the store and buy all my books so you can feed my writing addiction LOL Okay, it's dark. Wait until morning.

How nice, Patricia. I owe my laughter to my wonderful hubby. He has helped me become the woman I am. At least, I'm going to blame it all on him :)
(Karen Kelley 10:24pm June 4, 2009)
HI Sara! Well, I try :)

And I can't believe you found American Dreamer at Amazon. My VCR copy is almost worn out so I think I might have to order it.
(Karen Kelley 8:30am June 5, 2009)
I can't wait to read How to Seduce a Texan. I love your books.
(Lori Duhoski 3:37pm February 13, 2010)
Registered users may leave comments.
Log in or register now!