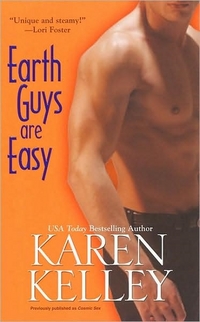 Purchase
*Previously published as Cosmic Sex
Planet Nerak #2
Kensington
July 2009
On Sale: July 1, 2009
Featuring: Kia; Nick
320 pages
ISBN: 0758217684
EAN: 9780758217684
Paperback (reprint)
Add to Wish List

Romance Paranormal | Romance Erotica Sensual
The truth is way out there…
Kia can't imagine why her cousin Mala left planet Nerak - utterly perfect in an ever-so-slightly boring kind of way - to go in search of Earth men. At least, not until she meets a virile, muscular human intent on rescuing her (how quaint!) from a bar brawl. And while at first Kia just wants undercover cop Nick Scericino to help locate her cousin...well, it would be a shame to come all this way without finding out whether everything really is bigger in Texas...
Nick knows trouble when he sees it. And right now, trouble is sitting at the bar - black-clad, sexy as hell, and about to mess up his sting operation to take down some Russian mobsters. Could she have mafia connections? Kia's certainly not like any woman he's known - flat out demanding sex, and following through with a sensational romp that leaves his mind blown and world rocked. Other options: a) she's crazy, or b) she's not kidding about being an alien. In which case, he's in even deeper trouble. Because the only thing worse than falling wildly in lust with someone who's not playing with a full holodeck is the thought that she'll soon be leaving for a galaxy far, far away...
Comments
42 comments posted.
You can make zucchini/squash sauce. Steam the squash and retain the liquid. Add a little olive oil, salt and pepper. Puree everything together. Use over pasta. The sauce is creamy and buttery. I've also sauted and baked the zucchini and added vegetable broth as a thinner.

As for music, lately, I've been into doo-wop. My parent's listened to the oldies station when I was young and I thought it was modern music. I love the harmonies!
(V Scott 8:40pm July 12, 2009)
Hi Karen. I live in Upstate New York, and my best hippie days were at Woodstock,NY. It doesn't get any better than the memories I have of living out my best hippie days there.
(Cheryl English 1:43am July 15, 2009)
I love the title of your new book !!
For the oldies songs I'd choose anything from the Suprems or Dusty Springfield, "I only wanna be with you..."
(Joeelle Jappissont 2:41am July 15, 2009)
My fav oldies may not be as old as some but its the eye of the tiger.I was born in 1970 so it was my mom that was in the sixtys shy allways love to talk about the sixtys she love that time in histry i mist it by a little.
sasluvbooks@yahoo.com
(Stacey Smith 5:05am July 15, 2009)
I remember having the biggest pair of purple sunglasses in those days, and thinking they were the absolute grooviest things around!
(Joanne Reynolds 6:36am July 15, 2009)
I've always loved the old Motown songs. As for squash wine? I'm not so sure.
Saw the book in the store yesterday. It's on my 'to buy' list (if I don't win a copy here! lol).
Have a great day.
(Kara Conrad 9:01am July 15, 2009)
Favorite music...the Beatles, especially the Revolver and Rubber Soul albums. Thanks for the column.
(G S Moch 9:27am July 15, 2009)
V Scott---that sounds so good! I will definitely try it. I also used spagetti sqaush rather than pasta and my hubby loved it. Go figure.

Cheryl---I would've loved to be there!

Thanks Emmanuelle, my fab editor came up with that title. Great song choices!

LOL, Stacey, I remember my kids listening to Eye Of The Tiger. Great song, btw.

Joanne, and white lipstick! LOL

Kara, I love anything from motown!

GS, My fav from the Beatles is Paperback Writer *snort*
(Karen Kelley 10:32am July 15, 2009)
I would try squash wine ... heck, I'll try any wine. You make it and I'll taste it :o)
(Sandy Miresse 11:51am July 15, 2009)
I was fairly young during the 60s and 70s, but I remember the tie dyed t-shirts my uncle made us. He never left his hippie days behind.

To prevent so many squash next year, nip off some of the flowers if you don't use chemicals and stuff them. Stuffed blossoms were really popular a year or two ago in restaurants. I don't have a recipe I've tried, but a google search brings up tons.
(Anne Muller 12:34pm July 15, 2009)
Congrats on the weight lose - happy gardening, eating those veggies and some treadmill

I love Yellow Submarine and Hey Jude but also saw the Sumpremes at Lake Tahoe in '68 I believe it was. Must have woren a short skirt LOL
(Barbs Ferris 1:41pm July 15, 2009)
I love anything recorded by the Beatles. We passed by Woodstock right after and saw tons of trash piled on roadsides to be picked up!!
(Joan OToole 2:15pm July 15, 2009)
Congrats on the weight loss. Anything motown for me for music. AND bell bottoms for sure!
(JoAnn White 2:19pm July 15, 2009)
Wow Congrats on your weight loss success! My parents always played oldies... I grew up listening to the 50's & 60's music alot. I guess I have a bunch of favs... :)
(Colleen Conklin 2:38pm July 15, 2009)
This is a fun way to maybe win a book. Thanks!
Marjorie
(Marjorie Carmony 2:41pm July 15, 2009)
Congrats on the weight loss! And one of my fave songs is Carry On Wayward Song by Kansas. It's especially in my head since the tv show Supernatural uses it every season finale.
(Jody Faltys 2:53pm July 15, 2009)
wish all contests were this easy.
(Metha Conley 3:44pm July 15, 2009)
I love anything by Burt Bacarach (spelling?, Simon and Garfunkle, Dusty Springfield,Elvis -- think I love everybody from that era. I have my XM radio on either 50's, 60's, 70's, Elvis Radio, or Sirusly Sinatra. Just call me a nostalgia person (who can't spell).

My favorite squash recipe is with tomatoes and onions steamed, then toss with olive oil and parmesan. Mmmm, good.

The weight loss is terrific! And, your books sounds fantastic!

Have a great summer.
(Betty Cox 4:42pm July 15, 2009)
Congrats also on your weight loss. Don't care too much for veggies-love tomatoes but they no longer seem to love me-I get gas from them so I only eat them occasionally. Some of my favorite groups from the 60's were the Mamas and Papas, Cowsills, Dusty Springfield(Loved Son of a Preacher Man & You Don't Have to Say you Love Me), Beatles, Lovin' Spoonful. I could go on & on-mostly grew up in the late 60's & early 70's.
(Joann Lord 5:28pm July 15, 2009)
Would have loved to been able to be at Woodstock. My favorite Janis song is Mercedes Benz!
(Teresa Warner 5:32pm July 15, 2009)
It sounds like you found the perfect formula for a great summer. You found you have a green thumb, lost weight without trying and wrote a great new book. Way to go.
(Rosemary Krejsa 5:41pm July 15, 2009)
I still love hearing Grease from Grease or Paul Anka's Diana or... there are so many
(Diane Sadler 5:42pm July 15, 2009)
You have the perfect formula for a great summer. You found you had a green thumb, lost weight without trying and released a great new book. Way to go.
(Rosemary Krejsa 5:48pm July 15, 2009)
I was 12 when the Beatles first came to America in 1964. I've loved their music ever since! Will never forget that my grandma had free tickets given to her to see them perform, but my mom and dad would not let me go to their concert because they said I was too young. :(
(Anna McKenrick 5:49pm July 15, 2009)
I'm a little to young to remember the 60's, but I do have distinct memories of wearing handmade ponchos. Janis is one of my favorites despite finding her music well after her death. As for the squash, my Mom used it in place of pumpkin in bread. Lots of spices to hid the fact that it was squash. Same thing for pie. If you have a lot next year you can score the skin in a design while they are young and they will form scar tissue along the lines. Cool for Halloween.
(Anne Jones 6:06pm July 15, 2009)
Congrats on the weight loss...sometimes those little changes have big effects! As far as the songs go, I'm not really a big music fanatic so I don't have any real favorites. I grew up with the 80's music so that usually gets my attention on the radio.
(Michelle K 7:40pm July 15, 2009)
Congrats on the weight loss, I recently lost a good bit of weight myself and it sure feels great.

I love the music of the late 60's & 70's. We're fortunate here to have a great radio station that plays oldies.

I listen to that station exclusively and they're even on the web, www.98Kool.com and they play the *best* music. Almost every song they play brings me a good memory and a smile to remember the 'good old days.'

If I had to name favorite artists, I'd pick the Beatles, Paul McCartney & Wings, the Carpenters, and K.C. & the Sunshine Band to name just a few, the list is looooong! LOL

Thanks for such a fun and interesting topic today!
(Kay Martinez 7:55pm July 15, 2009)
I love the oldies. I lived through them so I guess I'm an oldie now too.

I loved Leslie Gore and It's My Party and I'll Cry If I Want to. Wasn't she great? Freckles and all.
(Margie Whitten 8:14pm July 15, 2009)
Yesterday by the Fantasticks.
(Alyson Widen 8:18pm July 15, 2009)
All our veggies did well this year, too. I haven't tried squash wine...casseroles are good, though.

My favorites are the Rolling Stones and Aerosmith.
(J H 9:14pm July 15, 2009)
Congrats on the weight loss! My favorite oldie but goodie is In-A-Gadda-Da-Vida by Iron Butterfly - definitely shows my age!
(Cheryl Snyder 10:45pm July 15, 2009)
They were before my time, but I love the
greatest hits of Simon and Garfunkel!
(Sue Ahn 10:47pm July 15, 2009)
Fantastic on the weight loss!! I can't believe nobody mentioned Jimi Hendrix! He was absolutely the greatest of the sixties, along with alot of the others mentioned!!You can never go wrong with a Motown song.
(Martha Lawson 10:50pm July 15, 2009)
Anyone with a weight loss ~ Congrats...I am on a life long diet ....and ping pong back and forth...so big hand for your success with weight loss.

I love acorn squash..favorite is to bake it in the oven with butter and sprinkle of brown sugar wrapped in foil...
Yummy....small wedges can be fixed this way and cooked on outdoor grill.

Great way to perhaps WIN a Book of yours ....Sounds like a wonderful read....

Have a Great Day.

Music..Anything Frank Sinatra and I like doo wop or oldies from 42-59 ...All are good.
(Shirley Sego 11:21pm July 15, 2009)
TIME IN A BOTTLE is a favorite. It just
says so much about the way you feel
about the one you truly love.
Congratulations on how well EARTH
GUYS ARE EASY has done.
Am glad you are enjoying your
veggies. We forgot to put in yellow
squash this year. Wait until your
tomatoes come in. Boil them down
and make sauce, then freeze. We
always have more than we can deal
with. Congratulations on the weight
loss. Keep up the good work.
(Patricia Barraclough 11:31pm July 15, 2009)
I like the Mamas and papas
(Sarah Ulfers 1:29am July 16, 2009)
You know, those hippie days were fun but it really wasn't easy growing up in such a time. So much change was going on that everything was in a turmoil. But I do have fond memories. I loved the British invasion--the Beatles, etc. I can't say that I had a favorite song 'cause I loved them all.

If you squash is zucchini, try making bread. My mother made it and all of us loved it (she had the same problem, an over abundance). It freezes well and delicious heated and buttered for breakfast.
(Sandra Davis 9:07am July 16, 2009)
Hi Everyone!
What cool comments! Yep, I'll try just about any wine, too. Stuffed blossams--I'm looking that one up. Nope, no chemicals. Love Hey, Jude! Elvis--although I didn't appreciate him until his later songs.

Thanks for all the congrats on the weight loss--just a drop in the bucket but every pound loss counts.

I'm finding if I put pumpkin in brownies it pumps up the volume. The Cook Yourself Thin cookbook has been great!

I love, love, love all the comments! So many memories. I'm on my way to check out that cake recipe!
(Karen Kelley 9:42am July 16, 2009)
I've always said I was born too late - should have been a college age kid during Viet Nam instead of being born in the middle of it! Rock on, Janis!
(Kelli Jo Calvert 11:39am July 16, 2009)
Hey Karen,

Loved your post. My song would have to be anything by Elvis. My mother listened to him all the time so I grew to love him too. Otherwise, I'd have to pick AC/DC for me personally. Have a great day. Good luck on your exercising and weight loss.
(Roberta Harwell 4:31pm July 16, 2009)
Love the title!!
(Bridget Hopper 8:46am July 17, 2009)
Thanks everyone for taking the time to stop by and make a comment!!!! It was so much fun chatting with everyone. I'm guessing Fresh Fiction will draw a name for th winner of the book, but I'll check. I think that's the way thy do it.
Karen
(Karen Kelley 9:54am July 17, 2009)
Registered users may leave comments.
Log in or register now!