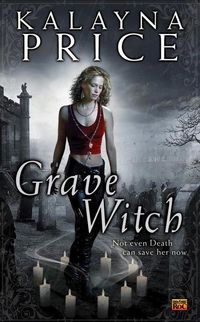 Purchase
Not even death can save her now.
Alex Craft #1
Roc
October 2010
On Sale: October 5, 2010
Featuring: Falin Andrews; Alex Craft
336 pages
ISBN: 0451463803
EAN: 9780451463807
Kindle: B0043RSJ04
Mass Market Paperback / e-Book
Add to Wish List

Grave witch Alex Craft can speak to the dead, but that doesn't mean she likes what they have to say . . .
As a private investigator and consultant for the police, Alex Craft has seen a lot of dark magic. But even though she's on good terms with Death himself—who happens to look fantastic in a pair of jeans—nothing has prepared her for her latest case. Alex is investigating a high profile murder when she's attacked by the 'shade' she's raising, which should be impossible. To top off her day, someone makes a serious attempt on her life, but Death saves her. Guess he likes having her around . . .
To solve this case Alex will have to team up with tough homicide detective Falin Andrews. Falin seems to be hiding something—though it's certainly not his dislike of Alex—but Alex knows she needs his help to navigate the tangled webs of mortal and paranormal politics, and to track down a killer wielding a magic so malevolent, it may cost Alex her life . . . and her soul.
Alex Craft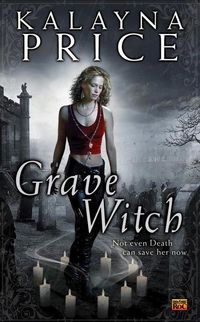 Grave Witch
#1.0
Amazon.com | BN.com | | |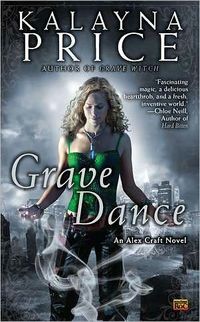 Grave Dance
#2.0
Amazon.com | BN.com | | |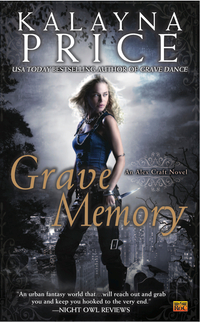 Grave Memory
#3.0
Amazon.com | BN.com | | |
Comments
38 comments posted.
Re: Grave Witch

Because of all the deaths I've had in my family lately, I could use a less melodromatic slant. Your book certainly foots the bill!! I loved the interaction between your main characters, and I'm sure I'm going to enjoy your book!! I thought the cover was quite fetching, too, if you pardon the pun. Congratulations!!
(Peggy Roberson 10:10am October 16, 2010)
Death is more of a concept to me rather than a character although at times, the dead do talk "from the grave" or from the underground they fell into.
(Alyson Widen 10:53am October 16, 2010)
I do think of the skeleton in the black robes when I think of the grim reaper so this is a pretty unique sounding story.
(Maureen Emmons 11:27am October 16, 2010)
I think death can be a character but I'l not sure about a hero. I'll have to thinh about that one. But WOW your book sounds GREAT.
(Vickie Hightower 11:45am October 16, 2010)
I like to think of death like the character in the tv program about angels...the one with the traveling angels..Death was an angle sent to cross over the souls to the next segment of existance. He was not evil, he was not stealing souls or hurting the dying. He comes at our end time to escort us to the next plane of existance. I love a book that can take something we used to view as scary and make
give him human characteristics and maybe even allow him to be a hero.
I love the premise of your book and can't wait to read it. I look forward to more of your work as well.
(Kimberley Coover 12:03pm October 16, 2010)
I have never thought of Death as a hero but under certain circumstances maybe it could be. Your book sounds interesting.
(Cheryl Lynne 12:22pm October 16, 2010)
Most definately, like when my daddy was suffering so bad with his cancer. us four kids got down on our knees in a circle and prayed the lord to take him he was sufferin so. And before we got around his bed again he looked at us sayin loved us and smiled and he was gone. I closed his eyes our prayers were answered. It was what was needed. It still hurts even 20+ yrs later.
(JaneAnn Railey-Clear 1:51pm October 16, 2010)
Your book sounds great. Such a unique approach.
(G S Moch 2:16pm October 16, 2010)
Never really saw death as a being... your book sounds really interesting... would love to read about Death & Alex!
(Colleen Conklin 2:41pm October 16, 2010)
Oh, you should read Terry Pratchett's Discworld series. Death is in some of them...very funny and very good!!!!

Valerie
in Germany
(Valerie Bongards 2:46pm October 16, 2010)
This is a book that sound interesting. I'll bet you had fun writing it. Would love to read it.
(Maude Allen 6:12pm October 16, 2010)
Sounds like a good read!
(Deborah Lary 6:18pm October 16, 2010)
Death a romantick interest?? You have me intrigued. This book sounds really good and I think I need to add it to my must read asap list.
(Jolene Allcock 7:24pm October 16, 2010)
Death can absolutely be a hero. Love the concept.
(Mary Preston 7:30pm October 16, 2010)
I use to love watching the show "Dead Like Me," so I'm sure I would like your new book. Sounds interesting.
(Ginger Hinson 11:47pm October 16, 2010)
Very interesting approach. The Grim
Reaper was my first thought, but then
I remembered TOUCHED BY AN ANGEL
and their angel of death was a pretty
nice looking guy. Kindly and benign
and not the smirky type. He wouldn't
work well in you books, a bit too
chaste.
(Patricia Barraclough 12:23pm October 17, 2010)
grave witch sounds great
(Debbi Shaw 11:31am October 17, 2010)
I always think of Grim from the Grim adventures of Billy and Mandy.
(Pam Howell 11:41am October 17, 2010)
I do like the sound of this, I have read a couple of books where the hero is the reaper and it always lifts the book from the norm.

Dawn UK
(Dawn Murphy 12:45pm October 17, 2010)
This is a must read book for me. When death comes to me it isn't a shape, it is a smell. Not unpleasant, but very familiar. So I always know when death is around the corner. Grave Witch is another dimension into that world around us.
(S W 3:09pm October 17, 2010)
Love your book cover. Your book sounds very interesting.
(Sue Brandes 5:37pm October 17, 2010)
Book sounds very interesting, thanks for giving me a chance to read it.
(Linda Hall 7:01pm October 17, 2010)
Congrats on your new release! Sounds interesting. I'm always willing to give a new genre/book/author a try.
(MaryAnne Banks 8:54pm October 17, 2010)
the book sound good and hopeyou have many more
(Desiree Reilly 9:41pm October 17, 2010)
Holloween and the "Grave Witch" what a great combination.
(Sheila True 9:42pm October 17, 2010)
I haven't read many paranormal romances, but you had me with the first paragraph! After reading the blog it sounds very interesting, and a great twist on what we normaly think of as death or the grim reaper. I am going to have to read this!
(Missy Potts 10:09pm October 17, 2010)
You certainly have put an intriguing image of Death in my mind. I think I rather like him compared to the traditional one.
(G. Bisbjerg 10:27pm October 17, 2010)
I am intrigued by your unique twist on death in your story. Sounds like a really good read.
(Cherie Japp 12:24pm October 18, 2010)
Your book sounds very very interesting. I love the idea that Death does not have the traditional image. It definitely leaves you imagining what other surprises you might have in store for us. :)
(Jennifer Boyett 12:42pm October 18, 2010)
Wow, this does sound like a great book and I would love to win. Thanks for the opportunity to enter.
(Brenda Hill 2:03am October 18, 2010)
I've never tought of death in person, more like a eternal sleep. But the way you bring it, is a new twist to it. I like it!
(Annemiek de Vries 4:10am October 18, 2010)
Death comes in so many different ways.
Blessings,
Marjorie
(Marjorie Carmony 6:17am October 18, 2010)
I like the idea of Death from 'Charmed'. A neutral spirit that takes spirits on. Neither good nor evil.
(Barbara Hanson 9:01am October 18, 2010)
WOOT WOOT This ia a must read for me. Love the cover and the intro. I find the romance and the spirit world very electric ...You have me intrigued. Keep the spirits rolling..LOL Give us more of your sizzling reads. Thanks
(Shirley Sego 10:12am October 18, 2010)
I can't wait to read this book it sounds fantastic!
(Jane Thompson 4:01pm October 18, 2010)
I can't wait to read this book it sounds so good something different very unique.
(Jane Thompson 5:44pm October 18, 2010)
I have also been fascinated with Death. Little is known about him except that he is there when it's time for him/her to escort the dearly departed to the next dimensions.

Who's to say that Death can't be a female?
(Kai Wong 11:26pm October 18, 2010)
If you love Grave Witch also check out Kalayna's first series, THE HAVEN books. Bk 1 is Once Bitten and Bk 2 is Twice Dead. Bell Bridge Books. www.bellbridgebooks.com
(Deb Smith 11:37am November 1, 2010)
Registered users may leave comments.
Log in or register now!