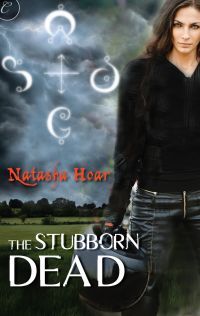 Purchase
Lost Souls #1
Carina Press
January 2012
On Sale: January 23, 2012
Featuring: Janus Ostara; Rachel Miller
ISBN: 1426893108
EAN: 9781426893100
Kindle: B006BVTFT4
e-Book
Add to Wish List

Rachel Miller thought her next job was a run-of-the-mill haunting. As a member of the Order of Rescue Mediums it's her duty to release trapped spirits from the earthly realm. But when called to client Sylvia Elkeles's house, she finds a wraith who doesn't act like he should.
The Order considers the wraith an extreme threat and Rachel may be forced to use a barbaric ritual to free him—a ritual that comes with a heavy personal price. If she fails to humanely release the wraith, she'll have her supernatural abilities bound.
When Janus Ostara—local supernatural mob boss—shows up demanding her attention, and Sylvia keeps secrets that may place Rachel in mortal danger, she doesn't need her abilities to know something darkly sinister is at play.
Between uncovering Sylvia's disturbing motives, and avoiding Janus, Rachel has enough on her hands without dealing with a wraith who may not realize he's supposed to be dead…
Comments
34 comments posted.
I had My Little Pony's when I was younger. When I got older, my mom donated them sadly. My mom wasn't the type to save too much. I wish she had kept them. But now I tend to collect a few things. Mainly unusual pieces of jewelry. Like I have ring that has a drawer that opens. Or a keychain with a hidden tiny rosary in it. Collecting is a nice hobby that can help with stress as you said. My hobby does help but I will also draw often times when I am stressed as well. Reading and writing is calming to me also. Or a walk out in the brisk cool air helps too.
LadyVampire2u AT gmail DOT com
(April Harvey 5:59am January 28, 2012)
I am very interested in your book. I wish you success!
(Renee Pajda 7:50am January 28, 2012)
When I need to relax, I read. It's something I've done since I was young. Reading allows me to escape into other worlds where I temporarily don't have to face my own problems.
(Tabitha Monroe 8:32am January 28, 2012)
With me, it's reading... and buying books...

Congrats on your book! Sounds terrific!
(May Pau 8:57am January 28, 2012)
I collect lots. I collect flute figurines, elephants, precious moments, and stuff in general. Good luck treasure hunting, as I call it.
(Pam Howell 10:24am January 28, 2012)
Sudoku puzzles...they help my stress alot. I love collecting old books..even the old school readers.
(Dawn Staniszeski 10:48am January 28, 2012)
I do crafts with seashells, shadowboxes, collages,
and coloring..yes, in a coloring book. I find
release in reading and cleaning. Nothing quite
like scrubbing and the sound of the vacuum.
I collect old books, first editions, barbies
..remain on the box, anything Gone With The
Wind, movies and related items, fairies crystals,
statues,.. I am beginning to see I just might be a
collectible hoarder. I even collect fancy soaps,
which I use. I love the exotic smells. Scarves are
another love, with shoes. Oh, no, I am a hoarder!
Looks like spring cleaning might have to come
early.
(Carla Carlson 12:32pm January 28, 2012)
Reading and listening to music are my stress reducers... I collect horse statues... still have most of my My Little Ponies from childhood...
(Colleen Conklin 12:38pm January 28, 2012)
I collect books, shabby chic china and tea cups, quilts, too many crafting
supplies to mention and award ribbons! Thanks for the chance to enter this
contest and for your books!
(Maureen Hayes 1:21pm January 28, 2012)
When I need to unwind, I usually pick up my knitting or crocheting, work on my crossword puzzles, or read a book - not necessarily in that order!! Any one of those seem to take me away from whatever it is that's bothering me at that point in time, and take me to another world. As for collecting, yes, I am guilty!! I love Oriental figurines, mostly, although I do have some other loves as well. My other collection might be interesting to you. That would be cut crystal figurines. I have some pyramids as well as animals and other shapes. When the light comes in the room and hits my cabinet, the colors that bounce out of there are amazing!! I thought of all of those colors bouncing off of your ponies!!! You could braid Swarovski crystals in their manes for added effect. I am totally drawn in by the excerpt that you put in for your book, and I can't wait to read it!! The cover was done brilliantly as well!! Best of luck in the future.
(Peggy Roberson 1:47pm January 28, 2012)
I love to soak in the tub with some hot coffee. I put my fav bath oils in and some music on. I used to collect beanie babies when the craz was on and also lots and lots of books... thank heavens for my e-reader. Your book sounds great!
(Christina Vanderford 1:51pm January 28, 2012)
CONGRATS ON YOUR RELEASE, IT SOUNDS FUNNY!!
(Linda Bass 2:07pm January 28, 2012)
I collect books, so I always have something read. I also collect angels. Book sounds great. Thanks for giving me a chance to win it.
(Linda Hall 2:07pm January 28, 2012)
OMG! Your post is so timely. My daughter is an avid My Little Pony collector. Just last night she was bemoaning the fate of Minty. Oh the horrors of all of the different styles of Minty (please, don't mention the baby Minty to her) and now the ultimate face slap to Minty. She is no longer part of the MLP lineup! Oh, the pain. The thing is, I totally understand her collecting love. Right now I am sitting at my desk with my collection of pins from places we have travelled and my collection of Tinker Bell hat pins. Yup, I love Tinker Bell. You are not alone in your collecting. Have fun with it. Sometimes I rearrange my pins just because I can.
(Jennifer Beyer 2:42pm January 28, 2012)
Congrats on your book. I collect snowglobes. Hope I win your book.
(Amy Milne 2:48pm January 28, 2012)
I read books, do crossword puzzles, listen to music, watch a funny movie or clean. Love collectors and think they are creative, artistic people that have a passion to do this. It's a rewarding feeling to run across that little treasure you're seeking for your collection. I collect Cherished Teddy figurines, Precious Moments figurines, musical snow globes, glass/porcelain small handled baskets & bells, Barbie dolls & their outfits, vintage crocheted & tatted doilies/table scarves, etc. Love thrift stores and can always find something that needs to be added to one of my collections, which makes the treasure-hunting so much fun! Your book cover is great! I don't have an e-reader, maybe someday. Natasha, how many ponies are in your collection? I only wish, I still had a few of my childhood favorites today. My father threw so many nice things away--he was OCD about neatness, and he made weekly trips to the dump. I cried many tears over my lost items that he threw out, when I was a little girl.
(Linda Luinstra 4:26pm January 28, 2012)
April - I've heard so many people say that they lost their ponies through their parents 'de-cluttering'. My mom was notorious for doing that (especially while we were at school), but luckily she never got our ponies. (Not that we had many, but still!)

Renee - thank you!

Tabitha and May - disapearing into a book is such a simple, yet profound pleasure. I'm er, also guilty of buying one too many paperbacks... (I bought an ereader in part to help curb the physical book buying habit, but it hasn't slowed it down much.)

Pam - I hope you don't mind my asking, but what are flute figurines?

Dawn - I am in awe of folks who can complete Sudoku puzzles. I haven't quite been able to get the hang of them! :D

Carla - I'm also a fan of coloring! It can be very theraputic. Good luck on trimming the collections down. (I just spent the morning thinning out my books. Off to Value Village they go!)

Colleen - Do you collect ceramic horses, or Breyers?

Maureen - I am learning about all sorts of stuff today! Out of curiousity, what is shabby-chic china?

Peggy - What a great suggestion! I'll have to pop into Michaels and see if I can pick up a small pack of crystals to experiment with! I have two crystals hung by the window of the room where I keep my ponies, and when they catch the light just right and bounce rainbows around the room it creates a lovely effect. (As for the cover, the wonderful folks over at Glo Creative Inc. were responsible for it. I ADORE it, especially since that's how I see Rachel in my head.)

Christina - For some reason I've never thought to have a warm drink on hand during a soak. Methinks I'll have to try that! As for the Beanie Babies, do you still have them, or were they sent off to the thrift store like the majority of them seem to have been?

Linda B - thanks!

Linda H - Do you collect ceramic angels, or all types?

Jennifer - Wait, there was a baby Minty?!? (Are we talking about the 80s flat foot Minty, or the G3 r
(Natasha Hoar 6:23pm January 28, 2012)
Whoops! Half of my post disapeared! Ok, let's try this again...

Jennifer - As I was saying, did you mean the origional flat-footed Minty, or the recent incarnation that is pink/green and has candies as her cutie mark? Let your daughter know that the green/pink Minty IS part of the MLP:Friendship Is Magic franchise - she was spotted in a blind bag (in Australia, I believe), and rumors have been swirling for a while now that she'll be released as a brushable pony, too.

Amy - Thank you! My sister is also a fan of snow globes, especially if they have a music box in the bottom. :D

Linda - At last count I had around 400-ish... Okay, possibly more. The bulk of them are packed in tubs due to space restrictions. However, one of my goals is to one day have enough shelving in my writing room to have them all out on display!
(Natasha Hoar 6:32pm January 28, 2012)
I collect books (3000 and counting) My books are in boxes, tubs and shelves. Also Unicorn statues, plush toys...anything unicorn (125 or so).

As to relaxing - I love a good pot of tea and reading. I have a oversized reclining chair (though I don't recline in it) I sit and read with my feet tucked to the side. I love my chair (which I bought specifically to read in), tea and books.

Thank you for the chance to win. I love the cover of the book and have added it to my TBR list.
(Kimberley Coover 8:37pm January 28, 2012)
I'm so happy for you! I love your My Little Ponies. Your
dolls...eek. LOL..
Congratz! I hope to win a copy of your book!
(Rachel Richmond 8:50pm January 28, 2012)
i collect books,pluto and mickey mouse!!your books sounds like a great read!!
(Jennifer Beck 10:51pm January 28, 2012)
I love supernatural books & this one seems very interesting...I really hope I win! :)
(Karima Chiali 11:03pm January 28, 2012)
I've still got all my daughter's My Little Pony's. They are cute. I have an extensive collection of books.
(Mary Preston 11:17pm January 28, 2012)
i collect books. have to downsize one of these days. Your book sounds good. anxious to read it
(Barbara Studer 12:09pm January 29, 2012)
Reading for me is my stress reliever, and so is studying pandemics. There is nothing like following a pandemic that can kill 87% of the people that catch it, to bring you out of whatever mood you are in. LOL. I collect cookbooks,also antiques I get at estate sales. They may not be worth much, but I love getting their history.
I remember buying my little sister a whole bunch of my little ponies when she was younger. I think my mother gave them away.
(Debbie Penny 7:47am January 29, 2012)
I collect dolls and books ; I have a display full of my dolls and a room full of my favorite books. To relax I read and enjoy looking at my dolls.
(Diane Sadler 8:16am January 29, 2012)
I collect craft and jewelry supplies and more recently, vintage and antique photos and postcards, mostly of babies and children. Loved reading about everyone's different collections! :)
(Sara Denluck 8:19am January 29, 2012)
My collecting habits have changed over the years. I started off with Teddy Bears, but since they are large, I quickly ran out of room. Then, Boyds' Bearstones - I could have a museum I have so many bears and Bearstones. Then, I started collecting Belleek fine Parian china, which is where I am currently.
(MaryAnne Banks 12:55pm January 29, 2012)
I definitely read to destress. As to collecting, books, playing cards, cups, ornaments and cats lol.
(Jeanne Sheats 3:02pm January 29, 2012)
When I need to destress I like to take a nice long walk then sit down with a good book and read. When I read, I put myself right into the book...it makes forgetting everything else so much easier.
(Robin McKay 4:10pm January 29, 2012)
Oh my, do I collect...LOL. Lets see, cookbooks of any kind but preferably the old ones; books in general. Actually, for the past 20 years or so, I have had my own sort of lending library. (Books are so important to everyone and reading is wonderful for any age). I have boxes and tubs of books everywhere and share them with anyone and everyone with only one request - that they initial the inside cover so that I (hopefully) won't bring them a book they have already read, the next time I drop off a bag or box of books. Many of the people I take books to now, are those who are unable to get their own (finances, age, health etc). I am also a "fabric-holic" hahaha love to sew...especially doll clothes for 18" doll like the American Girl doll. Fountain pens...inks, ink wells etc- anything to do with old writing instuments (and yes, I do write with them too)So many other things, too many to mention. Love to walk, read, color, write stores, write letters, soak in the tub with a book, or sew are all types of ways for me to "de-stress". Thank you for this contest and a chance to win your book. It sounds awesome!
(Cheri Minott 2:30am January 30, 2012)
nice your article. I like reading your blog.
Foredi
(Alpian Dodi 1:09am January 31, 2012)
When I'm stressed or overwhelmed I clean. You can tell the state of my emotions by the cleanliness, or not, of my house. The upside to having no space is not having room to collect anything!
(Tara Smith 12:46pm January 31, 2012)
Mostly I collect books and memories of sunsets since the setting sun takes up no room.
(Alyson Widen 6:17pm February 3, 2012)
Registered users may leave comments.
Log in or register now!