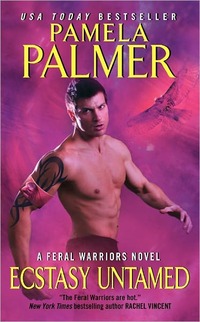 Purchase
Feral Warriors #6
Avon
November 2011
On Sale: October 25, 2011
Featuring: Maxim; Hawke
384 pages
ISBN: 0061794732
EAN: 9780061794735
Paperback
Add to Wish List

They are called Feral Warriors—an elite band of immortals who can change shape at will. Sworn to rid the world of evil, consumed by sorcery and seduction, their wild natures are primed for release . . .
Shattered by recent nightmarish events, Hawke feels his bond with his animal spirit weakening—and once it breaks, he's finished. The arrival of Faith sends his life spinning even further out of control, for although she delights him and enflames his deepest primal passions, she's promised to Maxim, the newest Feral Warrior.
Faith is drawn to Hawke from the start, but Maxim holds her in his thrall and has secretly bent her to his malevolent will. Though gravely damaged, Hawke is the only one who can end Faith's slavery and protect the Feral Warriors from Maxim's evil designs. But first they both must embrace the wild . . . and surrender body and soul to a forbidden, all-consuming ecstasy.
Feral Warriors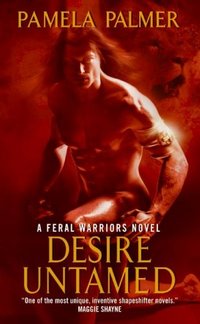 Desire Untamed
#1.0
Amazon.com | BN.com | | |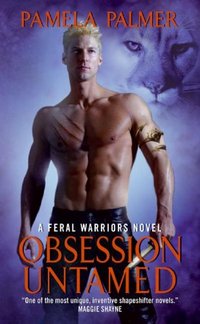 Obsession Untamed
#2.0
Amazon.com | BN.com | | |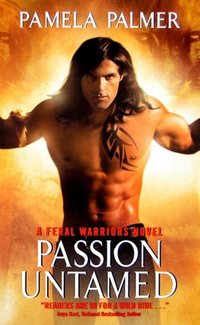 Passion Untamed
#3.0
Amazon.com | BN.com | | |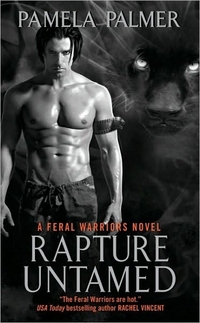 Rapture Untamed
#4.0
Amazon.com | BN.com | | |

Hunger Untamed
#5.0
Amazon.com | BN.com | | |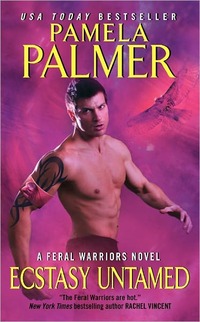 Ecstasy Untamed
#6.0
Amazon.com | BN.com | | |
Comments
53 comments posted.
Re: Ecstasy Untamed

Not a big movie buff, due to mostly having nose in books, but one that comes to mind is Lake House with Keanu Reeves. Loved it and the time warp of it was so imaginative.
(Theresa Newbury 11:21am October 26, 2011)
I don't go to the movies very much. I rather read books. I'd love to win this book.
(Wilma Frana 11:53am October 26, 2011)
How do you know that the Dupont Circle fountain ISN'T an entrance into the Fey world?!?!?

And when are you going to write your son's story of the magical ring?

Since I don't get to movies much, I have to go back in time for the most imaginative movie I've seen, and that was "Immortal Beloved." Kind of a bio-pic about Beethoven, but it answered the question as to who the lady was whom he loved. The one that music historians have never really been able to answer. They made a very plausible case for the answer, too!

Later,

Lynn
(Lynn Rettig 12:13pm October 26, 2011)
First let me just say I loved Ecstacy Untamed and am waiting for the next Feral book.

The movie that I think was the most imaginative would be Harry Potter and the Deathly Hollows.
(Cindy Thomason 12:18pm October 26, 2011)
My selection for the weirdest movie is the Belgian movie Ex-drummer.
(Shirley Younger 12:23pm October 26, 2011)
I probably don't go to the movies more than 2 or 3 times a
year, I'm a reader not a watcher. So probably the final Harry
Potter movie would be mine.
(Lisa Richards 12:43pm October 26, 2011)
I tend to avoid horror movies, but thrillers are OK as long as I can turn away at the real scary parts or look between fingers on my covered eyes. There is an increase in scary movies now that Halloween is near so I guess it goes with the territory.
(Alyson Widen 1:10pm October 26, 2011)
well mr popper penguins it was funny and i had laughed
all most through the movie the book you have are great looking and would love to read all of them and blog on them
(Desiree Reilly 1:15pm October 26, 2011)
The only one that comes to mind would be the ones from the Narnia series. Unfortunately, I'm not much of a movie person, so there aren't that many movies that I watch or want to see, but I did enjoy watching those.
(Peggy Roberson 1:17pm October 26, 2011)
Pamela, I thought I was the only one who had weird thoughts like that ... it's good to know I'm not alone. Lots of movies come to mind but of all of them - AVATAR has to be the best. Imagination taken to the extreme, can't wait for the next one. Still haven't read DESIRE UNTAMED so I'm hoping I have the luck this time. xoxo
(Amy Valentini 1:30pm October 26, 2011)
Love your books......love your imagination....because they make great books for me and everyone else to read...would to win a copy of the book 'Desire Untamed',,,,,,,,,,,,,,,,,,babyruthmac16@yahoo.com
(Lnda McFarland 2:04pm October 26, 2011)
I too am one that does not go to the movies often... trying to think of a movie that was creative or weird... well I find alot of the movies on the SciFy channel weird and creative...
(Colleen Conklin 2:06pm October 26, 2011)
I love your books - I love your imagination even more! I, too, don't go to the movies all that often - rather read the book. I guess the movie would have to be either WATCHER IN THE WOODS or THE SIXTH SENSE. After I post this I know I will think of other movies...lol
(Kimberley Coover 2:07pm October 26, 2011)
Like most of us here I am more of a reader than a movie
watcher but I did see a very strange one some years ago (in
fact my son gave me the DVD or I'd never have even tried to
watch it)and that was Donnie Darko.
(Ilona Fenton 2:20pm October 26, 2011)
I haven't seen it yet, but the new Three Musketeers movie with
the flying balloon ships looks amazing!
(Diane Sallans 2:41pm October 26, 2011)
Thanks for the great post! I haven't had a chance to try this series but I've heard such wonderful buzz all over :)

I'd have to agree w/ everyone else. I don't go the movies/watch TV b/c I read :) But I did like the Harry Potter movies. And of course they were awesome b/c they were based on books!

Thanks again!
(Erin Fender 2:59pm October 26, 2011)
My first 'weird and imaginative movie' thought would be Inception. Watching that w/ my parents, who were visiting from out of state, plus my 2 kids running around, it was hard for me to keep up! lol I'd totally have to watch it again I guess to truly get the jist of it.
(Sebrina Cassity 3:04pm October 26, 2011)
Most imaginative movie? Maybe the Harry Potter movies or Avatar. Those ones definitely made me think, wow! Where do people come up with this?
(Annie Tegelan 4:02pm October 26, 2011)
Inception... but I don't watch much movies nowadays after having a baby... sad but true...
(May Pau 4:08pm October 26, 2011)
Probably the Lord of the Rings or the Harry Potter movies would be my guess.
We don't go to the movies, we watch DVDs. Because of a back injury I can
only sit for so long and you can pause a DVD. We do read A LOT. It has been
said that my husband and I should get most of the credit for keeping our
library branch open with the amount of circulation we give them and the
books we donate a little at a time.
(Sandra Spilecki 4:08pm October 26, 2011)
I haven't seen a movie recently, but I think Somewhere in Time is imaginative. How can you die at one age and be reunited with a character who recently died at an advanced age but she's her young age that the character had met when he traveled back in time to meet not the age she died at.
(Theresa Hurley 4:43pm October 26, 2011)
I love the covers of all your books! I was just thinking about how authors come up with their ideas because I'm currently reading It by Stephen King and it is such a crazy story!
(Renee Pajda 5:43pm October 26, 2011)
I don't go to the movies very often either. I will have to pick Avatar b
(Lisa Garrett 6:03pm October 26, 2011)
I don't go to movies much. Apparently I exude a pheremone that draws every nutjob and idiot within a 20 mile radius but I can answer your question. Lord of the Rings and the Naria series come to mind.
(Maude Allen 6:36pm October 26, 2011)
I've not read any of your books, but they look like something I will enjoy reading very much!
(Joyce Bruner 6:42pm October 26, 2011)
I don't go to the movies much but ET was fabulous.
(Diane Sadler 6:51pm October 26, 2011)
Harry Potter series. The whole books series and movies were very imaginative. Another was Mr Magoriams Wonder Emporium. Thanks for the chance to win.
(Chris Bails 7:19pm October 26, 2011)
saw a rerun recently of video drome, it was a weird movie years ago and still is in today's movie market
(Michael Cuchinelli 7:21pm October 26, 2011)
I recently watched, "The Adjustment Bureau" which was one of the weirdest movies I've seen lately (especially how Matt Damon needed to be wearing a hat in order to go through doors and exit to unexpected surroundings). It was a very imaginatively written movie. Would love to win and read your book. The covers on your books are great!
(Linda Luinstra 7:33pm October 26, 2011)
All the Harry Potter movies,very imaginative.
(Deb Pelletier 7:46pm October 26, 2011)
I love going to the theater, and Captain America would have to
fit that bill.
(Cynthia Netherton 7:52pm October 26, 2011)
Definitely Inception
(Jan D 7:57pm October 26, 2011)
H MY PAM, I MUST ADD YOU TO MY "WHINE LIST!" YOUR BOOKS
LOOK SO HOT! LOL
(Linda Bass 8:17pm October 26, 2011)
I think one of the most imaginative movies I have seen would
be the Labyrinth with David Bowie. It was however one of my
favorites as a kid and now my kids love it so I get my fill of
watching it. Oh yea and I love your book covers. =)
(Holly Collins 8:44pm October 26, 2011)
Well I haven't seen the movie so I'm not sure it is weird, but it sure has a weird name, Mr. Magorium's Wonder Emporium .
(Lisa Kendall 9:45pm October 26, 2011)
I just saw Paranormal Activity 3 and WOW! Holy cow! No way! I totally didn't see it coming.
(Jennifer Beyer 9:48pm October 26, 2011)
Love the book covers and the books sounds great. Thanks for giving me a chance to win it.
(Amy Milne 10:18pm October 26, 2011)
STARDUST was a lot of fun. Loved the Lightning Catchers - the pirates.
(Mary Preston 11:08pm October 26, 2011)
Helen

I love inception.... But I have to say I love almost all leo's moives.

Oh and Pan's Labyrinth was really really good. Ir left room for discussion
afterward to figure out what was real and what wasnt.

Helen
(Helen Golod 11:37pm October 26, 2011)
I don't go to the movies much. I like reading books alot more. Your book covers are great.Love to win,Thanks!
(Linda Hall 11:40pm October 26, 2011)
My favorites, like many others, are Inception, Harry Potter & Avatar.

But I really fell in love with the new HBO series, Game of Thrones. I loved it so much that I bought the books and flew threw them. Martin's series is incredible and I usually never love a book that isn't primarily romance but I can't get enough of his series.

Ecstasy Untamed is my next book to read and I am soo excited!! I would love to eventually have all my feral books signed by you Pamela, you are one of my favorites! So I will be steadfast in my applying for your contest :)

Evan Blanc - evan32_08@yahoo.com
(Evan Blanc 12:02pm October 27, 2011)
recently it was alice a mini series . wow talk about a twist

meandi09@yahoo.com
(Jennifer Mathis 12:05pm October 27, 2011)
I saw Smurfs which was a pretty weird movie but it did make me laugh.
(Lindsey Ekland 6:37am October 27, 2011)
Thanks, everyone! Love the comments and love the movie suggestions. I'm in
the middle of figuring out the story of Feral book 7 and I'm watching a lot of
movies. Movies spark so many ideas for me, often in very off-the-wall ways.

I've seen a lot of the movies you've named. I LOVED Inception, Avatar, and The
Adjustment Bureau. And, of course, all the Harry Potter and Lord of the Rings
movies. The very weirdest I've ever seen, the one Ilona mentioned, was Donnie
Darko. At the end, I was shaking my head with a great big, "What the...?"

Lynn, you asked, "How do you know that the Dupont Circle fountain ISN'T an
entrance into the Fey world?!?!?" LOL. Have you read my first book, THE DARK
GATE? Because, yep, the Dupont Circle fountain is definitely the entrance into
the Esri world.
(Pamela Palmer 12:18pm October 27, 2011)
You are never too old to grow out of "what if" and answering that question is pure creativity. Love this blog..it lets me know I am not alone.
(Carla Carlson 2:12pm October 27, 2011)
Clockwork Orange, an older movie, but a strange, weird one, but we liked it!!
(Joanne Bozik 2:45pm October 27, 2011)
I've never been a big movie buff because I prefer to read a description and let my own imagination take over. Movies tend to not live up to the standard in my head. lol
Please keep writing your stories.
Thank you for the post and giveaway.
(Patti Paonessa 5:44pm October 27, 2011)
i don't go to the movies except when i had my grandsons for a visit before i became handicap. i don't watch tv except for police shows. otherwise i'm reading. i read the other feral warriors except for the newest one out. i'm so glad you have an active imagation & write about it cause i don't. when one of my grandsons was little i had to hold a book & make up a story about the picture. if i started to read from the book brian would slap the book close, then make me start all over again. my son would rat me to grandson. it was so hard to make up stories.
(Mary Mckee 5:56pm October 27, 2011)
Harry Potter
(Kara Lepard 7:56pm October 27, 2011)
The most unusual, strangest, and actually scariest movie I think I have ever seen,is an old black and white film with Joseph Cotton, called The Demon.I pull it out every now and then to remind me that a movie doesn't have to have a lot of special effects or blood and gore to scare the bejabbers out of you! You never even actually see the demon until the last few minutes of the movie, but you don't have to see it to feel it's prescence, and feel totally creeped out So, this is currently the most memorable movie I've seen recently.
(Mary Holden 2:47am October 28, 2011)
The most imaginative movie you've seen has been the Matrix series. It
twisted my mind and reality so much. It made me see my world
differently and made me think "what if". And as a christian I saw it as
a kinda allegory to our perceptions on life vs. the reality of living
in Christ. Just a twist on how we view life... glittergirl54 at ymail
dot com
(Lenna Hendershott 11:32pm October 28, 2011)
I saw this wonderful movie that was made for T.V. It was Alice in Wonderland with Kathy Bates as the Red Queen. Wonderland was just a giant house of cards. The Mad Hatter was one of the main characters. It was a strange take on an old classic.
(Kathleen Yohanna 3:31am October 29, 2011)
if a book is great like your are it is like watching a movie only better. you can cast your own actors
(Brenda Hook 4:11pm October 31, 2011)
Registered users may leave comments.
Log in or register now!