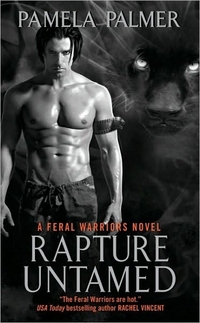 Purchase
He's the last male on Earth she could ever trust with her dark secrets. Or her heart.
Feral Warriors #4
Avon
July 2010
On Sale: June 29, 2010
Featuring: Jag; Olivia
384 pages
ISBN: 0061794708
EAN: 9780061794704
Mass Market Paperback
Add to Wish List

Jag finally meets his match in Olivia, a tough, attractive little Therian Guard. Olivia is drawn to the surly and powerful warrior against her will, for Jag is the last male on Earth she could ever trust with her dark secrets. Or her heart.
They are called Feral Warriors—an elite band of immortals who can change shape at will. Sworn to rid the world of evil, consumed by sorcery and seduction, their wild natures are primed for release . . .
The most combative—and tormented—of all the Ferals, Jag is a predator who hunts alone—until daemons terrorize the human population. To stop them, he partners with Olivia, a flame-haired Therian temptress as strong as she is beautiful. But Olivia is no ordinary immortal. The survivor of a vicious supernatural attack, she possesses a deadly and forbidden skill—one that must remain hidden, especially from the powerful Feral Warriors.
As Jag and Olivia's sensual dance of dominance and seduction gets wilder and hotter, a dark force sets its sights on Olivia, threatening to destroy everything she has vowed to protect. And the only one who can save her soul is the arrogant jaguar shifter she lusts for but dares not love.
Feral Warriors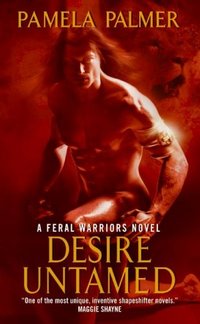 Desire Untamed
#1.0
Amazon.com | BN.com | | |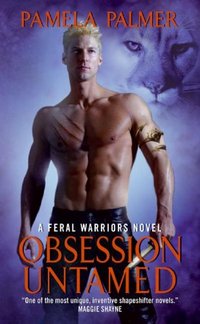 Obsession Untamed
#2.0
Amazon.com | BN.com | | |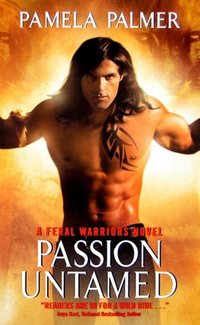 Passion Untamed
#3.0
Amazon.com | BN.com | | |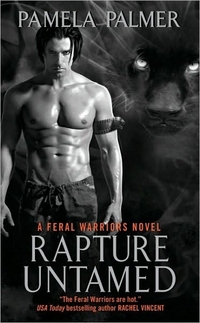 Rapture Untamed
#4.0
Amazon.com | BN.com | | |

Hunger Untamed
#5.0
Amazon.com | BN.com | | |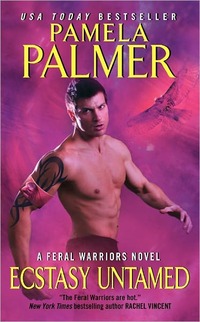 Ecstasy Untamed
#6.0
Amazon.com | BN.com | | |
Comments
49 comments posted.
Re: Rapture Untamed

i can barely wait.
(June Leas 3:37pm June 13, 2010)
I would love to win a copy of Desire Untamed.
(Ginger Hinson 1:40am June 29, 2010)
I love series...I read a lot of them,,,the last one I read was Mary Janice Davison,,,Undead and Unwed
Thanks
Heidi
(Heidi Shafer-Wilson 2:02am June 29, 2010)
I prefer to read series and the reason is that it gives me a little more time with characters I have come to know and care about. Even when the book is not about those exact characters they are usually referred to. I like that the setting is also familiar. The last series a read was the "Key" trilogy by Nora Roberts.
(Cheryl Lindloff 5:01am June 29, 2010)
I am usually a stand-alone type of reader, but the Dark Tower series from Stephen King, The Lord of the Rings from Tolkien, Vampire Academy series from Richelle Mead are a few of the series that I have read and loved. Will definitely read your series in the near future.
(Joanne Reynolds 6:26am June 29, 2010)
I would LOVE to win Pamela's Book!

I prefer series...favorites are Jeaniene Frosts Cat and Bones series...Patrictia Briggs Mercy Thompson series..and so many more!
Thanks!
Froggy
(Dawn Saenz 10:33am June 29, 2010)
I like series. I like the familiarity of revisiting old friends. Right now I'm reading a series book, Laurell K. Hamilton's Bullet.
(G S Moch 10:47am June 29, 2010)
I used to read stand alone books all the time, but now I read mostly series. I love reading a story as it builds through each book. I am pretty anal about reading them in order and I had some kind of brain cramp and read #2 in your series first. If I don't win here I'll run out and buy #1. I loved how you featured Delaney and Tighe but gave us insight into the other characters as well. Favorite series of mine of Jeaniene Frosts' Night Huntress, Jocelyn Drakes Dark Days novels and Ilona Andrews Kate Andrews series.
(Brenda Hyde 12:16pm June 29, 2010)
I like to good mixture of series and "one time" books.
(Sherry Russell 12:31pm June 29, 2010)
I don't prefer one more than the other because some stories are told just fine with one book. It's an added bonus with a series because I get to revisit characters and find out about new ones. Some of my favorites are Debbie Macomber's Cedar Cove Series, Robyn Carr's Virgin River Series, and Diana Palmer's Long Tall Texans Series.
(Leni Kaye 12:41pm June 29, 2010)
I enjoy both series and single books... the only thing that bugs me about series books is the wait between books...
(Colleen Conklin 12:58pm June 29, 2010)
I LIKE THE SOUNDS OF YOUR BOOK
(Debbi Shaw 1:24pm June 29, 2010)
I like series; it's like visiting old friends and finding out how they are doing after their HEA. Also, there's usually less explanations about the setup of that particular world (although this is more the case for paranormals) so more can be devoted to the plot or the relationships of the characters.

And there are some books that I wished were part of a series because I liked the characters so much.
(S Tieh 6:38pm June 29, 2010)
I love series books and stand alones. They both have their merits My favorite book series is Nalini Singh's psy/changeling series. I also love her arcangel series.
(Cherie Japp 6:41pm June 29, 2010)
I like everything, but am partial to series as I get intangled in all the characters lives and want to find out what happens to them!
(JoAnn White 6:49pm June 29, 2010)
I love series because i get to read more about the characters
(Sagrario Vigil 7:20pm June 29, 2010)
I love series! I can hardly wait for the next one.
(Lisa Garrett 7:30pm June 29, 2010)
I prefer books that stand by themselves. I read so much that I mix up characters from different series and different authors - very confusing!

Thanks for the giveaway!
(Joanne Schultz 7:59pm June 29, 2010)
I like both. A stand alone would be my first choice, but a series allows you to delve further.
(Mary Preston 8:04pm June 29, 2010)
I like series, the Prey series John Sanford and Sue Graftons alphabet series on heroine Kinsey Millhone are two of my favs. And of course Charlaine Harris' Sookie Stackhouse books.
(Vikki Parman 8:11pm June 29, 2010)
I prefer series because I like to get to know the characters and watch how they grow and progress. One of my favorite series is the Gaslight mysteries by Victoria Thompson.
(Ellie Wright 8:18pm June 29, 2010)
I prefer one story at a time ,but have tried afew series. It depends if I like the characters.
(Deb Pelletier 8:21pm June 29, 2010)
I love series. I love stand alone books,
too, but series allow for greater
character and plot development. I like
to know what happens to characters
after a book ends. This allows us to
follow them for a longer time and if
they are not the main characters in the
next book at least be able to check in
and see what they are up to. Following
a series can be a problem. Finding
and reading book 2 or 4 before you
realize it is a series or having to wait
so long for the next book in the
series.
Some of the series I have enjoyed:
Julie Kenner's demon hunting soccer
mom, Janet Chapman's Highlanders,
Karen Moning's Highlanders, Christine
Feehan's Drake Sisters, to name a few.
(Patricia Barraclough 8:25pm June 29, 2010)
I love both. Some times I'll read a book that isn't a series and wish there were more! If I do read a good book that is part of a series I will usually try and get my hands on the rest!
(Brenda Rupp 8:47pm June 29, 2010)
I love both stand-a-lones and series books. The only problem with s series is that you have to wait for the next one to come out, but you know who many of the characters are, or you find out along the way.
(Cathy Phillips 8:49pm June 29, 2010)
I love series. My only problem is I can't wait for the 2nd, 3rd, etc book to come out so I try to wait until they are all out and buy all at once. I have no patience, lol.
(Vicki Hancock 8:58pm June 29, 2010)
I prefer standalones. If written well, a single story can relay all the necessary facts about a character and leave just enough unsaid so the reader can fill in the blanks. I like that.
(DeeAnn Szymanski 8:59pm June 29, 2010)
Series are wonderful, but hard on my budget. I find that I just have to have the new one, even though it is a hardback.
Blessings,
Marjorie
(Marjorie Carmony 9:11pm June 29, 2010)
I love stand alones and series. One of my favorite series is Heather Grahems series on a group of supernatural investigators.
(Cathie Veres 9:39pm June 29, 2010)
I love series that can be a stand-alone like the "In Death" series by J.D. Robb. I don't really need to start at the beginning or miss anything in between (especially the trying to find out bits and pieces of the characters Eve Dallas's and Roark's past.)

I also love series that are like the Harry Potter series. There are several books within this series but it comes with a great ending.
(Kai Wong 9:46pm June 29, 2010)
I prefer series. A couple of my favorites are The Risande series by Paula Quinn and the Boys of Summer series by Kate Angell.
(Tara Woods 10:04pm June 29, 2010)
I read a stand alone from time
to time just to take a break
but greatly prefer series.
There is one drawback to the
way I read them though, I must
read them in order (they are a
series you know) and I like to
have 3 or 4 to read back to
back. Unfortunately, this
means that all the excitement
of a new book coming out in a
series is kind of lost on me,
cause I'm just going to buy it
and then shelf it till later.
I do from time to time run my
hands over them but I am
strong so I just look for
another that has been
neglected for awhile and have
a marathon reading feast with
it instead. I seldom reread
any books and feel like I
forget so much from book to
book if I don't read them in
this manner. If there's a year
wait between books, and most
of them are, then I've likely
read 150 to 200 other books so
you can see where this might
be a problem.
(Lisa Richards 10:16pm June 29, 2010)
I enjoy series but I also enjoy stand alones. I've been reading In Death by J D Robb for many years after all we are at number 31, and I admit I would prefer a shorter series 3-4 books but no matter if the series is good I will keep reading it.
(Diane Sadler 10:23pm June 29, 2010)
I like stand alones, but I much prefer series. I really like that all aspects going more indepth. A couple favorites are Kim Harrison's Hollows & Gena Showalter's Lords. There are quite a few more as well.
Thanks for the chance to win the first in your series.
(Jo Ann Jansing 10:51pm June 29, 2010)
Series are my favourites. They give to time to actually care for the characters and for the characters to actually have a whole life of there own.
With a standalone sometimes you wonder what happenned to the characters next and how they carry on after the fact.
(Sarah Dewbery 10:52pm June 29, 2010)
I like both stand-alone and series books.
It's really a matter of looking at how
much free time I have, when I decide
which to pick up.
(Sue Ahn 11:20pm June 29, 2010)
I enjoy series most of all, I love following character through several stories , I come to love or hate them.
(Vickie Hightower 11:31pm June 29, 2010)
I enjoy both, but some times it is hard to obtain all the books in a series and that leaves one wondering what happened in the missing books.
(Gladys Paradowski 12:29pm June 30, 2010)
Series add to my pleasure, as I can re-visit old friends and make new ones at the same time. That said, some stand alone cannot ever be forgotten, even when you are "too old" for them like The Secret Garden. I still read it to my grandchildren and hope to read it to the next generation.
(Sharon Mitchell 12:39pm June 30, 2010)
I generally prefer series as I have a hard time saying goodbye to favorite characters and enjoy seeing them grow and change. ONe of the favorite series I ever read was the Outlander series by Diana Gabaldon. I love Jaimie and always look forward to being fascinated with a fictional character again :)
(Darci Paice 1:57am June 30, 2010)
I love series! I like seeing the character I love in the following books of a series. A few of my favourites are the Mercy Thompson series by Patricia Briggs, the Kate Daniels series by Ilona Andrews, the psy/ Changeling & Guild Hunter series by Nalini Singh and the Cat & Bones series by Jeaniene Frost.
(Arantza Cazalis 2:11am June 30, 2010)
I love reading series. It's
like being invited into a
friends world that you can
keep up with. I love Johanna
Lindsay's Malory Novels, as
well as a ton of Nora Roberts
trilogies. Also Julia Quinn
and Lisa Kleypas have a
recurring storyline I love.

My current favorite right now
(besides the Ferral Warriors)
is Gena Showalter's Lords of
the Underworld series. And her
Atlantis series.

Can't wait to read Rapture
Untamed!
(Ada H. 3:06am June 30, 2010)
I like both standalone and series. I love to read 2 or 3 books in a series one after the other.

Favorite series - The Ferral Warriors, Christine Feehan's Dark series, Rachel Vincent's Shifters, Sherrilyn Kenyon's Dark Hunters, Carrie Vaughn's Kitty Norville series, Rhyannon Byrd's Primal Instincts series,Terry Spear's Wolf series,J. R.Ward's Blackdagger Brotherhood. There are so many more.
(Julie Swaney 12:27pm June 30, 2010)
I love series and I love standalones. I am a confessed bookaholic...hehe!!!

There are too many series that I adore...The Indeath series by JD Robb, Patricia Briggs and Jeanienne Frost. It's sometimes hard keeping up with all the series, but I try.

Valerie
valb0302@yahoo.com
in Germany
(Valerie Bongards 4:08pm June 30, 2010)
desire untamed sounds like a winner
(Debbi Shaw 6:11pm June 30, 2010)
I love a series where i really feel for the characters as I read. But I don't like series or sequels that just seem to rehash the same plot over and over again.
(Pam Howell 6:54pm June 30, 2010)
Hello Pamela, Please enter me in your fantastic contest and please let me know when I am a winner too! May God bless you with success always,
Cecilia
(Cecilia Dunbar Hernandez 10:17pm June 30, 2010)
I've read both books in a series, as well as stand alone books. I can't say that I prefer one over the other. There were a couple of times that I thought I would like a series, then was disappointed when the author hurredly wrote her books just to get them out of the way. There were other series where I was left wanting more!! I've read stand alone books that I was sorry were not turned into a series. Your books sound good, and I'm going to have to give them a try during the summer.
(Peggy Roberson 10:03pm July 3, 2010)
I love series, and they are so many that I read and keep track of the latest when they hit the bookshelves.
Any and all of Feral Warriors, Dark-Hunter series, any of Christine Feehan Dark series, the Ghostwalkers, the Drake Sisters, any of Lora Leigh series, any of Gena Showalter's Lord of the Underworld series, Jean Johnson "Sons of Destiny series, Mary Margret Daughtridge "Sealed" series, any of Kresley Cole "Immortals after Dark series, Alyssa Day's "Immortals After Dark" series, Kerrelyn Sparks "Love at Stake" series, Alexis Morgan's,Paladins ofDarkness series, Lori Foster's SBC Fighter series. Any of Cindy Gerard's Black Opts, any of Marliss Melton's "Navy Seals", Jacquelyn Frank's Shadowdwellers, and NighWalker series, C.L.Wilson Tairin Soul series, Suzanne Brockmann's Troubleshooter's series, Nina Bruhns "Passion for Danger" series, Robin T.Popp Night Slayer series and her Immortals series, any of Sandra Hills Time of Your life series and when she combines the Viking and Navy Seals together series,
(Jane Burdette 3:36pm July 4, 2010)
Registered users may leave comments.
Log in or register now!