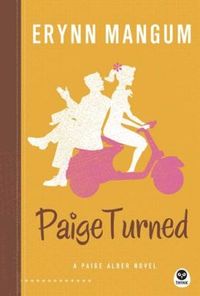 Purchase
Paige Alder #3
Tyndale House Publishers
April 2014
On Sale: April 1, 2014
Featuring: Tyler; Paige
336 pages
ISBN: 1612913229
EAN: 9781612913223
Kindle: B00IDHW62C
Paperback / e-Book
Add to Wish List

Despite her valiant efforts, Paige Alder seems stuck in chaos. Her new job as youth intern keeps her hopping from coffee shop to coffee shop all summer long, but at least she's loving the one-on-one time she gets to spend with the girls.
The unfortunate side-effect is that now, four weeks of laundry fills her apartment. Plus, she barely has time to help her sister and best friend with their weddings!
And even worse? Something is definitely wrong between her and Tyler. She apologized for what he thought he saw happen with Luke. Can't they move past it? Or could there be something he's not telling her something that could change everything?
Paige Adler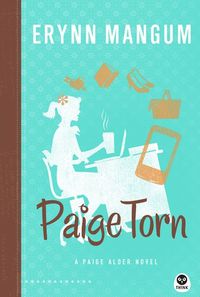 Paige Torn
#1.0
Amazon.com | BN.com | | |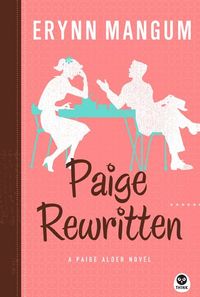 Paige Rewritten
#2.0
Amazon.com | BN.com | | |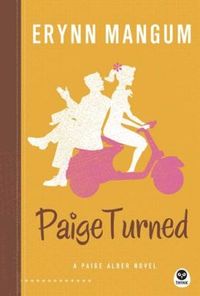 Paige Turned
#3.0
Amazon.com | BN.com | | |
Comments
18 comments posted.
Re: Paige Turned

Life is an adventure that I would never want to miss. There are so many things to look for that may give us love, laughter, tears and wisdom. It is a journey that will last until we are no longer there to make it and allow those that we left behind something to remember us by.
(Cindy Olp 12:16pm April 18, 2014)
How is life different?? I never imagined that an injury on
the job would trigger a chain of illnesses, forcing me off
the workforce, and practically bedridden at times. I also
never dreamt that my Husband and I would lose our house that
we called home for 13 years, and would have to live for a
while in our pop-up camper with our dog, until we found a
new place to live. We're still recovering from that, and it
hasn't been easy, but each day is an adventure, and our new
apartment, although small, is out in God's country, with a
beautiful view, and since our dog has passed on, we now have
2 kittens to fill the void in our lives. Nobody said llfe
was easy, but I still look for a bit of a break now and
then. At least reading takes me away from the everyday for
a while, and I enjoy my books, along with my knitting. Your
book sounds like it would be a good read, and the cover is
really cute!! Congratulations!!
(Peggy Roberson 10:47am April 18, 2014)
Life certainly is not easy. Ice cream helps.
(Debra Guyette 11:17am April 18, 2014)
Life has been an adventure. I love reading about how it is
for others.
(Mary Hay 2:45pm April 18, 2014)
Life has had some unexpected turns for me but I just keep going and finding things to be grateful for.
(Anne Pichette 4:04pm April 18, 2014)
I never imagined life could become so topsy-turvy until the recent death of my mother. My siblings, a total of 8,have all been in feuds and disagreements over her belongings and many of which were never distributed from my father who passed years ago. It is ridiculous. I am the only one (the oldest) who has taken nothing. I cannot understand why one sister that is extremely well off in life would want anything, yet she is the greediest. I never realized how bad these things can get (but I'd often heard about it from fellow co-workers that went through this). I've always felt that you should be grateful for what you have, and not expect from others things that were never yours to begin with, and then, you will be much happier. I am the only one getting along with everyone right now. I would not want to miss relationships with my siblings, now that I no longer have any parents.
(Linda Luinstra 4:17pm April 18, 2014)
In life we are always faced with trials and tribulations and
how we deal with these problems determines how we will succeed
in life. We need strength, and conviction to deal with life.
Reading provides me with an escape and is my only form of
entertainment.
(Sharon Berger 4:46pm April 18, 2014)
I never expected I would lead a life in poor health. I've been dealt a bad hand, no doubt, but I've tried to do my best to be STRONG! And, each day I live life to the fullest!
(Susan Coster 7:13pm April 18, 2014)
My life turned so different when half way thru senior year I
got into a car accident. There went my full scholarship for
the first half of being a doctor, then I have a child and
that was so different that I ever thought it would be. But
all in all I would not change much. I have been a Mother,
Foster Mother, Office mom, Jack-of-all-trades at work,
Office Mgr, Trainer and the only thing I would do
differently is give my self more credit for things I have
done.
(Tina Ullrich 1:05am April 19, 2014)
My life turned out differently when I graduated from high school. I had planned on being a speech therapist since I was a stutterer up until the 10th grade (Penn State had just started a summer school program to help people with speech issues, in 8 weeks I stopped stuttering). I did 3 years at Penn State but never graduated, started working with Developmentally Challenged people & never looked back. 33 years later I still work for the state and enjoy every morning with the people I work with & assist.

Mindy :)
Birdsooong@comcast.net
(Mina Gerhart 8:11am April 19, 2014)
My life I always imagined when I was little would be a happy ever after Cinderella life. That quickly changed at the age of 5 when I was taken to the police station and my dad told them to put me somewhere as my mom had not come home and she frequently left me all night as my dad was a bartender and they were 30 years apart. Well from there it was 2 strict terrible foster homes and horrible.Life was good till my husband passed and I had two children. Well then met a wonderful man in Iowa and moved from ca to ia and it has been a struggle as I have a nerve disease that I have battled for25 years but life I know could be a lot worse so we are happy. I get up every morning happy and then deal with pain 24 hrs but have 2 Chihuahuas that help me thru the day and at night my husband and I relax he watches tv and I read so I am a happy camper.
(Peggy Clayton 1:50pm April 19, 2014)
My life would have been more exciting if I had pursued a career behind the
scenes in theater, but the paychecks may have been sporadic. I have worked in
hospitals & clinics for 30 years, and there is plenty of drama there!
(Sheila Veikune 3:57pm April 19, 2014)
Life is like a deck of cards. The hand you are dealt might make you happy or sad. You do have a choice on how to handle the cards. I've decided that my health issues are not going to define who I am or what I will do next.
(Joanne Hicks 12:48pm April 20, 2014)
Sounds great! Would love to read!
(Vicki Hancock 2:38am April 20, 2014)
Love the excerpt. Life never turns out exactly how we plan. There are always twists and turns and surprises. I always thought I'd have at least 6 kids...instead I had 3 step daughters and 1 adopted daughter....I am blessed 4 times over - but I did think I would carry a few of my own babies!
(Kimberley Coover 12:37pm April 20, 2014)
This is exactly the type of book I love to read. I sure hope I
win this one!
(Denise Austin 1:17pm April 20, 2014)
Thanks for the opportunity to win. It sounds like a great story!
(Kelly Powell 5:37pm April 20, 2014)
i have P.c.os and my youngest daughter has severe autism i
think my husband and i our very strong people she is nonverbal
so we deal with alot of health problems. life is very hard and
we as humans deal with alot of different things good and bad
things , this book sounds really great cant wait to read this
(Denise Smith 5:53pm April 20, 2014)
Registered users may leave comments.
Log in or register now!