Purchase
A Goddesses Rising Novel
Entangled
January 2014
On Sale: December 31, 2013
ISBN: 1622660498
EAN: 9781622660490
Kindle: B00CNTTV60
e-Book
Add to Wish List

Marley Canton is done being a victim. A year and a half has passed since she discovered her ability to nullify power in those who aren't supposed to have it. She's now on a quest not only to stop the brats who've become addicted to goddess power, but also to find the source of their addiction.
Like Marley, Gage Samargo is tracking down the goddess who went rogue decades ago. Insane with too much power from the sun, she's selling that energy to Gage's younger brother and his friends, who are no longer content to come into power naturally. While they work to find a way to neutralize the goddess, Marley discovers that every time she nullifies someone, she takes on some of the goddess's insanity.
Gage falls for Marley's sharp wit and intense desire to right wrongs. But once he discovers she's turning into her enemy, is it too late to back away?
Goddesses Rising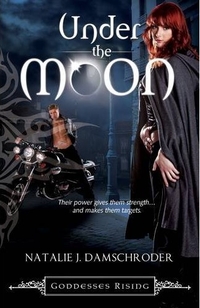 Under The Moon
#1.0
Amazon.com | BN.com | | |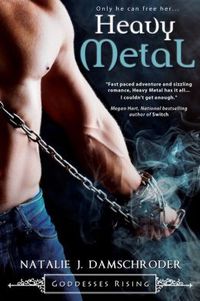 Heavy Medal
#2.0
Amazon.com | BN.com | | |
Comments
32 comments posted.
Re: Sunroper

My day job isn't very exciting either. It's nice to read about character's whose lives are nothing like mine. Thanks for the special on the first book.
(Amy Kincade 2:52am January 2, 2014)
well my day and night job is being a mommy so it isnt exciting
either. so i am excited to read this book thanks so much for
the giveaway. i love reading books and i love romance novels
and this sounds really good
(Denise Smith 8:57am January 2, 2014)
You guys are why I love being a writer. :) Thanks for coming
by!
(Natalie Damschroder 9:36am January 2, 2014)
Natalie, I love seeing why grand adventure is so appealing even when everyday life IS happy and satisfying -- your explanation makes perfect sense!
(Laurie Schnebly 9:43am January 2, 2014)
Reading books always takes me away from my every day life and plants me right in a wonderful new world!!! Thanks and can't wait to read this book!!
(Bonnie Capuano 9:52am January 2, 2014)
Hi Natallie! HAPPY NEW YEAR!! I hope 2014 brings you and
yours Good Health, Continued Happiness and the Best of
Everything else. :) Thank you for having this contest for
your fans and others. Your life seems very exciting to me
and you are amazing to be able to fit all that you do into a
mere 24 hour day. Keep up the Great Work! The "Goddesses
Rising" trilogy is a book set I would Love to read! Although
I will wish everyone "Good Luck" in this contest, I am
secretly hoping that I will win. Hehehe Have a wonderful
day.
(Cheri Minott 10:07am January 2, 2014)
I lead a very boring life. I believe that's why I am such a voracious reader.
It's an escape, lol.
(Vicki Hancock 11:16am January 2, 2014)
Hello author,
Under the moon sounds really interresting i definitely want to read this.
(Hamna Choudhry 12:07pm January 2, 2014)
My favorite thing is to curl up at night with a book. Just love reading and finding authors I haven't read before!
(Barbara Wells 12:24pm January 2, 2014)
Thanks, Laurie! I love when I come up with something that
makes sense to people. LOL

That's exactly how I feel, Bonnie!

Cheri, you're so sweet! Good luck, and may 2014 be your best
year ever. :)

Vicki, I think we all think our lives are boring. I bet
there are parts of yours that would be interesting to other
people. And that is, of course, why fiction is so awesome.
:)

Thanks, Hamna! Good luck!

Barbara, me, too, I almost always end the day with an escape
into a novel. Sometimes a few minutes, sometimes an hour (or
more, with the really good ones! LOL)

Thanks again everybody, for commenting! Happy New Year!
(Natalie Damschroder 12:33pm January 2, 2014)
the excitement to read this is here! sounds great series
(Debbi Shaw 1:36pm January 2, 2014)
The books all look like they would be good to read, thanks for the contest!!
(Carol Oddy 3:46pm January 2, 2014)
Thanks, Debbi and Carol! Good luck! :)
(Natalie Damschroder 4:03pm January 2, 2014)
You had me at "anti-normal"!
(Diana Portwood 4:24pm January 2, 2014)
It sounds like a great read. I love to read it is my way of escaping a somewhat dull life also!
(Denise Austin 4:52pm January 2, 2014)
Sounds like an interesting book and I like paranormal stories. I have a boring life too, but for excitement you can't beat books, movies, and T.V. shows! It's much safer than skydiving.
(Michelle Fidler 5:12pm January 2, 2014)
Reading is my escape from my boring life. Books can take you
anywhere.
(Susan Clickner 6:22pm January 2, 2014)
LOVE YOUR BOOKS THEY ARE FABULOUS. I'M YOUR
BIGGEST FAN.
(Shelly Caggiano 6:53pm January 2, 2014)
Hee! Thanks, Diana! I was pretty proud of that term. LOL

Thanks, Denise! Glad I'm not alone in needing to escape!

Too true, Michelle, too true. :)

Yes, Susan, that's another aspect of it! I love when the
setting is someplace completely unique.

Aww, Shelly, thank you! *tackle hugs*
(Natalie Damschroder 7:13pm January 2, 2014)
I love reading books,because I get to go places I can't go. Thanks for a chance to win your book.
(Linda Hall 7:39pm January 2, 2014)
Hi Natalie, I think most of us read as an escape from normal
life... I know I do. I don't blame you for writing about
things other than normal day to day life. :-)
(Glenda Martillotti 9:18pm January 2, 2014)
I am a operator at a hospital but I get to read at my job.so I love it!!!
(Jennifer Beck 10:13pm January 2, 2014)
I love reading anti-normal. This trilogy is going on my list of books to read. Thanks for the book description.
(Kai Wong 11:30pm January 2, 2014)
Thanks for weighing in Linda, Glenda, Elaine, Jennifer, and
Kai! :)
(Natalie Damschroder 6:24am January 3, 2014)
Sounds like a terrific book! :)
(May Pau 3:54pm January 3, 2014)
I like to read outside the box.
(Mary Preston 4:55am January 4, 2014)
Thanks, May!

Me, too, Mary. :)
(Natalie Damschroder 9:35am January 4, 2014)
I love outside the box, I live a very traditional life. I love being transported to another world and into the lives of people unlike me. Thanks for the giveaway!
Happy New Year
(Kimberley Coover 1:39pm January 4, 2014)
Thank you, Kimberley!
(Natalie Damschroder 4:02pm January 4, 2014)
ooh - like that cover in the middle!!!
would love to win & read
looking forward to your world
(Pamela Faye Howell 5:08pm January 4, 2014)
I think that one's my favorite of *all* my covers ever,
Pamela. :)
(Natalie Damschroder 11:52am January 5, 2014)
Congratulations on your new release! The Goddesses Rising trilogy sounds fascinating. Love paranormal romance and have added this series to my TBR list.
(Bonnie H 8:27pm January 25, 2014)
Registered users may leave comments.
Log in or register now!