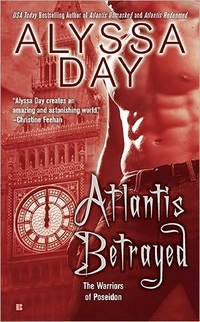 Purchase
Berkley
September 2010
On Sale: September 7, 2010
304 pages
ISBN: 0425238105
EAN: 9780425238103
Paperback
Add to Wish List

Another Warriors of Poseidon novel for romance lovers to dive into...

What could Christophe, powerful Warrior of Poseidon, have in common with Fiona Campbell, the notorious jewel thief known as the Scarlet Ninja? Answer: The Siren, a legendary Crown Jewel that Fiona has targeted for her next heist. It's said to be worth millions, but to Christophe it's invaluable. For the Siren also happens to be one of the missing jewels from Poseidon's trident. But breaking into the Tower of London is a two-person job, and Christophe and Fiona must team up to commit the crime of the century.
Comments
81 comments posted.
Congratulations on your new book and best of luck with your move. It sounds very exciting. We just moved our son to college and what a stressful thing to do. I made list after list which made me feel like I had everything under control.
(Maureen Emmons 6:29am August 31, 2010)
Best of luck with your overseas move! Thanks for the sneak peak of "Atlantis Betrayed!"
(Susan Navidad 7:27am August 31, 2010)
Can't wait to read this book;
loved all of the prior Atlantis
books! Good luck with your
move!
(Barb Kettler 8:19am August 31, 2010)
Get a massage. I am sure every place you are staying has them. They will relax you enough to focus on what needs to be done and to not stress. That and chocolate works well. Good luck with the traveling
(Pam Howell 8:31am August 31, 2010)
Congrats on the release, and good luck on the huge move. Wow, this is a crazy time in your life! Hope all goes well for you. The book sounds great. :)
(Terri Hawkins 9:15am August 31, 2010)
Hello Alyssa, you have a very pretty Smile and I bet you are a great Writer too! I would love to Win your Contest and then I will tell you how much I enjoy reading your Book! May GOD Bless YOU always with Success! Cecilia
(Cecilia Dunbar Hernandez 10:06am August 31, 2010)
Good luck with the move. One great thing about being a writer is that you can do it from anywhere. Looking forward to ATLANTIS BETRAYED and many more from you. Thanks for hours of escape.
(Donna Antonio 10:22am August 31, 2010)
Wow! Now THAT'S an excerpt.
I'm bewitched by Christophe
already.
To de-stress when I'm caught
up in the whirlwind, I write
it all down. Lists are my
friends. Well, when I remember where I put them.
Wishing you a less-stress move to Japan. Adventure awaits.
(Trin Rimes 10:28am August 31, 2010)
Wow Alyssa, I cant imagine all the things that need to be done for a move that far. I'm wishing you all the best!
I have 4 kids, so I know all about stress! lol!!! Honestly, reading is my de-stress-er. I can "put" myself in the story and become the woman to a very sexy Atlantean warrior! :D
I just finished Betrayed last night. And as usual it was so good I hated it to end. Bravo Alyssa!!
Congrats to you!
Take care! xoxo

Steph
(Stephanie Kelly 11:23am August 31, 2010)
I always make lists to make sure I remember everything. I've moved across country several times but never out of the country. And when you start feeling stressed about everything you have to do, take take off and go get a massage. I love your Atlantis books and I can't wait to read this one.
(Linda Henderson 11:50am August 31, 2010)
hey, it must have been my browser! The whole snippet is there aftet all! Yay, Fresh Fiction!
(Alyssa Day 11:50am August 31, 2010)
Wow, what an excerpt.

I like to destress with a round of sport in the gym, relaxing in the sauna afterwards an then chill out with a hot book, at best with cool warriors ;).

Good luck and interesting impressions in Japan!
(Nadine Jumaily 12:01pm August 31, 2010)
First and foremost: Congratulations on your new release and continued success! This is behind you, so now, just bask in the glory.

Change is inevitable; it's going to happen. Yes, you most likely will forget something, but don't worry about it now. Talk about self-fulling prophecy! But, I'm just like that too. I worry about every little detail until I can't take it any longer, then I just throw my hands in the air and say, "The hell with it", because I can't change what is happening; only accept it and deal with it. Then I begin to look forward to a new adventure. Once that happens, you will be amazed at how the stress melts away and is replaced with anticipation for what is to come.

I wish you the best!
(Cynthia Netherton 12:06pm August 31, 2010)
sounds like a great read
(Debbi Shaw 12:54pm August 31, 2010)
Wow. I can't wait to read your new book. It sounds great :) And I wish u the best of luck in your move.
(Heather Minor 1:08pm August 31, 2010)
Holy steam factor! That is one great excerpt!
I can't wait for this one to come out ;)
I just moved this weekend, and it has been a nightmare, I hope your move to Japan goes smoother than our move up the street did.
Okinawa, right? You'll love the weather there.Buy clothes online-nothing fit me there, and it was hit or miss at the BX. I'm 5'9" (I think you're taller than I am)
I'd love to win Christophe's book, and I'd read it overnight to get the review up on my site the next day :)
www.demonloversbooksandmore.com
(Laurie Hunsaker 1:19pm August 31, 2010)
Ahh we will miss you at
conventions when you leave the
States. I wish you the best of
luck in your move. I myself
have moved a lot being a
military wife. I never gets
easier.
(Rayna Scherer 1:22pm August 31, 2010)
Listening to music helps me when I'm stressed! That and a nice cup of tea. :) I love the excerpt, and I can't wait to read Christophe's story! Ganbatte on your move!
(Julie Guan 1:22pm August 31, 2010)
The best way to de-stress is with a good book and a very hot hero... Something really relaxing about a super hot, tough guy falling in love and realizing he is a big sap.... :-D
I so can't wait for Christophe's story... I love love love him... I can't wait to see how he handles falling in love....
(Kelly Mueller 1:37pm August 31, 2010)
At the end of the day. I take a hot shower. find a perfect color of nail polish find awesome tunes and paint away. Then get some tea hot or cold get some candies (lollipop. good & plenty (love black licorice) or dark chocolate) a good book a comfy chair and curl up with my book. Or during the day I know this sounds strange but I mow the lawn. I'm out there in the yard with the mower going and no screaming or talking..No phones ringing. And its simple just follow the lines. lol Yes I know strange but you should try it.. That's why your hubby does it.. hahaha
(Jennifer Herrick 1:48pm August 31, 2010)
I love your books and this new one sounds terrific. I can't wait to read it!!
(Tammy Barringer 1:50pm August 31, 2010)
Hi,

Thanks for the wonderful excerpt, certainly got me hooked!!

As for de-stressing, a walk in God's good nature always does it for me. If it's a warm day, walking barefeet on the grass, feeling the sun on my face is sooooo relaxing. On a cool day, wrap up warm and sit by a lake, so calming.

I hope all goes well with your move. It will be so exciting getting to know a new country and a new culture.

Valerie
[email protected]
in Germany
(Valerie Bongards 1:50pm August 31, 2010)
#1 de-stress Read a good romance. Preferably an Atlantis story
#2 Hot stone massage.
Hmm. I wonder if there is a way to do both at the same time.
(Jill Purinton 1:52pm August 31, 2010)
Wow that is a big change! Best of luck with the move!!! Music and reading always help me relax!
(Colleen Conklin 1:57pm August 31, 2010)
How exciting! So much going on! Hope the night terrors only happen once in a while. lol
(Heather Cowley 1:59pm August 31, 2010)
Congratulations on the new book! I can't wait to read it!

Good luck with your overseas move. Moving is a chore if you move 1 block or thousands of miles. My thoughts and prayers are with you. Just remember - the important things are your family anything else is just gravy. Make lists, break the packing into smaller areas and then do each small area/room. this will help whittle down the large overwelming task into easier portions. God Bless!
(Kimberley Coover 2:01pm August 31, 2010)
Cant wait to read this book
(Maria Pena 2:17pm August 31, 2010)
Moving is a challenge, the most recent move we made was in July and we moved darn near an entire 3 bedroom house 15 miles in about 24 hours. How did I decompress? I read a book in the bathtub!
(Lili Booth 2:47pm August 31, 2010)
Wow,yummy scene. :D I can't wait for this book. This is one of my favorite series.
(Ashley v 3:13pm August 31, 2010)
Congrats on the release! I love LOVE this series!
(Tawania Etheridge 3:28pm August 31, 2010)
First of all, good luck on your move. I hope you enjoy your time in Japan. I would love to visit, but can't even think of the logistical nightmare involved in an overseas move.

That having been said, there has really been only one sure way for me to de-stress and forget. Reading gave me the ability to go places and do things that I knew I would never be able to do otherwise. I was able to immerse myself in the story and forget about whatever my problems, concerns or stresses were.
So, thank you for giving me another story.
(Laura Troth 3:35pm August 31, 2010)
Best of luck w/your move. i know completely how stressful that is. We were AF and crossed to Army for commission and move a lot w/a 4 yr old. It's so scary to think about all your belongings shipping so far. It's suppose to be a lot better now so they say ;) I always get overwhelmed so I make myself stop whatever it is I'm doing and I lay down on the floor on my back w/arms spread out wide. I take deep breaths and think of floating in the ocean. It works for me and then I'm ready to start up again. At night i read so I can drift away to somewhere else but w/ you being a writer...not so sure that would work..lol. I love your Atlantis series and hope Japan treats you well. Safe Journey's.
(Tanya Wires 3:48pm August 31, 2010)
have been waiting for another book please keep them coming
(Brenda Hook 4:06pm August 31, 2010)
i just think about my babbies and all is right again it has worked for years at 59 i think that is awesome
(Brenda Hook 4:09pm August 31, 2010)
I watch television shows that make me laugh and read books that have humor in them. Sometimes there are funny mysteries that I read and that seems to help.
(Leni Kaye 4:30pm August 31, 2010)
Good luck with the move. It will be an
exciting adventure. Take advantage of
every opportunity that you can while
there.
As for de-stressing, try to keep things
simple. We were career Air Force, but
weren't lucky enough to have an
overseas assignment. I always moved
too much stuff. That being said, leave
things that are important to you -
antiques, etc- here either with
someone you trust or in good, safe
storage. You are better off having a
huge yard sale (too much trouble for
me when trying to move) or contacting
a local charity that can use you stuff.
We always give our household stuff to
Catholic Charities which has a
transitional housing program open to
anyone who needs help. Housing in
Japan is small and you won't need
much. The bonus to that is you can
furnish your place there with local
items and them bring them home with
you.

The key is to simplify. Bring as little as
you need, take advantage of the local
culture in both decorating and travel,
and enjoy yourself. Getting rid of stuff
on this end that can be easily replaced
when you get back is a very freeing
experience. It is that much less you
have to worry about. As long as the
major things like passports, shots, and
travel arrangements are in place,
things will be fine.
(Patricia Barraclough 4:31pm August 31, 2010)
Looks awesome! Best of Luck with your move.
(Joelle Beebe 4:48pm August 31, 2010)
You are all terrific!! Thanks for so many great ideas for destressing! I plan to take advantage of as many as I can. I've already booked the post-packout mani-pedi and today I got all the flight arrangements for me and my dog organized, so that's a big weight off my mind. Thank you thank you!!
Back to writing, but will check back later.
(Alyssa Day 5:33pm August 31, 2010)
Six years ago I moved from California from Florida via a U-Haul with my son driving. I imagine your stress beats mine for sure, but the only thing I can say is - it will get done, anything left behind can be replaced (just cover the absolute must save items) and in the scheme of things, it's not life or death, so it will get done one way or the other. I was calling from the road to have power, water, phone turned off and setting up those things at the new place, since I didn't have time to do it before, LOL.
(Barbara Elness 5:34pm August 31, 2010)
My husband was stationed in Japan in 1953. He enjoyed the people very much, as I am sure you will, and found that country to be beautiful.
Blessings,
Marjorie
(Marjorie Carmony 5:42pm August 31, 2010)
WOW what a fun thing to do! Hope you enjoy all that Japan has to offer, It will be alot of stress but I'm sure once the move is done you will enjoy learning all kinds of new things.
(Vickie Hightower 5:43pm August 31, 2010)
Music. Sing, play, listen, dance. Music destresses me, can completely change my mood. I can be in the worst mood ever and the right song can put a smile on my face. And of course, read. I carry a book around like a security blanket.
(Kelli Jo Calvert 5:47pm August 31, 2010)
Only worry about the really BIG stuff--like do you have a passport for everyone--in other words, don't sweat the small stuff. Find a good book and just bury yourself in it for an hour or so each day.
(Sue Farrell 5:50pm August 31, 2010)
Wow, how exciting to move to Japan. Lists and lists. that is how I handle big stuff:) good luck
(Barbara Studer 5:58pm August 31, 2010)
Just keep your chin up and don't let minor details throw you. Most things will get solved if they happen. I try to live my life hoping and trying to remain calm.
(Joanne Reynolds 6:12pm August 31, 2010)
Good luck with the move! That's a major life change, but it also sounds like a great adventure! The book sounds awesome.
(Kelli Rolvaag 6:28pm August 31, 2010)
Moving countries is a huge change. I hope you enjoy.
(Mary Preston 6:49pm August 31, 2010)
Congratulations on your book and the Big Move. It's finally time to toss or pass on all those things you were saving for someday so you won't have to look at them again.
(Alyson Widen 6:56pm August 31, 2010)
Congrats on your new release and good luck with the move! When the stress gets too much, take a short brisk walk. Not only does a walk get your blood pumping, but you'll notice parts of your body that have been clenched or tweaked by stress so you can work them loose. Plus, all those endorphins can only help. If you have access to one, a soak in a hot tub will help, too. Once you get to Japan and have finished settling in, get a good massage to unkink all those tired muscles.
(S Tieh 7:00pm August 31, 2010)
Congratulations on the book and on the BIG move. WOW!
At my age I now pop a xanax to help with the middle of the night anxiety or I would never get any sleep.
(Gigi Hicks 7:00pm August 31, 2010)
Congrats on the up coming release and also on your big move.
(Gayle Oreluk 7:07pm August 31, 2010)
Congrats on the new release!
(Lisa Garrett 7:39pm August 31, 2010)
Congrats on the new release. Good luck with your move. Loved the excerpt!
(Cherie Japp 7:54pm August 31, 2010)
I remember the situation you are speaking of and was sweating through my second one when a veteran of international moves said: Just do what you can and remember that there is very little that cannot be fixed, sent later, carried to you by visiting friends and family, or that you can't pick up yourself when you visit home.

Of all that I did to de-stress, that bit of advice was the most effective in keeping me calm.

All my best to you!
(G. Bisbjerg 7:55pm August 31, 2010)
Thank you, thank you, thank you for writing this book. I am so excited that I can hardly wait until the 7th. I may have to take the day off!
To de-stress the most beautiful word in the English language comes to mind...WINE. Yes, wine, wine and um....wine. : ) Whites (Reisling, Bellini -white Italian w/ yummy peach nectar, Pinot Grigio, Vinho Verde or a Sauvignon Blanc) are considered a favorite for summertime packing and unpacking and you can even add a little fruit on the side to get one of your "servings" in for the day so it is a win/win or should I say wine/wine situation. : ) Other than that curling up with a book by your favorite author will do the trick. Guess what I'll be doing on Sept. 7th. Yep, reading about hot Atlanteans, Vamps and Shapeshifters while doing what...enjoying some wine. My hub runs a wine store if you didn't guess. : )
Other than that...take deep breaths, a hot bath, and a few quiet minutes here and there and just know that everything will be okay. We're all pulling for you Alyssa and sending positive thoughts, vibes and best wishes your way.
P.S. Margaritas are awesome as well! ; )
(Jennifer Bednarek 8:00pm August 31, 2010)
I like to de-stress by finding a quiet place to be alone with my thoughts,read or nap. Thanks for the contest.
(Sheila True 8:07pm August 31, 2010)
I love your series. Are you excited at the move? It will be a big change for you and your family. Will this affect your writing schedule?
(Diane Sadler 8:15pm August 31, 2010)
Congratulations and much luck!
(Tracie Travis 8:16pm August 31, 2010)
Good luck on your move and the
next book. I can't wait to
read it!
I wish I had some good words
of advise for destressing. I
stress just packing for a 2
weeks vacation. I usually
don't sleep the night before
we leave. I can't imagine the
stress of moving oversees.
(JoAnna Becker 8:17pm August 31, 2010)
Wow sounds like a great book!
I'm not a good one to ask about destressing.
(Brenda Rupp 8:31pm August 31, 2010)
Moves ARE very stressful, I can't imagine moving to another country where I would need to master the language. Good luck to you, try lots of massages, hot baths, and a drink of wine to relax.
(Vikki Parman 8:40pm August 31, 2010)
I usually listen to music from my CD collections from soft rocks to loud music (depending on my mood) or from my favorite radio station. Music has a way of de-stressing one's mind of all the worries.
(Kai Wong 9:28pm August 31, 2010)
Love the Atlantis books! Can't
wait to add this one to my
collection.
(Lisa Richards 9:40pm August 31, 2010)
Oh I love you all so much!! Just reading your kind words about my books and your de-stress suggestions has already made me feel better. I'm printing out all these wonderful suggestions!!
(Alyssa Day 11:12pm August 31, 2010)
congrat on the book and home to see many more to come good luck int he coming year and i osuld love to read the book
(Desiree Reilly 11:17pm August 31, 2010)
Congrats on the new release, and the move. I don't envy you on the details part of the move.. at all, but it will surely be an adventure once you get there.
as for destressing.. my world kinda crumbled a couple years ago.. still putting the pieces back together.. reading books like yours & those of other romance writers was & still is my was of "getting away"..
Hope things go smoothly for you with the rest of the move. Thanks for giving us all a chance at your new book.
(Jo Ann Jansing 11:52pm August 31, 2010)
The lists help. You also have to have a master list to tell you where all the other lists are :>) My de-stresser is my computer. So, make sure your batteries are charged and you have all your adapters AND enjoy!
(Karin Tillotson 7:09am September 1, 2010)
Good luck on the move. Hope all goes smoothly.
(Maria Munoz 8:08am September 1, 2010)
Love this series keep it up thanks :)
(April Strength 8:51am September 1, 2010)
Congratulations on your new book and your move. There are 3 things that I do when I'm stressed. The first thing I do is pray, so God will help me to handle things a little better. The other thing I do is knit or crochet, to take my mind off of things and relax. The third thing I do is either do crossword puzzles or read a book. I hope my suggestions help. Everything will turn out fine, and you have a lot of friends that are in your corner!!
(Peggy Roberson 9:00am September 1, 2010)
I've found the greatest stress reliever is to escape into a good book!
ATLANTIS BETRAYED looks like it will be a really good book...
Can't wait to read it!
Good Luck on the move... it sounds exciting!
(Sonja Warmath 10:52am September 1, 2010)
How lucky you are! I've lived overseas, Okinawa to be exact, and I cherish those memories. It's an adventure I'd love to go back and see all those places again! *S* I pray & let it go (worry really doesn't gain you anything,esp if it's something out of your control), break out the caffeine (quit smoking 3 yrs ago so that's out) and I read or just close my eyes and listen to an awesome CD.
Best to you hon! Just breathe..
(Ivy Truitt 10:55am September 1, 2010)
can't wait to read this, I just finishing reading the last one you wrote, it was great!
(Ann Unger 11:42am September 1, 2010)
This book sounds like a very good read.
(Wendy Flynn 1:07pm September 1, 2010)
love the cover art and i want 2 read this 1
(Debbi Shaw 1:40pm September 1, 2010)
Hi Alyssa, your are going to love Japan. My mother was from there and my sister and I are planning to go back next year ( not sure if to just visit or live). List, lists, lists are everyones friends when it comes to trying not to forget everything. The most important thing is to sit back, breathe and just look around. Everything will fall into place as it is suppose to do when change comes to ones life.

I AM soooooo excited there are only a few more days until the release of the next Atlantis book. I can't express to you how stressful it is to me to have to wait to resubmerge myself in the the world of the Warriors. Thank you for creating this fantasy for me to escape to when my reality is chaos.

Good luck with your move and remember to breathe and just have fun in your new environment.
(Chiaki Ramirez 2:32pm September 1, 2010)
I am so excited!!! I have been reading these books since I found the first one on the shelves!! I have even turned my Fiance on to them (SHHHH I so did not just tell you guys that, he get shy when I tell my friends He reads my romance books!!!)

Good luck on the move and just take it a step at a time. Remember that you will learn things and you can do that!!!!
(Strohs Krohn 5:30pm September 1, 2010)
Oh wow! Good luck on you move and I can't wait for your book! I also checked out your new music video and it was just awesome! YAY!
(Jennifer Rowland 5:42pm September 1, 2010)
This sounds like a great book!
(Jennifer Langford 8:25pm September 1, 2010)
Aylssa,
When my house burnt down, I was so stessed out because I didn't have any renters insurance.
The first thing I did was have a good cry. Took along hot bath, lit me some candles and prayed while I soaked. I just prayed for guidance to get me over the hurdle that waws thrown at me. After soaking and praying I started to look at the situation as a new adventure and chapter in my life. I picked myself up and started making list of what needed to be done. It was like something or someone was putting the ideals in my head and I just obeyed. Before I knew everything that needed to be salvaged and what we needed just started coming in and into place on what order it needed to be done. Pamper yourself, so your mind can be cleared and you can start fresh without the stress.

Congratulations on the new book. And have a pleasurable and memroable adventure.
(Teresa Kleeman 1:46am September 2, 2010)
Congratulations Alyssa on your new release. I have added to my wish list. I have always wanted to go to Japan and see the gardens and all the sights. You are so fortunate that you will be able to see all these things. Have a great time in Japan and keep on writing.
(Brenda Hill 8:52pm September 3, 2010)
Registered users may leave comments.
Log in or register now!