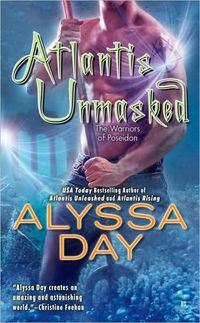 Purchase
Warriors Of Poseidon #6
Berkley Sensation
July 2009
On Sale: July 7, 2009
Featuring: Alexios; Grace Havilland
320 pages
ISBN: 0425223221
EAN: 9780425223222
Paperback
Add to Wish List

Immortals: Three. Vampires: Zero.

Alyssa Day's Warriors of Poseidon series: A KNOCKOUT.

Poseidon's warriors swore an oath eleven thousand years ago to protect humanity from those who stalked the night. Yet when a woman with an ancient Gift dares to claim the heart of one of Poseidon's fiercest warriors, the world teeters on the knife's edge between desire and darkness.
A warrior scarred…
Alexios survived two years of unspeakable torture at the hands of a vampire goddess. Now he's been ordered to team up with a beautiful warrior and take on the most dangerous mission of his life: to retrieve the Vampire's Bane. Without it, Atlantis can't ascend to the surface and take its rightful place in the world. But when evil threatens, will Alexios be led by duty—or his heart?
A descendant of Diana…
Grace is part of the rebellion against the vampires and shape-shifters trying to take over her world. She is deadly with her bow, because when she takes aim, she never misses her target. But suddenly she's focused on a damaged Atlantean warrior who sees her as a weapon, not as a woman. When thousands of lives are on the line, will passion overrule, or will her aim still be true?
When two worlds collide…Atlantis is unmasked.
Comments
8 comments posted.
Dear Alyssa,
After reading the excerpt from
ATLANTIS UNMASKED, I would love to have an autographed copy for my home library. Thanks for having a contest.
Lorraine
MOML1@COX.NET
(Lorraine Larose 3:19pm November 3, 2009)
I am looking forward in reading this book.

Thanks.
(Tracey Dent 5:27pm November 3, 2009)
love the warriors, im in love with them all, plus i keep hhoping you find some that is hidden , so there will be a ton of book on warriors
(Tami Bates 6:54pm November 3, 2009)
That book sounds absolutely WONDERFUL, I can't wait to read.
(Tami Winbush 7:50pm November 3, 2009)
I love this series. Can't wait to read the new release.
(Caitlin Usignol 8:34pm November 3, 2009)
love this series and can't wait for the next one
(Diane Sadler 11:19am November 4, 2009)
i read everyone but this one :)
(Tami Bates 7:46pm November 4, 2009)
Wow. That was quite an excerpt. This
sounds like a very good series. I'll have
to check it out.
(Patricia Barraclough 12:34pm November 5, 2009)
Registered users may leave comments.
Log in or register now!