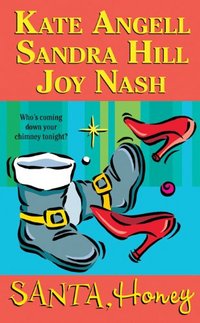 Purchase
Love Spell
October 2009
On Sale: September 29, 2009
336 pages
ISBN: 0505527537
EAN: 9780505527530
Mass Market Paperback
Add to Wish List

Romance Anthology | Romance Contemporary
Who's coming down your chimney tonight?
Christmas Unplugged By USA Today Bestselling Author JOY NASH
Two sisters, plus two brothers, plus one Christmas romance weekend at Dutch Lodge with zero electricity. It all adds up to a sleigh load of mix ups, break ups and happily-ever- after hook ups.
Ho, Humbug, Ho By Nationally Bestselling Author KATE ANGELL
Forced into a scratchy white beard and a red velvet suit two sizes too small, hot shot ballplayer Alex Boxer knows his goose is cooked when the woman supervising his community service turns out to be Christmas-elf cute but playing the role of Nutcracker.
Naughty or Nice By New York Times Bestselling Author SANDRA HILL
Anyone can hold up a convenience store on Christmas Eve. But to do it impersonating Santa Claus, on behalf of a nun, handcuffed to a gorgeous hostage--that takes brass... bells.
Comments
87 comments posted.
Re: Santa Honey

Oh this one sounds absolutely fun! But then again, all of Sandra's books are!
(Kathy Walsh 1:41am September 29, 2009)

(Ellie Herman 2:21pm October 13, 2009)
I love books. My shelves are covered. I also read a book more than once.
(Pat Wilson 9:48am October 22, 2009)
I totally agree with the loss of books being seen. My area was always a problem to find novels and it has become more so. I used to have to travel 25 miles to the nearest Walden's bookstore and they closed that last year. I knew Emma well and she would call me a let me know when a new book by my fav authors and there are many. I would walk out of her store spending no less than $100. This would be 3-4 times a month. Emma got to know my reading tastes and would let me know when an author would come out with something that could interest me. This is how I found Sherrilyn Kenyon, JR Ward, Janet Chapman, Cindy Gerard and so many more. I had already "discovered" some favorites and was disappointed when their publishing houses closed, ie Kismet, Loveswept, MacFadden. I have been reading for 45+ years and will continue to do so. I love the feel of a book in my hands. Don't get me wrong when I am I also like ebooks and audio books but...a hardcover or paperback is just so comfortable. I have seen changes over the years in the publishing business and I hope that this will be resolved. It is very troubling to find out so many bad things going on out there. With so many wonderfully talented authors reading is a feeding of the imagination. My library always has room for more books. I have no ready solution other than to actually purchase the books that I want from a reliable dealer. I may have to order more online or take fewer trips since the bookstores are further away. That may be what all of us will have to do.
(Cindy Olp 1:38am October 23, 2009)
I have been seeing the ominous signs you mention. Am hoping that when the economy picks up, the pockets of all of us will be able to open wider and that the industry will note that there are many of us who don't want to give up print books. I enjoy ebooks for the easy access but there is something about holding a print book in my hot little hands.

Truthfully, I have discovered some new ebook authors through chats and peeking at ebook publisher websites. As for the choices in authors and their stories, ebook publishers have given us quite some range in that. Gennita Low's Virtually Hers found a home at Samhain Publishing and as a reader awaiting the story I was so glad.

All the same, I love the experience of walking into a bricks and mortar bookstore and browsing paperbacks or hardcovers. It is always a thrill to discover a new series or author that way.

By the way, I have a well-worn copy of Truly, Madly, Viking on my keeper shelf which has helped me through some exasperating times. My ebook reader is a neat gadget but thumbing through a well loved book feels more comforting to me.
(G. Bisbjerg 1:46am October 23, 2009)
That's terrible what are we going do do with out choices and ways of finding new authors?some time I go to Bitten by book and here to find new authors but a lot of people do not have combuters out there.
sasluvbooks@yahoo.com
(Stacey Smith 3:13am October 23, 2009)
I would first like to say that I learned about "Viking Heat" here on Fresh Fiction!

As you mentioned in your blog, I went to the bookstore and bought it, along with another book. I have also ordered and received "The Bewitched Viking" "The Blue Viking" and "My Fair Viking" because I LOVED "Viking Heat" and it made me laugh out loud in parts!

Personally, I am not a fan of ebooks. To me there is nothing like being curled up with a good book in your hands, or browsing through a real bookstore!

I have not heard of ebook pyrating before reading your blog, only music pyrating. I think that is wrong, and it is a shame. I will be heartbroken if I can't look forward to new releases from my favorite authors (or musicians). I was also surprised to read what little % authors made on the sale per book!
I am going to let everyone I know know about this problem.
I am so happy to have discovered you, and am looking forward to starting on "The Bewitched Viking" this weekend!

THank you for offering this contest! I would love to win books from you, as I intend to eventually read ALL of your books! The motto on your website is true! "Love, Laughter and Sizzle Guaranteed!"

PS: I also LOVE the jokes on your website!!
(Stefanie Finn 6:44am October 23, 2009)
I agree with Stefanie above (I love that she spells her name with a F also!) There is nothing like being curled up with a good book in your hands! Who wants to curl up with a computer or an e-reader? Well, I don't anyway!

I love going to your website and watching the Viking Heat video! It is hot, esp the mans voice who narrates it!

The e-book pirating sounds bad. I have heard of it before, but didn't realize how bad it really is.

Please enter me in your contest!
(Stefanie Henderson 7:44am October 23, 2009)
It's hard to imagine life without books, but look what the internet is doing to daily newspapers in this country. Folks just don't seem to have the patience to read anymore. That's sad; they miss so much!
(G S Moch 9:18am October 23, 2009)
The Border's nearby almost closed, but got a new lease deal for a short time. I'll be missing it next year, but there's an Indie bookstore kitty-corner that appeals to a lot of people and another box bookstore within a 3 mile radius. It's difficult to keep bookstores going, yet I'm an avid reader and miss each one that goes and the experienced helpful staff that leaves along with it. I love holding real copies of books in my hands. It just feels better and the mood is the thing I'm going after.
(Alyson Widen 10:31am October 23, 2009)
How awful! I had seen signs that there were problems in the publishing industry but I had not realized things were this bad. Ebooks are okay occasionally but I really like having that print copy in my hands and there is just something about being able to go to a bookstore and look through books to find new authors to try. It's rather disappointing to know that there will be less to choose from if the industry keeps going the way it is.
(Cherie Japp 10:39am October 23, 2009)
For a bookaholic like me, this is really a gloomy forecast! Of course, my husband thinks I can keep the industry afloat just with my book-buying. ;-)

No matter how bad the economy gets, I vow to still buy books. They really are a cheap form of entertainment. I hope that others will pick up their buying habits and give the local bookstores lots of business by buying print books.
(Cheryl Castings 11:06am October 23, 2009)
I have gone to great lengths to find books that I wanted in the past, guess maybe will be doing more of that in the future too!! =-( Is a sad sad state of affairs, true, but worth whatever it takes to end up with an actual book in my hands!! BRING ON THE HUNT!!!! Hugs...
(Marian Woodside 11:53am October 23, 2009)
Hey, Cindy! Hi! One thing you mentioned I forgot about. Remember all those independent bookstores where the owners/clerks hand sold books, who knew your tastes and recommended new authors to you. That I miss already as we have lost Little Professors, Encores, and other independents in my area.
(Sandra Hill 12:25pm October 23, 2009)
G. Bisbjerg and others: Thanks for telling me that my books helped you through hard times. Humor tends to do that. Right now, I am on a Maggie Osborne kick, reading all her old books. Great sense of subtle humor!
(Sandra Hill 12:26pm October 23, 2009)
Hi Sandra! You mentioned that you are on a Maggie Osborne kick! I highly recommend her book "Prarie Moon"! I also have "Emerald Rain", "Lady Reluctant", "Yankee Princess" .. to name a few! Fantastic author! When I find an author that I really like, I try and buy all of her books, and I keep them in a permanent place on my LARGE bookshelf! Which, of course, now includes you! I now have 4 of your books, and after reading above the recommendation of "Truly, Madly, Viking", I am off to Amazon dot com to order it for my collection!

Another 3 authors that I HIGHLY recommend are Veronica Wolff (who has a new book coming out next week!), Monica McCarty and Karen Marie Moning! Veronica Wolff writes AMAZING time travel historical romances, Monica McCarty writes AMAZING highlander romances, and Karen Marie Moning writes AMAZING stories that all include Fey, some historical time travel romances, some not!

I have to laugh when reading author presentation of a "modern day woman" and her views, speach and ideas to a "historical man" who she has been destined to meet after traveling back in time!

They do say that laughter is the best medicine for the soul!

I hope that thoughtless people wo illegally download books do not ruin everything for you wonderful authors and for us wonderful fans!

Best wishes to you and for all that you do. Thank you.
(Stefanie Finn 1:00pm October 23, 2009)
I have seen it for awhile, some authors disappear. What a shame. So much lost. The movie industry decides what movies we watch, why not the publishers. The problem is a smaller percentage do not like what's out there, so we lose. I'm glad I hang on to some of my favorite books, at least I can reread them.
(Theresa Buckholtz 1:08pm October 23, 2009)
You aren't the only author saying this, Sandra. It's a sad message but one that we, as readers, need to fight by refusing to support stolen content on internet sites and making choices like purchasing books as gifts.
A book can take you places that you would never get to go in real life, in a safe way, as though the author is holding your hand for the journey.

Thank you for the post and the contest! =) Here is hoping it all improves.
(Janece Suarez 1:22pm October 23, 2009)
I would so hate to have books go by the wayside. I so love the feel of a book in my hand. Hope that we can see an upturn in sales.
(Joanne Reynolds 1:27pm October 23, 2009)
Thanks for enlightening me, I hate to see misjustice like that. I personally only use reputable sites and bookstores.
(Donna Petrilla 1:33pm October 23, 2009)
This is sure a sad state of affairs. I don't like the Kindle, etc & shy away from e-books. I like to hold a book in my hands & turn the pages in anticipation of what happens next.

I, too, have noticed the overabundance of vampire & paranormal books. At one time, I didn't mind reading one of these books for a change of pace. Now, I can feel my interest waning because of this overabundance.

I have to admit that I don't run out & buy every new book that appeals to me - I'd never be able to afford it! But, I do purchase some titles & make sure it gets passed around so many can enjoy it. Then, I donate it to my local library so many more can enjoy it.
(Cheryl Snyder 2:02pm October 23, 2009)
I'm scared because I've heard this before - that some of my favorite autors may just disappear! How frightening! I'm thinking of going to using a "nook" by B&N, but I'll NEVER stop loving to have a real book in my hand to read and will continue to buy the real thing also! ;)
(Kelli Jo Calvert 2:11pm October 23, 2009)
I agree with donating books to the libraty, esp in this economy. I have discovered many great authors new to me by purchasing used books from the library, and then buying new ones from a bookstore or on-line. But if I LOVE the author, the books finds a permanent home on my bookshelf here at home LOL!

That is another great thing about having acutal books in your hands, they can be proudly displayed in your home. you can't do that with e-books ;~)
(Stefanie Finn 2:12pm October 23, 2009)
I share your doom and gloom, though as long as there is words, we will always have books.

Great post!
(Freda Mans-Labianca 2:35pm October 23, 2009)
What a frightening thought! I love to read and save many of my books. In an e-book world my house would be nice and tidy but I couldn't browse through my books and see what catches my interest at that moment. I hate the thought that I could be told what I need to read!
(Rosemary Krejsa 3:48pm October 23, 2009)
I agree with the others there's nothing like sitting with a real book in your hands. I work in a factory that prints magazine and between the economy and magazines being done on line our work load has dropped a lot in the last two years. So I can really see it happening to books which is really sad. But back to something happier I love your books when I read them I laugh out loud. I love both your Viking series and you Cajun series. Thanks for making it a more cheerful place.
(Sherry Strode 3:54pm October 23, 2009)
I like my print books but I'm sure there will come a time when we all will be reading e-books.
(Maureen Emmons 4:21pm October 23, 2009)
I have heard that some authors have been told by their publisher that their series might not be continued because of book sales.
(Jane Cheung 4:35pm October 23, 2009)
Hi, Sandra, I enjoyed reading your post.

Though I have a Sony Reader, I will not stop buying paperbacks and hardbacks. There is just "something" about holding a book that a reader can't replace... at least for me. I do like to buy ebooks to support new and little known writers.

Thanks for posting today.
(Tracey Dent 4:57pm October 23, 2009)
Sigh, it's already hard enough to find some of "my" authors and/or particular books. I venture to say, though, that maybe there are too many books out there, some with a nice story but, unfortunately, very poorly written--which definitely puts me off.

How do we know that a site has pirated books? Are they e-books only? I don't have an e-book reader, though I really wish I had one for ease of moving my 1000s of real books around.

Too bad. The outlook does seem to be pretty dismal. On the whole I think I'll be all right since I still have lots of TBR boxes, and still can't stop buying new ones. However, I pity those book addicts who are still to come. I can't imagine a time when there will be as few books as there were in the 1970s.
(Sigrun Schulz 5:25pm October 23, 2009)
There is absolutely nothing like curling up with a good book that you yourself have gone out, browsed thru many and finally chose for your own. E-books are ok and I have read a few, but I love the touch and even the smell of a good novel. My book room runneth over and I love it.
(Elizabeth Parzino 6:50pm October 23, 2009)
I already have 9 of your books and have enjoyed every one.!!

I really enjoy reading paperbacks or hardcover books; I will read e books, but prefer the written word since I cannot take the computer to bed with me and since I read ebooks down in the apartment computer room, it is difficult to curl up w/ the book, lounge in your pajamas, etc.

My attitude may also be a by-product of having worked in the printing industry.
(Linda Chesick 6:51pm October 23, 2009)
I'm not much into ebooks yet. I love holding a print copy in my hand as I read. Walking into a book store is my Alladin's Cave. Full of treasures & pleasures.
(Mary Preston 7:00pm October 23, 2009)
Hi Sandra! I am a big fan of yours--just love those Cajuns & ?Vikings. *L*

I usually buy my books online and the sites I use always point me to other authors that are similar to the one I am purchasing--which always leads to me spending way more money than I had originally planned. *L*

I always sign up to my favorite authors' newsletters, I check out Romantic Times Book Reviews, and I also participate in groups such as Fresh Fiction. Just by doing thse few things, I have found so many authors I would not normally know of!

I don't think authors are being put away or that they will disappear, but I do think they need to make sure they have those newsletters ready to go, as well as make sure their names are out there on the web. Yes, it is time consuming, but unfortunately, this is the only way to compete. To be quite honest, I have found many more authors using the net rather than going to my local bookstore.

Good luck--looking forward to many more of your books!!
(Maithe Ortiz 8:57pm October 23, 2009)
No, Emily, it's not just paranormal and erotica authors who are being pirated. All of us are, no matter the genre. Big authors, as well as midlist, as well.
(Sandra Hill 8:58pm October 23, 2009)
Thanks to you all who stopped by and those who said they like my books. I have a few really fun ones coming up. In February, I go back to straight historicals with VIKING IN LOVE, my medieval version of the Dixie Chicks video "Good-bye Earl," and later in the year, EVEN VIKINGS GET THE BLUES, my G.I. Jane meets Stipes book. Great fun, both of them!
(Sandra Hill 9:01pm October 23, 2009)
Please enter me in the contest!
(Brenda Rupp 9:20pm October 23, 2009)
Sandra, I love your books. You have such a great sense of humor. I wish I was an author so I would know how to put the correct words together to let you know how bad I feel about what you wrote. I can't wait to read the next book you have out.
mom1248(at)att(dot)net
(Patsy Hagen 9:44pm October 23, 2009)
I really don't care for e-books. Like having a hard copy in my hands and turning the pages.
(Teresa Ward 9:45pm October 23, 2009)
I prefer paper books as I find it difficult to read on an e-reader (not to mention the cost) and I just like the feel of a book in my hands. And, Sandra, I first picked up one of your books while in a bookstore browsing. It had John DeSalvo naked on the cover (Sweeter Savage Love, of course). I bought that book and found a wonderful new (to me) author whose books I devour when they come out. And I love them all, Vikings historical, Vikings/SEALS time travel, contemporary (Tante Lulu is a hoot), "regular" time travel (ah, Etienne), really anything. I very definitely pick up and buy books by other authors while I'm just browsing.
(Karen Hillis 10:19pm October 23, 2009)
It's not all bad news. I spend way more
quality time looking for books online
than I ever did in a bookstore. I also
have the advantage to check reviews
and make a more informed purchase. I
used to be only for paperbooks but
now I'm seeing the advantages for
ebooks. My house can hold only so
many paper books, but it can contain
infinite numbers of ebooks.
(Sue Ahn 11:08pm October 23, 2009)
I've seen many of the things you've mentioned. I work in a bookstore and they send us what they want us to sell. Different areas read differently, I know from moving quite a bit. I think the area and people, not the corporation should decide. I prefer "real" books to ebooks. I am a biblioholic.
(Ivy Truitt 12:02pm October 24, 2009)
I didn't know of this problem with pirating ebooks on the internet.....and I hope that the publishing houses/authors will work hard (like the record industry) to stop it.

I do not think this new medium is going away...but will only grow in time. Lets hope that it will give more authors access to getting their works published and net them more that 60 cents a book!!!

I love to read and would love to own an ereader...but I refuse to pay the same price for an ebook as a print book!! At least with a print book I can sell it, or loan it out to a friend or donate it to the library or hospice....Can't do that with ebooks!!!

These are difficult economic times and lots of folks are suffering. I know of several builders that have gone out of business and lost everything they've worked for for 30 years, so I'm not surprised that the publishing community is also having to adjust.

I know I have adjusted my spending habits...and not because I read less or because I wanted to, but because I just don't have the money to buy as many new books as I used to. I use the discount coupons regularly and only buy what is on my list....and I rarely try a new author if they have not been recommended by a reading forum or a friend.

I know that is not good for the authors and I can only pray that writers that love to write will continue to do so and word of their excellent stories will spread via the internet, web sites, blogs and all the excellent forms of high tech communications we have today.

I wish you the best, Sandra. I love your books and hope you hang in there. Times are going to get better....I just know it!!!
(Mitzi Hinkey 12:57pm October 24, 2009)
You are right to be concerned. Some
may look at the e-book as the savior
to the business, but it is more likely
going to speed the decline. It is much
easier to distribute an ebook with the
author getting nothing. I read of
successful authors being dropped,
being told to what to write, and in one
case, a planned 10 book series was cut
after books. It is disturbing to think
of the publishing business collapsing.
What would we do without our books?
I certainly have no answers, but there
has to be some way to stop the viral
spread of pirated ebooks. In the
publishing world, we need them to
relax a little and realize that cutting
back on what they offer will not
reduce their losses or increase their
sales.
(Patricia Barraclough 1:40am October 24, 2009)
Someone asked how to recognize a pirate site. Simply put, an e-book cannot be shared (unless someone hands you their loaded e-book reader). So, if you can get an ebook for free by downloading it (unless you are on the publisher's site, or the author's site) it's probably stolen.

It's most unlikely that an individual on e-bay has "resell rights" for instance. If the front matter says "all rights reserved" that means that no one has the right to reproduce or distribute (or plagiarize) the story.

There is no such thing as fair use with ebooks because every time to try to email it to someone else, you create a copy.

People who do not like the current law tend to offer their opinion of how the law ought to be. Readers do not have copyrights.
(Rowena Cherry 5:37am October 24, 2009)
The SIIA put out an entertaining video on YouTube called "Don't Copy That 2"

If you watch it to the end, you will see details of how anyone could win a two million dollar reward if they help catch and convict a pirate of music or video.

There are thousands of comments on the video (which also says "don't copy ebooks") by furious pirates. It is not unusual for pirates to tell authors "We'll steal from you because we can, and your work isn't worth paying for, and if you complain, we'll kill you."
(Rowena Cherry 5:42am October 24, 2009)
With the amount of piracy, first in PC games, then PV programs and lately music/songs, I think it was inevitable that the same would happen to books.

I think you are probably correct in your assessment of the results but there is a small silver lining in that many older readers (like myself) have not taken to e-books and probably never will.

Also I think that it may turn out that downloaders will tend to stick to titles and authors they know about and very seldom download an unknown author.

The written word has survived many threats in the past and I am sure that it will survive this as well.
(Carol Thompson 6:59am October 24, 2009)
The only thing I'd correct about your entire post is that you can browse online and find other books to buy. But it's not the same as browsing in a bookstore.

NY has been heading for major changes for a long time. Perhaps one of those changes will be Espresso machines in brick and mortar stores instead of large print runs, but beyond that...

KUDOS! Your post covers a lot of the pertinent points. I have also found 800 entries for my books on a single pirate site, and I'm not nearly as well-known as you are.

Soldiering on...
(Brenna Lyons 7:59am October 24, 2009)
I enjoyed this post and feel for the authors.

On the other hand, technology now enables more authors to self-publish and self-promote their books. I've been contacted first hand by many authors looking for reviews - that never used to be possible.

And honestly - while I LOVE browsing through a bookstore, I hardly ever buy there because I can buy everything cheaper at Amazon etc. - and I get most of my wish list from online recommendations - not in bookstores. That's me...
(Jane Maritz 8:44am October 24, 2009)
And another note - I have yet to find anyone who prefers ebooks over the paper version, except maybe when traveling. I have access to hundreds for review, but I won't read them unless I'm out of paper, which isn't likely to happen in my lifetime. So I don't see the paper version disappearing anytime soon.
(Jane Maritz 8:48am October 24, 2009)
Karen: LOL over your remark about the Sweeter Savage Love cover. I call that my "bag over the head "cover in that, at the time, I swore I would not sit in a mall signing that book unless I had a bag over my head. Ironically, that cover sold a ton of books, even to folks who claimed to hate graphic cover art. And funny story...you would not believe the fans who studied that cover with a magnifying glass and discovered...stuff. Thanks for the memory.
(Sandra Hill 11:18am October 24, 2009)
Also, I hope no one thinks I am against ebook readers. They are legitimate in the marketplace, and truly they are probably the future. What I do oppose are the pirate websites that steal copyrighted material.
(Sandra Hill 11:21am October 24, 2009)
ePiracy is scary, but it's not just ebooks being shared. They can make digital copies of print books in a matter of minutes. My author friends find their books shared on the day of release. I know one author who quit writing one series because the books had been pirated so much she wasn't earning enough to be worth her while.

As for ebooks, they are all I read now. I only buy paper when I'm at a signing. Most people who have a good ereader end up preferring the format once they adjust to not holding a book.
(Ari Thatcher 11:52am October 24, 2009)
I understand what you are saying. When we travel I always look for favorite authors and I have noticed that certain authors have all of their books on the shelves (most that I have already read) and I can't find any of the authors that I am searching for
(Karin Tillotson 12:01pm October 24, 2009)
Would much rather hold a paperback book than read it off a device.
(Mary Russo 1:41pm October 24, 2009)
I agree 100%. I had no idea someone could pirate a book till i read this. thats just wrong. Me i dont really care for ebooks. i love going to a book store, the smell of new books and the coffee of course, taking your time reading the backs of books and yes spend more money than you should but thats the fun of it. theres nothing better then sitting back covered up with a nice cup of tea or chocolate reading a great book.
(April Kirby 2:00pm October 24, 2009)
I totally understand what you are saying. I am a book person myself, but I want that book in my hand. I don't want an e-book. I have to have that paper in my hand. Maybe I am wrong by being this way but I like the feel of those pages on paper. I guess I don't like change.
(Gail Hurt 2:14pm October 24, 2009)
Hi Sandra, Great post! I'm a debut epublished author, only three months into my release, and I've already become prey to the internet pirates. *sigh* At this time, I know of three site that have pirated my book. YIKES!
And you're so right, they are like cockroaches. I don't know how we're ever to get this under control. I can only imagine the sales that have been lost...so frustrating.
(Sherri Lee 3:20pm October 24, 2009)
I agree completely with your assessment. Your remarks can also expand to include the cd and dvd market where pirating is also going strong. Thank you Sandra for this eye opening reminder.
(Robin McKay 4:35pm October 24, 2009)
I also love to have a "real" book in my hands to read. If you enjoy e-books that is fine but buy them from the right sights. Don't steal them.
(Judy Anderson 4:43pm October 24, 2009)
I like to have the BOOK in hand not on a kindle! And yes I have gone into a store to buy one book and have come out with others as well as scanning the shelves discovered new authors. So let's keep the books in print please.
(Pat Lieberman 8:55pm October 24, 2009)
One of my favorite things to do is to go into the local bookstore and browse. Even better is spending a half hour talking to the owner about books we're currently reading and giving each other suggestions for our next reads. Although I'm glad for my friends that like the ebooks, I don't want to give up that time in the bookstore, or my wonderful shelves full of books!
(Kara Conrad 9:07pm October 24, 2009)
I live in a small town and the nearest WalMart is over 30 miles away - the closest store to get books from and the selections are ofcourse very limited. The nearest bookstore is close to 2 hrs away. Even though I depend largely on online resources, I still like my print books. I like having the option of ebook and print - I have some in both formats. I also enjoy ebooks,its a great way to go portable and there are a ton of books/authors out you'd never get to enjoy any other way.
(Pamela Sinclair 9:13pm October 24, 2009)
I am firmly in the corner of those wanting the actual book in my hands, not an e-reader. However, it's partly from economics than a dislike of e-books (although I'm not particularly fond of reading books on a computer screen, which is basically what an e-reader is.). Simply put, I don't have either a credit or a debit card. Therefore, I CAN'T buy e-books. Which also means I can't buy the books of some authors whose work I really enjoy, the little I've been able to read it in the forms of excerpts and/or free reads.

Would I buy e-books (aside from my friends works) if I have the ability? I really don't know. It would depend on the format, the cost of the reader, all manner of different things that go into deciding on whether to purchase physical or electronic.

One thing for sure: I likely wouldn't be sharing any e-books with my reading friends/partners, like we do now with paper books. Why not? One doesn't have access to a computer at home, another doesn't have internet access at home because of where she lives, but mostly because they are like me and prefer the "real" thing in their hands, as opposed to straining their eyes at the computer screen.

Later,

Lynn
(Lynn Rettig 9:59pm October 24, 2009)
I have seen first used bookstores in city locations go out of business due to auctions and other bookstores online such as ABE. Then I have seen new bookstores disappear both the small names and large names. I have stop shopping at the big names bookstores due to poor customer service. I now shop for regular books and the e-books online at Amazon and Fictionwise along with going to e-publisher websites directly. It frustrates me to see the pirated e-books online where the companies and authors can not shut them down. I get emails from regular publishers, e-book publishers, authors and use Yahoo groups to find out about books that have been published which I am unaware of. I do limit whether I buy or not. But authors who use these Yahoo groups and do not provide a link to the book, a blurb and excerpt, I do not bother to find the book even though it sounds good. I do not have the time to waste on those books. I have an ebook reader and use my laptop to read also.
(Rachel Morse 10:44pm October 24, 2009)
I honestly can't say whether I would enjoy reading an ebook or not because I have yet to experience it. I kind of doubt it though because I downloaded a book on my iPod from my library's website and I couldn't even finish it. I ended up giving in and just reading it in print (which I already had & had only downloaded it to try to listen to it while cleaning) because I just couldn't "escape" into the story (whether I was cleaning or not) the way I can with a paper copy.
I am so sorry to hear how little my favorite (or ANY) authors make on the books they write! I also think it is absolutely HORRIBLE that you (or anyone) loses revenue because of piracy! I can say with absolute certainty that I will never intentionally/knowingly take advantage of anything pirated! That would make me as much of a criminal as the people who make whatever it is available!
As far as there being so many paranormal romance books available, I had assumed it was because of demand. I will admit to being currently addicted to them but I haven't always been and doubt I always will be so (despite my addiction) I truly hope that situation gets resolved.
I thank you for enlightening me by writing this blog. I also want to thank you for all the hard work you put into each and every story you write and look forward to reading your books. Finally, I want to thank you for giving us a chance to win your contest. I have yet to ever win a contest but that may be partly because I only enter if the author interests me. Even if I don't win this contest I will definitely be reading your work and I'm also going to check out the book cover that has been mentioned several times! LOL Thanks again for everything!
(Dawn Detkowski 2:42am October 25, 2009)
Okay, I'm not working at full power! It would help if my two year old would get back on a NORMAL sleep schedule! Anyway, the reason I say I'm not functioning at full power is because I posted how I'm looking forward to reading your stuff and after looking at your website I realized I already own (and read) three of your books! The sad thing is, I only keep books that I loved and plan on reading again and obviously yours fall into that category or I wouldn't still have them! LOL Keep up the great work!
(Dawn Detkowski 3:15am October 25, 2009)
I'm a book person, and an author, and I will be impacted by this tsunami, too. However, there is a big problem with how the book industry is handled, from the return policy from book stores to the hundreds of thousands of books that end up in landfills. Most major publishers don't keep any book available and on the shelves for more than a few months if they don't sell within the first few months of publication.

There's also a need to be mindful of the ecological impact of all the trees that went into those books being dumped, and that's where e-books make better sense. They are less likely to end up in landfills because huge print runs aren't necessary and they can stay on the shelves forever so people can buy and download them. It's a tug-of-war between an out of date mindset and the need to be green. There has to be a way to achieve a balance that keeps writers, and books, from being culled and pirates from getting rich off authors' and publishers' hard work.

Btw, it's fewer and not less sales in the fifth paragraph. Just sayin'.
(Jm Cornwell 8:57am October 25, 2009)
Sara said: I think it's time for authors to realize and utilize a different venue for books. What it is exactly is evolving...

Sara: I agree. The traditional publishing modem of stripping books is a dinosaur that should have ended long ago. The problem is that other things are happening too fast for anyone to keep up. Even though ebooks have been around for quite a while, it took the Kindle to jump start a whole new marketplace, and now everyone else is jumping on that bandwagon. Like I said up top, it will be interesting to see how all this pans out in the end.
Brave New World, and all that.
(Sandra Hill 3:02pm October 25, 2009)
Hi Sandra,
This blog has been enlightening to me. I'm not an e-book reader and had no idea about piracy of books. That's really unfortunate. I love historicals and I also like to hold the book in my hand and I reread my favorites. If publishing companies fold or writers I buy don't get published, I will be very unhappy. I hope something can be done to stop this piracy.
I'll look forward to your upcoming historical.
(Elaine Carlini-Davis 8:13pm October 25, 2009)
As an eBook author with numerous published titles, I face the same issues with piracy as a print author, except that my book is already in an easily downloaded form. This makes the pirate's job simpler. >.<

Although my royalties average 35-45% per book, depending on publisher and sales volume, eBooks are not printed and therefore advances are rare, and the royalties are paid as the books are downloaded. Some publishers pay quarterly, others monthly. To me, reading on a cell phone, PDA, an eBook reader or PDA is part of my everyday life. I can't imagine a trip across town on the bus or a wait in a doctor's office without having a dozen or more books at hand. I wouldn't carry that many books in my purse, but I can have dozens if not hundreds of eBooks (an entire library in some cases) in a small hand-held reader.

Those who haven't tried eBooks have no idea what they're missing. I never have to wait for the store to open, drive across town, or call around to see if it's in stock. I visit a publisher's online site when I want to read, pay anywhere from $2-$9 for a book, download it immediately, and within minutes, I'm snuggled on the couch reading my new book. I can also browse titles similar to what I just bought, see all the titles the author wrote, or even check out books by genre, "heat rating", and other categories. I've fallen in love with many new authors I wouldn't have known about otherwise.

Maybe I'm prejudiced since my books are all online (or in print on demand), but I think eBooks are the future. Sure, it's nice to have a paperback. I buy them all the time. I doubt they'll ever totally go away. As Sandra says, though, they may become harder to find. But never fear. Google is your friend. Type in your author's name and you'll find website, publisher, ISBN, blurbs, reviews... it's all there.

Also, try your favorite author's name as a URL, for example, www.sandrahill.net (I have yours bookmarked, Sandra!). Also go to the publis
(Kayelle Allen 8:46pm October 25, 2009)
I totally agree with you about the availability of books. I work in retail and I was devastated to see that the book sections were getting smaller and smaller each time they were moved. I am one of the lucky ones I have a big bookstore in my town but many of my friends are not so lucky. I buy the books for them and send them to them so they don't miss a wonderful book just because their availability is so limited. I love to be able to hold a book in my hands it is very comforting to me I hope that they never go away. It is just not the same reading them online. I am always devastated when peeps get books from an illegal website no matter what the reason it is stealing from the author and everyone else who is involved with the publishing of a novel.
(Tina Dowds 10:36pm October 25, 2009)
I am such a hands on person when it comes to reading books that I don't think I could ever use a kindle. There is something about holding a book in your hands and the smell - especially if it is new. I hate the fact that books can be "stolen" online - I hope that I never meet the type of person that could run one of these websites.
(Kristi Herbrand 1:10pm October 26, 2009)
I, too, love books that I can hold. My bookshelves are overflowing and I like to read some of them more then once, and it is really hard for me to part with a book.....
(Ruby Davis 11:52pm October 26, 2009)
I could not live without books! It's my passion :)
(Katie Smith 9:35am October 27, 2009)
I love Books!! This may sound strange, but you just can't smell an e-book. One of my favorite scents is the smell of books. Normally the first thing I do when I get a book is smell it.

I love the anticipation of getting a new book and then opening it wondering where I will be taken to today.

I order my books on line (most of the time) and always pre-order the books. I also follow "my" authors at their websites.

I agree, Sandra, one of the best things about going into a bookstore is finding more books. I also use the library (another great smell) and hope they don't go by the wayside as well in this electronic age.
(Josie Roetemeyer 11:37am October 27, 2009)
It would be a loss if books went by the wayside. The tactile component of reading is part of the joy!
(Karen Krack 2:30pm October 27, 2009)
I love bookstores! I am within walking distance of one of my favorite used book, bookstores so they know me by name there lol :)
(Rebecca Niehaus 1:31pm October 28, 2009)
Oh, I so agree with you . My husband and I both have worked for a large printing company. I worked for over 32 years and my husband has 44 years in and is retiring. They get very little money for each book and as you said the run counts are down and they have had large cut backs every year or so.

I love books and do not like audio books or e- books. I like to sit with book and read it at my leisure.
I love book stores . I live in a very small town and we have no bookstores. I usually order all my books online.
I love fresh fiction for all the great reviews, author news and great contests.
Good luck with your new book.
Hope the economy picks up .
I hate waiting for my bookclub selections to come. They are always backordered now.
Have a great holiday season.

Our poor library is having a hard time staying open and we are doing everything we can to help. Wish I could win the lottery and help out our town and library.
(Mary Branham 7:33pm October 28, 2009)
I have to agree with you. I absolutely love bookstores and libraries; I love the way they smell and how comfotable and relaxed I feel when I am there. I could spend hours in a bookstore if I had the time. The local bookstore definitely recognizes me there and I regularly visit the used bookstore for my children.
I am not a fan of audio books or e-books as I like the feel of a real book in my hands. I read reviews and have become a book reviewer myself.
I am totally against the pirated movie and book industries and I am the person who has paid for all of my songs on my ipod.
I wish there was more I could do to support the artistic industry. I guess we'll just have to see how it all works out.
(Stephanie Nordkap 9:36pm October 28, 2009)
I've been watching this trend for a few years. I've wathced the indies in my area go away to the point that there are only a couple in a 30-40 mile radius and I live near a large city. I also find it hard at times to find books of mid list authors I'm looking for and either request them to be ordered or order online. I love browsing in the bookstore and finding new authors. I am also an e-book fan. I've been pretty much house bound due to an injury and e-books have been great, but I still love a book I can hold. As a writer who isn't published yet, these trends scare me on two levels. Will it be harder to get into a publisher and once there with the print runs being cut how hard will it be to get a readership that will support you to keep you from being cut from the publisher?
(Donna Labbe 2:22pm October 31, 2009)
First I have to say that I really enjoy your books. I would rather hold on to a paper book, turn the pages and be able to put the book aside and reread it later.
I also like to share my books with friends. There have been times when after reading a specific author, my friends will go out and buy other books by the same author.
(L Green 6:13pm October 31, 2009)
Personaly i think that they seem to think readers r satisified witht he same old same old so they wanna keep pushing that type of issue but sadly i like varity and i feel i miss out on alot of different and good books because the market wont sell them
(Beverly Gordon 8:57pm October 31, 2009)
I enjoy your books. They make me laugh and somethimes shake my head at some of the things that go on. But lately I have been having problems trying to find your novels on the shelves of our local book store or wal-mart. It seems that I do not have the variety of good books out there to choose from. I would rather have a book in my hand that I can read at my on time not no one else's time.
(Tammy McGinnis 11:52am November 1, 2009)
I love your books. They make a bad day better, and a good day great! I love the thought of ebooks..I don't have an ebook reader yet, but would love one. I have 3000 books and every month I collect more. I love the feel and smell of books. I hope that we become more "green" but would not give up my books for anything!
(Kimberley Coover 2:09pm November 7, 2009)
To answer your discussion, I have recently become interested in the ebook process. I find that it would be easier to have the availability of whatever book you are interested in at the time right at hand. Having multiple books in one electronic device sounds great. There are many places that you can "browse" for ebooks and actually read exerpts from them before you buy, just like going into a book store. This is a great invention.
However, how can you get an autographed copy of a book if it is "e" format? How can you save all those first editions if you have it in "e" format? What will happen to the smell, feel, sense of actually curlng up with a good book? Well, I guess we will have to find out. There are pro's and con's for just about everything and this again is another debate that will not have a winner. Just a persons own preference will win. I am going to try an ereader and get back with you...
(Teresa Ramdial 8:26pm November 7, 2009)
I had not heard of ebook pyrating before reading your blog, only music. I hope all of them are run out of business the sooner the better. I have noticed in the last few yrs that the selection of books was dwindling but did not know why until now. I use to buy my books thru clubs and other online sites. Even the library seems to have less books. Since I retired last yr I go to library more and also to used book store and trade in my books which is great but I also still buy online. I have given over 2 thousand books to the local "Friends of the Library" for their old book sale so they can purchase books for the local library. I have read a number of your books and enjoyed reading them. Have you on my list to buy more. Keep up your great writing and I will curl up with a new one soon.
(Brenda Hill 10:06pm November 8, 2009)
Registered users may leave comments.
Log in or register now!