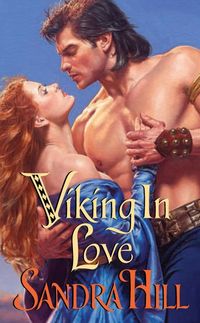 Purchase
Avon
February 2010
On Sale: January 26, 2010
Featuring: Princess Breanne of Stoneheim; Lord Caedmon of Larkspur
400 pages
ISBN: 0061673498
EAN: 9780061673498
Paperback
Add to Wish List

All Lord Caedmon of Larkspur wants, after nine long months in the king's service, is a bit of peace...not five bothersome Viking princesses who invade his keep, especially not the fiery redhead, Breanne. He has half a mind to kick her tempting arse out the door...but wait...he has a much more wickedly delightful plan for this thorn in his...um, side.
Princess Breanne of Stoneheim is shocked at Larkspur's rundown condition with servants and children running wild whilst Caedmon lies abed after a night of mead and, no doubt, wanton bedsport. Breanne must endure the loathsome lout to protect her four sisters. She can hardly imagine what this knight will demand of her in return.
Comments
43 comments posted.
Re: Viking in Love

Ms. Hill, I have enjoyed everything you have written. I don't which is better, your viking series or Jinks. They haveme laughing out loud in the most unlikely places, Thank you for they are a delite. Now that I'm Blind I wish they were on CD's or other audio devices.
(Elaine Toliver 4:53pm August 3, 2009)
I have not read your Viking In Love Book as of yet. Trust me when It comes out in Jan. 2010, It will be mine. In Sept. I will be purchasing Viking Heat.
(Elaine Toliver 4:59pm August 3, 2009)
Sounds like great fun. Wouldn't have
thought of the Dixie Chicks as a
Viking inspiration, but why not. The
story line certainly works. I've read a
few viking stories over the years and
their portrayal of the Vikings was
evenly split. They were either
presented as blood thirsty invaders or
intelligent, caring explorers. I'll be
checking out your Viking books,
especially Viking In Love.
(Patricia Barraclough 1:11am February 4, 2010)
My first book i read of Yours was The Tarnished Lady , & I was Hooked so I went out & bought every Book I could find. I loved the Viking series 1 the Outlaw Viking was my Favorite. the new series sounds great & can't wait to read them. Thanks for the great reading Sandra. The Vikings will always be my favorite of books.
(April Kirby 1:31am February 4, 2010)
I just took time to jot down the names of all the authors you mentioned and plan to take a look at their book lists. In answer to your questions about what author I might have just discovered, that would be Allie Boniface. I just finished reading her One Night in Boston and loved it. She made the characters and settings so real, gave such interesting details. The book was truly hard to put down.
(Gladys Paradowski 1:49am February 4, 2010)
I haven't read a romance with Vikings
in quite some time. I definitely picture
a Viking as a strong alpha figure just
the kind of male lead I go for.

An author I discovered quite by
chance worth mentioning is Linwood
Barclay (No Time For Goodbye). I
usually stick to romance books, but
this one, which is a suspense/thriller,
was worth going outside of the genre.
(Sue Ahn 6:51am February 4, 2010)
omg, discovering a new-to-you author, and then having the excitement of finding and reading that author's backlist is one of the most exciting things in my life! (I don't even want to think about what that says about my life :o) Thanks for that list of authors that I will now check out.
(Sandy Miresse 9:07am February 4, 2010)
Have not read a viking romance before, but sounds interesting. I do love strong main characters.
(Sherry Russell 9:30am February 4, 2010)
Viking in love sound like a great story. I'm going to have to read that one.
(Rebekah Elrod 10:18am February 4, 2010)
What a coincidence! Just last week I picked-up a book that looked interesting. A new author I haven't read before and the storyline was one I liked. It wasn't long before I was immersed in a sexy, funny, wicked tale. This tome you ask? None other than, Down and Dirty, by Sandra Hill. I'm hooked!
(Cynthia Netherton 10:30am February 4, 2010)
I always read all your books not only because they are always hard to put down, but because my mom's name is also Sandra Hill. I collect Barbie's and have one that looks alot like a Viking. I have been reading Linda Ford, Alberta Brides. It is a really good book.
(Tonya Atchley 10:45am February 4, 2010)
I've got all your book's, and pass them on to family:) So now your fan base is mother's,daughter's,aunt's and sister's. It's funny because now there buying your book's and are asking me if I want to get the book from them:), My first book was the Love Potion. Does'nt matter what story line it is, your book's are entertaining. My kid's would alway's looke at me funny when I would burst out laughing. I would read it to them and the look on there face's were priceless. Thank's for many hour's of great reading, please don't ever stop.
(Kimberly Paul 10:49am February 4, 2010)
Sandra I was at Barnes & Noble at 10:30 AM the morning Viking In Love was released. I couln't wait to buy it. Last night I finished reading Viking Heat so now I'm all finished with the Viking Series II books. Tonight I will sit down and start Viking In Love. I love all the viking books but I would say that the Viking series I are my favorite.
(Viking Princess 11:16am February 4, 2010)
I love discovering new to me authors. I just discovered Ann Macela and I am already checking out her backlist. Just went over to her site. I did not know there was A Viking Barbie. How cool is that? Did she kidnap Ken during some raiding party and carry him off? :-)
(Cherie Japp 11:26am February 4, 2010)
I love reading new authors to me and you named some great ones! If you like western romances I discover Elaine Levine last year! I have always been a big fan of Constance O'Banyon I have read all of her books. Donna McMeans and Anna Campbell also great authors
(Gail Hurt 11:51am February 4, 2010)
I am always looking for new names to enjoy... and visiting blogs like this one, I have found exactly that...
(Colleen Conklin 12:53pm February 4, 2010)
I've loved your books for years, Sandra. I love finding a new author and gobbling up all of their back list. I also love discovering brand new authors, and waiting impatiently for them to produce more great books.
(Barbara Elness 1:22pm February 4, 2010)
You are so right. That's what I like most about sites like Fresh Fiction. I do discover new authors, and then I love to have a ready supply (ie, backlist) of titles from which to choose. Thanks for visiting today.
(G S Moch 1:36pm February 4, 2010)
I certainly look forward to a new Viking adventure!
Blessings,
Marjorie
(Marjorie Carmony 2:15pm February 4, 2010)
I just discovered Erica Spindler and read COPYCAT. I usually do not read mysterys, however I could not put this down. She has a new book, BREAKNECK, that continues on with these 2 female detectives. I look forward to reading, Viking in Love.
(Barbara Ryan 2:26pm February 4, 2010)
Sandra, I love your books. They are a fun read. I have just discovered Teresa Medeiros. I find that tracking down an author's older books is as much fun as reading them.
(Rosemary Krejsa 2:28pm February 4, 2010)
I love discovering new authors. Some of my favourites were found accidently or recommended by someone. Viking in Love sounds like a great read and I will be looking out for it at Chapters
(Jennifer Rayment 2:30pm February 4, 2010)
Fresh Fiction has introduced new, & now favorite authors, to me time & again. As an author you must love sites like this that bring new readers to your work.
(Mary Preston 2:58pm February 4, 2010)
Hi,

I love your stories and I enjoy Viking stories. I also read a lot of e-books and one of my favourite authors is Marie Treanor who writes really good urban fantasy. She also wrote a 'steampunk' story that is really good.
(Valerie Bongards 2:58pm February 4, 2010)
I remember when I found your books and glommed all of them. Recently I've been glomming Robyn Carr & Emilie Richards. I'd read Emilie's mysteries, but not her other books, so am going to read her quilting series.

Love reading all these posts, of course it added greatly to my "want" list! LOL
(Kay Martinez 3:03pm February 4, 2010)
If you like sexy,smart books that are character driven there is a writer named Julie James. She has a new book coming out March 2nd called Something About You. She's new to me and I like the pace of her story telling.
(Leni Kaye 3:22pm February 4, 2010)
can't wait -- i love 'watching' the vikings interact with non-vikings! people look at me strangely as i sit there giggling....!
(Sandy Haber 3:47pm February 4, 2010)
Sounds like a great book! Count me in!

nancyecdavie AT bellsouth DOT net
(Nancye Davis 3:53pm February 4, 2010)
Did you know there was a website called glomming.com? I have found the internet and various internet sites a great way to read about new authors and what they offer.
(Vikki Parman 4:10pm February 4, 2010)
Thanks to Fresh Fiction I discovered J. A. Jance, and rushed out to find her backlist. Told my daughters who say they never know what to give me for Christmas, Mother's Day, etc., to help me find books where I've found a new author!

LMBO when I read my first of your Viking series, and with each book the laughing got mor raucous. I truly appreciate any author that can draw me into their story and make me laugh or cry. You, sweet lady, can do both!
(Betty Cox 4:30pm February 4, 2010)
I am actually going back and reading the classics right now -- I'm almost finished with Sense and Sensibility. I want to reread Jane Austen before I read the novels that are sequels to Pride and Prejudice written by a contemporary author.
(Shannon Scott 4:38pm February 4, 2010)
When I find a "new" author, I also have to look up their backlist. Off the top of my head Lisa Kleypas and Susan Mallery jump out.
(Judy Anderson 5:01pm February 4, 2010)
I like your Cajun Cowboy series, but I'll jump ship and try some Vikings for a change. Discovering a new author is like getting a present that keeps on giving.
(Alyson Widen 5:12pm February 4, 2010)
Thanks for all you kind words.

Vikkii: A website called glomming.com? Unbelievable! I'll check it out.

Cynthia: LOL and much appreciative that you found Down and Dirty sexy, funny, and wicked.

Kimberly: I love the mother, daughter, aunt and sister bond with book. Next to glomming, sharing a book with someone else is the greatest thrill for an avid reader.

VikingPrincess: Bless you for buying the book the first day.

Shannon: It's always been my goal to go back and read all the classics, but there are so many good new books I don't seem to find the time.
(Sandra Hill 5:56pm February 4, 2010)
Congrats on the new release, Sandra. Some new authors I've just discovered are Lori Brighton and Beverley Kendall.
(Jane Cheung 6:30pm February 4, 2010)
I just discovered Anne Bishop
and her "Black Jewels" series. I
just love to discover a new
series that has at least 5 or 6
books out there in the series!
(Lisa Richards 6:42pm February 4, 2010)
I always love snuggling up with a Viking.....and what a wonderful day it would be today. By the fire while it is snowing outside. Each time I find a new author I find everything I can and read, read, read!
(Danelle Drake 7:57pm February 4, 2010)
I love this website. I have tried so many new authors. I cant wait to check out your books.
(Leanne Jacobson 8:22pm February 4, 2010)
Actually Sandra, YOU are the new author I'm discovering, lol! I read the excerpt for your book in your recent newsletter and lol'd!! If that is what I've been missing I have got to try this series...soon! :)
(Michelle K 8:27pm February 4, 2010)
I love finding new authors. I found Catherine Anderson and had to have all of her books, then the same with Leigh Greenwood! So fun to find new authors!
(Brenda Rupp 9:54pm February 4, 2010)
I used to live in an Icelandic town in Canada so I naturally became interested in all things Viking. Would love to read this book.
(Christine Schultz 11:43pm February 4, 2010)
Speaking of glomming: yes, I've glommed a number of Sandra Hill books until I came up against a title I couldn't find anywhere close. I'll definitely be glomming more of yours.
My latest "object" is Mary Balogh. I don't like to read books of a series too far apart. I finished all the Huxtable series published so far with another to come in the next few months. Right now it's the Bedwyns' "Slightly..." series. Who knows what will be next.

BTW, my first name is Nordic (one of the Valhalla maidens, so I've discovered)though I am of German heritage. One of my teachers in Winnipeg, MB came from Gimli, a predominantly Icelandic town north of us. I wonder if Christine came from there. Schultz/Schulz is a Germanic name.
(Sigrun Schulz 12:46pm February 5, 2010)
Sandra! I love your books and I have a couple authors who stay on my shelves and I am happy to say you are one of them! Such a classic writer! Thank you for sharing all the wonderful stories!
(Jane Lange 10:20am February 5, 2010)
Registered users may leave comments.
Log in or register now!