Reviews
1 - 20 of 245 ( prev | next )
The Long And Faraway Gone
by Lou Berney
"A compelling crime novel, mystery, and story of a personal journey to make peace with a trauma that can't be forgotten."
Posted February 27, 2015

Both Wyatt and Julianna had their lives changed forever in the summer of 1986 in Oklahoma City. As a young teenager, Wyatt is spending the summer working in a movie theater and hanging out with his friends. It all comes to an end when masked gunmen break into the theater Read more...



As Long As You Love Me
by Ann Aguirre
"I have fallen completely in love with Ann Aguirre's new adult series"
Posted October 5, 2014

I have fallen completely in love with Ann Aguirre's new adult series! Even though these characters are young enough to be my children (sigh), Ms. Aguirre uses them to address universal themes to which we can all relate. I know what it's like to struggle with uncertainty, fear Read more...



Lucky Catch
by Deborah Coonts
"If you love funny mysteries, you'll enjoy the Lucky series."
Posted September 9, 2014

Lucky O'Toole and her colorful assortment of friends and family are back with a new and outrageous Las Vegas murder mystery. Lucky is adjusting to her new relationship with Jean-Charles Bouclet, chef at the family owned Strip casino/hotel where Lucky is VP of Customer Relations. Her attachment Read more...



Think of England
by K.J. Charles
"A compelling story that I couldn't put down."
Posted August 6, 2014

I am a big fan of KJ Charles' Magpie series so I approached THINK OF ENGLAND with a bit of hesitation. Would I enjoy this m/m historical romance that lacked the supernatural elements I found so intriguing in the Magpie books? I am happy to report that I thoroughly Read more...



One Perfect Spring
by Irene Hannon
"I thoroughly enjoyed joining these characters on their journey."
Posted July 20, 2014

Sweet Haley Summers wants to do something special for her neighbor's birthday so she writes the McMillian Charitable Foundation and asks that they help Dr. Maureen Chandler find the baby she gave up for adoption a long time ago. The foundation doesn't usually fulfill these types of requests Read more...



I Want it That Way
by Ann Aguirre
"A wonderfully engaging story of two people learning to make room in their lives for an unexpected love."
Posted July 20, 2014

I have to start by admitting that I have resisted the whole "new adult" genre that has entered the romance market. I think it's a combination of not being impressed by the one I read and the fact that I deal with college students on a daily basis so Read more...



Undetected
by Dee Henderson
"Everything I have come to expect from Ms. Henderson and more."
Posted June 12, 2014

Gina Gray is a brilliant scientist with a penchant for finding simple solutions to complex problems that can change the world. She has chosen to focus her current efforts on the science and application of sonar and satellite technology for use by the Navy in order to better protect her Read more...



Peter's Christmas
by M.L. Buchman
"Though this is a Christmas story, PETER'S CHRISTMAS will please Nightstalker fans any day of the year."
Posted May 19, 2014

President Peter Matthews was introduced in The Night is Mine as the childhood best friend of Captain Emily Beale and a man whose very life was in danger due to the actions of some of those closest to him. As a widower and sitting president of the United Read more...



Cold Snap
by Allison Brennan
"Three Kincaid stories each with a unique mystery to solve and villain to vanquish."
Posted December 9, 2013

COLD SNAP is an atypical addition to the Lucy Kincaid series but just as thrilling and exciting as any book from Allison Brennan. Set in the days just before the entire Kincaid family gathers in San Diego for Christmas for the first time in many years, COLD SNAP is basically Read more...



Girl Trouble
by Miranda Baker
"Erotica for the 21st century."
Posted November 30, 2013

With the Come Again series, centered on a group of old and new friends with ties to the sex shop Come Again, Miranda Baker writes erotica for the 21st century. Though she generally adheres to the boy-meets-girl expectations of the romance genre, Ms. Baker has crafted intriguing characters Read more...



A Case of Possession
by K.J. Charles
"An exciting addition to an enthralling series."
Posted November 10, 2013

I am fascinated by K.J. Charles\' A Charm of Magpies series featuring Stephan Day and Lucien Vaudrey, the Earl Crane, and set in an alternate version of Victorian England in which magic is an acknowledged presence in the world. Stephan is a justiciar who polices abuses of magic and Read more...



Fatal Strike
by Shannon McKenna
"Full of the sexy and suspenseful chills and thrills we've come to expect."
Posted November 10, 2013

Fans of Shannon McKenna's McCloud series have learned to love geeky, techy, not-quite-as-tough-and-handsome-as-the-brothers Miles Davenport. While his contribution to each mission has always been valuable, it has often been background support. When he last went on a covert operation, Miles was Read more...



The Bride Wore Size 12
by Meg Cabot
"My favorite former-pop-star-turned-assistant-dorm-director-amateur-sleuth is back!"
Posted October 26, 2013

My favorite former-pop-star-turned-assistant-dorm-director-amateur-sleuth, Heather Wells, is back and determined to have a murder free academic year so she can focus on getting her long-delayed bachelor\'s degree and planning her wedding to Private Investigator Cooper Cartwright. As is typical in Heather Read more...



Unspoken
by Dee Henderson
"A compelling story populated with intriguing characters who believe in God, justice, hope and responsibility."
Posted October 6, 2013

Bryce Bishop, a Chicago coin dealer, is thinking and praying about feeling bored and dissatisfied with his life when he encounters a mysterious woman waiting for him outside of his shop. He is horrified when this woman, Charlotte Graham, leads him into the store next to his and he discovers Read more...



Drawn Together
by Lauren Dane
"I loved every word...and have already re-read it multiple times."
Posted October 6, 2013

Raven Smith, the straight-talking tattoo artist who has woven her way through the Lauren Dane's Brown Family saga, is someone the other characters either love or distrust. She lives her life honestly and by her own rules, something not everyone understands. Raven is loyal to those she loves Read more...



Speak Of The Devil
by Allison Leotta
"Absolutely a must read!"
Posted August 6, 2013

Allison Leotta has become my go-to author when I\'m in the mood for a legal thriller. SPEAK OF THE DEVIL more than satisfied my craving for a well-crafted and suspenseful story full of unexpected twists and turns. I am a life-long reader so it takes a Read more...



Exposed
by Laura Griffin
"All the edge-of-your seat thrills I've come to expect."
Posted July 31, 2013

Maddie Callahan, forensic photographer at the Delphi Center crime lab, never expected that her side-business taking engagement and wedding photos would put her life in danger. After photographing a couple in the park, Maddie is mugged and almost hit by fleeing vehicle. When the FBI starts asking questions, she Read more...



Wicked Beat
by Olivia Cunning
"A perfect addition to the Sinners On Tour series."
Posted July 31, 2013

Rebekah Blake is worried about her brother Dave who is recovering from an accident that may have left him paralyzed (see Hot Ticket). She's thrilled, though, to be asked to fill-in for him as Sinners' front of house engineer. Rebekah needs a chance to prove she Read more...



The Magpie Lord
by K.J. Charles
"I loved every minute of it!"
Posted July 15, 2013

I don't typically read m/m romance or books with paranormal themes so I'm not exactly sure what drew me to THE MAGPIE LORD, the story of a man who falls in love with the magician he hires to remove the evil haunting him. Maybe it was the Read more...



Willing Sacrifice
by Joey W. Hill
"Emotionally rich and ridiculously sexy...an excellent addition to the series."
Posted July 13, 2013

Fans of Joey W. Hill's Knights of the Boardroom series have wondered about super-efficient admin Janet Albright and sexy limo driver Maxwell Ackerman. In WILLING SACRIFICE, we're treated not only to their backstory but to their discovery of each other as more than co-workers. Ms. Hill Read more...



Maria Munoz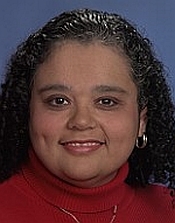 One of six children, and the middle daughter to boot, I very rarely got control of the television while growing up. So I entertained myself by reading, and found a passion that has lasted a lifetime. My love of reading comes from my love of language. Words fascinate me. David Tennant is my favorite Dr. Who, in part, because he regularly plays with words (Allons e!). My favorite book is The Time Traveler's Wife because I love the lyrical quality of the writing. I read many different genres, but lean towards contemporary romance, romantic suspense, cozy mysteries, and anything humorous. I can always be found with a book and never hesitate to pull it out if I have time to kill. In addition to my day job, I am a copy editor for FreshFiction, and co-host of the Fort Worth chapter of the DFW Tea book clubs.
Features & Posts
69 comments posted.

Re: Relentless Pursuit (8:48am August 20, 2012):

Blayne Thorpe in Beast Behaving Badly, the woman never quits.

Re: Only Mine (10:00am August 9, 2011):

Love the Fool's Gold series. Only Mine was a great story with the combination of romance and reality TV. I also liked each brother had his own story.

Re: The Lust Boat (3:12pm May 29, 2011):

No money for a vacation this year, house repairs among other things. I'll be doing lots of reading.

Re: Jump (7:55am May 27, 2011):

Fascinating premise. You really made the character come to life (no pun intended!). Thanks for letting us know about the wpbp.

Re: Mind Games (10:12am May 25, 2011):

Great list. I would add Shelley Laurenston.

Re: Already Home (8:13pm May 11, 2011):

Love Already Home! I'll have to get a look at those cookbooks.

Re: Blood Oath (4:51pm May 7, 2011):

This isn't a genre I'm usually drawn to but with this kind of fan love, I'll have to check it out. I shudder to think what our world would be like if the Vampires were part of the battle.

Re: Total Abandon (11:26am April 30, 2011):

I resisted the idea at first but now I love my Nook.

Re: Heartache Falls (10:36am April 28, 2011):

I am definitely a dog person. Angel is beautiful. I have 2 of your books and am eagerly anticipating the third.

Re: The Devil in Disguise (6:24pm April 23, 2011):

Congrats on the book! I look to read anecdotes of the author's life, and a sneak peak of what's coming next.

Re: The Beauty Chorus (2:00pm April 17, 2011):

It's wonderful to hear how much you love the story you told. It takes a special story to keep the magic after so many readings and edits.

Re: Rock Hard (8:19am April 4, 2011):

Thought Backstage Pass was great, can't wait to read Rock Hard.

Re: Mimosas, Mischief, and Murder (5:59pm March 31, 2011):

I've been in the same place for about 5 years, which is a new record for me since I began living on my own. Haven't livid anywhere exotic, but each place had it's own charm.

Re: Yukon Wedding (12:48pm March 28, 2011):

I made the mistake of watching several episodes of "A Haunting" yesterday and am trying not to think about what might be in my walls!

Re: Texas Blue (11:35am March 27, 2011):

I have enjoyed many of your books. I appreciate your insights regarding being a writer.

Re: Sink or Swim (10:59am March 25, 2011):

I'm a big fan of the reality shows- particularly the competition shows like Top Chef. I will definitely have to read your book since it includes my other favorite thing- suspense.

Re: A Lot Like Love (6:11pm March 24, 2011):

Loved this book! I like the slow burn. I like to pair a good book with getting under the covers and spending some quiet time in bed.

Re: Dead on Delivery (5:52pm March 16, 2011):

I can see why the police might have thought you were stalking or stealing. I get really pulled in by dialogue, but good world building is what makes a book special.

Re: Angel's Rest (10:48am March 12, 2011):

It's inspiration to hear how you took to time to find your new path (or let it find you!). I look forward to reading your series.

Re: What I Did For A Duke (6:24pm March 10, 2011):

Congratulations on the new release! Sounds like a great series, I'll need to look at some of the earlier books.

Re: A Lady's Wish (8:45pm March 7, 2011):

Can't wait to read some of these books. Very exciting news!

Re: Animal Magnetism (5:38pm March 5, 2011):

Have heard rave reviews about this book. Can't wait to read it.

Re: Bitten in the Bayou (8:28am February 20, 2011):

While You Were Sleeping is my favorite.

Re: True Colors (10:21am February 13, 2011):

Loved your True Colors and True Visions. When will Sam's story be out? I can watch that episode of Buffy over and over again. I also like Oz seeing Willow from afar and falling instantly in love, and how this built over several episodes until they finally met.

Re: Midnight Caller (10:12am February 5, 2011):

I'm really intrigued by the plot of your book. I agree that the hero/heroine need to contrast to make it interesting, as long as the attraction makes sense (however illogical that sense may be sometimes).

Re: The Mysterious Lady Law (1:21pm February 4, 2011):

I'm a little surprise to realize that when it comes to fiction I read almost exclusively women. My main concern is that the characters ring true.

Re: Wild Man Creek (1:56pm January 30, 2011):

Clay and Lily's story was a treat.

Re: Haunting Jasmine (1:54pm January 30, 2011):

Your new book sounds intriguing. I get interesting ideas from my dreams.

Re: Immortal Champion (8:07am January 27, 2011):

I love the thrill of living a different life, however vicariously, each time I read a romance.

Re: Stroke of Midnight (5:34pm January 24, 2011):

Sounds great. I love those hidden gems of humor.

Re: Mercy Blade (7:49pm January 23, 2011):

Wish all readying interviews were this interesting!

Re: The Paris Secret (8:21pm January 21, 2011):

Book librarian is Henry from The Time Traveler's Wife. TV librarian is Giles from Buffy.

Re: Highborn (12:02pm January 17, 2011):

Thanks for the great blog on the value of outlines. I'm a linear thinker, so I often think in outline (a skill that isn't always appreciated!).

Re: Real Wifeys (11:36am January 15, 2011):

I like humor, sass, and realism. You books sound great.

Re: Pleasure Me (10:38am January 14, 2011):

I love a book that has such a great story it almost hurts to have to put it down. The "happy ending" helps, too.

Re: Deadly Identity (12:30pm December 30, 2010):

Your class sounds awesome. Would love to find something like that in my area.

Re: Precious and Fragile Things (10:29am December 17, 2010):

Just finished your novella in Naughty and Nice and thought it was great.

Re: Like Clockwork (11:10am December 14, 2010):

I haven't read any steampunk but the description of your book has defiantly caught my attention. I may need to keep it a try.

Re: The Spy Who Saved Christmas (4:53pm December 12, 2010):

I would have to go with family gathered around the tree to open presents on Christmas morning. I guess that's three- family, tree, and presents. When we can, we make tamales, which are always a special occasion food because they are so time consuming to make (but worth the effort!). Your book sounds exciting.

Re: Unguarded (9:41am December 12, 2010):

DFW Tea Readers group and Readers 'n 'ritas have been a great source for discovering new authors. This year I was introduced to Louisa Edwards, Nikki Duncan, and Annette Blair, among others.

Re: Holiday Sparks (6:40pm November 24, 2010):

I just love good story telling.

Re: Highland Hellcat (3:48pm October 15, 2010):

I drink water throughout the day, and keep Diet Rite on hand.

Re: Sinful in Satin (6:00pm October 1, 2010):

Now that I understand it's just stress, my teeth falling out dream doesn't bother me. But I must admit, the first thing I do when I wake up is check my teeth.

Re: Sinful in Satin (1:06pm October 1, 2010):

I remember at least part of my dream on most mornings. My dreams are very story-like, probably from I'll the books I've read. My recurrent stress dream is all my teeth falling out. Which reminds me, I need to make a dentist appointment.

Re: When Wicked Craves (6:33pm September 29, 2010):

Your new story sounds really intriguing.

Re: The Bride's Necklace (9:53am September 27, 2010):

Love the covers on the new series. Can't wait to read it.

Re: One Touch of Scandal (8:10am September 26, 2010):

I make the oatmeal cookies and promise myself I'll buy the bike tomorrow.

Re: Burning Up (10:00am September 15, 2010):

I am a life long fan or romance or books with romantic elements, going back to "The Witch of Blackbird Pond", "My Sister Mike", and Meg and Calvin in "A Wrinkle in Time"

Re: Desperate Deeds (8:18am September 8, 2010):

Your reading journey sounds a lot like mine. Love romance and suspense. I'm so excited to talked to you at the October DFWTea book club.

Re: Atlantis Betrayed (8:08am September 1, 2010):

Good luck on the move. Hope all goes smoothly.

Re: Dark Warrior Untamed (1:06pm August 27, 2010):

Vane from Sherrilyn Kenyon's Night Play

Re: Deadly Fear (7:07pm August 26, 2010):

I have a much harder time with human monsters. The right (wrong?) movie or book can keep me up at night and it's never been a vampire or werewolf.

Re: Don't Cry (12:10pm August 22, 2010):

My TBR pile grows everyday. Not sure what the trick is to actually get everything read.

Re: The 1st Wife (10:02am August 11, 2010):

I agree, the FF group is awesome.

Re: Suck It, Wonder Woman! (1:54pm July 18, 2010):

I'm sure you helped the time pass quickly for these guys.

Re: Dark Flame (11:14am June 27, 2010):

What a great description. I feel like I was there.

Re: Hidden Wives (5:41pm June 26, 2010):

I feel like I'm in a reading funk now. You give a great description of how it feels. Maybe I'll see if Zoe Archer can get me out of it. Thanks for the suggestion.

Re: Hidden Wives (8:39pm June 12, 2010):

Really enjoyed meeting the authors at the Boa and Tiaras Tea today. I'm looking forward to reading the book.

Re: Blown Away (12:57pm June 6, 2010):

Hi. I am not good a keeping track of what I read. I just pick up a book. I'm guessing I read 8-12 books in May- lots of Shelly Laurenston and Susuan Wiggs.

Re: A Thread So Thin (12:06pm May 16, 2010):

When I'm too tired or stressed to deal with a new book, I pull out my old favorites for comfort and (imaginary) friendship. Going way back- Jo Beverly, Loretta Chase, Evelyn Crowe, Jennifer Cruise. More recent favorites are Robyn Carr and Shelly Laurensten.

Re: Silent Truth (8:40am May 15, 2010):

Had a great time at the last Readers and Ritas and am looking forward to going again this year. You can't beat a day talking about books and meeting authors.

Re: Take Me If You Dare (8:46pm February 23, 2010):

Great picks. What do you think of having 10 best picture nominees?

Re: Fantasy in Death (6:14pm February 13, 2010):

Dallas, Peabody, and Peaches. What a team!!

Re: Finger Lickin' Fifteen (11:49am October 17, 2009):

I pay attention to the background description if it helps define the characters and/or move the story forward. Too much description and I start skimming.

Re: Table Manners (8:58am September 6, 2009):

I'll be reading The Fixer Upper by Mary Kay Andrews.

Re: The Fixer Upper (8:59am August 23, 2009):

Hi. I definitely think many people think of romance as empty calories. It drives me crazy. Good writing is good writing regardless of genre.

Re: Bad Moon Rising (11:42am August 9, 2009):

My first signing was Suzanne Brockmann in Knoxville, TN. She was lovely and told some great stories.

Re: The Perfect Couple (11:40am August 9, 2009):

Hi. I'm behind on reading Novak and Anderson, I'll have to catch-up. I was enjoying Laurien Berenson's dog show mysteries and was sad to see she won't be writing any more.
Maria

Re: Lord of Scoundrels (6:49pm December 7, 2008):

Reading journal?? Now I'm feeling inadequate. I would say Succubus Dreams by Richelle Meade.