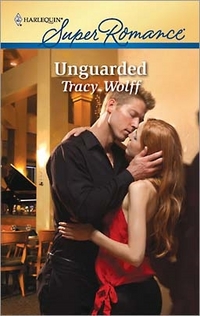 Purchase
Harlequin Superromance
December 2010
On Sale: December 7, 2010
Featuring: Rhiannon Jenkins; Shawn Emerson
256 pages
ISBN: 0373716761
EAN: 9780373716760
Paperback
Add to Wish List

Rhiannon Jenkins is an events planner on the rise. And her latest client, Shawn Emerson, could make her career. Too bad the gorgeous man insists on mixing a lot of pleasure with his business. In Rhiannon's books getting involved with a client is the fastest way to exit a job. So, no. She'll resist all his come-get-me looks and tempting offers.

While his charm is easy to overlook, Shawn in the role of confidant and friend breaks down all her best defenses. Suddenly the tables turn and she wants to be close to him. That means opening up about the ugly events of her past—a risk she hasn't taken before now. Oh, but he could be so worth it!
Comments
23 comments posted.
Re: Unguarded

Erin Kellison, Beth Fantaskey, Tate Halloway and on and on... I have read a ton of new authors (to me)books this year!! I find it lovely!!
(Michele Powell 2:13am December 11, 2010)
Laura Bickle, Chris Masuda & Sean Noonan are three of the new-to-me authors that struck me this year. I try very hard to read books from new authors. Hopefully, 2011 will be filled with many more.
(Joanne Reynolds 7:39am December 11, 2010)
I love your Harlequin books
(Clio Teixeira 11:08am December 11, 2010)
I discovered Mary Alice Monroe. Her so very thoughtful writing I mix with love and mystery.
Blessings,
Marjorie
(Marjorie Carmony 12:26pm December 11, 2010)
I'm glad to find I'm not the only one locating new authors recently, well, at least new authors to me. By the way, your book sounds like one I will enjoy reading.
(Anna Speed 12:28pm December 11, 2010)
This year I discovered the work of Karen Kelley and that lead me to find out more about another genre.
(Leni Kaye 1:03pm December 11, 2010)
I have recently started reading Joan Johnston & Zoe Archer... always looking for new authors to enjoy reading!

Happy Holidays!
(Colleen Conklin 1:20pm December 11, 2010)
I've never read your books, and it looks really good.
(Joanne Bozik 2:40pm December 11, 2010)
Meljean Brooks, Zoe Archer, Liz Carlyle.....great authors and ones that I know have to start glomming!!!

Valerie
in Germany
(Valerie Bongards 2:48pm December 11, 2010)
I found Kristen Higgins and Liz Carlyle among quite a few others this year. Love them one and all!

Merry Christmas and Happy New Year!
(Cathy Phillips 6:09pm December 11, 2010)
I began reading Lorelei James on my Kindle and have been folowing her since. Her cowboys are awesome and sexy. Just the way I imagine them to be.
(Brandi Evans 7:12pm December 11, 2010)
Sarah Mayberry. LOVING Sarah Mayberry. Want to buy a plane ticket to Australia and go on the Sarah Mayberry tour. Preferably guided by...Keri Arthur!
(Keri Stevens 7:16pm December 11, 2010)
thru emails, blogs & chats I'm discovering "new" authors all the time - here's just a few: Anya Bast, Claudia Dain, Emma Holly, Vanessa Kelly & now Tracy Wolff!!
(Diane Sallans 7:47pm December 11, 2010)
I have not read one of your books,but maybe I'll get a chance to,if I win it. Thanks for giving me a chance. Happy Holidays to everyone.
(Linda Hall 8:50pm December 11, 2010)
I just read "A Magical Christmas" by Heather Graham. It's the first book I've read by her, and I really enjoyed the story.
(Ginger Hinson 11:32pm December 11, 2010)
DFW Tea Readers group and Readers 'n 'ritas have been a great source for discovering new authors. This year I was introduced to Louisa Edwards, Nikki Duncan, and Annette Blair, among others.
(Maria Munoz 9:41am December 12, 2010)
I discovered Lauren Dane and now I'm trying to find as many as her titles as possible. So nice when you discover a new author.
(Diane Sadler 8:18pm December 12, 2010)
I read Ask Adam by Jess Dee & loved the book. I'm looking forward to reading her other books.
(Pam Hager 11:52pm December 12, 2010)
I just discovered Diane Whiteside's books this year---they are just great.
(Sue Farrell 12:07pm December 13, 2010)
I love reading new authors and love searching the shelf at the bookstore for new authors or even "seasoned" authors I haven't read. Three of my "finds" this year are Christie Kelly, Delilah Marvelle and Laura McKee. They all are wonderful and all have a fresh approach which is refreshing.

I haven't read Red Garnier yet so she is being added to my list of "must try" authors.
(Jeanne Miro 10:05am December 13, 2010)
Being a caretaker where I live, and doing volunteer work takes up a lot of my time, so I haven't had much time to read. Although not on the list of authors here, I did start reading books by Gregory Maguire. He did a take-off on books from the Wizard of Oz. It's an adult version, and quite off the beaten path. I live in a small town, so I have to take what books are available to me, unfortunately. I've also enjoyed Janet Evanovich when I needed a quick, uplifting read. But as I've stated, time was short. I'm hoping to change that in the upcoming year. Have a Merry Christmas and a Happy New Year!!
(Peggy Roberson 10:58am December 13, 2010)
The new to me author that I like the most is Maya Banks I'm reading all I can find of hers.
(Vickie Hightower 6:37pm December 13, 2010)
My daughter introduced me to Terry Pratchett - I am hooked.
(Mary Preston 4:04am December 17, 2010)
Registered users may leave comments.
Log in or register now!