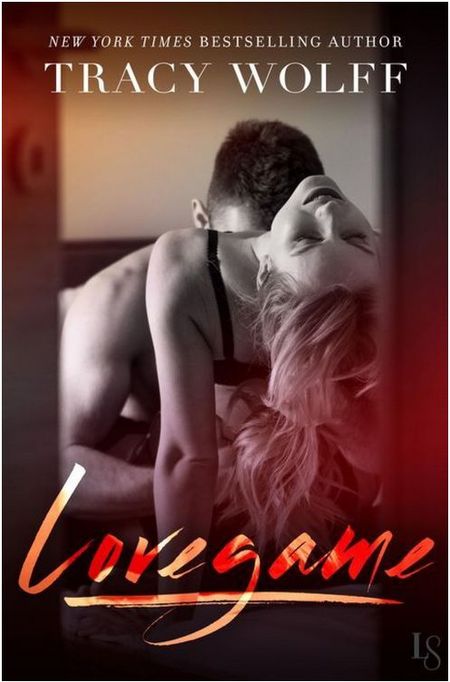 Purchase
Loveswept
June 2016
On Sale: June 7, 2016
Featuring: Ian Sharpe; Veronica Romero
ISBN: 0553395025
EAN: 9780553395020
Kindle: B0174PRHP4
e-Book
Add to Wish List

Romance Erotica Sensual | Romance Suspense | Suspense Psychological
Hailed by J. Kenner as an author who "knows how to steam up the pages," Tracy Wolff delivers a darkly addictive novel of seduction and psychological obsession. The stakes are high in Lovegame, when a movie star with a shattered past meets a man who can either break her or make her whole.
True Crime novelist Ian Sharpe has spent his career writing about serial killers for very personal reasons. For his latest exposé, he is taking on the sadistic madman known as the Red Ribbon Strangler, and when his research leads him to Hollywood's most private and provocative actress, he will break every rule to uncover her truth.
The daughter of one of Hollywood's golden couples, chased by paparazzi and treated as a commodity her entire life, Veronica Romero wields her sex appeal like a weapon. She expects Ian to be as easy to control as every other man she's ever known. But from the beginning, he refuses to fall into line. Mysterious and cool, challenging and just a little bit dangerous, Ian somehow makes her feel safe—even as he digs into the deepest secrets of her life and pushes her to the breaking point.
As raw ecstasy gives way to agonized truths, their dark obsession exposes secrets that have been buried for far too long. Ian wants to tear down her walls and heal the sensual woman underneath. But if Veronica's learned anything, it's that the line between pleasure and pain is a narrow one—and when caught between them the only thing that matters is how you play the game.
Lovegame is intended for mature audiences.
Comments
16 comments posted.
Re: Lovegame

This really sounds really good and I'm glad you perservered!
Thank you!
(Kathleen Bylsma 1:59pm May 7, 2016)
Wow! It sounds great! Thanks for sharing your story,
yourself, with us.
(Daniela Caldarola 10:48pm May 7, 2016)
I can't wait to read this & the new Ethan Frost... Yeah!
(J Elise Ortiz 11:05pm May 7, 2016)
I think being challenged forces you to do more than you
thought you could often with terrific results
(Donna Antonio 7:49am May 8, 2016)
I can totally relate to the way you wrote a dozen other stories before this
one. Everytime I have something important to do, I always manage to do a
dozen other things first. Fear? Procrastination? I don't know. But the more I
want to do it, the longer it will take me to get it done. Lots of other things
will get done but I save the best for last. Congratulations on completing it. I
look forward to reading it.
(Leann Griffiths 8:14am May 8, 2016)
You persevered and succeeded. Wonderful. Congratulations.
(Sharon Berger 2:33pm May 8, 2016)
There are many things that have scared and terrified me in
life. It's all about not psyching yourself out. The more
you physic yourself up the bigger the obstacle seems. Just
breathe and take baby steps to overcome whatever it is.
Hand holding is ok if you need it.
(Vanessa Hinman 8:32pm May 8, 2016)
I think I would enjoy reading your book.
(Jackie Wisherd 11:35pm May 9, 2016)
The Book sounds great!!!
(Cathy Garner 12:42pm May 10, 2016)
Love your books...Looking forward to Lovegame...
(Karen Dieffenbaugher 9:37am May 10, 2016)
I think any major change can be terrifying. I'm glad I had
kids though (even if they sometimes drive me nuts)
(Krypton I 11:12am May 10, 2016)
Sounds like a great one.Got to see what happens.
(Marsha Baurns 12:36pm May 10, 2016)
I believe that at 40 I'll be learning to finally drive and
take an airplane ride both scare me, but in the end I'll be
relieved and wondered why I took forever.
(Kimberly Miller 12:53pm May 10, 2016)
Sounds great.
(Susannah Violino 4:45pm May 10, 2016)
Would love to read this book . Thanks for the chance to win .
(Joan Thrasher 8:41am May 12, 2016)
sounds good
(Angela Parrish 3:43pm May 13, 2016)
Registered users may leave comments.
Log in or register now!