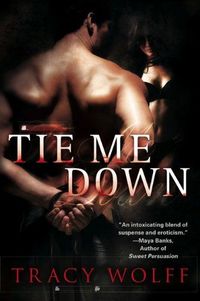 Purchase
NAL Heat.
September 2009
On Sale: September 1, 2009
Featuring: Cole Adams; Genevieve Delacroix
320 pages
ISBN: 0451227883
EAN: 9780451227881
Trade Size
Add to Wish List

Romance Erotica Sensual | Romance Suspense
From the author of the "edgy and erotic" Full Exposure (New York Times bestselling author Shannon McKenna), another explosive tale of sex and suspense...

As the only woman on her homicide squad, Genevieve Delacroix maintains a tough-as-nails attitude that keeps men at arm's length. She never gives into her secret fantasies...until she meets a mysterious stranger who teaches her how little control she really has-over her mind and her body.

Cole Adams arrives in New Orleans believing star investigator Genevieve is his last hope for solving the murder of his younger sister. He just doesn't expect the hard-assed detective to look like a blond bombshell. Once he breaks through her inhibitions, he soon finds an unexpected obsession-driving Genevieve right to the edge of desire, and beyond...

But when the serial killer who has been terrorizing the streets of the French Quarter sets his sights on Genevieve, the lovers realize they've both let down their guard. And losing control could have fatal consequences...
Comments
32 comments posted.
Re: Tie Me Down

Thank you for sharing your memories of "The Big Easy". Must be tough after everything that happened there to remember the great times.
(Joanne Reynolds 6:26am September 4, 2009)
Moose Jaw, Saskatchewan because it has the "Tunnels of Moose Jaw" -- underground tunnels throughout its downtown, where two tours show guests the bootlegging operations and where the Chinese were kept below to do laundry, etc. many years ago....
(Elaine Seymour 11:00am September 4, 2009)
Thank you for sharing.
The city that captures my heart is also home. Hamilton, Ontario. Anyone who comes here says awful things, but home is where the heart is. I've moved four provinces away, only to find myself home. I missed it so while I was gone. Who would've thought you could pine for a place, not so much the people, as my loved ones were with me. But I did pine for this city. I don't think I'll leave again, except for vacations. :-)
Thank you for allowing me to share.
(Freda Mans-Labianca 12:21pm September 4, 2009)
I always love reading stories placed in New Orleans, thank you for sharing your memories.
(Barbara Hanson 12:57pm September 4, 2009)
I believe that I would like this one.
Thanks!
Marjorie
(Marjorie Carmony 1:00pm September 4, 2009)
When my husband was transferred from Houston to New Orleans I recalled the saying "A nice place to visit, but...", so I went there kicking and screaming. Three years later when we were transferred someplace else, I went there kicking and screaming because I fell in love with N'awlins. There is no place like it, it's weird and wonderful and even tho that's been many years ago I still tear up when I hear the song "do you know what it means to miss New Orleans..."

My favorite place to eat was Court of Two Sisters -- you could make it an all day deal!

Saturday's were for the Farmers Market and Cafe Dumond..then maybe a few songs at Pat O'Briens.

Italian food at Tony Angelos where the "waiters" wear suits that sometimes have a bulge under the arms...

I left a part of my soul in NO and a lot of my heart, but my memories are with me all times.

Thanks....
(Betty Cox 1:02pm September 4, 2009)
Mostly what I hear about New Orleans is Mardi Gras celebrations from travel shows on TV. For a tourist point of view it looks like a really exciting thing to participate in. Someday I hope to visit New Orleans, learn its rich history, hang out at great restaurants and investigate a little voodoo stuff, weird that, but it kind of fascinates me.
(Armenia Fox 1:34pm September 4, 2009)
I hope to one day visit New Orleans. I've always wanted to go there. Thanks for the taste of the city.

Your book sounds like a great read!
(Kay Martinez 1:49pm September 4, 2009)
Thanks for sharing your memories with me, ladies. I'm glad I'm not the only one with fond memories of N'Awlins.

Betty-- I LOOOOOOVE COurt of the Two Sisters. Seriously. It was an addiction when I lived in the city.

Elaine, sounds fascinating!

Freda, I know what you mean about home. No matter where you go, nothing is ever quite the same.
(Tracy Wolff 1:53pm September 4, 2009)
I have never been to New Orleans. I love reading about places that I haven't been to.
Mandina's restaurant sounds like a great place to dine.

Thank you so much for the trip through the streets of New Orleans. My daughter visited the April before Katrina hit. I know it is not the same place it once was.
(Gigi Hicks 2:53pm September 4, 2009)
Hi Tracy! I have always wanted to visit New Orleans as it caught my attention since I was a little kid. I have not made it yet, but I will! Home for me is Miami and no matter how much I complain about it, it is home. I know I would miss the beautiful weather and the magnificent surroundings. What can I say, I am definitely a tropical girl. *L*
(Maithe Ortiz 2:56pm September 4, 2009)
Hello Tracy, Thanks for sharing the places you love in New Orleans. I would love to visit one day. Loved the excerpt. Have a great day.
(Roberta Harwell 3:09pm September 4, 2009)
Hello Tracy I have always wanted to go to new Orleans Its on my top 10 places to visit... Thankyou for sharing the places that you love I feel the same about Scotland I grew up there I miss it a lot It's a good thing I still have Family there so I get to visit a lot....
(Ann w 3:21pm September 4, 2009)
New Orleans is for those who love....Love :)
(Kathryn Phillips 3:48pm September 4, 2009)
I've been wanting to see New Orleans since I was in my teens, but unfortunately, that dream has never been realized. Life and distance got in the way. I was devastated when so much of the city was destroyed by Katrina, because I knew the city would never be the same. That may have been good in some ways, but I still grieve for all the people who are still suffering there. Maybe, if I'm really lucky, I'll still get to see some of the places you wrote about here.
(Sigrun Schulz 3:50pm September 4, 2009)
Sometimes Love is an event that can't be explained but only to be experienced for a lifetime.
(John Caldwell 3:52pm September 4, 2009)
I wish I had visited New Orleans before Katrina. I do hope to visit it in the future.
(Annetta Stolpmann 4:00pm September 4, 2009)
My husband and I visited New Orleans, I think nine years ago, we went to visit our daughter in Biloxi. We of course visited the French Quarter and took a tour in a horse and Buggy. I can understand why you fell in love with it. The Old buildings, exotic culture, plus the people are fascinating. I remember the Cafe Du Monde very well and though we tried I've never had a better beignet. We were only there for the day but we explored everything we could but never took a cruise on the Mississippi. Just ran out of time. Our dream is to go back and maybe stay in a B&B, explore all over again. That city definitely won my heart.
(Theresa Buckholtz 4:06pm September 4, 2009)
What a lovely post, Tracy! I have yet to visit New Orleans :( As for a city of my heart, probably San Francisco! So much life and culture in such a relatively small space :)
(Fedora Chen 4:42pm September 4, 2009)
There are so many great places out there, aren't there? I love Miami! And I lived in San Fran for three years and liked it very much-- my next Harlequin Superromance takes place there.

Scotland is beautiful-- I want to go back some day. And for me, home will always be San Diego. I love that city-- watching it burn a few years ago was devastating, especially since I still lived there at the time.
(Tracy Wolff 6:39pm September 4, 2009)
Cafe Du Monde is a long time favorite of mine. What I wouldn't give for beignets and a cafe au lait. Now I'm going to make a poor imitation of a cup and drink to you.
(Maude Allen 6:47pm September 4, 2009)
I've never been to New Orleans but the city of my heart is Vancouver, BC. Its where I grew up and its my hometown.
(Jenny Ng 7:25pm September 4, 2009)
I visited New Orleans 38 years ago and have always wanted to go back. My youngest daughter left on monday to visit New Orleans. She said it only took her 12 hours to drive there. I told her to check out the Bienville House where I stayed when I went. She called me this morning to tell me she is really enjoying the sights!
(Anna McKenrick 8:13pm September 4, 2009)
You had the strength to follow your instincts. Not everyone can do that. I hope to go to New Orleans one day and enjoy the history and the sights. I can't wait to read your new release. Congratulations!
(Rosemary Krejsa 8:52pm September 4, 2009)
I enjoyed your reminisence on New Orleans. My favorite city is Savannah, especially River Street - the pralines are the best there.
(Vikki Parman 9:02pm September 4, 2009)
I enjoyed your "tour" of New Orleans since I've never been there. I have read about it in many books and this city sounds wonderful, maybe one day I'll get the chance to visit.
(Diane Sadler 9:46pm September 4, 2009)
I <3 St. Louis - Best city in the world in my opinion. :)

GREAT post and loving the scavenger hunt...Awesome idea!
(Rachael Grime 11:35pm September 4, 2009)
I've never been to New Orleans. I guess my favorite city I have been to is Santa Fe. I loved it there.
(Linda Henderson 12:00pm September 5, 2009)
Tracy your remences Of New Orleans took me back to the '60's and a vacation of a child it was so different than the Midwest like stepping into a time capsule. My Mom wanted to see one of the locations that both my Grandfather & Great Grandfather sailed to when they were steam boat captains.
(Susan Lathen 9:20am September 5, 2009)
What a wonderful post. Thanks so much for sharing.
(Tracey Dent 12:56pm September 6, 2009)
I long to visit New Orleans. Until then I will content myself with the written word.
(Mary Preston 5:55pm September 6, 2009)
ty for posting about ur memories of new orleans i never been but the way you remember it sounds lovely id have to say my fav place would have to be Indiana my home town but honetsly i dont have one particular favorite because well see i move so much i never settled but id say i love CO tho all of it not just one town
(Beverly Gordon 6:39pm September 7, 2009)
Registered users may leave comments.
Log in or register now!