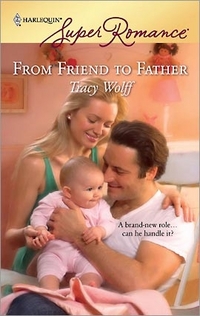 Purchase
A brand-new role...can he handle it?
Harlequin Superromance
June 2009
On Sale: June 9, 2009
Featuring: Reece Sandler; Sarah Martin
256 pages
ISBN: 0373715684
EAN: 9780373715688
Kindle: B01NCW1IOI
Mass Market Paperback / e-Book
Add to Wish List

Other Editions
e-Book (reprint - May 2017)
Twin boys, a baby girl and Sarah, their gorgeous mother. It's a dream family. Too bad it doesn't belong to Reece Sandler. Correction. Part of it does belong to him. But he's not ready to be a single father and he needs Sarah Martin more than ever. Funny thing, when he and his late wife asked Sarah to be their surrogate, he never imagined he'd raise that child with her.
And the situation is complicated by his growing attraction to her. She's vivacious, captivating and the kind of parent he only hopes to be. How can he resist her? Now to convince her to think of him as more than a friend.
Comments
20 comments posted.
I don't really know why I read romances but I think it was a natural transition from my young adult books that always seemed to have a happy ending to the happy endings of romances.

I'm sure that many romance readers read other genres but gravitate to romances for many if not all the reasons you list, but like your students I know what life is about, and that's why another genre I love is Women's Fiction because it's nice to get a touch of reality every once in awhile that the HEA isn't always there.

That said...life without the romance novel in my life would be rather sad and boring, and I appreciate the fact that you and others like you see the world and are able to turn it into a romantic thing to take me away from my troubles.

I'm rambling and I hope I make some sort of sense!
(Sandi Shilhanek 8:22am June 15, 2009)
Tracy,
You said it all and so eloquently. Thank you.
(Linda Cacaci 9:53am June 15, 2009)
Sandi, I love women's fiction too. I just finished My Sister's Keeper and cried like a little girl, but romance has always been my true love :) I'm a sucker for a happy ending.

Linda, thank you so much!
(Tracy Wolff 12:20pm June 15, 2009)
I read romance books because I love the "happily ever after" endings. It is the same reason I go to movies that leave me feeling happy after I have watched them.
(Robin McKay 12:25pm June 15, 2009)
I got hooked on Romance Novels as a teen. The conflicts in relationships and situations keep me turning the pages.
(Alyson Widen 12:40pm June 15, 2009)
I like to lose myself in someone's story - not reality and I LOVE a happy ending!
(Kelli Jo Calvert 1:05pm June 15, 2009)
I have heard some men make similar comments and they are the same men who watch X rated videos (in the comfort of their own homes, of course)!
(Karin Tillotson 1:43pm June 15, 2009)
Who wouldn't want a happy ever after???? I like to see how the relationship grows, from begining to end. The real world is tough enough, nothing wrong with getting out of it for a few hours, where everything works out for a change!
(JoAnn White 3:02pm June 15, 2009)
Tracy, that was a wonderful post!!!
I respect you so much for having the courage to not only admit you read romance, but you also write romance (which we, your fans, happily await!).
I know what you mean when you repeated the questions your students posed: :Why do the "classics" have to be dark and depressing and end tragically?
When I was in college I wondered the same thing.
I would much rather read romance and be in a good mood for the rest of the day than read another Thomas Hardy novel and turn suicidal;P
(Mari M. 3:30pm June 15, 2009)
Robin, I love movies that end happily!

Alyson, I agree. Conflicts are definitely the spice.

Kelli Jo, me too!

Karin, I totally agree-- bet he has his fair share.

Jo, I do too. That's why my first book, A Christmas Wedding, spans my characters' relationships from the day they met until their daughter's wedding day.

Mari :) Thomas Hardy would make the happiest woman a tinge suicidal. So glad I'm not the only one who feels that way.
(Tracy Wolff 5:41pm June 15, 2009)
I think you're very lucky you are able to do what you enjoy.
So many people are stuck in dead-end jobs they hate ... maybe that was the man's problem -- jealousy!
(LuAnn Morgan 7:29pm June 15, 2009)
LuAnn-- maybe you're right. That or ignorance.
(Tracy Wolff 8:17pm June 15, 2009)
Not only are the authors of Romance novels looked down on so are their readers. Many times complete strangers feel the need to comment on my choice of reading material. I love books that are about family, love and children. I want a happy ending that makes me feel good! Thank you for providing that.
(Rosemary Krejsa 9:03pm June 15, 2009)
I started reading romance when I was 11 years old, any books I could find in our school library since my parents could not afford to buy me books. Then went on to Harlequin books my aunts gave me, all with doctors and nurses and to this day I still love romance books. For the love, friendship, understanding in a family. Like you when I read my books sometimes I felt co workers watch and wonder why I would read those kind of books and I would tell them for the joy and happiness they bring me.
Thank you for writing romance novels and please continue to do so.
(Diane Sadler 10:47pm June 15, 2009)
Rosemary and Diane, thank YOU for reading romance novels. And yes, I know what you mean about people commenting on my reading material. My MFA profs were the worst-- more than one told me I was wasting my talent "writing books like that." But like I said,, I'm a sucker for a happy ending :)
(Tracy Wolff 10:55pm June 15, 2009)
I read romances to relax, see a
relationship grow, and yes the happily
ever after. There are also a lot of
excellent authors out there doing
romantic suspense.
I work at a county library and there
are lots of romance readers. Some of
the men have made snide comments
about the romance books. Although I
don't think any have used the word
trash, it has been implied. Since a lot
of these men read the little serial
westerns, I decided to read one and
compare their merits. It was good for
a laugh. Relationship? What's that.
Tall, dark, quiet, handsome cowboy
rides into town. Goes directly to
saloon. All eyes on him as he enters.
Lovely lady "with a great pair of
melons" (I choked) hits on him and
they head upstairs for a good time.
Not bad for 30 minutes in town. Bad
guys abusing women. Outlaw
compound outside of town. Local
lawman is worthless. Hero rides out to
single handedly defeat 15 or so bad
guys and rescue women and children.
He is captured, beaten and staked out.
Beaten to a pulp, tied hand and foot,
our hero gets free and takes out all
the bad guys. Return to town a hero.
Ride out of town with Miss Melons
fondly watching him go wishing for
one more great time in the sack.
PLEASE!!! Those guys should know
trash, they are reading it! This is not
to say all westerns are trash because
they are not. I read them too. But the
male equivalent to the Harlequins in
both action and western series
generally have plots that equate to
meaningless sex and lots of violence.
There may be a plot thrown in, but it
is weak.
I usually recommend a good book
written by a romance author that is in
the genre they usually read. They
usually really enjoy them. I've give my
husband lots of audio books (he
doesn't have much time to read and is
his car a lot) and he has enjoyed most
of them. He has asked me to warn
him if there are any really sexy
sce
(Patricia Barraclough 11:55pm June 15, 2009)
I have read romance books for more years than I care to admit. I love getting caught up in the story and getting to know the charactures so well, they feel like friends. So okay, I admit it...I escape my problems for a while by reading about how the characters meet, fall in love,the problems they have, etc. I love the happy endings.
(Patsy Hagen 2:14pm June 16, 2009)
I read romance as, honestly, an escape from the real world. We all have to dream, right.
(Lanae Tatman 1:15pm June 17, 2009)
I read for the sheer enjoyment of an author taking me away from everyday and I do love happy endings. :)
In real life that doesn't always happen but in my books I can get that!

As to the attitude of the agent, it sucked.Women are often on the recieving end of this attitude, whether your experience or being a stay at home mom, yeah we get it from women and men. "So when are you going to get a job they ask, or ah I see". Yeah they really have no idea.

Happy Writing to you and please keep the happy endings coming!
(Chris Jones 3:52am June 22, 2009)
I love romance novels... For years its was because I had no life and the one I had was terrible.. Now I read them to see how much better my life is than the book... my fav books are Cedar Cover Series by Debbie Macomber.. This summer i am renewing my authors have not read in a while and some new ones.. You are on my list of not in awhile. I always have books around me as I have an online used bookstore. So before it goes on line it might go in the pile of books for me to read.. right now I am looking or a new stack so going to FF to look over my options and your is one I am going to look into soon.. Thanks for the wonderful blog
(Dona West 12:37pm June 28, 2009)
Registered users may leave comments.
Log in or register now!