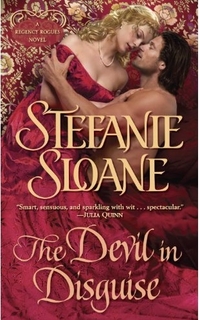 Purchase
In Stefanie Sloane?s smoldering new series of undercover seduction and adventure, a seasoned spy discovers passion is a dangerous game.
Regency Rogues #1
Ballantine
June 2011
On Sale: May 24, 2011
Featuring: Lord William Randall; Lady Lucinda Grey
304 pages
ISBN: 0345517393
EAN: 9780345517395
Paperback
Add to Wish List

Lord William Randall, the Duke of Clairemont, is a wicked rake with little regard for society—a most unlikely suitor for the prim and proper Lady Lucinda Gray. But his latest assignment for the Young Corinthians, an elite spy organization, involves protecting her from a kidnapping plot and to do this, the notorious "Iron Will" must get close to Lucinda, and convince her that he's a man worthy of her attention. It is a simple enough task to use his devilish charm to seduce her, but William never would have guessed that he'd become enthralled by the lovely Lady Grey—or that he'd lose his own heart in the bargain.
Beautiful and fiercely intelligent, Lucinda has managed to gracefully sidestep even the most persistent suitors. Until the Duke of Clairemont, that is. His rugged features, sinfully sensuous mouth, and piercing eyes are as alluring as the champion thoroughbred he tantalizingly offers in exchange for the honor of courting her, and she finds it hard to resist either temptation. The feelings he stirs in her both excite and arouse, urging her on despite the very real danger he represents. But when the truth is revealed, will Lucinda risk her heart and her life for a chance at everlasting love?
Awards
Romance Writers of America RITA Finalist, Best First Book, March 2012

Regency Rogues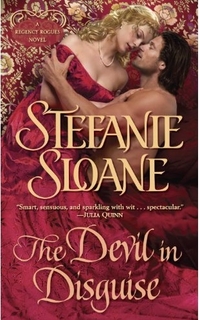 The Devil in Disguise
#1.0
Amazon.com | BN.com | | |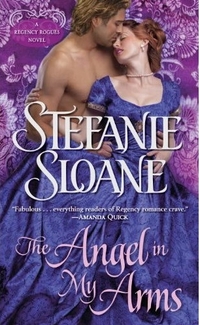 The Angel In My Arms
#2.0
Amazon.com | BN.com | | |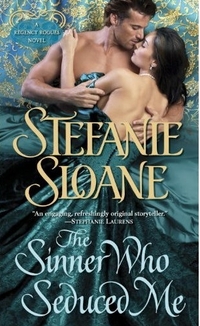 The Sinner Who Seduced Me
#3.0
Amazon.com | BN.com | | |
Comments
78 comments posted.
What I like most about an author's newsletter is the back-story, or the hows and whys of the recent/newest book. I think back to my college days and comp 101 and the first thing the professor said was, "Write what you know." And I find for myself, that works. But I'm also interested in how other writers come up with ideas for stories.
(Amy Conley 4:57am April 12, 2011)
what i like most is the excerpts on books that are either new or coming soon. it lets me get a sneak peek and makes me want to run right out and grab the book and start reding. i also like to read about the author and contests are always fun.
(Tammy Ramey 12:20pm April 23, 2011)
Thank you for your post, Stefanie. The cover art for "The Devil in Disguise" is splendid. Do you know who painted it?

As for newsletters from authors, I'm most interested in info about their current and upcoming releases, what's going on in the author's life (nothing TOO personal, of course!), her recent professional experiences---such as conventions, sales, researching on location, meeting other authors, realizations that might interest readers, her development as a writer.

Since I pick my reading material based on the main theme of a work, I rarely read excerpts. For the same reason, I'd probably skip book recommendations. Pictures of pets, kids, and significant others are fine.

As for recipes, if I need one, I either google it or go to my copy of "The Betty Crocker Picture Cook Book", which my mom bought in the early 1950s. Of course, after sixty years of kitchen use, it's in terrible shape! But as long as it's still legible, it's a mother lode of classic recipes.

Finally, there's one part of newsletters I just can't resist. The same is true of most readers, I bet. You guessed it: contests!

Good luck with your debut novel. Hope it's just the first of many.
(Mary Anne Landers 2:02am April 23, 2011)
I Like book recommendations,& giveaways,Enything funny could alway use a laugh.
Hope you have a great Easter Weekend.
(Stacey Smith 2:17am April 23, 2011)
Congrats on your upcoming debut release, Stefanie. I do like getting book recommendations and also info about WIPs.
(Jane Cheung 2:46am April 23, 2011)
I like to read back stories. Upcoming books.
(Mary Preston 3:08am April 23, 2011)
I love excerpts or explanations of inspirations for scenes, characters, book ideas.
(G. Bisbjerg 3:12am April 23, 2011)
Congratulations on your first release. I'm looking forward to it and the rest of the series.
There are already some great suggestions for newsletters. One thing that really struck me was when Jo Beverley did one about the locations of scenes in her latest books. I'm somebody who loves to read about actual or similar locations. I've done some traveling in Europe and love to imagine scenes mentioned in books. I'm also a "map" enthusiast and love being able to picture a voyage of any kind. Personally, I can do without the recipes, but then, I am the world's worst and most reluctant cook.
Best of good fortune to you in your writing,
(Sigrun Schulz 5:13am April 23, 2011)
Best wishes as you first book arrives for us readers! I look forward to your newsletter and future books.
Blessings,
Marjorie
(Marjorie Carmony 7:13am April 23, 2011)
I like everything you mentioned. I always like trying some new recipes. I find it interesting when authors talk about their lives.
(Debbie Penny 7:15am April 23, 2011)
I WISH YOU ALL THE BEST FOR YOUR NEW BOOK...I AM IN IT TO WIN IT!
(Silvana Moscato 7:35am April 23, 2011)
I like the reasons why authors choose to write that particular book. and receipes & contests...
(Cate Sparks 7:57am April 23, 2011)
Of course I love the contests. I also like links to an author's favorite sites on the web. Specials and discounts on books are an added bonus.
(Pamela Stewart 8:54am April 23, 2011)
I love to hear excerpts on the upcoming book to get me interested and pumped up. I cannot tell a lie, I love contests and enter them all the time! Best of luck in your future endeavors!
(Renee Pajda 9:06am April 23, 2011)
Happy Easter Everyone. Best of luck on your book. Hope to see many more by you.
(Cheryl English 9:24am April 23, 2011)
I like to hear about new books and read excerpts. Contests are fun too.
(Maureen Emmons 9:35am April 23, 2011)
Sounds like a great book. I'd love to win it.
(Wilma Frana 10:22am April 23, 2011)
I love the goodies, such as deleted scenes, sneaks peeks and
the like!
(Margay Roberge 10:34am April 23, 2011)
I would like book recommentdations. Typically if I like an author I will like other authors he/she has read.
And it would be fun to hear a conversation between the author and a character in the book.
(Pam Howell 10:42am April 23, 2011)
Wishing you the best, and I would like to know more about how writers put their thoughts into words on paper.
(Frances Namuth 10:57am April 23, 2011)
Looking forward to reading your first book,and newsletters.
(Sheila True 11:29am April 23, 2011)
I like to hear how the author came up with the story--the location---the hero that sort of thing. Also I enjoy hearing about the author's life---her husband, children and expecially her pets.
(Sue Farrell 12:19pm April 23, 2011)
Pictures are always nice to see. Book recommendations work for me, too. Hobbies would be a nice twist. I could give or take recipes. It seems like everyone does those. Congratulations on your book!! I'm sure you're excited. It should do well, since it's coming out on my Birthday!!
(Peggy Roberson 1:02pm April 23, 2011)
I love book recommendations the best since I love to read plus I like to be able to pass on good book idea's to friends and family.
(Joy Hoormann 1:11pm April 23, 2011)
Hi,Stefanie! Congrats on your new book! Love the cover -- it screams buy me!

I like to see reviews/chapters of your book/books as they come out, contests, what you have been doing, and pictures of you and of course family and pets. Oh, did I mention contests? As far as recipes go, I have so many now that it's a turn off for me.
(Cathy Phillips 1:27pm April 23, 2011)
I love the idea of spies and love put together. I can't wait to read your first book and get to know you as an author. I have really liked getting to know author's through the internet and finding out how they write and what goes on in their heads as they do so. It always helps me to help my students become better writers.
(Renee Brown 1:29pm April 23, 2011)
Congrats on your debut! The book has a wonderful cover... as for newsletters, I love upcoming info on books, background bits, etc. Thanks for sharing! :)
(Colleen Conklin 2:02pm April 23, 2011)
I like to read something about the plot of a book and I always enjoy entering contests. Happy Easter!
(Anna Speed 2:17pm April 23, 2011)
I like reading about research done on the books, and how the books are progressing.
(Lindsey Ekland 3:15pm April 23, 2011)
I love book recommendations from authors. Also, I find whenever an author writes about something that she is passionate about, the newsletter is great. For example, Loretta Chase writes about history. Lilith Saintcrow writes about writing.
(Phyllis Lamken 3:31pm April 23, 2011)
I do like book recommendations and a space for reader questions. And, of course, you can't go wrong with pet photos!
(G S Moch 4:12pm April 23, 2011)
Pets are fun, but I still like the excerpts from books.
(Deb Pelletier 4:48pm April 23, 2011)
I enjoy getting a sneak peek through excerpts
(Mary Lynn Hayes 4:50pm April 23, 2011)
I love to see all the new books coming out
(Jean Benedict 5:22pm April 23, 2011)
I sometimes buy a book because of its cover, yours is a winner.
(Kathleen Bianchi 5:24pm April 23, 2011)
I just signed up for your newsletter. Can't wait to get insider info!
(Jody Hollenbeck 5:50pm April 23, 2011)
I like to read about, recipes vacation, polls on story lines.
Your all time favorite books, pictures of pets.
Frances LOGiudice
bi2jou@yahoo.com
(Frances LoGiudice 6:07pm April 23, 2011)
Congrats on the book! I look to read anecdotes of the author's life, and a sneak peak of what's coming next.
(Maria Munoz 6:24pm April 23, 2011)
hope you have great easter and the book sound greatwish i would read it
(Desiree Reilly 9:14pm April 23, 2011)
I'm more inclined to read a book if one of my favorite authors recommends the story or another author. Let's face it, it take an author much longer to write a story than it does to read it. What are we supposed to do while you are writing your next story?
(Molly Wilsbacher 10:03pm April 23, 2011)
I really like to know how you wrote the book, got your ideas, did research, decided on names, etc. Another "new" author is always welcome!
(Diane Sallans 10:13pm April 23, 2011)
Congratulations on your debut! Looking forward to reading it. Have a great Easter.
(Teresa Ward 10:17pm April 23, 2011)
Good luck with this new book. I look forward to reading it
(Chris Mickels 10:43pm April 23, 2011)
I love reading about books the author enjoys and learning about what inspires them to write the books they do. What is the author's hopes for the characters, will the characters grow and develop (If in a series).
(Darci Paice 10:50pm April 23, 2011)
sound very very interesant and intriguin
(Marisa Yanes 10:52pm April 23, 2011)
I relate well to authors who are also readers and love hearing their honest recommendations. Pictures of your pets are good as is any humorous items you might like to include;) A short overview of books written and what's happening with a WIP, humorous...all good. Since I'm an addictive reader across most genres and there are literally hundreds of newsletters available in our cyber world, may I suggest that you consider making yours VERY distinctly you with associated graphic(s), concise, short and sweet with a monthly contest for your newsletter members (nothing wrong with offering author friend books or small gift card until you can build a back list;).
(Nancy Bristow 11:33pm April 23, 2011)
I love hearing all about the author. What they do in their spare time. Back story
on their characters, where they get there inspiration. I love to feel more
connected with the author.
(Val Pearson 11:35pm April 23, 2011)
I am a huge fan of romance novels in general & historical romances in particular. I also am always thrilled to find a new "favorite" author. Wishing you luck with your debut novel! Can't wait to read it. I'm one of those odd ducks who enjoys a recipe thrown into an author's newsletter. I also enjoy pet news.
(Karen Mason 12:11pm April 24, 2011)
Book reccomendations would be good. If it's an author I really like, personal things are good too because it makes me feel more connected to the author and I'm interested in them, as well as their books. Special info about their books and maybe some awesome contests??
(Jessica Sutton 3:28am April 24, 2011)
I want to hear about upcoming books or extra bonus materials about the previously published books.... Your book has a gorgeous cover!
(May Pau 9:00am April 24, 2011)
I would love to win. Happy Easter.
(Rita Wray 10:48am April 24, 2011)
I love reading new authors. I find it fascinating to "hear" the voice the book is
written in. I don't read excerpts any more because when I go to read the actual
book I thin I have already read it. I do however read a "cover blurb" to decide
whether or not I want to read it. I love winning books because I could never
afford to buy as many books as I read.
(Sandra Spilecki 11:44am April 24, 2011)
Obviously I love to read about new books and also new projects. Some more personal stuff, like photos of yourself sitting by the pool writing, would be neat too :-D !!
(Birgit Lehner 12:20pm April 24, 2011)
I like to hear the origins for some of the characters, events and such in the book. Maybe flash fiction connected to a character.
(Carol Drummond 1:10pm April 24, 2011)
wow love the sound of the book and wicked cover !!! would love to win and read this :)
(Rachael Kennedy 4:44pm April 24, 2011)
Congtaulations on your debut. I like to read about how you came up with the idea of a the plot and characters.
(Kim C 4:56pm April 24, 2011)
Congrats on your debut release! Would love to read it!
Book recommendations, recipes, and pictures of pets would be fun to see in a newsletter! Also, maybe some pictures of some of the sights in your city/town to share?
(Amy Z. 5:04pm April 24, 2011)
I love recommendations from authors I enjoy reading! I read One for the Money on your recommendation, and now am scrambling to find the rest of the series, ASAP!!
(Cindy Braden 5:15pm April 24, 2011)
Hi Stephanie, Ive been following you on FB, and I am really looking forward to reading your first book, and following your writing journey !

I enjoy hearing about personal things about the Author, that allows us to feel connected to them, also love recipes once in awhile..(esp when they have to do with CHOC, which I know you love ) To hear what your working on, If it is historical, I enjoy hearing about the research or something you found out you didnt know . I do have to admit I dont like when they come and they take hours to read.

Wishing you the best on your book ! I will be reading it for sure :)
(Kym Amaral 5:16pm April 24, 2011)
I'm partial w/ all that. But I see most of authors put all those varieties on their Facebook page instead of newsletter. Maybe the short versions of them instead of lengthy ones in newsletters, otherwise, too clutter to read them all, then you can put web links to your recipes or whatever for those who are really interested. But mainly, when I got a newsletter in my inbox, I want to know first about BOOKS and book related: new release, signing, contest, etc. The rest = Hors d'oeuvre.
(Joy Johnson 5:26pm April 24, 2011)
I love getting newsletters from authors that keep us up to date even when the author doesn't have a book coming out 'right at this moment'. I like when an author shares personal stories, a recipe, pictures - whatever - it makes me have a more personal connection with the author.
(Wendy Pariseau 5:48pm April 24, 2011)
Can't wait to read these books. I love that they are all released so close together. Newsletters allow readers to keep up with when books will be released, sometimes get some excerpts to hold us over til the release date, and allow us to learn a little about the authors who write the stories that we love.
(June A, Manning 6:02pm April 24, 2011)
Whoa people, this is awesome information! Keep it coming! And
thank you so much for your kind words re: my books. It's truly
music to my ears! Hope that you're all having a wonderful day!
(Stefanie Sloane 6:14pm April 24, 2011)
Ohh! Book recommendations, definitely! I am a total book-aholic, so recs are always wanted :-)
(Chelsea Brooks 6:17pm April 24, 2011)
Stefanie, I would agree with the reasons you cited why author newletters are wonderful. I love learning more about great authors and their bodies of work, inspirations, recommendations, etc. Reading is a personal experience and connecting with the author just makes it more so. Besides, with all the info that comes rushing at us daily, newletters keep new titles and other titles you might have missed fresh in the reader's mind.
(Mary Tanner 6:51pm April 24, 2011)
I like info on books you may be working on and when they are to be released and of course book recommendations.
(Tammy Sommervold 6:54pm April 24, 2011)
I would like to read in your newsletter when you are about to release a new book:
1. What made you decide on the character and storyline of the book.
2, How long it took you to write the book from start to finish.
3. Once you finish writing the book you are working on, then how long it will be before you start another book.

Many thanks.
(Diane Diamond 7:54pm April 24, 2011)
I love book excerpts. They get you all excited waiting for the book to come out. Book recommendations might be good, too. After all, that's how we first heard of you i facebook, and we are now eagerly awaiting the release of your book :) And of course we all love the contests!! I would look at your pets pictures, too. Some people might not want that, but I'm an animal freak, so I love animal pics. You can look at mine, too LOL.

Thanks for the chance to win, and good luck with you debut book. Here's hoping there will be many more after this one.
(Betty King 8:41pm April 24, 2011)
Congrats on your new release
(Carrie Goodman 8:43pm April 24, 2011)
Pictures of your pets, little stories about your writing or life or an idea you just got... Things that help us connect a little bit! Thanks!
(Robin Daily 10:07pm April 24, 2011)
Hi, I always sign up for authors I enjoy reading. It's a great way to keep up with what's going on with the books I intend to read. It looks like you are gonna make that with your first book because spys in Regency England are a garanteed read for me. I can't get enough of thrills with a little romance in this period. Looking forward to "The Devil in Disguise"
(Dorotha Holloway 7:53am April 25, 2011)
Stephanie,I love the news letters because while I love the
books,I like to know more about the author. It makes me feel
appreciated that they share little tidbits with us.

Michelle Bledsoe
(Michelle Bledsoe 8:38am April 25, 2011)
The cover alone would have me picking up the book to read...I cannot wait to read this one and I love the newsletters...Leisa Prater 11:31 am 4-25-11 lprater@modweldco.com...Thank you!!!!
(Leisa Prater 12:35pm April 25, 2011)
I like news letters because they keep me updated on the author's work. I love to know when new books will be released. I also like excerpts from books.
Best of luck in the future. Cannot wait to read the new book!
(Sherie Lagarde 12:58pm April 25, 2011)
Hi all, the winner of the signed ARC of THE DEVIL IN DISGUISE
is Colleen Conklin! Colleen, please send your mailing address
to lindsey@stefaniesloane.com. Thank you, everyone, for
commenting!
(Stefanie Sloane 3:15pm April 25, 2011)
I joined your newsletter. Some of the things I loved to read in a newsletter are recipes, excerpts, news about upcoming books, and book recommendations.
(Cherie Japp 4:55pm April 25, 2011)
congrats on your debut novel. this book looks great from all the reviews i have seen. would love to win so i hope you choose me. thanks for the giveaway. can't wait to check out the new book.

christinebails@yahoo.com
(Chris Bails 1:00pm April 26, 2011)
I won this book through the Goodreads First-reads giveaway
program,"Thank You!" to goodreads and Stefanie Sloane! The
Devil in Disguise Is a fun read with humor,dangerous
villains,and like able characters.The story was well
written and the humor was fun and witty. I recommend this
book! I enjoyed reading it very much and look forward in
reading her other books! ♥ : )
(Jeannie Doucette 5:26pm May 7, 2011)
Registered users may leave comments.
Log in or register now!