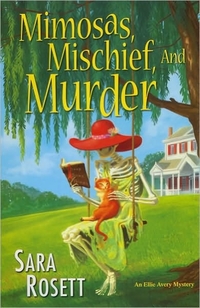 Purchase
Mimosas, Mischief, and Murder
Sara Rosett
Charm, Southern sass, and suspense abound in the sixth delightful cozy mystery in Sara Rosett?s series featuring Ellie Avery?mom, military wife, part-time professional organizer, and amateur sleuth.
Ellie Avery Mystery #6
Kensington
April 2011
On Sale: March 29, 2011
Featuring: Ellie Avery; Mitch Avery
288 pages
ISBN: 0758226853
EAN: 9780758226853
Kindle: B007X5IOEO
Hardcover / e-Book
Add to Wish List

Ellie Avery and her husband, Mitch, travel to Smarr, Alabama, to attend the funeral of Mitch's grandfather. But as soon as they arrive in the small town, questions arise. Why did Franklin Avery's body disappear from the funeral home? Did he die of natural causes— or was it foul play?
Turns out there are plenty of family members who might have wanted to speed up Franklin's demise. Ellie and Mitch seek distraction in Smarr's book festival—and that's where the real troubles start. As Southern cooking collides with literary passions, Ellie discovers a secret bundle of letters from a famous writer. But her snooping will also bring her face-to-face with a killer whose murderous rage is entering a new chapter…
Ellie Avery Mystery

Staying Home Is a Killer
#2.0
Amazon.com | BN.com | | |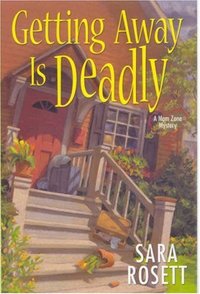 Getting Away Is Deadly
#3.0
Amazon.com | BN.com | | |
Comments
15 comments posted.
Re: Mimosas, Mischief, and Murder

I don't think I could handle a life on the move!! I've had to move a handful of times in my lifetime, and each one was more painful than the last!! It is interesting to go to new areas, though, and enjoy new experiences. Your books are written about places that I've never been to, so I'm looking forward to reading about them, and I'm sure they'll be as enjoyable as your post was to read.
(Peggy Roberson 12:34pm March 31, 2011)
My sister & her USAF hubby travelled all over the world... Now that he's retired and they are in one place; all the things they sold to make weight limits for every move has misteriously reappeared in their Florida garage according to him!!
(Cate Sparks 1:25pm March 31, 2011)
My daughter lives in Spokane. I go there every Christmas, well since my Grandson was born 2 yrs ago, and it does snow. However I live in Utah and we get it worse than they do sometimes. Ick. I have moved a few times and have lived in 5 different cities since my adulthood. Am thinking Spokane would be a good place to settle since the daughter and grandbaby are there. Anyways, I love mysteries and now will have to look up the first 2 books that are taking place in Spokane. I LOVE it there.
(Vicki Hancock 4:33pm March 31, 2011)
I AM IN IT TO WIN IT!
(Silvana Moscato 5:34pm March 31, 2011)
I would love to travel but haven't so far; maybe once I'm retired we'll get to visit some family at each end of Canada.
(Diane Sadler 5:37pm March 31, 2011)
I've been in the same place for about 5 years, which is a new record for me since I began living on my own. Haven't livid anywhere exotic, but each place had it's own charm.
(Maria Munoz 5:59pm March 31, 2011)
If you move alot you can not purchase lots of furniture. If we end up moving again, oh boy, oh boy, decluttering is a pain. One one thing that helps any move is a good book to escape to!
(Linda Pillow 6:03pm March 31, 2011)
At least now with e-books, you don't have to get rid of your book collection when you move.
(Carol Drummond 6:40pm March 31, 2011)
I moved five times in four years, I stil have cluttered up my last home, and we may have to move for a job to another state, and I'll have to declutter again!
(Brenda Rupp 9:13pm March 31, 2011)
I've moved 15 times in my life - that I remember. I've been in this home/location for 7 years and I'm hoping this is the last move! Like Sara, my books always went with me and since the library kept growing, there were lots of boxes. This past year I bought a Nook so I could travel without lugging so many books; what a joy it is! I have to admit that I have not read your books, but now that you are on my radar ....
(Karen Cherubino 10:36pm March 31, 2011)
When you move, stuff seems to multiply and you end up shaking your head figuring out where to put it all.
(Alyson Widen 8:16pm April 1, 2011)
Just the word "moving" makes me quiver- and not with delight! I too have moved all over, the last one being to WI where I swear it snows until July...and yes, we are planning another move soon. UGH-but with new moves, comes the adventure of new things- so it's not all bad.
(Patti DelValle 1:52am April 4, 2011)
I've lived in the same area all my life and haven't moved much. I have too much stuff to move, including my books! I love my book collection and have tons of them, including a lot in the garage. Well, I'd move if I won enough to buy a big house.

Moving makes me think of that H.G.T.V. show Househunters International. I could never move overseas and leave a lot of stuff behind. I love my stuff.
(Michelle Fidler 4:56pm April 14, 2011)
Wait until you are old. Then "stuff" even nice stuff, becomes a burden. Especially if you are a collector like me. I haven't moved in 33 years and people tell me it helps you prioritize. I have books from college still that I can't part with! But now I utilize the library more.
(Kathy Ellenberger 2:31pm April 21, 2011)
I can't move that much. I lose things wuithout moving so if I moved who knows where it would be
(Patricia Kasner 6:34pm May 8, 2011)
Registered users may leave comments.
Log in or register now!