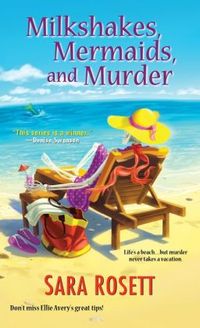 Purchase
Milkshakes, Mermainds, and Murder
Sara Rosett
Ellie Avery #8
Kensington
October 2013
On Sale: October 1, 2013
ISBN: 0758269226
EAN: 9780758269225
Kindle: B00CICDD7U
Paperback / e-Book
Add to Wish List

Ellie Avery planned a perfect family getaway: fun in the sun on Florida's Gulf Coast, with a side visit to the eBay vendor who'd mistakenly sent her the wrong handbag. But what should have been a simple exchange turns into a fatal transaction when Ellie discovers Angela495 floating face-down in her pool.
With some savvy snooping, Ellie learns that Angela's dangerous double life included blackmail, compromising photos, and a scandalous secret that threatens a local celeb. When a kidnapping shatters her family's safety, Ellie leaves the white sands behind to face down a killer whose warm Southern charm masks a cold, cold heart.
Ellie Avery Mystery

Staying Home Is a Killer
#2.0
Amazon.com | BN.com | | |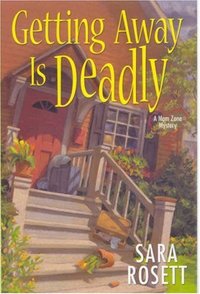 Getting Away Is Deadly
#3.0
Amazon.com | BN.com | | |
Comments
26 comments posted.
Re: Milkshakes, Mermainds, and Murder

Many years ago I was shopping in Westport,CT when I passed a handsome man dressed in tennis whites. He had blue eyes that were lovely, and a friendly smile. It was Paul
Newman and it " made my day."
Your book sounds great!
(Patricia (Pat) Pascale 9:29am October 24, 2013)
The only stars that I saw years ago were a couple of hockey players, which shall remain nameless. One of them in particular, was really full of himself. He knew that he was a good player, and had an ego to match. He expected his fans to practically bow down to him!! It happened to be in a sports bar that the players frequented, and I was with my girlfriends. That was the last time that I ever went there!! Your book sounds like fun reading, and I'm really looking forward to it!!
(Peggy Roberson 10:52am October 24, 2013)
I live in Nashville and see a lot of country music stars. One of the nicest is Tim McGraw. I met him in Walgreen's and he was kind enough to give me an autograph. He is just as down to earth as anyone and better looking in person than on television!
(Linda Harrison 11:14am October 24, 2013)
your books are some of my favorites..keep them coming!
(Paula Staton 2:59pm October 24, 2013)
So interesting to hear about other celebrity sightings! Thanks for commenting.
Peggy, I suppose the downside to a star sighting would be if they behave badly.
It sounds like you had the opposite experience, Linda!
Thanks, Paula. Appreciate it!
(Sara Rosett 3:16pm October 24, 2013)
I love the title definitely a must read for me. Also I consider and chocolate a daily requirement! Just finished a piece
(Shirley Younger 3:18pm October 24, 2013)
Thank you for your post, Sara. Have I had any celebrity
sightings? Yes, twice.

The first was Patrick Duffy, then starring in the hit TV
series "Dallas". I was a fan of his, and wanted to get his
autograph. But I didn't. This happened backstage at a
convention of a religious organization we both belonged to.
I'd heard that at this event he wanted to be treated like
everyone else. Just another person, not a star. So all I did
was look.

Not so with my other celeb sighting. Leonard Nimoy came to the
college I was attending to give a talk. Afterward I saw him
elsewhere in the building. I was wearing a shirt with a
picture of Spock on it and flashed him the "Live long and
prosper" sign. Though it was the end of a long day for him, he
smiled at me and gave me his autograph. Great guy!
(Mary Anne Landers 3:40pm October 24, 2013)
Love the Spock story, Mary Anne. I thought you were going to say he gave you
the "live long and prosper sign back!" Cool that he gave you his autograph.

Hope you enjoy the book, Shirley. I, too, just had some chocolate. What a
coincidence!
(Sara Rosett 3:56pm October 24, 2013)
Met Tug McGraw way back at a little league banquet. Lived north of Philly
and was a huge fan. Kissed his cheek too:)
(Michelle Schafer 4:04pm October 24, 2013)
When I was 13 years old, I had a tremedous crush on Dean Martin, Jr. I sat outside his house for over 2 hours until he rolled out of his driveway in his beautiful lamborghini. I was star struck! I had a camera on my neck. He asked if I wanted to take his picture. I was so shy I couldn't talk. I remember him laughing and saying, "I could take your picture, but then I wouldn't be in it." He was a charmer.
(Sandy Fielder 4:15pm October 24, 2013)
I saw will Smith at a hotel I was staying at in Hollywood
(Jean Benedict 4:59pm October 24, 2013)
I lived in West Palm Beach for many years and many celebs lived in Palm Beach. Was always seeing someone famous and they waved and smiled all the time. My favorite was a funny story. I talked with this person for half an hour because he looked familiar and I thought he was a friend of another friend. We never exchanged names just enjoyed our conversation. When he left, a co worker came over to me and asked how I knew Jeff Gordon so well. He was so sweet and not into celebrity fame. I wonder if I made his day too.
(Rosemary Simm 5:06pm October 24, 2013)
I love cozy mysteries. I saw Jamie Farr from MASH at the library here in Toledo (his hometown). It was last year in August. He was here for his golf tournament and he was filming a promotion for the library and talked to a local newscaster. I was on the computer at the library and I guess I was there at just the right time because I didn't know he'd be there! Katie Holmes is also from Toledo but I've never seen her here.
(Michelle Fidler 5:16pm October 24, 2013)
I've met a few celebrities over the years. When I was a young girl, I met Dottie West. She was talking to me and gave me her autograph. Years later, I met Johnny Cash and his wife and they both gave me their autographs. He was so nice and actually talked to me for a few minutes, even though, there were others wanting his autograph. It was a very hot day, yet he was still all dressed in black. Black suit and black shirt, etc. Your book looks like a fun read, and the cover is a hoot!
(Linda Luinstra 6:27pm October 24, 2013)
When my son was eight yrs. old, we happened to go into a music/book store and there was a crowd of people around a table. When I went to look to see who it was sitting there, I was stunned to see Chubby Checkers. My son wasn't familiar with who he was, so I told him. I can remember dancing to the hit song, "The Twist" in high school. All of a sudden he got up and started walking down the aisle. My son asked if he could get his autograph, even tho he had no pen & paper handy. So he stopped and autographed the back of my son's white t-shirt he was wearing. It was so funny, because my son then said, "Is that o.k. Mom, he's writing on my shirt?" Chubby started out his long message, "To my friend" and filled up the entire back of his shirt before signing it.
(Linda Luinstra 6:40pm October 24, 2013)
I have seen Tommy Lee Jones on Las Vegas airport. He looked equally handsome there!
(Hetal Gandhi 6:44pm October 24, 2013)
When I was working in a store years ago a celebrity came in who was on a popular soap at the time. My co-workers were going nuts until one of them asked him if he was who they thought he was. At first he denied it, but on his way out he said it was him. I don't know if it really was him or a look a like considering my friend's ex boyfriend used to look like another celebrity so much that he used to sign autographs when asked.
(Robyn Konopka 6:46pm October 24, 2013)
We are regular visitors to Sanibel Island, also on the Gulf Coast of Florida. It was also a home away from home to McLean Stevenson, formerly of M-A-S-H! On the island, he was able to maintain his privacy, that's the way of the island, quiet and peaceful and that's why to this day, we surrender to its charm.
(Susan Coster 7:10pm October 24, 2013)
A few years ago The lead singer from Red Hot Chili Peppers came into a photo lab where I was working. I ask if he would let me get a picture , he put his arm around me and I still have the picture of both us! Nice young man.
(Barbara Wells 8:54pm October 24, 2013)
Living in Nashville and working in a hotel, I sometimes see famous people and usually don't even know it.
(Sheila True 9:27pm October 24, 2013)
I've not had a celebrity sighting but my Grandma still will talk about talking to Clark Gable at the train station in Aberdeen SD, when she was dropping off something there during WWII.
(Laura Gullickson 9:58pm October 24, 2013)
The closest I have come to celebrity sighting is the occasional polly
(politician) at the airport or having my picture taken with my godfather - a
dead ringer lookalike for Sean Connery.
(Chris Coulson 10:36pm October 24, 2013)
Knew Mike Ditka. Love to win the book. Thank-you.
(John Fry 10:42pm October 24, 2013)
I've never (unfortunately) had a celebrity sighting, but I do consider
chocolate to be one of the major food groups! Lol. Your book sounds
wonderful, and thanks for the chance to win!!!
(Linda Brennan 1:08am October 27, 2013)
never had a celebrity sighting thanks for the chance to win
(Patricia Lambert 11:37am October 27, 2013)
I had celebrity sitings in the 70's when Sea World was first
opened in Orlando, Florida, and Florence Henderson, Charles
Nelson Reilly and Monty Hall stayed at our hotel. I got their
autographs on a napkin somewhere.
(Alyson Widen 7:32pm October 31, 2013)
Registered users may leave comments.
Log in or register now!