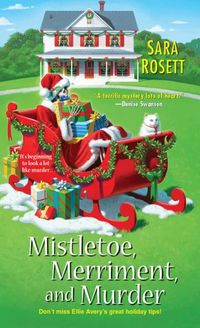 Purchase
Mistletoe, Merriment, and Murder
Sara Rosett
Ellie Avery #7
Kensington
October 2012
On Sale: October 1, 2012
320 pages
ISBN: 0758269218
EAN: 9780758269218
Kindle: B007XIE134
Paperback / e-Book
Add to Wish List

Super organizer Ellie Avery could really use some Christmas cheer when Gabrielle Matheson, a grinchy professional rival, sets up shop in the same small Georgia town. But before the halls are even halfway decked with holly, someone uses Ellie's terrifically tasteless white elephant swap gift as. . .a murder weapon!
Ellie's now a suspect. Besides playing Mrs. Santa for her Air Force pilot husband and their two kids, shielding her eyes from the garishly over-decorated house down the street, and helping a client who's a hardcore hoarder, Ellie also has to solve this ho-ho-homicide. . .and find a killer who wishes her a very deadly Christmas.
Don't miss Ellie Avery's great tips for a relaxed and stress-free holiday season!
Ellie Avery Mystery

Staying Home Is a Killer
#2.0
Amazon.com | BN.com | | |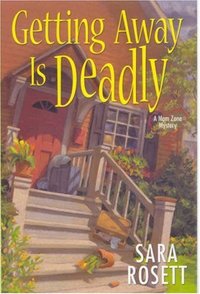 Getting Away Is Deadly
#3.0
Amazon.com | BN.com | | |
Comments
16 comments posted.
Re: Mistletoe, Merriment, and Murder

Your mysteries look like they're pretty funny. I do love a good mystery on a cold night.
(Alyson Widen 11:53am December 1, 2012)
Sounds like a fun read!!
(Kelli Jo Calvert 12:58pm December 1, 2012)
I love mysteries! would love to win & read! PICK ME!!
(Pamela Faye Howell 1:04pm December 1, 2012)
Never experienced a white elephant exchange quite like yours - we always had x amount to spend and depending on your number you could steal from another, I always stole to get the ones I put in -- heck, I wanted it more than I figured my co workers would
(Carla Carlson 2:27pm December 1, 2012)
We do a white elephant auction at our family reunions. Lots of fun. Hope I.
An read this soon. ;)
(Penny Mettert 2:47pm December 1, 2012)
White Elephants are fun.. so are Dirty Santas where you can take a gift already unwrapped and then that person gets to chose another wrapped gift.. There's usually a rule that a gift can be taken away only 3 times...
(Cate Sparks 3:27pm December 1, 2012)
I've never been to a White Elephant party, but it sounds like a lot of fun!! It sounds like you've got a great sense of humor, and I can't wait to read your book!! The cover is great, and the cat resembles my kitten, Sugar Ray!! Have a wonderful Christmas, and a great New Year!!
(Peggy Roberson 5:09pm December 1, 2012)
I'm glad that the white elephant happened to you otherwise I wouldn't have enjoyed reading your mystery books so much.

Merry Christmas.
(Kai Wong 5:54pm December 1, 2012)
I have never been to a white elephant party, but would like to! It sounds like a lot of fun!
(Christine Mead 6:46pm December 1, 2012)
I love the idea of a Christmas mystery and the white elephant party inspired
you. Mistletoe, Merriment, and Murder is a great title for a book.
(Ann Sheiring 6:54pm December 1, 2012)
book sounds like a good read. The white elephant idea might just be good for next years cookie exchange!!!
(Barbara Studer 10:11pm December 1, 2012)
I did a white elephant party and came home with a chia pet.
(Debbie Penny 6:42am December 2, 2012)
Love doing white elephant gift exchange. Your book sounds great cant wait to read it !
(Danielle McDonald 8:41am December 2, 2012)
Our high school reunion group has a Christmas party each December where we are to bring a gift worth at least $10. The gifts are brought in large shopping bags where one can't have any idea what is inside. Then the gifts are placed on one table for men's gifts and one for women's gifts. Numbers are drawn for the order of the person getting to go to the table and choose a gift. Well, usually one gets a very nice, practical gift...but the gift I got last year hardly suits that description. I got a huge Christmas "hat" that is battery operated. When one pushes a button, small vari-colored lights gleam around the edge of the hat, the song "Have a Holly, Jolly Christmas" plays and the high, pointed top of the hat (with its attached bell) sways back and forth. It is not a hat I would wear to church and it would take a practical joker to wear it to a party. This year I gave that contraption to a mother to entertain her nine-month-old daughter. LOL
(Marilyn Nowlin 1:25pm December 2, 2012)
Great ideas certainly come from the most interesting places - for holiday pollyannas (did I spell that right? Probably not) I have received socks and pantyhose - LOL - not too mysterious!
(Felicia Ciaudelli 6:21pm December 2, 2012)
Looking at the picture, I would have said it was a meat tenderizer. You know, one of those hammer thingies, where one side of the head is flat, and the opposite side has kind of triangular bump-ups where if you hit your thumb with them, you can do a lot of damage.

A tomato slicer. Hmmmm. Who'da thunk it?

Later,

Lynn
(Lynn Rettig 4:32pm December 3, 2012)
Registered users may leave comments.
Log in or register now!