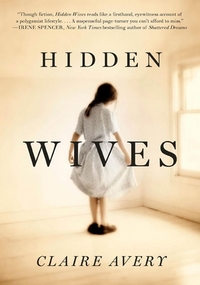 Purchase
Tor
June 2010
On Sale: June 8, 2010
Featuring: Rachel; Sara
336 pages
ISBN: 0765326892
EAN: 9780765326898
Paperback
Add to Wish List

Inspirational Mystery | Romance Suspense | Suspense
Fifteen-year-old Sara and her beautiful sister, Rachel, are too young to legally drive a car—but are approaching spinsterhood in Utah's secret polygamist Blood of the Lamb community. Having long since reached the "age of preparedness," they will soon be married off to much older men chosen by the hidden sect's revered Prophet.
As Sara, chosen to become her uncle's fifth wife, grows more distraught over her impending incestuous marriage, she begins to scrutinize the faith she has followed blindly her entire life. But for Rachel, who will be married to one of the many powerful community leaders vying for her hand, disobeying the Prophet means eternal damnation. Her friendship with the newest member of the community, the young and handsome Luke, starts as an attempt to save his agnostic soul, but ends with the pair falling helplessly in love. When Rachel is forbidden to see him, her absolute faith in the Prophet is severely tested.
When Rachel's future husband is finally announced, violence erupts, and the girls must find the strength to escape the only life they have ever know…before it's too late.
Claire Avery has woven a stunning tale that could be ripped from today's headlines. Shocking and empowering, Hidden Wives is a page-turning debut that will stay with the reader.
Comments
102 comments posted.
Re: Hidden Wives

Sounds like fun, cake is always a hit regardless of where you are!
(Barbara Hanson 12:56pm June 12, 2010)
Love reading your books
(Mary Smith 1:15pm June 12, 2010)
sounds like an interesting book
(Pam Howell 1:36pm June 12, 2010)
Cake is always good. It goes with every occassion. Love your books!!!
(Kai Wong 1:38pm June 12, 2010)
You can't go wrong with cake. This one is very pretty! I have not read your books but this one sounds really good and I will have to start watching for them.
(Gail Hurt 1:50pm June 12, 2010)
You can never talk too much about cake. I know they got interested in the topic after watching the movie, I just wondered if one sister had to nudge the other one to say yeah let's write about this.
(Leni Kaye 2:09pm June 12, 2010)
Love cake!!! This book sounds interesting! Going on TBR pile for sure!
(JoAnn White 2:57pm June 12, 2010)
I will put this book on my wishlist. Thanks for the giveaway!
(Lisa Garrett 3:12pm June 12, 2010)
This sounds awesome, thanks for talking with us!!!
(Brandy Blake 3:43pm June 12, 2010)
Does anyone ever grow out of wanting cake? :)
Good luck with your book!
(S Tieh 4:45pm June 12, 2010)
Really enjoyed meeting the authors at the Boa and Tiaras Tea today. I'm looking forward to reading the book.
(Maria Munoz 8:39pm June 12, 2010)
I love my 3 layer home made Red Velvet Cake. lol
This book sounds very interesting and I would love to read. Thanks for giveaway.
(Brenda Hill 8:59pm June 12, 2010)
It is a treat to be given access to the goings on in a community and culture that is so foreign to mine but coexists side by each.
(Darci Paice 9:17pm June 12, 2010)
Please enter me in your fantastic contest and please let me know when I am a winner too! God bless everyone,
Cecilia
(Cecilia Dunbar Hernandez 11:06pm June 12, 2010)
Cake, Boas, Tea...you guys have it made!
(Jessica Badeaux 11:17pm June 12, 2010)
Cake Is Always A Great Sugar Rush. But I Think Cake Goes Better With Milk.
(Raquel Vega-Grieder 11:33pm June 12, 2010)
I'm so interested in reading
this one!
(Jacqueline Cook 2:21am June 13, 2010)
There is always FUN when boas are around!
Blessings,
Marjorie
(Marjorie Carmony 6:45am June 13, 2010)
hello hope your summer is going well. Just entered your contest on fresh fiction. thanks for having it.
(Gloria Vigil 9:45am June 13, 2010)
Hidden Wives sounds very good. I loved the concept
(Liz Cranage 10:54am June 13, 2010)
i love the sounds of the book
(Debbi Shaw 12:33pm June 13, 2010)
HIDDEN WIVES deals with a topic that we have all heard about, but really don't know how it effects the woman/girls involved. I am anxious to read their story.
(Rosemary Krejsa 2:33pm June 13, 2010)
Looking forward to reading Hidden Wives. Have a great summer with lots of ice cream and cake!
(Teresa Ward 3:45pm June 13, 2010)
book sounds great; putting it on my list:)
(Barbara Studer 4:07pm June 13, 2010)
Hidden Wives sounds like a book I would want to read
(Chris Burd 4:59pm June 13, 2010)
I'm sorry I missed your cake! At least I didn't miss "Hidden Wives" - it sounds teriffic!
(Deborah Rosen 5:33pm June 13, 2010)
Great party. Enter me in your contest.
(Loretta Canton 5:40pm June 13, 2010)
I wouldn't need cake to get me to come
out to see you!
(Deanna Boocock 5:59pm June 13, 2010)
I've heard so much about this topic, and would love to read more!! What a great giveaway!! Thanks so much!! Hope you had a great time at your tea!! Wish I could have been there, too!!
(Peggy Roberson 6:00pm June 13, 2010)
The cover for Hidden Wives is beautiful. A must read I say.
(Mary Preston 6:41pm June 13, 2010)
The book sounds so great and I want to wish the best on it. Thank you for the chance to win.
(Cynthia Plaza-Harney 7:35pm June 13, 2010)
Oooh, cake & books! Life doesn't get much sweeter than that!
(Gail Martin 7:47pm June 13, 2010)
This story has a setting of interest. Few stories deal with this topic. A secretive abd closed society that keeps outsiders away. I am looking forward to reading HIDDEN WIVES.
(Patricia Barraclough 7:54pm June 13, 2010)
Sounds like a compelling story
with more meat to it than some
have! Can't wait to give it a
try!
(Janece Suarez 7:57pm June 13, 2010)
sounds great
(Sagrario Vigil 8:55pm June 13, 2010)
Sounds great.
(Cathie Veres 10:24pm June 13, 2010)
Looks like fun!
(Joelle Beebe 10:45pm June 13, 2010)
Mmmm, cake. Good luck on the book.
(Jeanette Jackson 11:50pm June 13, 2010)
Sadly, this is a topic that seems to be ever topical. It's good to explore it in a novel.
(Sigrun Schulz 12:40pm June 14, 2010)
Another great read to add to my wishlist. Yes... let the Diabetic read about cake at 1:11 a.m. when she can't have it... make me suffer! LOL
(Donna Holmberg 1:11am June 14, 2010)
love the cover and sounds like a great
read! thanks for the chance to win!
(Tina Werner 10:31am June 14, 2010)
I love to read and you can usually see me doing that in my spare time.
(Belinda Wolf-Whitaker 7:27pm June 14, 2010)
My "surprise" book was MAGNOLIA WEDNESDAYS by Wendy Wax. Funny, poignant, yada yada, and would love a sequel. Then I would put all of Jacqueline Winspear's Masie Dobbs' books on required reading for just about everyone -- I thought her new one, THE MAPPING OF LOVE AND DEATH, was especially good. Also if anyone hasn't tried a Dorthea Benton Frank book, they are keepers also.

So far the rest of my reading is the hot/sexy/been-there-done-that storyline. Just change names of the innocent and locales and that's about it.

Here's hoping something wonderful hops into my tbr&r pile quickly!
(Betty Cox 9:21am June 26, 2010)
Hi Sara I just finished new book "The Kitchen House" by Kathleen Grissom. It was a BD gift, about the south when there were slaves/servants, etc. I was not thrilled at first but story was wonderful & I couldnt put it down. Way better than current bestseller "The Help" which takes places later in history. Anyway, my point is that sometimes the book you don't think you'll like is the best one. I am always open to new reading adventures.Keep up the good work & happy summer reading.
(Donna Petrilla 9:24am June 26, 2010)
Controversial subjects make for great reading.
Blessings,
Marjorie
(Marjorie Carmony 9:31am June 26, 2010)
Claire Avery's "Hidden Wives" looks very appealing to me, also. Like Sara said, I usually avoid this kind of books, because these people are so often credited with belonging to my church which is not the case. The bookc cover caught my eye right away, and then Clare's comments sealed it for me. Gotta get that book :)
(Louise Pledge 9:41am June 26, 2010)
I have never had a reading "funk" thanks to great authors like you and others. Have a wonderful summer and keep writing.

Patricia R,
(Patricia (Pat) Pascale 9:45am June 26, 2010)
wow! I love to find new authors that enable me to take my love of reading in new directions!!
(Teresa Alexander 9:57am June 26, 2010)
I enjoy Caridad Pineiro's Sin Series. She combines current science with her thrillers. She also has other types of books and I have enjoyed all of them.
(Karin Tillotson 10:07am June 26, 2010)
Right now I am raving about the Secret immortal life of Nicholas Flamel series. Yound adult books, but I really like being able to talk about books with my nephew and this series is a good one for that.
(Pam Howell 10:45am June 26, 2010)
Hidden Wives has been on my
wishlist for a while now. I'm
glad to hear that you liked
it. I've also been intrigued
by the look of Zoe Archer's
series and now I'm even more
interested in trying it!
(Jacqueline Cook 11:00am June 26, 2010)
The Jaguar Prince by Karen Kelley is an excellent paranormal romance. The Sugar Queen by Sarah Addison Allen was a good read.
(Leni Kaye 11:11am June 26, 2010)
I just picked up Linda Castillo's Pray for Silence. It is the follow up to Sworn to Silence that she wrote last year. I usually read one book and then start another right away. After re-reading Sworn to Silence to reaqauint myselft with the characters I couldn't pick up a book for 2 days. This book really stays with you.
(Judy Anderson 11:40am June 26, 2010)
I read the book Roses by Leila Meacham. Although it's quite a lengthy book, I thought it was quite well written, and I couldn't put it down!! It was such a tender love story that really tugged on my heartstrings, and I still think about the book, months after I've read it. I was pulled into the book right from the start, and stayed up late a couple of nights just so I could see how the book ended -- it was that good!!
(Peggy Roberson 11:57am June 26, 2010)
Lately, I have been in a similar funk as well. Urban fantasy, paranormal, even romance right now to me seems the same. Recently I picked The Help by Kathryn Stockett and was pleasantly surpristed. Being from Mississippi I was a little wary at first but I'm very glad I did. Earlier this week I also found out that they are making it into a movie and it will be shot here in Mississippi. Anyhoo....I'm hoping my reading muse will perk up pretty soon because I do so love a good paranormal and urban fantasy novel.
Hope everyone has a pleasant weekend!
(Kate Mobley 12:12pm June 26, 2010)
I'm anxiously awaiting the next in the "Sin" series by Caridad Pineiro. The first book blew me away!!
(Martha Lawson 12:33pm June 26, 2010)
Love the cover of scoundrel
(Catherine Myers 12:42pm June 26, 2010)
Hi,

Yeah, I get in a reading slump now and again. I just read a really nice book, Nine Rules To Break When Romancing A Rake by Sara MacLean. A great story that kept me reading until the last page!!!

There are too many books I'm waiting for!!
(Valerie Bongards 12:58pm June 26, 2010)
I have been enjoying some cowboys lately... Vicki Lewis Thompson's WANTED & AMBUSHED were terrific reads... can not wait for her next SONS OF CHANCE book CLAIMED!
Also looking forward to Caridad Pineiro's next SINS book also!
(Colleen Conklin 1:54pm June 26, 2010)
I have been hooked on cowboys myself lately. I read Kaki Warner's books Pieces of Sky and Open Country, they were totally awesome reads. I have been in kind of a reading slum since. Don't know what I want to read. Maybe I sound check out the books in the post up above my. The Vicki Lewis Thompson's books sound really good!
(Gail Hurt 2:07pm June 26, 2010)
So glad I'm not the only one who gets in a reading slump, and am in one now! Perhaps if someones recommendation sparks an interest I will try again tomorrow. Blahh!
(Elizabeth Parzino 2:33pm June 26, 2010)
I have never been in a reading slump for very long because there are so many great books to read. Lately I am reading cowboys or pirates.
(Cheryl Lynne 2:44pm June 26, 2010)
I get in reading funks too and it's so frustrating! Something with humor usually gets me out of it though.

I haven't read either of the books you mentioned but I will be now. They've just been added to the list! Thanks for the ideas and happy summer!
(Debbie Wright 3:52pm June 26, 2010)
I just finished reading The Truth About Lord Stoneville, by Sabrina Jeffries. I enjoyed it very much.
(Gladys Paradowski 4:05pm June 26, 2010)
This is a wonderful opportunity for me to try a new author. I'm always looking for someone new. Thank you :)
(Heather Minor 4:34pm June 26, 2010)
I get in a funk, too busy, etc. Reading clears my head and makes me a better mom so I just need to make it my stress free time. I turn the tv off by 9 so I don't just sit in front of it when kids are in bed and take my book and a cup of tea and enjoy the me time.
(Darci Paice 4:34pm June 26, 2010)
Thanks so very much. What you guys do here is wonderful :)
(Heather Lyn 4:37pm June 26, 2010)
That book Scoundrel definitely looks interesting. I'll have to look at it. Right now I'm devouring Deborah Cooke. Her dragon series is fantastic.
(Sherrie Wymer 4:46pm June 26, 2010)
Hi to you this hot, humid summer day. I am really into reading Kiss Them Goodbye by Stella Cameron and keep having to stop to do some mundane chore. Darn it. But Stephenie Meyer's, Twilight, The Graphic Novel, Vol 1, and it was awesome. The graphics were awesome. I would recomend this one to anyone who loves Twilight or any book similar to it. Awesome
(Brenda Hill 4:55pm June 26, 2010)
I love I'm All Steamy by Louisa Edwards, because it has a lot to do with food and spunk. I don't get into slumps, since I have withdrawel symptoms if books aren't nearby.
(Alyson Widen 4:57pm June 26, 2010)
Yes, I do have occasionally a funk. Then I will have a whole bunch of good ones that I have read. I am into Rachel Gibson's Nothing But Trouble and it is great.
(Pat Lieberman 5:09pm June 26, 2010)
I feel like I'm in a reading funk now. You give a great description of how it feels. Maybe I'll see if Zoe Archer can get me out of it. Thanks for the suggestion.
(Maria Munoz 5:41pm June 26, 2010)
I've just discovered Ilona Andrews and the new books by Jennifer Estep. Patricia Briggs and Carrie Vaughn. I got tired of the straight romance so I tried different ones and I have to admit they are good. I still slip in a romance now and again.
(Lena Lee 6:09pm June 26, 2010)
I've been in reading funks. But I don't let it get to me. If I'm not reading then I work on organizing my books. I find that reading all the blurbs and researching to see if I have all the books in a series will usually renew my interest in reading.
Currently reading Dragon Kin series by G.A. Aiken. Next up will probably be either Dakota Cassidy's Accidental series or Judi Fennell's Mer books.
(Carol Cobun 6:31pm June 26, 2010)
I try to read a new book every week.This week I'm reading Jayne Ann Krentz's book ,Trust Me.
(Deb Pelletier 6:41pm June 26, 2010)
Congratulations on getting the muse back.

It's extremely rare that I can't find a book to read. I may have a glance at up to a dozen--I always have a pile of unread books around--but eventually I'll find a taker. Last night I came upon that great rarity, a book that just didn't work for me. It only happens about once in 5-10 years.
(Sigrun Schulz 7:02pm June 26, 2010)
i have only been reading a year after a 12 year hiatus, so i have not had a chance to get into a slump yet. i hope that NEVER happens!!
(Christy Mitchiner 7:20pm June 26, 2010)
Somehow this seems to be on the wrong page. So I'd like to comment about "Hidden Wives." In a way I would love to read this book to see how women deal with this type of supposedly "faith-driven" concept of marriage. Yet, I know I would also feel very frustrated by the situation of these young women, since what I believe of our God and Savior doesn't agree with this at all. If I can find the book, I'll read it. Kudos to the author for writing it.
(Sigrun Schulz 7:24pm June 26, 2010)
right now i wanna get to reading Before I Fall by Lauren Oliver
(Sagrario Vigil 8:04pm June 26, 2010)
I switch genres frequently so always find something, someone, fresh & new to read.
(Mary Preston 8:07pm June 26, 2010)
I hate it when I can't find that special book. When bored, I usually check out my favorite authors. Sometimes that puts me in the right mood.
(Rosemary Krejsa 8:34pm June 26, 2010)
I haven't had time to read for a while
until recently. I'm on my second book
this week. They have been OK, but
they are not grabbing me. I have a
terrific TBR shelf, but haven't hit it yet.
Partly because I don't really have time
to get wrapped up in a book that I just
can't put down. Another part of it, is I
have been looking forward to reading
these books and don't want to be
disappointed.
The last book I read that grabbed me
was IMPATIENT WITH DESIRE by
Gabrielle Burton. It is about the
Donner party. Not light summer
reading, although reading about
people caught in the snow may appeal
to some who are suffering in this heat.
The main character, Tamsen Donner,
became a friend and if I had met her
in the 1846, I would have gone with
them on their trek to California . I
didn't want to finish the book. This is
historical fiction. I knew how it would
end. Somehow, I felt I could keep
them alive a little longer if I didn't
finish the book. It was like loosing a
good friend. It was such a good book.
I want to find another that draws me
in. There are some good prospects on
that shelf, I just need to take the leap
and try one.
(Patricia Barraclough 9:39pm June 26, 2010)
Mm... I've had a few good books lately and I know a few are coming out in the next few weeks: Bonds of Justice, The Search, Nauti and Wild but at this moment I'm re reading last year's Black Hills.
(Diane Sadler 9:42pm June 26, 2010)
I'm looking forward to reading the rest of Tessa Dare's Stud Club trilogy. The series combine two interests: historical romance and racehorses. :)

I also have many YA books on hand so if I get tired of romances, then I can switch to something different.
(S Tieh 9:44pm June 26, 2010)
I love the sound of the book! Would love to win.
(Brenda Rupp 10:22pm June 26, 2010)
I just started reading Strange Neighbors by Ashlyn Chase and I love it so far. It's amazing! If I love it cover to cover it will be my newest "rave".
(Cathie Veres 10:52pm June 26, 2010)
I haven't read anything lately worth
sharing, but the last new author to wow
me was Linwood Barclay.
(Sue Ahn 12:59pm June 27, 2010)
I love to vary the genres I am reading to try to keep it fresh - but yes sometimes they do seem to blend. I love the films you mentioned so will be trying warrior and if I like it as much as you say will be looking for scoundrel too!
(Barbara Hanson 6:45am June 27, 2010)
i really want to read dark flame
(Debbi Shaw 11:18am June 27, 2010)
I love to reread old favorites...
(Annette Cunningham 11:38am June 27, 2010)
Right now I am reading 3 Seductions and a Wedding. Love it so far. I love to read new books as well as old ones.
(Cathy Phillips 12:25pm June 27, 2010)
I love the Haunting series by Erin Quinn.
both Haunting Beauty and Haunting
Warrior are so well written, with a
sophisticated prose. I just love them!
(Molly Wilsbacher 1:18pm June 27, 2010)
Nancy's Theory of Style by Grace Coopersmith (aka Marta Acosta) is a real hoot. Almost too much fun in a book!
(G S Moch 1:29pm June 27, 2010)
just love your books
(Stacy Fitzgerald 1:35pm June 27, 2010)
Can't wait to read the list your putting together. Would love to win a book from you.
(Bonnie Gonzales 2:05pm June 27, 2010)
I love your books.
Debby C
(Debby Creager 3:33pm June 27, 2010)
I hit the slump every now and then too. During those times, I end up surfing the net a lot.
(Alicia Allen 5:04pm June 27, 2010)
Your post made me laugh. Yup sometimes you wonder how many people can die in a small town, or guess how many of them are terrorists. I do get into a reading slump from time to time, so I've made it a rule to read the next book in a different genre, ie
after a contemporary, the next would be historical or paranormal.

I did find a gem of a read though. It was Laura Kinsale's Lessons in French. I thought she was a new author, and heck I just had to research her backlist and found that she's got some re-releases in larger mass market editions. I just loved Lessons in French. It was like SEP's humor in a historical. *smile*
(Armenia Fox 6:01pm June 27, 2010)
I have never been in a reading funk. I am currently reading my way thru the Anita Blake vampire hunter series by Laurell K. Hamilton
(Teresa Ward 7:25pm June 27, 2010)
Yes I would like to enter today's contest.I enjoy reading.
(Deb Pelletier 7:43pm June 27, 2010)
I'm loving Aprilynne Pike's Wings & Spells. It's YA fiction that has fairies, with a twist that's refreshing.
(Jessica Badeaux 7:50pm June 27, 2010)
I am in a reading funk right now. Anyone know anyway to get out of it and fast?
(Lisa Glidewell 9:54pm June 27, 2010)
Registered users may leave comments.
Log in or register now!