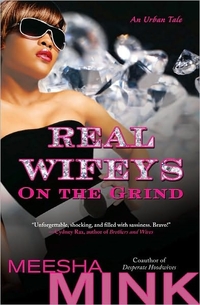 Purchase
An Urban Tale
Touchstone
January 2011
On Sale: January 4, 2011
Featuring: Kaeyla "Goldie" Dennis
272 pages
ISBN: 1439173117
EAN: 9781439173114
Paperback
Add to Wish List

CASH RULES EVERYTHING AROUND HER AND GOLDIE WILL USE ANYTHING TO GET IT. . . .
In the hood every day is about struggle and survival, and no one understands that more than twenty-two-year-old Kaeyla "Goldie" Dennis. So when the affair she's been having with a wealthy married man comes crashing to an end, Goldie doesn't waste any time getting back on her grind.
Her new hustle? Running a strip club where she also happens to be the main attraction. Pretty soon she's knee-deep in the skin game with more money than she ever imagined. Enough to bring more girls on and even hire a security detail. But as the saying goes, More money, more problems.
When one of her dancers becomes the victim of a vicious assault, Goldie must decide whether to remain silent and continue her lucrative business or tell the truth and lose everything she's worked for. Her decision will test her devotion to the motto she seems to live by: Get Rich or Die Trying . . .
Real Wifeys is the first installment of a fierce and gritty new series by the coauthor of one of the classics of street fiction, Desperate Hoodwives.
Comments
26 comments posted.
Re: Real Wifeys

How wonderful that you get to share all of you with readers! Very commendable to be able to write in all of those genre's. Great work! Keep at it!
(Joanne Reynolds 8:18am January 15, 2011)
This book looks great! I will have to check it out.
(Leagh Christensen 8:29am January 15, 2011)
I like humor, sass, and realism. You books sound great.
(Maria Munoz 11:36am January 15, 2011)
It makes sense to have different genres - many readers read in different genres so why not authors write in them. I would expect some hectic times though with the different publishers wanting their deadlines met.
(Carol Drummond 11:40am January 15, 2011)
@ Joanne - Thank you.

@ Leagh - Thank you. I hope you enjoy it. Maybe you'll be the lucky winner!

@Maria - That's my books "Sexy, Funny & Oh SO Real!" ;-)

@ Carol- The deadlines are very hectic because there's more than just turning the book in. There are deadlines for every step of the production process...but I work best under pressure!
(Meesha Mink 2:09pm January 15, 2011)
I am interested in knowing if there will be another book for the hoodwives/hood life series.. Those are the books that absolutely love. I hope that you will continue to bless us with your craft and keep us wanting more.
(Chevy Jackson 2:37pm January 15, 2011)
I love all your book i have read your romance series and the hood wives series and your mainstream books looking forward to winning this book. To add to my collection.
(Dm Scott 2:44pm January 15, 2011)
It makes a great deal of sense to write from within. If that means different genres - wonderful.
(Mary Preston 4:24pm January 15, 2011)
I'm sorry I have not read one of your books. But,Thank You for giving me a chance to win it.
(Linda Hall 5:11pm January 15, 2011)
Enjoy all that energy while you are young---when you get to be my age, I think you will slow down a bit! But I sure enjoy reading of the younger days when people have lots of energy.
(Sue Farrell 5:29pm January 15, 2011)
I certainly believe in a Soul Mate also, have one for 48 years!~
Blessings,, Marjorie
(Marjorie Carmony 5:40pm January 15, 2011)
My soul mate I've had him for 40 yrs
(Joanne Bozik 6:00pm January 15, 2011)
@Linda - That's okay, Linda. There are SO many authors out there and everyone has their fav (including me). Thank Fresh Fiction and my publicist for the contest though. They came up with this great idea!
(Meesha Mink 6:17pm January 15, 2011)
@ Sue - lol. Very true. I already have the idea for the one novel I will write when I reach my fifties/sixties and have the wisdom to get it right and the patience to take my time with it.

@Marjorie and Joanne - Isn't love grand? *sighs dreamily* I dedicated my newest romance to my heart. (Yes, I am so corny!)
(Meesha Mink 6:20pm January 15, 2011)
Im an avid book reader and I have to say I thoroughly enjoyed Hood Life series so far, cant wait to see what happens next. Thank you sooooo much Meesha Mink for sharing your talent with us.Will you be doing a book tour for Real Wifey's: On the Grind? Pls come to Memphis!!!
(Terinney Williams 6:44pm January 15, 2011)
I've read alot of your books and I must say that you are one of my
favorites because you do write in one more than one genre. Didn't know
about the teen series though. Sounds like a great gift for my niece.
(Jennifer Wilson 6:57pm January 15, 2011)
I believe in soul mates - married mine going on 32 years in June.
I have not read any of your books and would love to win one, read it, and review it. I will be checking you out after reading this.
(Jane Squires 7:17pm January 15, 2011)
As an older reader the antics and adventures of the young help
keep us up to date and young (if only in our minds).
(Lisa Richards 7:30pm January 15, 2011)
I think that you are going to do well with your books. You have just the right amount of sass, along with an interesting background to come up with plenty of storylines. You are also a hopeless romantic. There isn't a thing wrong with it, because I found mine 28 years ago. It was love at first sight as well. I would wish you good luck, but after reading your blog, I can see it won't be necessary. You'll be just fine!!
(Peggy Roberson 10:40pm January 15, 2011)
oh my; how do you keep it all straight. what a busy life
(Barbara Studer 11:11pm January 15, 2011)
@Terinney - Thank U! I'm not sure. Waiting to get more details from my publicists. Stay tuned to my website--where there is also LOTS of info on this news series. Excerpts, book trailer, soundtrack listing, etc.

@Jennifer - The teen series is my little baby. Although I write very sexy adults books, I am very proud that the teen books are profanity and sex free. I wrote the series for my little cousins who were begging to read one of my books. Now they can read away!

@ Jane - Thank you, Jane!

@ Lisa - Very trie, Lisa. I try to spend time with my teen ages cousins so that I don't lose touch.

@ Peggy - Thank you, but prayers and well wishes are always welcomed! ;-)

@Barbara - My Blackberry and my agent! Thank God for both.
(Meesha Mink 11:30pm January 15, 2011)
Soul Mates are a rare & valuable find, but well worth the wait.
It takes a complex, many faceted author to craft a complex book built on varied characters and carefully researched situations; so we are very grateful that you are capably writing in such a variety of genres.
(Susan Driskill 7:11pm January 16, 2011)
Your books are great and I am glad you share your meny sides.
(Vickie Hightower 11:43pm January 16, 2011)
Thank you, Susan and Vickie. I apologize for missing your comments yesterday.
(Meesha Mink 8:48pm January 17, 2011)
dammit.. oops don't know if i can say that on here... i fell in love with the series... but i do understand that each writer must go their separate ways and you cant always be a powerhouse tag team. I do wish you both the best of luck and look forward to your books.
(Chevy Jackson 12:32pm January 18, 2011)
I like that you won't be pinned down and labeled into a forever slot. Good luck in navigating your way around different genres and creating stories woven around things outside of the routine.
(Alyson Widen 1:39pm January 18, 2011)
Registered users may leave comments.
Log in or register now!