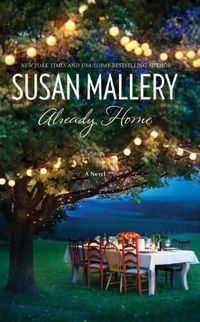 Purchase
MIRA
April 2011
On Sale: April 1, 2011
Featuring: Jenna Stevens
400 pages
ISBN: 0778329518
EAN: 9780778329510
Trade Size
Add to Wish List

After nearly a decade as a sous chef in a trendy eatery, Jenna is desperate for a change. She's supported her ex- husband's dreams for so long that she can't even remember her own. Until she sees a for-lease sign near her parents' home and envisions her very own cooking store. Her crash course in business is aided by a street-wise store manager and Jenna's adoptive mother. But just as she's gaining a foothold in her new life, in walk her birth parents - aging hippies on a quest to reconnect with their firstborn.
Now Jenna must figure out how to reconcile the free- spirited Serenity and Tom with her traditional parents, deal with her feelings for a new love interest and decide what to do about her ex's latest outrageous request. In the end, Jenna will find that there is no perfect family, only the people we love..
Comments
24 comments posted.
Re: Already Home

I would suggest being sure to have a block of good uninterrupted reading time when you start Already Home, because if you're like me you won't want to put it down.

Jenna in an attempt to move forward from her divorce and her fear of creative cooking...not just following a recipe she opens a cooking store. As the review above states it doesn't take long for her to realize the mistake she's made, and she rethinks the concept of the store with her manager and soon to be good friend Violet.

However, Jenna is not the only one who is rethinking life...Violet is as well.

Already home is mostly Jenna's story, but Violet's story is an integral part of the story, and I like the way Ms. Mallery has blended both stories into one truly touching emotional tale.

As I read the last page of Already Home I was more than satisfied with the conclusion, and know that all involved are going on to lead happy, successful lives. However, I should warn you that Already Home is a potential hankie read...have those tissues handy!
(Sandi Shilhanek 7:49am March 11, 2011)
Already Home is an empowering story of new found friends working to overcome abuse, circumstance, and disappointment.

Jenna is starting over from an abusive and failed marriage to become an independent business woman by doing what she loves. Unfortunately, bumps in road delay and frustrate her plans but the desire to succeed burns bright.

Violet is a secondary story but no less powerful with her tragic past and her willingness to make something of herself.

Watching both of these women lean on each other to achieve their goals and help each other become strong women is a beautiful thing.

Awesome Read!
(Mandy Burns 5:54pm March 17, 2011)
Susan Mallery has crafted a beautifully written novel about family-- the family we chose, the family that is chosen for us, and the family we lose for any number of reasons. This story will have you smiling and crying as you watch Jenna return home to rebuild her life after a bad marriage has shaken her confidence. She opens a cookware store with the help of Violet, a woman with a good heart and a complicated past. Jenna is stunned one day when her birth parents walk in unannounced looking to build a relationship.

In their own ways, Jenna and Violet must both come to terms with their pasts to be open to the futures they long for. Lucky for them, they have lots of loving family and friends to help them along their journeys. I highly recommend you join them.
(Maria Munoz 5:22pm March 18, 2011)
I have Deb Macomber's cookbook and look forward to her Christmas one. I have made several of the recipes and they are v.g.

I am recently retired and have been making some new recipes and yes I like them easy; don't want to be challenged.
(Pat Lieberman 7:57am May 11, 2011)
Pat, congratulations on retiring! Isn't Debbie Macomber's cookbook terrific? I need to add her Christmas one to my shopping list. What I love about the recipes is that they're pretty much fail-proof, which I need!
(Susan Mallery 11:05am May 11, 2011)
I am not much of a cook and I would rather have someone do it for me... I have Debbies Cedar Cove Cookbook too..
(Kathleen O'Donnell 11:10am May 11, 2011)
Kathleen, wouldn't that be the ultimate in luxury, having a personal chef? I would love that!
(Susan Mallery 11:28am May 11, 2011)
I hate the chore of prep work but I do love to cook. I also love to experiment with new recipes.
(Annetta Stolpmann 12:56pm May 11, 2011)
Annetta, I think I love the prep work more than the actual cooking... although I'm a little leery of knives.
(Susan Mallery 2:23pm May 11, 2011)
My favorite standby cookbook is Better Homes and Gardens cookbook. I can always rely on a good result on something I make from there, and several of our family favorites came from those pages. I think I now have four of them, as I keep getting the updated editions.

I probably have over 300 cookbooks of all kinds, so I love several of them. Two that I rely on for desserts are A Piece of Cake by Susan Purdy and The Cake Bible by Rose Levy Beranbaum.
(Jan Vautard 2:27pm May 11, 2011)
Love to cook but working all day puts a big damper on it. I want something easy to fix that tastes good. So love the Taste of Home Cookbooks. They use ingredients that most everyone has in their pantry or frig. I hate recipes that require a special trip to the store for expensive food items. Keep it simple.
(Maude Allen 3:42pm May 11, 2011)
Hi, Jan! Thanks so much for stopping by. I do have a Better Homes & Garden Cookbook that I turn to sometimes. They're good for when you want to make your favorite stand-bys. I don't make desserts very often. I discovered while writing the Bakery Sisters books that I really don't have a talent for desserts. I'd rather leave that to the pros.
(Susan Mallery 3:57pm May 11, 2011)
I stopped counting when I reached 500 cookbooks. I used to cross-reference main dish recipes or sugar cookies and then pick somthing from each of 4 cookbooks. Now, I take shortcuts. The recipes on your website look good and have a lot of ethnic or regional qualities.
(Alyson Widen 4:28pm May 11, 2011)
I enjoy cooking more during certain times of the year. Holidays wouldn't be the same without the traditional foods that the family has served over the years. I do enjoy reading books that include cooking. I am inspired with the cooking process and will often try a recipe I found in a book.
(Robin McKay 4:57pm May 11, 2011)
I love to cook but sometimes too exhausted at the end of a long work day to put forth the effort. I have a few cookbooks on my shelf and have found some really good recipes in the Gooseberry Patch Cookbooks. A few more of my favorite cookbooks are "Tennessee Tables" and "Candlelight and Wisteria" - both southern recipe cookbooks. I haven't seen Debbie Macomber's cookbook but from your reviews it sounds like one to check out. I only go for the more challenging recipe when my taste buds tell me they won't be satisfied until I try it. It really has to be appealing for me to put forth that kind of effort.
(Linda Leonard 5:37pm May 11, 2011)
I'm retired, but raised six children, so I love cook books. Don't cook as much as I like now,still use the slow cooker. Love reading about cooking too, always looking for something easy and fast.
(Frances Namuth 6:57pm May 11, 2011)
My favorite cookbook is the first Harrowsmith Cookbook. Lots of ideas for something a little different. I keep one basic cookbook for techniques (Madame Benoit) and then I have a few ethnic ones. Interesting cooking is more of a weekend thing.
(Carol Drummond 7:00pm May 11, 2011)
Cooking is a chore for me now;I've been married almost 32 years and the only time I didn't cook was when I was sick or hospitalized. On top of that they are now all adults and have likes and dislikes and that means different meals for each person. No it's a chore. I do love my Five Roses cookbook still and have recipes I use quite often. And I don't mind reading about cooking or chefs etc.
(Diane Sadler 7:21pm May 11, 2011)
Love Already Home! I'll have to get a look at those cookbooks.
(Maria Munoz 8:13pm May 11, 2011)
I love to cook, and have all of my life. I prefer to cook with items that are readily available in my pantry, not fancy or expensive ingredients. Being of Polish heritage, a lot of the dishes I make take a lot of preparation, so I'm used to taking a long time to make a meal, and that doesn't bother me. As for cook books, I might refer to one or two when there's something in particular that I want to make, but I mostly have recipes that were handed down to me, or I have the recipe ingrained in my head from making it for so many years. Once in a while I'll find something on line that I'll fix for a change of pace because it sounds good. Occasionally I'll fix something quick to give myself a break.
(Peggy Roberson 8:27pm May 11, 2011)
I usually prefer quick and easy. With just two of us at home now, it is more of a chore.
(Lisa Kendall 11:23pm May 11, 2011)
Professional Baking 3rd Edition by Wayne Gisslen is like my baking bible. I love the bread recipes annd cookies and everything else. Just don't make the mistake of thinking ounces are by volume, it's all weighed ingredients. Very little measuring without the scales. Darn, almost 3 a.m. and I want some bread. I should add that I bake but don't cook too often.
(Christina Harrison 2:50am May 12, 2011)
At my age, I've done all the complicated recipes, including baking bread and canning preserves. Now I just want quick and simple.
(Shirley Nienkark 1:43pm May 12, 2011)
I love making the recipes the family has had for generations. The cards are splattered and faded in the ink, but passing down the hearth and heart of the meal to my children with the stories and celebration that is at times only special food is cooked for - is the beauty of melding present, past, and future.
Do I like to experiment? Yes, but my husband doesn't like it as much- he has to try it.
(Carla Carlson 9:30pm May 12, 2011)
Registered users may leave comments.
Log in or register now!