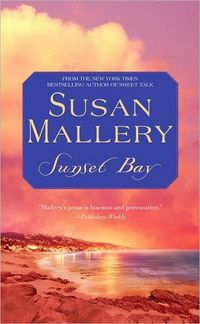 Purchase
Pocket Star
March 2009
On Sale: February 24, 2009
Featuring: Travis Hunter; Megan Greene
368 pages
ISBN: 1416567178
EAN: 9781416567172
Mass Market Paperback
Add to Wish List

Romance Contemporary | Women's Fiction Contemporary
What if you got another chance at the life that got away?
In an emotional story brimming with wry humor, New York Times bestselling author Susan Mallery pens a heartwarming tale of love, family, and a woman's journey of discovery.
L.A. accountant Megan Greene has a successful job, a handsome cardiologist fiancé, and a doting father. Surely they make up for her estranged sister and hypochondriac mother...and a niggling sense that something, somewhere, got lost along the way. But then Megan's life falls spectacularly apart. Faced with the knowledge that neither her father nor her fiancé are the men she thought they were, she is loath to trust Travis — the high school boyfriend who never quite left her heart. But his reappearance stirs dreams she once reluctantly packed away, and forces her to confront her relationship with her sister — a bond that has been strained to the limit but has never quite broken. And amid the turmoil lies the promise of a future Megan never expected — one that may turn out to contain everything she really needs....
Comments
18 comments posted.
Re: Sunset Bay

I'm glad that someone had to cancel from the tea today because it created a spot for
me after my original weekend plans got cancelled. I've read several of Susan's
books, and am looking forward to the opportunity to tell her I've enjoyed them! I'm
also excited because even though I had left a book to be signed in my absence I
took some time today to hunt down some more to get signed! I'm coming fully
armed!
(Sandi Shilhanek 12:03pm May 2, 2009)
Meeting authors at a book signing is something I put on my calendar. Having the author come to a book group is even better. You must be glowing.
(Alyson Widen 12:15pm May 2, 2009)
I wish that I were going to the tea! I love Susan Mallery's books.
I do think being up close and personal with an author is a special occasion. It's wonderful to get to know the author behind the stories you love. Even just talking with an author through blogs and emails is fun. I think author/reader interaction inspires reader loyalty. It probably does wonders for the author's self-confidence and motivation, too.
(Cheryl Castings 12:31pm May 2, 2009)
I also wish I was going to tea! I think meeting an author personaly would be an awesome thing to do. This is something I have never had to chance to do. I do plan to one day.
(Gail Hurt 12:41pm May 2, 2009)
I enjoy meeting authors, singers, actors, etc., either before or after I see their work. Sometimes, though, I think it makes it more special if I'm already familiar with what they've done. It puts a face to something I've enjoyed.
(LuAnn Morgan 2:04pm May 2, 2009)
NOT a chat - they go too fast to keep up and people are answering questions asked several pages ago.
I do like meeting authors, etc. in person through a blog or exchange of e-mail messages. I am more likely to remember a name if I correspond with that person.
However, I remember Nevada Barr because she writes about National Parks - many of which I have visited. I remember Tony Hillerman because he writes about the 4 Corners area again where I have visited. So people and places both make the book mean more to me.
(Karin Tillotson 3:28pm May 2, 2009)
Enjoy your tea. And so lucky to be with Susan. I adore her books. Say hi to her from me. LOL.
(Pat Lieberman 4:19pm May 2, 2009)
Having the chance to be at a n event like this tea with the "creator" of a work of "art", be it a book, a piece of music, a photograph or painting or sculpture, or whatever, is always bound to have an impact on how you feel about the creator of said work, good, bad or otherwise. Getting to know someone up close and personal in this way is one of the most rewarding (and sometimes frustrating!) ways to appreciate their work.
(Lynn Rettig 6:54pm May 2, 2009)
I would love to go to an event like the one described. High tea with an author has to be delightful!
(Bridget Lopreiato 9:46pm May 2, 2009)
I would imagine having tea would be a lovely way to connect on a level other than
reader/author and yet all the more at that level. Sounds like you had a great time.
I've seen great comments about Sunset Bay and look forward to the new series!
(Mary Hundley 9:57pm May 2, 2009)
I am so glad I discovered several
author sites and started following
them. Comments from authors on the
research they do for their stories, their
community involvement, and work
with other authors has been very
interesting. Knowing the research
background adds a richness to the
story. Haven't met any authors, but
that would certainly make me
interested in their work.
(Patricia Barraclough 10:22pm May 2, 2009)
It is always a pleasure to have an opportunity to get to meet an author at a signing or exchange an email with them via their website or a blog. To me it just makes me enjoy reading their books all the more. If I haven't read their books yet, it would be a good way to get me to go out and buy their books.
(Kay Martinez 10:48pm May 2, 2009)
I am a big Susan Mallory fan. It would be a pleasure to just sit back & listen to all the chatting over a warm cup of tea. New authors & ones whose books I've read would make the time most enjoyable! Jean M.
(Jean Merriott 12:05pm May 3, 2009)
I'll have to keep an eye out for The Maiden Heist! I love William H. Macy as an actor and with that fantastic cast, it sounds great!

As for whether or not meeting the artist makes me like or appreciate the work better or less, I've had it work both ways. Most times, yes, it made me love the work much more however, there were a couple of unfortunate occasions where the meeting has left a bad taste in my mouth and definitely cooled my appreciation for their work.
(Jacqueline Lam 1:52am May 3, 2009)
What a fun event! A great way to relax
and cosy up with an author.
(Sue Ahn 4:51am May 3, 2009)
I have not had the opportunity to meet the authors I collect and read. However, it would be a dream come true. To be able to pick their brains for just a few moments, would be fascinating. Have a great day.
(Roberta Harwell 11:43am May 3, 2009)
I hope you had lots of fun at your tea. I think it would be wonderful to meet with authors and talk with them. A good experience with an author probably goes a long way in influencing people to buy the author's books.
(Lori Patterson 11:59am May 3, 2009)
I enjoyed reading you post. Usually writing skills is attained via practice: e. I am sharing it with my other friends on social networking sites, as the information is really very useful. Keep sharing your excellent work.Hair Pieces
(Joson Make 3:55am August 2, 2013)
Registered users may leave comments.
Log in or register now!