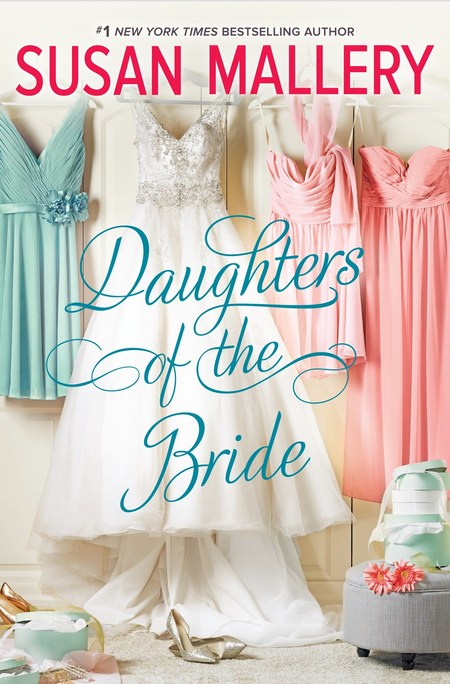 Purchase
HQN
July 2016
On Sale: July 12, 2016
384 pages
ISBN: 0373789718
EAN: 9780373789719
Kindle: B018QI6SW6
Hardcover / e-Book
Add to Wish List

Other Editions
Mass Market Paperback (reprint - June 2017)
With Joy, Love, and a Little Trepidation
Courtney, Sienna and Rachel Invite You
To the Most Emotional Wedding of the Year…
Their Mother's

Courtney
~ The Misfit ~

As the awkward one, Courtney Watson may not be as together as her sisters, but she excels at one thing—keeping secrets, including her white-hot affair with a sexy music producer. Planning Mom's wedding exposes her startling hidden life, changing her family's view of her—and how she views herself—forever.

Sienna
~ The Free Spirit ~

When Sienna's boyfriend proposes—in front of her mom and sisters, for crying out loud—he takes her by surprise. She already has two broken engagements under her belt. Should she say "I do" even if she's not sure she does?

Rachel
~ The Cynic ~

Rachel thought love would last forever…right up until her divorce. As Mom's wedding day draws near and her ex begs for a second chance, she's forced to acknowledge some uncomfortable truths about why her marriage failed, and decide if she'll let pride stand in the way of her own happily ever after.

A must-read for anyone who has survived the wedding of a sister, a mother, a daughter—as told by #1 New York Times bestselling author and master storyteller Susan Mallery!
Comments
25 comments posted.
This book sounds very interesting and a book I really want to read
(Jeri Dickinson 3:50pm July 12, 2016)
Oh Susan. I'm really looking forward to reading this! I love
the way you say what we women think a n d feel!
(Kathleen Bylsma 9:52pm July 12, 2016)
I love that cover! It eludes to the tone and the subject of the book without
being too obvious. And those dresses are delicately beautiful!
(Meghan Stith 12:43pm July 13, 2016)
The book sounds captivating and lovely. I would treasure this
book.
(Sharon Berger 1:58pm July 13, 2016)
I am so looking forward to this, thanks for the review.
Penney
(Penney Wilfort 11:25am July 14, 2016)
I'm sooo excited to read Susan's new book! I love the cover! I have a lot of weddings to attend this year and I'd love to attend Courtney, Sienna and Rachel's mom's too!
(Jamie Stein 12:03pm July 14, 2016)
A beautiful story of love and acceptance between a mother and daughter!!!
(Tiffany Miles 7:44pm July 14, 2016)
This book sounds so much like real live up to date problems of the things going on between Moms and Daughters this time of the year . I know what they are going through with planning weddings and so on . I'd love to read this book and thanks for this chance to win .
(Joan Thrasher 10:23am July 15, 2016)
Sounds real and I love her books!
(Shirley Cochran 5:38pm July 15, 2016)
I hope this isn't just another fluff book!
(Susan Coster 7:24pm July 15, 2016)
It sounds great. As the child of a divorced parents, I
would have loved to have my father in my life. I also
understand where she is coming from though.
(Debra Guyette 10:39am July 16, 2016)
her books are always good and easy to read
(Jeri Dickinson 10:14pm July 16, 2016)
Great cover! The book sounds amazing as well. I really want
to read this one!
(Zara Heflin 12:00pm July 17, 2016)
looking forward to read the book.. interesting...
(Dona Alex 10:07am July 18, 2016)
Thank you for sharing an excerpt. I love Susan Mallery's
books and look forward to reading this one!
(Rachael Brown 11:20am July 18, 2016)
Sounds great - Single mothers do struggle, and I like to read about how they overcome their problems.
(Joanne Schultz 2:07pm July 18, 2016)
Sounds like a great book, but of course,
I've never read a Susan Mallory book
that I didn't love!
(Gina Keitz 3:39am July 19, 2016)
Wow! Three daughters having serious problems of their own and mom's wedding makes for interesting reading.
(Anna Speed 11:35am July 19, 2016)
GREAT BOOKS.THANKS FOR CHANCE.
(Marsha Baurns 4:56pm July 19, 2016)
ALL YOUR BOOKS ARE A MUST READ BUT THIS ONE SOUNDS SPECIAL
(Jean Mess 5:06pm July 19, 2016)
looks like a great beach read!
(Lynn Anderson 6:40pm July 19, 2016)
Sounds like an interesting plot--three daughters, wow!
(Anne Calhoun 7:02pm July 19, 2016)
This sounds like a great story!
(Tiffany S 11:23pm July 19, 2016)
I can't wait to read it!
(Lily Shah 11:49pm July 19, 2016)
great blog and nice articles thanks!!
(Maybank Bank 10:01am July 27, 2017)
Registered users may leave comments.
Log in or register now!