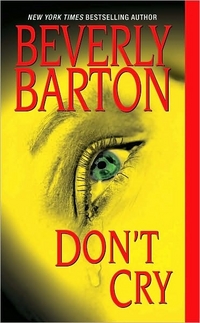 Purchase
Kensington
September 2010
On Sale: September 1, 2010
Featuring: Audrey Sherrod; J.D. Cass
432 pages
ISBN: 1420110349
EAN: 9781420110340
Paperback
Add to Wish List

Nowhere To Run
The crime scenes are horrifying: the victims arranged with deliberate care, posed to appear alive despite their agonized last moments and the shocking nature of their deaths.
No Place To Hide
Chattanooga grief counselor Audrey Sherrod moonlights for the local police. It's clear to her, and to Special Agent J.D. Cass, that the murders are the work of a deranged serial killer. At first, the only link is the victims' similar physical appearance. But then another connection emerges, tying them to a long-ago series of horrifying crimes Audrey hoped would never resurface—crimes that hit all too close to home.
No Time To Cry
Each grisly new discovery proves the past has not been forgotten, and the worst is yet to come. Audrey went looking for the truth and she's about to find it...and it will be more twisted and more terrifying than she ever imagined...
Comments
26 comments posted.
Re: Don't Cry

I buy all the time. THEN I try to catch up.
(Mary Preston 3:13am August 22, 2010)
I have a good sized TBR pile but I do pick up new books that I want to read even when I have a bunch of others at home.
(Maureen Emmons 6:15am August 22, 2010)
I have a HUGE TBR and I keep buying. I hope that I will live long enough to read them all!!!!

Valerie
valb0302@yahoo.com
in Germany
(Valerie Bongards 6:21am August 22, 2010)
I have a huge TBR pile. I am constantly acquiring new books. I know that I will definitely read them all. My biggest tension is which book to pick up next after finishing one.
(Joanne Reynolds 7:36am August 22, 2010)
I have a pretty large TBR going, and only buy a book I really want to read if I don't have it, if I win the funds to do so. My hubby unfortunately is laid off and it has been over a year. He worked 7 years as a corporate controller for a multi divisional construction company and now there is no work in Michigan. I think we'll be moving away from here and then I'll really need my books until I can make some new friends!
(Brenda Rupp 7:46am August 22, 2010)
Brenda, sorry to hear about your husband's job. We went through that some years ago when all the steel mills closed in Western PA. That's when reading good books for escape really became important! I currently have a large TBR pile and several post it notes filled with to buy books in my purse. The cat is on my lap purring and I am purring looking at the pile!
(Karin Tillotson 9:48am August 22, 2010)
My tbr pile could give Mt
Everest a run for its money.
Does that stop me from buying
new books? Nope. I just have
faith that I will eventually
read them all - I am an
optimist.
(Margay Roberge 10:27am August 22, 2010)
My TBR pile is worse than the
national debt.My bookshelves
always look like they would
like to explode. As a lover of
series, I tend to collect 4 or
5 in every series before
having a marathon reading
feast. Drives my husband
crazy.
(Lisa Richards 10:53am August 22, 2010)
I have an entire TBR library! Working full time, plus carting 2 teenaged daughters around to after school activities doesn't leave much leisure time. I actually look forward to out of town business trips so I can listen to a book on CD!
(MaryAnne Banks 11:51am August 22, 2010)
My TBR pile is large, but no matter how long it takes I always get around to reading everything. My buying habits very. Sometimes I'll get one book and if there is a good sale I will buy more than I can read in one week.
But catching up is fun.
(Leni Kaye 11:51am August 22, 2010)
I have a huge TBR file now. My original Kindle just got the screen broken so my husband got me a replacement for my bd and I added a TON of books to it. It'll take forever amd that being on top of the regular books I have. Not enough time in a day anymore. Old Age? I am sure!!!
(Vicki Hancock 12:02pm August 22, 2010)
My TBR pile grows everyday. Not sure what the trick is to actually get everything read.
(Maria Munoz 12:10pm August 22, 2010)
It's so nice to know that I'm not the only one with a TBR out of control! I'm sure that there are worse things that
I could be addicted to! As long as my hearing and eyesight hold out I'll give it my best shot to get everything in
my TBR read or listened to!
(Sandi Shilhanek 12:52pm August 22, 2010)
I like all who have posted have a LARGE TBR file but its so fun to get book and I always have a bunch to choose from depending on my mood and what I feel like reading.
(Vickie Hightower 12:57pm August 22, 2010)
I have a nice size TBR pile... never know what mood I will be in for reading, so it is nice to have the choices!
(Colleen Conklin 2:13pm August 22, 2010)
I don't have a huge tbr pile, but I do find myself buying books faster than I can read them.
(Jane Cheung 3:26pm August 22, 2010)
To me, books are like potato chips-- you can't buy just one!! I always check out the clearance area as well. You always find those books that got away, and end up with some sweet deals. I have books to last quite a while, and get like a kid in a candy store every time I enter a bookstore!! I think every avid reader feels the same way.
(Peggy Roberson 6:07pm August 22, 2010)
Yes, I do have a large TBR pile but I'm still buying books! If you don't buy them when they are available you might miss out!! As Sandi says, there are worse addictions. I don't buy as many since I retired as I use the library more. Books are my necessity!!
(Donna McClure 7:30pm August 22, 2010)
I always have a big TBR pile; in fact I'm sure once I retire I will have enough books to keep me going for the next few years after. As it is I usually read 3-4 a week.
(Diane Sadler 8:04pm August 22, 2010)
It is like an addiction with me and the idea that I might run out of reading material drives me on to add to my tbr pile. The fact that I could easily read for the next few months without repeating myself does not stand in my way.
(G. Bisbjerg 8:57pm August 22, 2010)
Oh ladies, we do have the same ailment! My TBR stack gets bigger & I have to stash them in inventive areas. They drive my husband crazy (he doesn't appreciate my addiction)!
(Jean Merriott 10:27pm August 22, 2010)
In my opinion, the only "out of control TBR pile" is one that only has 1 or 2 books left in it!! I'm proud to say that mine is nowhere near out of control!! And yes, I do keep buying books when I can afford them (thank god for those Border's coupons!). I certainly don't want to find myself in the position of nothing to read but the cereal box (already read it!)!!

Later,

Lynn
(Lynn Rettig 11:20am August 23, 2010)
My TBr pile is a mountain. I buy books
when I find them. When we went to
Florida in June, I came home with 100
new books. I didn't realize I had so
many until someone asked. It is hard
to resist when you go to a flea market
or thrift store and there are so many
you like. I have over 40 bookcases in
my house, most double stacked and
30 to 40 boxes still to be unpacked -
no room on the shelves. I try to read
and pass the books along, but I have
many keeper authors and books. I
also collect old books.
(Patricia Barraclough 10:04pm August 23, 2010)
I no longer have a TBR pile. I wish I did, but I would have no place to keep one, and, also, I'm trying to save money. I do take books out from the library, but since the books are loaned out for 2 weeks at a time, I limit my books to one or two.
(Debra Mowatt 2:17pm August 28, 2010)
I have a huge TBR. Would be very worrisome if my book pile was not a foot high.
(Phyllis Lamken 3:26pm August 28, 2010)
My TBR pile is way to big. I keep telling myself that I will not buy any more books until I read all the ones I already have. But as soon as a new book comes out I think I need to buy it immediately.
(Janetta Whitson 4:22pm August 28, 2010)
Registered users may leave comments.
Log in or register now!