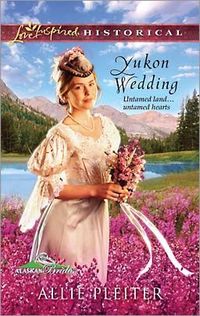 Purchase
Alaskan Brides
Harlequin Historical Romance
April 2011
On Sale: April 11, 2011
Featuring: Lana Bristow; Mack Tanner
288 pages
ISBN: 0373828632
EAN: 9780373828630
Paperback
Add to Wish List

Romance Historical | Romance Series
A gold-rush town is no place for a single mother. But widow Lana Bristow won't abandon the only home her son has ever known. She'll fight to remain in Treasure Creek, Alaska— even if it means wedding Mack Tanner, the man she blames for her husband's death.
Mack sees marriage as his duty, the only way to protect his former business partner's family. Yet what starts as an obligation changes as his spoiled socialite bride proves to be a woman of strength and grace. A woman who shows Mack the only treasure he needs is her heart.
Comments
18 comments posted.
Re: Yukon Wedding

Well, I've had one of those hollowed out books that someone else butchered, but forgot which one. So it was no help with my huge collection of books.
(Alyson Widen 9:38am March 28, 2011)
I have several places where I could place it. There are desks with fake drawers that can't be seen when you open them. I can make a tiny opening in one of my stuffed animals. I could also put it in one of my coat pockets, and I have a few coats. I've also heard of people putting things in the hems of their draperies, so if the drapes are of a heavy material, that's also a thought. The freezer is an old idea that won't work anymore. Your storyline is ingenious, and I can't wait to read it!!
(Peggy Roberson 9:59am March 28, 2011)
To be honest, I would LOVE to be wearing it on any of my fingers. If I really had to hide it though, maybe one of my vases with some colored pebbles and silk flowers to hide it.
(Debra Simning-Chapman 11:51am March 28, 2011)
My aunt sewed her important papers and extra cash into her bra before traveling. As little kids watching her, we thought that was so exotic, but we were just kids with change purses filled with pennies and dimes and no concept of the word 'important.' It gives us a good laugh now.

I've pre-ordered your book on my Kindle. Looking forward to reading it since I just recently finished and enjoyed Mission of Hope.
Lyndee Henderson
(Lyndee Henderson 12:46pm March 28, 2011)
I think I would bury it in one of my plant pots.
(Sue Farrell 12:46pm March 28, 2011)
I made the mistake of watching several episodes of "A Haunting" yesterday and am trying not to think about what might be in my walls!
(Maria Munoz 12:48pm March 28, 2011)
One of my canister set is full of sugar - buried in there would be safe. :)
(Kelli Jo Calvert 1:00pm March 28, 2011)
No one would trust me to hide anything; I'm known for putting things in safe places and never finding them again!!!
(Karen Cherubino 3:18pm March 28, 2011)
Probably hide it is my pantry, behind the cans, in a empty tin.
(Jean Patton 4:37pm March 28, 2011)
Wow, these are all great ideas (except for the horror stories of bodies in walls!).
It is kind of fun to think about what you'd do with a treasure, isn't it? I like the
idea of wearing it on my fingers--safe in plain sight. Keep up with more ideas!
(Allie Pleiter 5:45pm March 28, 2011)
Well, hiding it with all the candy might work since I have candy hidden all over the house and somehow it doesn't get found very often (I do move it to keep everyone on their toes. Of course, a very secure safe somewhere in the house would be the best, if I was lucky enough to have that expensive of a ring (or any jewelry that cost that much).
(Linda Pillow 6:04pm March 28, 2011)
I'd hide this diamond ring in plain sight, in a box or drawer full of junk jewelry. Realistically, I wouldn't keep it anywhere at home. I'd put it in my lock box at my bank. But there are more posibilities for fiction with the first option.
(Mary Anne Landers 8:02pm March 28, 2011)
No one would find a ring in my button collection! I'm a sewer and have hundreds of buttons, many in a decorative tin. Of course, I'd probably forget it was there and it would be gone forever!
(Sherry Weddle 9:41pm March 28, 2011)
I'm so not good at hiding things, I can't find them again if I do! I have a memory like a sieve.
(Brenda Rupp 10:53pm March 28, 2011)
Well, I'm looking for several things that I've hidden so well that I haven't been able to find them for the last 10 years. I'd hate to find a spot for something else that I won't be able to find. Even "hiding in plain sight" doesn't work for me.
(Sigrun Schulz 11:26pm March 28, 2011)
At my 1 & only yard sale, a lady told of finding a beautiful & expensive man's gold/diamond ring at another sale years ago. Telling the seller she didn't think they meant to sell what was in a rolled up pair of men's socks & showed her the ring. The seller began to scream that they had been looking for that ring for 7 years, since her dad had died! So, rolled up socks might be a good place, you just need to remember which pair & where you put them! :) lol Your book sounds like a interesting read!
(Jean Merriott 1:27am March 29, 2011)
I would definately take advantage of my husband's talents if I had something to hide (unless I wanted to hide it from him!). He is a Master Mason - that means he works with stones and bricks to create things of beauty and things that are necessary. We even have a brick wall in our kitchen (which all my friends are envious of me having).

One of his specialties are stone walls (of course we have one on our property). If you've ever been to New England or in England and seen the beautiful stoneswalls you'll know what I'm talking about. Here they originally were built as a neccesity - clearing the land of the stones so they could "plant the land" to survive. Think of it - who would ever think to look much less beable to find your treasure if it were hidden in a stone wall that could be anywhere from a few feet to miles long?
(Jeanne Miro 10:26am March 31, 2011)
Some of these are amazing stories and ideas! Great fun to read. I may have to
use the ring in the sock story in one of my books.
(Allie Pleiter 10:04pm April 3, 2011)
Registered users may leave comments.
Log in or register now!