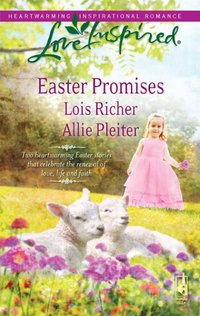 Purchase
Steeple Hill
March 2010
On Sale: March 1, 2010
224 pages
ISBN: 0373875843
EAN: 9780373875849
Mass Market Paperback
Add to Wish List

Desert Rose by Lois Richer
Jayne Rose's dream to run her grandmother's Palm Springs flower shop is about to be dashed. Until she meets a handsome man who helps make it come true. Suddenly romance and roses are blooming. Yet Ben Cummings isn't who he says he is…or is he?
Bluegrass Easter by Allie Pleiter
A "veterinarian on sabbatical," widowed Paul Sycamore is not interested in answering his new neighbor's constant questions about her expectant sheep. But the comfort his child finds on Audrey Lupine's Middleburg, Kentucky, farm just may open his heart.
Comments
12 comments posted.
Re: Easter Promises

I love to garden, cross stitch read, and cook. These are also great ways to express myself as well as be a little creative and reduce stress. That's a win-win.
(Robin McKay 9:20am February 24, 2010)
I love to read. Beyond that I have a lot of interest in technology/gadgets, environment & politics. But in my reading, I love contemporary funny romances, romantic suspense & urban fantasy. A little all over the place. I think I enjoy the escapism that books offer. I'm in them for the pure entertainment value.
(Summer Sharp 12:11pm February 24, 2010)
After my family, my biggest
passion is reading with a side of
gardening thrown in.
(Lisa Richards 2:15pm February 24, 2010)
How perfect that you could combine both of your loves in one special project. I am anxious to read 'Easter Promises'.
(Rosemary Krejsa 5:20pm February 24, 2010)
Love to read, but then I knit, embroider, sew & crochet. I always have a project on the go.
(Mary Preston 5:42pm February 24, 2010)
Allie, I've really enjoyed your Kentucky Corners books. I was first drawn to them because my hubby is a Kentucky boy, plus I love your story-telling! I've always loved to do handwork, knitting, crocheting, embroidery of many forms, and lots of sewing, from playclothes for my kids to wedding dresses for daughters.
I'm now learning tatting from a young mom, when her daughters and my granddaughter are in dance class. I agree, we need these outlets, especially when we're stressed. But I learned my lesson years ago when I was knitting a sweater while watching a particularily scary movie. I looked at the sweater sleeve afterwards and the rows I knitted during that movie were so tight I had to rip them all out!
Sherry
(Sherry Weddle 5:53pm February 24, 2010)
I tried knitting, but never got past the flat stage and into sleeves and such. But I have crocheted just about anything one can. And, as you mention with knitting is great for calming one's nerves. I also love gardening, both flower and vegetable gardening. And reading, of course. I keep a book going at all times. My problem is too many interests. I find I need more than 24 hours in a day. LOL
(Gladys Paradowski 7:47pm February 24, 2010)
I like to solve mysteries and read them. I am too hyper to knit. I like your books though, I'm from Kentucky.
(Vikki Parman 9:42pm February 24, 2010)
Reading is about it for me; I do knit but not much anymore, I sew but not often either, love crochet but no time for it.
(Diane Sadler 10:44pm February 24, 2010)
These are so fun to read. I've always
maintained knitters are readers and
readers are knitters, but it seems
readers are also crocheters,
seamstresses, and gardeners. I'm
waiting to meet the reader-
chocolatier...there's a combo I'd enjoy!
(Allie Pleiter 11:31pm February 24, 2010)
I'll have to get this book for my
daughter. She will enjoy it. We are
pretty careful with our animals, the are
all doomed to non-reproductive lives
when they join the family whether they
are, dogs, cats, sheep, goats, or
llamas.
My passion is reading. Hard to choose
just one topic. It really depends on my
mood.
(Patricia Barraclough 12:49pm February 25, 2010)
I love to read and and trying to instill that passion in my kids but they have not caught the bug I have for it yet --- like scrapbooking, and most crafty things to do with color/drawing and making a mess:) Puzzles are also good.
(Kelly Holt 2:08am February 25, 2010)
Registered users may leave comments.
Log in or register now!