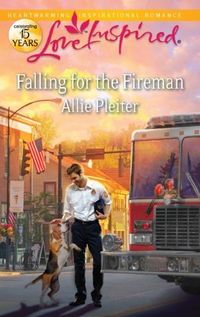 Purchase
Love Inspired
February 2012
On Sale: January 24, 2012
Featuring: Jeannie Nelworth; Chad Owens
222 pages
ISBN: 0373877250
EAN: 9780373877256
Kindle: B006IIWXZS
Paperback / e-Book
Add to Wish List

Romance | Inspirational Romance
There's something achingly familiar about the look in fire marshal Chad Owens's eyes. Widowed mom Jeannie Nelworth knows firsthand what it is: loss, hurt and yes—bitterness. Ever since the fire that changed their lives, Jeannie's young son has borne that same look, pushing everyone away. So she's grateful when Chad tries to get through to the boy with the help of his trusty fire station dog.
But the man who's all about safety and prevention keeps himself protected—from loving and losing again. Seems as if Jeannie will have to add his kind, guarded heart to her rebuilding efforts.
Comments
55 comments posted.
They are real heros and showcase what it takes to give so much of yourself, there is nothing sexier than that...being real and giving to others.
(Darci Paice 1:18am January 24, 2012)
I always enjoy reading romances with firemen in them. 27 years ago, I met my fireman and we married. We have 7 boys and 2 girls. Despite moving several times, my husband always joined the local volunteer fire department. Sadly, they recently told him that he wa getting too old to continue. But whenever I find a book like this one, I read it to him and prove he's not too old to be my fireman.
(Kelly Knapp 1:26am January 24, 2012)
There's something sexy about a heroic man who willingly risks his own life by
going into a fire to save lives. These men are the reason fireman romances are
sexy. :)
(Hyunjin Jeon 2:41am January 24, 2012)
There is just something so intense about a man willing to risk his own safety for someone else. He would have to be strong, confident and compassionate..who would not want to love a man like that?
(Patti Paonessa 5:01am January 24, 2012)
The firemen who fight forest fires are the most heroic in my opinion. The heat, heavy gear and exposure to the elements and poison oak are enough the scare away lesser men. They are sexy.
(Kathleen Yohanna 6:03am January 24, 2012)
Fireman risk their lives everyday. They are heros along with our servicemen. My brother in-law used to be a fire chief. I look forward to reading Falling For The Fireman. I enjoy reading the Love Inspired books so much. Thanks for posting the blog.
(Mary Christian 7:35am January 24, 2012)
This book sounds like a very interesting book. Sounds like Chad, Jeannie, and her son need each other. Fires can be so devastating and destroys all in its path. Fireman are true heros because they risk their lives everyday. Thanks for the opportunity to win.
(David Christian 7:49am January 24, 2012)
Absolutely...They are everyday heros which alot of people don't realize and I love a romantic story about them...who doesn't?? Thanks for sharing!
(Dawn Staniszeski 9:47am January 24, 2012)
Firemen are true heros and face things that I hope never to see. It's always nice to see a fireman being celebrated. My mom actually got me started reading the Love Inspired books, and I can't wait to read this one.
(Tabitha Monroe 10:39am January 24, 2012)
I think you've all seen it: heroism--true heroism--is a rare quality these days.
We're drawn to it deep down. Somewhere inside we recognize the difference
between a "celebrity" and a "hero" don't you think? It's been very satisfying to
know I'm giving fire fighters the kudos they deserve...I do hope I got the
details right. The best part? There'll be more! We're in talks for at least two
more Gordon Falls Fire Department books so stay tuned.
(Allie Pleiter 11:08am January 24, 2012)
They are definitely sexy and the fact that they can totally pick a girl up with no problem adds to that. But there is that rescue element that makes them natural heros.
(Pam Howell 11:44am January 24, 2012)
I like fireman romances because they are hard-working, underpaid heroes in our community---many are volunteers, risking their lives for us and our property. The fact that this book has a dog featured in it just makes it a plus for me to read.
(Sue Farrell 11:50am January 24, 2012)
Your book sounds sweet, and I would love to win a copy. I hope you have great success with your book - and a Happy 2012.
(Nancy Reynolds 12:03pm January 24, 2012)
I like them because they talk about the love life of a hero. Then there are some that tell a lot about what a firefighter actually goes through. I like those stories. Any type of story dealing with firefighters is good for me. I've always like them, they're usually really hot guys working there. I hope to read your book. You sound like a good author. Hope you have a nice day and continue writing. :)
(Meghan Anderson 12:11pm January 24, 2012)
There is something about firefighters that make my heart beat a little faster every time I see one. It goes without saying they are very HOT!! They are my heroes...
(Joyce Bruner 12:22pm January 24, 2012)
I love books with firefighters... I grew up around a firehouse seeing everyday people volunteer their time and services for our town and risking their lives. It was so great growing up around such comradery and seeing such bravery that firefighters will always be special to me!
(Colleen Conklin 12:28pm January 24, 2012)
Many years ago my young handsome father was a fireman! So I have an affinity for guys in uniform.
(Clydia DeFreese 12:29pm January 24, 2012)
let's see I was affliated with a volunteer fire department for awhile, I love a man in uniform, the sounds around the department and oh, yes, I married one!
(Lisa Isenberg 12:31pm January 24, 2012)
Such great stories of families and neighbors of firefighter heroes! Thanks for
sharing how important these brave men (and women) are to our communities.
(Allie Pleiter 1:06pm January 24, 2012)
HI ALLIE! FALLING FOR THE FIREMAN SOUNDS HAWT! HOT! I COULD
LICK THEM ALL. PURRRRRRRRRRRRRR!!!
(Linda Bass 1:11pm January 24, 2012)
I love stories about fireman because they are heroes in the
true sense of the word. They put their lives on the line every
day to keep people safe. I like the stories that show how they
deal with that kind of stress and danger.
(Ilona Fenton 1:26pm January 24, 2012)
always the hero and so sharp in their uniforms; good choice for a topic!!!!
(Barbara Studer 1:52pm January 24, 2012)
My husband was a Volunteer fireman for five years. It goes much more than just fighting fires. They save lives, they save animals, they also help out when someone is in a car accident when the car is on fire. The list goes on and on. They are such an important part of every day life. They should be honored every day for all that they do, for all of us. The best thing I do once a year is to donate to my local Fire Department. I am so grateful for all that they do in my Community, and in their every day life. Especially their selfless acts of heroism. Books about firemen are off the charts for me.
(Cheryl English 2:06pm January 24, 2012)
My husband is a volunteer fireman. All are heroes!
Blessings,
Marjorie
(Marjorie Carmony 2:17pm January 24, 2012)
I love this because I think a lot of people believe that firemen just sit around the station all day... When called out, they never know quite what they will find at the site! Brave men and women... as brave as our service people and police forces...
(Cate Sparks 2:26pm January 24, 2012)
The drama! Life and Death are right in front of them everyday.
(Beth Elder 2:28pm January 24, 2012)
I like reading about heroes in general, the tough & strong who are driven to protect but somehow love finds that soft spot inside the hero that needs someone to protect the hero's heart!
(Wasanaa Smith 2:32pm January 24, 2012)
When my children were preschoolers we lived near a firestation and would walk past there. The firemen were always so nice to the kids and let them come near the firetrucks.Thats my kind of sexy.
(Kathleen Bianchi 2:33pm January 24, 2012)
I love the illusion of the hot, sexy fireman...unfortunately whenever I see a fire truck locally it always seems to be filled with older grey-haired men. Not that I have anything against older grey-haired men but I am definitely not looking for them on firetrucks. I think I'll do a net query for some hotties...
Good luck and happy writing!
(Tracie Travis 2:45pm January 24, 2012)
I dated a fireman same I must say, they make
such giving lovers. The heat they put out is what
they give you. I think its the life and death
balance and the adrenaline. Plus, there is a
reason why they make those calendars ;)
(Carla Carlson 2:53pm January 24, 2012)
It takes a different kind of person to do a job doing little for hours and hours
and then go into emergency mode and risk everything the very next minute.
That kind of shifting I think is more heroic than dealing with the actual
emergency,
(Sandra Spilecki 3:05pm January 24, 2012)
These men are heroes. I would love to read about a slice of their lives.
(Monique Santos 3:20pm January 24, 2012)
Anyone that does the exceptional is a hero.
(MaryEllen Hanneman 3:28pm January 24, 2012)
I like to read any books about heros in uniforms, including firemen. Book sounds great.
(Sheila True 3:32pm January 24, 2012)
Everyone admires brave firemen who risk their lives and safety, daily, through their selfless heroic efforts. They must be strong both mentally and physically to accept the challenges of this career choice. Many of them are good cooks, and what woman doesn't love a hunky, sexy guy cooking for her (heating up the kitchen)!! They serve and protect. Would love to read this book which sounds great!
(Linda Luinstra 4:07pm January 24, 2012)
Sounds like a good and interesting read, about
these brave men in uniforms.
My son wants to be one too.
(Dayle Butler 5:03pm January 24, 2012)
Firemen risk their lives and save so many lives. A story about them would be wonderful to win.
(Gladys Paradowski 5:19pm January 24, 2012)
Yes, Firemen are true heroes just like police officers and
they put their life on the line every day to save other
peoples lives. This sounds like a very HOT read and I am sure
that I would enjoy it very much. Please enter me in this great
contest. Thanks, Cecilia
(Cecilia Dunbar Hernandez 5:41pm January 24, 2012)
Firemen (and women) are brave, and courageous and I love reading about brave courageous people. Your book sounds like one that will be hard to put down!
(Shirley Younger 6:17pm January 24, 2012)
I have a lot of respect for the people who put their life on the line everyday.
(Theresa Norris 6:33pm January 24, 2012)
If you're looking for an example of heroism, look no farther than your local firestation. Firemen risk their own lives over and over to save the lives of others.
(Diana Corlett 7:03pm January 24, 2012)
Fireman romances have all the right ingredients and extra heat and heroics. My dad was a fireman and had his share of rescues and saving people from drowning as a lifeguard.
(Alyson Widen 7:22pm January 24, 2012)
I've had a few friends that were firemen over the years. Very upstanding men.
(MaryAnne Banks 8:26pm January 24, 2012)
Firemen are real life heroes. That translates well into a story.
(Mary Preston 8:31pm January 24, 2012)
I've never read a fireman romance before, and I'm hoping that this is going to be my first. I usually read your run-of-the mill romances where the man has a regular job or his job isn't even mentioned. There is something to be said about a man in a uniform, however, be it a fireman, policeman, or a soldier. The uniform becomes him, and gives him a silent strength, yet when the uniform comes off, he becomes the gentle and sensuous giant. The cover of your book says it all. Powerful, yet sensitive.
(Peggy Roberson 8:55pm January 24, 2012)
cant wait to read!!
(Jennifer Beck 9:13pm January 24, 2012)
I like hero type books, and Love Inspired are the greatest.
(Wilma Frana 9:14pm January 24, 2012)
Firemen are heroes! Can't help but love stories about them.
(Julie Bishop 10:00pm January 24, 2012)
I love firemen! Why not have more books about them?!
(Summer Sharp 10:41pm January 24, 2012)
I love the hero. Thanks for asking.
(Lisa Kendall 11:00pm January 24, 2012)
Wow--firemen ARE heroes is pretty much a universal truth! Wouldn't it be fun if
we could show this post to firemen everywhere? Boost their spirits and show
them how much women admire them? I wish there was a way. Hopefully, my
book (and others like it) will do a little bit of that. Thanks for all the wonderful
comments...this has been loads of fun.
(Allie Pleiter 12:48pm January 25, 2012)
What is not to love about firemen? I thought everyone had a
fantasy about the hot fireman rescuing them :-)
(Heather McKenna 1:44pm January 25, 2012)
I consider them everyday heroes and it's easy to imagine a fireman saving your life :)
(Na S 4:54pm January 25, 2012)
Firemen are sexy heroes. I love a Fireman story.
(Tammy Yenalavitch 8:29pm January 25, 2012)
I would like more books about firemen because they go into danger when everyone else is getting out. The job is hard and it takes a special man or woman to do it.
(Linda Howell 9:48am January 26, 2012)
Registered users may leave comments.
Log in or register now!