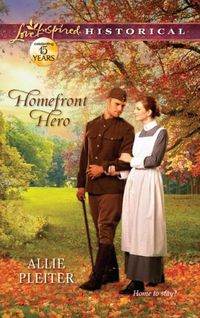 Purchase
Love Inspired
May 2012
On Sale: May 1, 2012
Featuring: John Gallows; Leanne Sample
288 pages
ISBN: 0373829167
EAN: 9780373829163
Kindle: B007BBV802
Paperback / e-Book
Add to Wish List

Inspirational Historical | Romance Historical
Dashing and valiantly wounded, Captain John Gallows could have stepped straight out of an army recruitment poster. Leanne Sample can't help being impressed—although the lovely Red Cross nurse tries to hide it. She knows better than to get attached to the daring captain who is only home to heal and help rally support for the war's final push. As soon as he's well enough, he'll rush back to Europe, back to war—and far away from South Carolina and Leanne. But when an epidemic strikes close to home, John comes to realize what it truly means to be a hero—Leanne's hero.
Comments
27 comments posted.
Re: Homefront Hero

I like a hero that steps up when the need arises. He doesn't have to brag because others will proclaim him a hero. He feels that he is just doing his job but he does it well. However to make a story interesting, he will have to have some faults also.
(Kathleen Yohanna 1:54am April 25, 2012)
My favorite hero must be a protector of the wounded in heart without anyone asking him to be. The key of the hero must be that he was wounded in the past, so he wants to save others in pain.
(Laurie Murray 4:13am April 25, 2012)
When reading I enjoy all types of heros. My favorite would have to be the subtle hero that needs no praise, he's just an all around good hearted person. Can't wait to read Homefront Hero!
(Britney Barlow 4:39am April 25, 2012)
I like a hero with the strengh of his own convictions. No wishy washy spineless heros for me!
(Karen Gervasi 7:38am April 25, 2012)
I like the reluctant heroes the most because they are not necessarily seeking out the spotlight.
(Julie Parrish 8:33am April 25, 2012)
i love a man that is not boostful or brag all the time but i do love books that we have a hero in. it doesnt really matter what type of hero big or small either we are wish to find someone like that
(Denise Smith 8:38am April 25, 2012)
A nice, kind hero is one that I would like. I like the book cover and it sounds like an interesting story.
(Michelle Fidler 12:20pm April 25, 2012)
I have several heros in my family...my son and brother was/is a Marine, my nephew an active Marine, my husband in the Navy...I could go on and on...I'm so proud of them all.
(Bonnie Capuano 12:30pm April 25, 2012)
Thanks for the contest. Sounds like an interesting book.
(Becky Darmogray 12:41pm April 25, 2012)
Each of these has great qualities. Laurie, I love your idea of "a protector of the
wounded in heart,"--that's a perfect way to put it. Karen, I agree; no spineless
heroes for me, either. Strength and character (and yes, it helps if he's easy on
the eyes) seem to be everyone's touchpoints for a good hero.
(Allie Pleiter 1:29pm April 25, 2012)
A hero has no expectation of reward, knows there is a personal risk in
performing a voluntary action of morality, and has courage to act on his beliefs. I
don't believe in so-called sport heroes, entertainment heroes, or hero
sandwiches!
(Suzanne Gonneville 2:12pm April 25, 2012)
I think many people who do an heroic act are surprised at the
attention they get afterward. It is actually a very
attractive feature.
(Diane Sallans 2:25pm April 25, 2012)
I like the reluctant hero. The ones who do what needs to be done without fanfare. They do not think of themselves as heroes, just ordinary men who did what they had to. I find this is what draws me to them.
(Maude Allen 4:56pm April 25, 2012)
I love the reluctant heroes. Can't wait to read this book!
(Stephanie Briggs 5:43pm April 25, 2012)
I think heroes take on personal risk and unexplainable challenges when circumstances arise, showing unbelievable courage. They act on instinct without second guessing themselves, and by no means expect reward for their heroism and bravery. We all enjoy reading about ordinary people and
their heroic acts in every day life and stories involving fictional characters in books. It's uplifting!
(Linda Luinstra 6:35pm April 25, 2012)
I love a reluctant hero. One who does good deeds without expecting people to praise him and tell him how great he is. Just does deed out of the goodness of his/her heart
(Shirley Younger 7:17pm April 25, 2012)
I really don't care for the hero that is too overbearing or take charge. I like the gentle soul who knows when to take charge and knows how to treat a woman. The hero who knows when it's proper to bring out his strong side. This type of hero can make a love story blossom live a flower, not turn it into a commando-type story. A love story is fragile, and the hero should have his fragilities as well.
(Peggy Roberson 9:53pm April 25, 2012)
The reluctant hero is my favorite because it makes him that much more a hero because he does what needs to be done.
(Leni Kaye 10:06pm April 25, 2012)
I enjoy Beta males as heroes. They tend to be the strong silent type. :)
(Molly Wilsbacher 10:48pm April 25, 2012)
Wow...we're a diverse bunch when it comes to heroes. Great comments!
(Allie Pleiter 10:54pm April 25, 2012)
I like nice quiet heroes,that has respect for other people.Thanks for giving me a chance to win your book.
(Linda Hall 11:11pm April 25, 2012)
There is something sweet & genuine about reluctant heroes.
(Mary Preston 8:36am April 26, 2012)
Although I like both the reluctant heroes as well as the ones who just jump right in and take over - I seem to lean a teensy bit more towards the reluctant ones who can work behind the scenes!
(Felicia Ciaudelli 11:15am April 26, 2012)
A person (or animal) that comes forward when the need strikes is a real hero.
No bragging. No boasting. No "Look At ME!". That's my kind of hero. Kike
many in our military who are "just doing their job"!
(Sandra Spilecki 11:27am April 26, 2012)
Reluctant heroes are my favourite kind of heroes because they seem to me to be "more real".
(Roxana Perez 11:57am April 26, 2012)
I like all kinds of heroes, except maybe, the aggressive ones. I always want to shout at the book, "Who do you think you are? King of the world?" :)
(Penny Mettert 2:18am April 27, 2012)
I like a reluctant hero because he holds something back and seems more human.
(Alyson Widen 9:35pm April 29, 2012)
Registered users may leave comments.
Log in or register now!