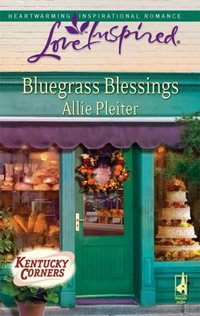 Purchase
Kentucky Corners #3
Steeple Hill Love Inspired
July 2009
On Sale: July 1, 2009
Featuring: Dinah Hopkins; Cameron Rollings
224 pages
ISBN: 037387538X
EAN: 9780373875382
Paperback
Add to Wish List

Everyone in Middleburg, Kentucky lines up for baker Dinah Hopkins's cinnamon rolls. Everyone except her handsome new landlord, Cameron Rollings. The jaded city man doesn't like anything about small-town life--from the fresh air to her fresh-baked snickerdoodles. And he clearly considers Dinah as quirky as her eccentric oven. The way to Cameron's heart is not through his toned stomach. But the Lord led him to Kentucky Corners for a reason. And Dinah plans to help him count his bluegrass blessings.
Comments
18 comments posted.
Both and if I get either a good cry or a good laugh then I am sure to share the book with my friends.
(Karin Tillotson 10:38am July 16, 2009)
Both are best, but I cry enough in real life - I'd rather laugh! But give me good suspense - that makes a keeper for me!
(Kelli Jo Calvert 12:18pm July 16, 2009)
I like a book that makes me both laugh and cry, that involves me, emotionally.
(Anne Harris 12:47pm July 16, 2009)
I love to laughas in the Stephanie Plum books by Janet Evanivich, but it is the Historical fiction books by Brenda Joyce such as the Prize and the Masquerade and all of Mary Jo Putney Books that I consider keepers. These books make me laugh, cry and even become angry. I like books that can make me feel like I have been on an emotional journey with the characters.
(Annetta Stolpmann 1:52pm July 16, 2009)
I would rather laugh. It frees the soul of unrest and sends great feelings of euphoria throughout your body. Laughing makes your heart and soul dance to music, to which noone else can see or hear. Laughing is just plain phenomenal.
(Cheryl English 3:11pm July 16, 2009)
Both! I share the feelings of the charaters in the book. So if they laugh or cry, I wind up doing the same, I prefer a good laugh, but also cry when something sad happens to the characters. that's when I know it's a great book!
(JoAnn White 5:49pm July 16, 2009)
I prefer a good laugh or a good suspense but I do not like one where I will cry through it
(Diane Sadler 6:10pm July 16, 2009)
I love a book that will make me laugh! I also like a book that will make me cry as long as it has a happy ending!!
(Martha Lawson 8:22pm July 16, 2009)
I would rather laugh than cry, but that said some of my favorite books made me cry. I guess it depends on my mood, but regardless I have to have a happy ending.
(Rosemary Krejsa 9:35pm July 16, 2009)
Like most other commentators here, I really need the "laugh" or at least a smile right now. But I also need to find some sort of affirmation and that may make me shed a tear. And with a faith-based book, I know I'll get what I need.
(Sigrun Schulz 10:11pm July 16, 2009)
I agree--the laugh books are what I turn
to when times feel challenging. There
are times when I want a good cry, but I'd
much rather laugh. Even laughter
through tears.
(Allie Pleiter 10:17pm July 16, 2009)
Laughing and crying are both good.
There has to be good plot and character
development. The story has to mean
something to me and cause me to care
about the characters.
(Patricia Barraclough 11:17pm July 16, 2009)
definatly laughter -a good story and a bit of laughter is what I likr best.
(Lourdes Montes 12:40pm July 17, 2009)
Both... I don't actually need to cry but I do need a bit of drama. Loughters are essentials... reading is about feeling good after all !!
(Joeelle Jappissont 8:13am July 17, 2009)
It depends on my mood. Every now and
then you need a good cry. And I could
use a good laugh all day everyday.
(Bridget Hopper 8:46am July 17, 2009)
Both, but the keepers are the books that I can read again and still feel the emotional content of the story.
(Ruby Davis 3:51pm July 17, 2009)
I like both, but I like to cry first, then laugh. Life is filled with tears and laughter, so it makes sense that we want to read about both happiness and conflict/sadness. It makes the characters and stories more real and gives them more depth.
(Michelle St. James 2:50pm July 19, 2009)
would love to win a copy of your new book!
(Bridget Doshi 6:29pm September 28, 2009)
Registered users may leave comments.
Log in or register now!