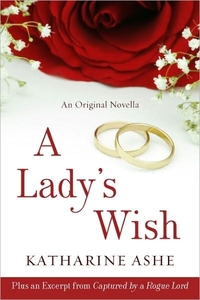 Purchase
From Katharine Ashe comes an original story, never before published . . .
Rogues of the Sea
Avon
March 2011
On Sale: March 15, 2011
Featuring: Patricia Morgan; Nikolas Acton
ISBN: 0062091786
EAN: 9780062091789
e-Book
Add to Wish List

An exclusive "Rogues of the Sea" Series novella including an excerpt from the new novel, Captured by a Rogue Lord, available March 29th.
To the world, Lady Patricia Morgan is a proper lady. But in secret, she yearns for scorching romance with a certain breathtaking gentleman she has never forgotten. They spent one perfect day together, but he disappeared before she could learn his name.
Eight years ago, Captain Nikolas Acton ran off to join the navy so he could forget the mysterious young lady who, after promising him her heart, simply vanished. Now, he has returned to England as a war hero, and is staggered to come face to face with the woman who still possesses his heart . . .
Comments
8 comments posted.
Re: A Lady's Wish

Can't wait to read some of these books. Very exciting news!
(Maria Munoz 8:45pm March 7, 2011)
Changes are coming to the publishing world so quickly. It will be interesting to see where Avon Impulses take us. Thanks for the heads up.
(Mary Anne Landers 12:59pm March 8, 2011)
I would like to hear more about Avon Impulses.
(Ann Garland 2:01am March 8, 2011)
Have always loved Avon books. I'll have to check these out because of the
publisher if for no other reason. You can always rely on Avon books!
(Sandra Spilecki 6:41am March 8, 2011)
Always a great day when there are more books being published by
a reputable publishing house.
(Lisa Richards 9:37am March 8, 2011)
I am excited to hear about more e-books being published with having a nook that is how I read most of my books and having more to choose from is always great. Thank You Avon
(Vickie Hightower 10:57am March 8, 2011)
It sounds classy and I like reading novellas because they go so fast and I can keep the characters straight.
(Alyson Widen 12:09pm March 8, 2011)
Interesting. I want to see how the whole world of books and e-books changes over the next three years. I have a Kindle and that means a lot of people have e-readers. I'm not one to try out new technology. I still forget my phone has a camera on it. I have a feeling paper producers will need to cut down a few less trees each year.
(Christina Harrison 12:59pm March 10, 2011)
Registered users may leave comments.
Log in or register now!