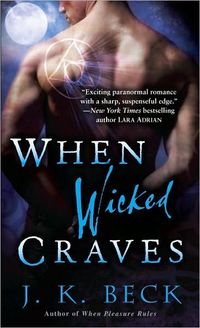 Purchase
Shadow Keepers #3
Dell
November 2010
On Sale: October 26, 2010
Featuring: Nicholas Montegue; Petra Lang
400 pages
ISBN: 0440245796
EAN: 9780440245797
Paperback
Add to Wish List

Romance Paranormal | Thriller Paranormal - Supernatural | Fantasy Urban
Petra Lang is cursed never to love. One touch of her skin unleashes the vilest demons. Sentenced to death by the Shadow authorities, who fear she'll turn her curse against them, Petra is rescued by vampire advocate Nicholas Montegue. As their bodies merge and transform into mist, Petra feels an erotic longing.
Nicholas risked his own life to save Petra, yet he knows he can never give in to the explosive attraction he feels for her. But the deep yearning they share tempts them. Together, they must find a way to lift the curse. For only a love this strong has the power to overcome such monstrous evil.
Comments
54 comments posted.
i love your book they are rocken.
(Shanan Moening 3:48am September 29, 2010)
Peyton Place? There's always so much going on beneath the surface. The books sound interesting. Have to add them to my tbr list!
(Ivy Truitt 6:10am September 29, 2010)
The Culdesac Vipers? How cool to think of using your current surroundings and all of the possibilities that it means!
(Joanne Reynolds 6:19am September 29, 2010)
I live in a culdesac too! It is kind of creepy how you can just look out the window and see what everyone else is doing. Writing a book about that would be awesome!
(Casey Harris-Parks 8:22am September 29, 2010)
Not only does this series sound so freaking fascinating; BRAVO, BRAVO on the covers. Beautiful!

That must have been one heck of a wake-up call to go from 1.5 acres to a cul-de-sac.
(Cynthia Netherton 9:08am September 29, 2010)
I live at the beginning of a dead end road. My neighbour across the road is always looking out of his window and wears different coloured overalls for different jobs - what so you think? work material!
(Barbara Hanson 10:06am September 29, 2010)
I can't wait to try your books!
I am heading to the bookstore today!
(Jenny Finstrom 11:14am September 29, 2010)
Is is interesting when an author takes something every day like and spins it ito a story that I would have never expected :>))
Sometimes these every day like happenings or places have been sitting there for year waiting for an author to find them.
Keep up the good work :>)
(Karin Tillotson 11:34am September 29, 2010)
My neighborhood is pretty
quiet so it wouldn't surprise
me at all to learn that all of
these pretty little houses
where you hardly ever see
anyone outside are owned by
vampires! These few elderly
people you see occasionally
are just a front...
(Jennifer Lalley 11:51am September 29, 2010)
I live in a three story apartment complex, one of the laies above me likes for people to leave any items they may be throwing away outside their door. She looks at it to see if she wants it, if not she then takes it to the dumpster.
(Lisa Avila 11:57am September 29, 2010)
Isn't it funny how the smallest things that your neighbors do become suspicious when they never did it before? At least they do for me. Why is someone's car home when it never was before? Why is the wife's car suddenly missing?
(Maureen Emmons 11:58am September 29, 2010)
That's very interesting that your thoughts and surroundings lead to book ideas! I don't usually read paranormal, but your series sounds very interesting - a judicial system... hmmm...
(Kelli Jo Calvert 12:11pm September 29, 2010)
Titles lead the way! Good for you.
Blessings,
Marjorie
(Marjorie Carmony 12:29pm September 29, 2010)
There was one night when there was an agrument going on. The next thing I heard was two gunshots and screaming. It was one night that was filled with attempted murder and a love triangle.

And I thought my neighborhood was a quaint and quiet neighborhood where nothing ever happens.
(Kai Wong 12:37pm September 29, 2010)
Love the pictures and the title of your books.. makes me wanna read
(Danielle Pontow 12:59pm September 29, 2010)
I haven't tried many paranormals. I've
been sampling the different types, but
haven't tried your style yet. It is amazing
the different worlds and characters you
can create.
(Patricia Barraclough 1:06pm September 29, 2010)
I read and reviewed When Blood Calls for an ARC tour, and absolutely loved it. Now I can enter to win to have my own copy and see what happens next in that sexy paranormal world!
(Lilibeth Ramos 1:20pm September 29, 2010)
I too live in a culdesac... I love living there except when the neighbors decide to have people over and block the whole circle with cars... we have seen some crazy sights over the years too...
(Colleen Conklin 1:32pm September 29, 2010)
I am a farm girl and have never lived in a city beut I do love reading about city life.
(Vickie Hightower 1:46pm September 29, 2010)
cannot wait to read this
(Debbi Shaw 1:49pm September 29, 2010)
Thanks everyone for the thumbs-up
on the series ...and on the covers!
Bantam did an awesome job!
(Jk Beck 2:00pm September 29, 2010)
Joanne....love "The Culdesac
Vipers"! Great title!
Cynthia--it was! But I'm psyched
about the bigger house...and the
smaller yard. Much less work. In
theory, anyway.
Barbara! I love it...and the different
colored overalls are such a great
detail!
(Jk Beck 2:03pm September 29, 2010)
I live in Potsdam, Germany which is steeped in history.

We have palaces and large mansions...we have some famous people living here and after WWII, the treaty was signed here between the Russians, Brits and Americans.

Your books look really good and I was really captivated by the covers too.

Valerie
[email protected]
in Germany
(Valerie Bongards 2:29pm September 29, 2010)
You would enjoy my parents' street. They live in a historical neighborhood with older, Victorian type homes. Did I mention that my mother is obsessed with Halloween? Every year, the "little peeing boy" statue in the front yard is transformed with red food coloring in the water, Freddy and Jason set up shop on the front porch, and the casket is dragged out of the hearse. Yup, she owns a hearse. She's notorious, and people come from all over town to trick-or-treat at her home.
bryansjenn (at) hotmail dot com
(Jennifer Lee 2:39pm September 29, 2010)
I know what you mean about seeing into your neighbors' yards and homes. We are the center house of five with a culdesac behind us, so the yards and windows are unusual. When one of our neighbors wanted to have a shed built in her backyard, she had to check with eight neighbors to make sure no one objected!
(Amanda Beyerlein 2:49pm September 29, 2010)
As a reader whose work is in the legal field, I always enjoy books that bump edges with that...it seems to give them added attraction and immediacy - and the paranormal aspects remove them enough from the workaday realm that they remain very enjoyable.
(Jl Welling 2:53pm September 29, 2010)
My neighborhood is pretty quiet where the adults are concerned. A few will nod hello when they see you, but for the most part, no one talks to each other. The kids however... they know every other kid in a four block radius and know the insides of the houses, all the dogs, etc. That's who you would have to watch out for (for a thriller, not a romance or fantasy).

Congrats on the new book(s) and on the move. I look forward to reading all three.
(Dea Lea Herrington 2:53pm September 29, 2010)
I live on the frontier of Minnesota in a small town. I had heard from the gossip vine that my husband was having an affair with my girlfriend who lives across the street and two houses down because the lady in the house next to me saw him walking over to my girlfriends in the dark and left and came home 20 minutes later. I had to laugh because the lady next door could not tell he was walking back home with my daughter. It took so long to leave because the dog had taken my daughters shoes with him under the bed and they could not get him out.
(Sarah Ulfers 2:56pm September 29, 2010)
I live in a rural area, so it would have to have something to do with wild animals. Or maybe a horror story, what are those people who in live the woods doing with those who are lost and stop to ask for directions.....
(Vikki Parman 3:00pm September 29, 2010)
Sounds interesting. I'll be checking out WHEN PLEASURE RULES.
(Angela Cameron 3:41pm September 29, 2010)
Can't wait for When Pleasure Rules!! Ok, so we live a few houses down from the culdesac and on a giant hill. Actually I swear this whole town is built on a hill, or should I say Ant hill. I've never seen so many ants in my life. I horror story with ants, hmmmmm
(Jolene Allcock 3:44pm September 29, 2010)
Our street is the guinea pig for a traffic calmer which funnels everyone down to one lane going down the middle of the road for one house. It's 2 half circles that supposedly make people slow since there's quite a few kids here. Everybody has to take turns and be mannerly. A culdesac would be quiet except for all that turning around and shining headlights through the front windows. In any neighborhood there's always someone mysterious. I'd hate for it to be bad.
(Alyson Widen 4:31pm September 29, 2010)
Great blog!
(Emily Davis 4:41pm September 29, 2010)
Enjoyed your blog and reading how your get insprations for your books
(Sheila True 5:28pm September 29, 2010)
LOL! Our neighborhood seems
relatively simple and dare I
say, boring? Of course, maybe
that's all too hide the
interesting things going on
inside people's homes! Who
knows what the neighbors might
be up to in this quiet
suburban block? :D

Congrats on When Pleasure
Rules--what an exciting
series!
(Fedora Chen 5:41pm September 29, 2010)
My neighborhood seems normal & ordinary but who knows what fantasy's or delights are being dreamed up.
(Mary Preston 5:45pm September 29, 2010)
Your new story sounds really intriguing.
(Maria Munoz 6:33pm September 29, 2010)
It would be lovely and intriguing to read about the extraordinary things that seemingly ordinary people do (especially the hot neigbor guy). Your new books look like good reads. Count me in.
(Brandi Evans 6:38pm September 29, 2010)
Crime stories would be the result if my neighborhood were the inspiration.
(Leni Kaye 6:51pm September 29, 2010)
Honestly, the scariest stories
in real life are of shocking
things that our seemingly
"normal" neighbors do behind
closed doors. I believe that
you can think that you know
someone, but never truly know
what evil may lie beneath the
smiling exterior. What could
be more frightening that that?
(Jennifer Abrams 7:52pm September 29, 2010)
Our neighborhood is crazy,drugs,shootings,one man killed himself (explosive in car). And then there was the Breakfast Bandit.He would enter a different apartment ,every day,cook a meal and leave the dirty dishes in the sink.
(Deb Pelletier 8:06pm September 29, 2010)
I grow chickens for a living and I would love to write a story about all us chicken pluckers called All My Chickens.It would be a ongoing soap opera.LOL
(Debby Creager 9:17pm September 29, 2010)
I have to say that your books are so far from the norm, that I have to get my hands on them!!! As for my neighborhood, I live in the country, so all I can say is -- boring!! When a tractor goes down the street, it's excitement around here, and I like it that way. The tranquility does wonders for the mind as well as the soul, and my husband and I just enjoy the wildlife. We needed the peace at this stage of our lives. So sorry to disappoint you.
(Peggy Roberson 10:27pm September 29, 2010)
Love your books...
(Tina Myers 11:09pm September 29, 2010)
One of my neighbors keeps his
blinds closed at all time and
there is never any light
coming out of there except
when he has a male and female
over and they blast 80's music
and yell a lot.
(Cathie Veres 11:46pm September 29, 2010)
My husband and I moved all the way across the country recently, and I'm finding that not only was I inspired by the trip, but I'm being inspired by my new city! There's so much to see and to do... Imagining great romances set in that old fashioned bar down the street, or a murder with a body dumped near an overpass. Lately I've been wanting to head down to the local mall, to sit in the food court and people watch, you know? Make up their stories. Fun!

(P.S. I'd never heard of this series before, now I'm intrigued!)
(Rebecca Diederich 1:36am September 30, 2010)
The books sound interesting.
(Pam Howell 8:56am September 30, 2010)
I understand the feeling, my art takes the from of Art Quilts and ideas are always popping up. Usually to many to take advantage of, of course :)
(Dinah Tackett 12:38pm September 30, 2010)
unfortunately i've never seen the stepford wifes but your book sound like my kind of read thanks :)
(April Strength 1:16pm September 30, 2010)
I can only imagine what goes on in my neighborhood but I bet it is good and juicy. lol There are a lot of under 40's as neighbors. I like the storyline and would love to win your books. Thanks for the opportunity to enter.
(Brenda Hill 1:30pm September 30, 2010)
I live in a Stepford Wives neighborhood. Not very many of people work here, and as one of the few working mom's, I feel like an outsider even though I've lived here over 7 years!
(Molly Wilsbacher 2:43pm September 30, 2010)
I would certainly read the Culdesac Husbands if you write it. I loved The Stepford wives movie. Congratulations on your new home. Can't wait to read your new one!
(Teresa Ward 5:11pm September 30, 2010)
Although I live in a suburb, there are enough wildlife (suburbanlife?) around here for maybe a "when nature fights back" sort of horror story. The wild turkeys, deer, squirrels, vultures, and the scrub jays that hate the cat next door (for eating their babies *years* ago) can try to reclaim their neighborhood (except the turkeys are non-native).
(S Tieh 5:46pm September 30, 2010)
I live in a cul-de-sac and years ago a young Special Forces Army Medic moved in with his wife and daughter and every morning he would don a 50lb ruck sack and run for miles through the streets of our town, I believe that he never knew the thrill he gave us "mature" wives but believe me if I was a writer the book would be steamming!! He has since been stationed elsewhere but the memory lives on!!
(Sheila Schwartz 5:51pm September 30, 2010)
Registered users may leave comments.
Log in or register now!