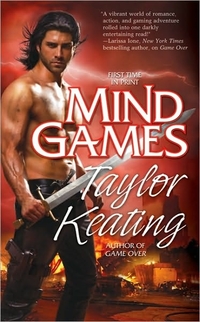 Purchase
The Guardians #2
Tor
June 2011
On Sale: May 24, 2011
Featuring: River Weston; Chase Hawkins
400 pages
ISBN: 0765365480
EAN: 9780765365484
Mass Market Paperback
Add to Wish List

Paranormal Romance | Fantasy Urban
River Weston thinks her problems are over. She managed to escape the virtual world of her video game—and the clutches of the Dark Lord who attempted to enslave her—with body and mind intact. But her return to the real world is anything but easy. Framed for monstrous crimes she didn't commit, and hunted by members of a dark government agency, it is all she can do to stay one step ahead of her pursuers.
Guardian Chase Hawkins gained his freedom from the Dark Lord's prison, but it came with a heavy price. Trapped in another man's body, his soul slowly deteriorating, Hawk knows he must return to his world—and his body—before the damage is irreparable.
Racing against time, River and Hawk know that in order to have a future together, they must work to reveal the secrets hidden in River's past.
Comments
45 comments posted.
Re: Mind Games

i agree with you i would stalk most of these authors too. i loved the blurb for the book and i can't wait to read it, it sounds wonderful.
(Tammy Ramey 1:17am May 25, 2011)
I agree whole-heartedly. Just started Larissa Ione - fantastic in a word. Your blog is histerical - I found it so entertaining that I am off to buy Game Over. Thanks.
(Barbara Hanson 8:26am May 25, 2011)
LOVE SEP - and you are right - voice is key. Will check out some of your other
recommendations -- after I devour MIND GAMES!! Congrats on the release,
Taylor!
(Pamela Callow 9:12am May 25, 2011)
Loved the blog - now I want to go try out some of these authors I haven't read before. Can't wait to read Mind Games!!
(Julianne MacLean 9:20am May 25, 2011)
Funny post. Can't wait to read this book!
(Anne MacFarlane 10:02am May 25, 2011)
Great list. I would add Shelley Laurenston.
(Maria Munoz 10:12am May 25, 2011)
Maria, yes Shelley Laurenston is fabulous, too. I could sit here all day and list my favorites. I have so many!!
(Taylor Keating 10:50am May 25, 2011)
I have never read a few of these authors so thanks for the recommendations. I can't wait to read your book. BTW the covers are yummy.
Thanks!
(Patti Paonessa 10:58am May 25, 2011)
I'm only slightly stalkerish, The only reason I have a twitter facebook account is to know when the next new book release is and for the con, book signing info.
(Ruth Thompson 11:10am May 25, 2011)
I could add some names, in fact many names, but then "I would have to shoot you", as the saying goes.
Blessings,
Marjorie
(Marjorie Carmony 12:39pm May 25, 2011)
How serendipitous! I'm reading Madeline Hunter's newest book now. You clever stalker, you!
(G S Moch 12:40pm May 25, 2011)
I love your list. I have read books by most of the authors and think each is wonderfully individual.I am looking forward to getting my hands on your new book.
(Robin McKay 12:51pm May 25, 2011)
A lot of worthy aauthors worth stalking lol. I've not read you before but I've been hearing good things and what great covers!
(Jeanne Sheats 12:51pm May 25, 2011)
Great list guys, and thanks for the recommendation re: fantasy and
romance. I love that genre but love romance too and the two are hard to
find in the same book. Good luck with the series!
(Michelle Helliwell 1:25pm May 25, 2011)
I am not familiar with two of those names... have to look them up... thanks for sharing!
(Colleen Conklin 2:05pm May 25, 2011)
Great list... I would add Julia Quinn and Eloisa James to my list too... I love funny dialogue...

Congratulations on your book btw.
(May Pau 2:06pm May 25, 2011)
Thank you for your post, Taylor. It brings to mind a one-liner: "Facebook: The legal way to stalk".

Your comment about an author's voice is especially significant. Now that e-publishing is here and the number of available works is going up exponentially, it is becoming increasingly important for an author to stand out from the crowd.

One way is for her to develop a highly characteristic voice. It distinguishes her from other authors in the same field and enhances the reading experience for her readers. It results in a stronger bond between an author and her readership.

Good luck with "Mind Game". Keep up the good work!
(Mary Anne Landers 3:44pm May 25, 2011)
Great post! Thanks for sharing!!
(Dawn Staniszeski 4:08pm May 25, 2011)
Whew~I think I'd stalk the guys on the front of your books!
(Edwina Cowgill 4:56pm May 25, 2011)
I agree, I would stalk the authors and several others if I could.
(Debbie Penny 5:07pm May 25, 2011)
My stalker list (of authors) would start with Suzanne Brockmann, then there would be Brenda Novak, Erica Spindler, Catherine Coulter, and the list goes on!!
(Kelli Jo Calvert 5:22pm May 25, 2011)
What a funny post! It's nice to know there are other people out there like me who love books so much. Your covers are awesome BTW!
(Renee Pajda 5:55pm May 25, 2011)
I too agree, voice is everything. SEP has it in spades, so do does Suzanne Brockman and many, many others. I too have traveled miles, slogged through thunder, hail and snow storms to see my favorite authors. I'm going to download your book. They sound wonderful.
(Maude Allen 7:00pm May 25, 2011)
I appreciate your honesty - to have such passion to leap over people - well it also shows that you are in great shape. I think some people move us, it's ok to be moved by them, I met a few people that I looked up to that at first I was shaking in line but they were so personable it left me feeling really relaxed and great afterwards.
(Carla Carlson 7:02pm May 25, 2011)
That's a great list. I'd be too scared of being caught to stalk. Happy to idolize from a distance.
(Mary Preston 7:09pm May 25, 2011)
Your list is right on the mark. I love these writers and I would probably think about turning for Angelina Jolie as well. If they don't think she is hot they are not looking.LOL
Debby
(Debby Creager 7:14pm May 25, 2011)
If I were a stalker it probably authors too. LOL. I have so many favorites. Love your book covers. Will be adding those to my reading.
(Sue Brandes 7:25pm May 25, 2011)
Okay so maybe I cyber stalk. Its not really that bad unless you count that I am constantly trying to read everything I love with not enough time AND figure out how my favorite writers got to be the writers they are. I do have favorite authors whose websites are on my favorites. Does that count as cyber stalking?
(Renee Brown 7:40pm May 25, 2011)
lol the idea of stalking authors is hilarious. I can't see
myself stalking an author, I'd be too worried about freaking
him or her out so much that they wouldn't get their next
book written for me to read. I have to wait long enough
between series books I'm not going to intentionally make
that wait longer by freaking out the author. That said your
books sounds intriguing and I look forward to checking it
out.
(Jennifer Donnelly 7:43pm May 25, 2011)
Great list. Thanks for giving me a chance to win your book.
(Linda Hall 7:57pm May 25, 2011)
Great list1 Mind games sounds like another can't wait to read book!
(Pamela Stewart 8:00pm May 25, 2011)
I restrict my "stalking" to online, mostly, unless the
author is doing an event near me. Then I go see him/her for
sure.

Still, if following an author's website, blog, Twitter, and
Facebook constitutes cyber-stalking, then I am guilty. I
rarely email them though so I'm cyber-stalking in the
background.
(S Tieh 8:09pm May 25, 2011)
Stalking is not my thing but I wholeheartedly endorse your list of authors.
(Carol Drummond 8:13pm May 25, 2011)
Laughter brings job but stalking is scary :) It is so crazy that you can follow people's lives and going ons by twitter and blogs...it is really out there, everything we do...ps i have you locked in on google earth! just kidding but how scary is it that big bro is watching our every click of the mouse.
(Darci Paice 8:16pm May 25, 2011)
I love your list and though I might not stalk people, I would probably alternatively squee and stutter if I were ever to meet any of them. Not the impression I would want to make but most unfortunately the one I would most likely leave.
(G. Bisbjerg 9:04pm May 25, 2011)
I guess I'm going to have to stalk out your books, and give them a try!! I have my favorites, but they go by the mood that I happen to be in. When I need something to lift my spirits, Janet Evanovich is tops on my list. I've been through a lot in my life in the past 4 years, so that left me completely out of the loop as far as books go. I've got a lot of catching up to do, as far as authors go, so I've thoroughly enjoyed reading the blogs, and learning about the different genres that each author has to offer, as well as get to know them as a person. Good luck with your series. I'm sure it will do well. You're very gifted with the way you express yourself.
(Peggy Roberson 10:09pm May 25, 2011)
I think it depends on what kind of stalking is being done, what is the intent, how close does the stalker get, what do they say & how the target feels about it. Many of us are remote stalkers of actors & authors. I hope you don't mind haveing remote stalkers, I think you are going to have a lot.
(Diane Sallans 10:41pm May 25, 2011)
I wouldn't mind being stalked by the guys on the covers of your books either. Haha!! Am adding your books to my reading list. :)
(Gillian Sawaged 10:56pm May 25, 2011)
Have never considered stalking anyone, so don't know who I would stalk. Enjoyed reading your list.
(Sheila True 11:00pm May 25, 2011)
I would love to meet those authors and have a chance to sit and talk with them; hopefully they wouldn't consider that stalking. I would consider stalking them to get an advance copy of their books-LOL!
(Jody Hollenbeck 11:18pm May 25, 2011)
oh, online stalking is so much fun.
(Lisa Kendall 12:11pm May 26, 2011)
Too funny! You do have excellent taste however! :-)
(Robin Daily 12:46pm May 26, 2011)
I would stalk many of them as well...

Loved Game Over and am looking forward to reading Mind Games!
(Susan Galley 9:18pm May 26, 2011)
I have to disagree with your term "stalking." Following an author's work and keeping up with news about their work and appearances doesn't quite meet the definition, IMO. But your list certainly does include folks worth keeping up with!
(Janet Martin 5:59am May 27, 2011)
Patricia Cornwell would be fun to follow around. Being able to cut up dead bodies is NOT anything I could or would do but its fascinating to read about.
(MaryEllen Hanneman 1:24pm May 27, 2011)
Registered users may leave comments.
Log in or register now!