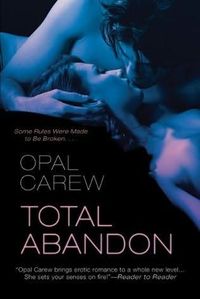 Purchase
Some rules were made to be broken...
St. Martin's Griffin
April 2011
On Sale: April 12, 2011
Featuring: Devlin; Sandra
288 pages
ISBN: 0312674597
EAN: 9780312674595
Trade Size
Add to Wish List

After her divorce Sandra swore off any involvement with men for a year. On the anniversary of Sandra's divorce, her friend, Aimee, suggests she make a list of sexy things she's never done, but would like to. After Sandra makes a few safe suggestions, Aimee cajoles her until Sandra opens up and pulls out her deeper, darker fantasies. Thus, The List is born.
Devlin is in love with Sandra, but knows she's not ready for a committed relationship yet, so he and Aimee hatch a plan to get Sandra to go away to a secluded hideaway for a weekend, complete with two gorgeous hunks, to make The List come true.
But Sandra experiences something more intoxicating that's not on The List…falling in love.
Comments
51 comments posted.
Re: Total Abandon

Ebooks have really broaden the authors and genres I have been able to read. I've found so many new authors and with the free and lower price points I have added so many authors TBR I need a spreadsheet to keep track.

I don't often reread books so I would rarely buy books but with the lower price point of e-books I have a monthly budget line just for e-books. Although some of the recent large increases buy the houses has sent me back to the library or borrowing for their books.
(TinaMarie R 4:30am April 30, 2011)
You sound like me! I keep track of my books in a spreadsheet, too! It's great that you're discovering new authors and genres.
(Opal Carew 6:19am April 30, 2011)
I love digital books! My wallet, however, does not. I have a Kindle and the One-click purchase button is one of my biggest weaknesses. I've found many new authors through digital books. My digital library runs about 350 books long. I should probably take everyone's suggestion to start a spreadsheet of my own.
(Stacie Deramo 7:10am April 30, 2011)
I think it is great that digital reading is available to choose from now. A book is nice to hold, although a digital reader is portable and is much easier to transport when traveling. I am a reader of both depending upon the situation.
(Laurie Little-Watkins 7:27am April 30, 2011)
I think digital books will provide more availability, but it may make it harder to find good authors if anyone feels they can self-publish.
(Pam Howell 8:13am April 30, 2011)
I am an older person with an ereader. I love to hold a real book in my hands
but I also enjoy taking my ereader to my multiple medical appointments, I
love the ability to change the font if I forget my glasses and I love the variety
of book available for my ereader. I have two TBR piles--one virtual and one
real. There is not enough time for me to finish either one of them even if I
should live to 100.
(Sandra Spilecki 8:20am April 30, 2011)
I like the variety of books being published and the ability to get new books NOW instead of having to wait for delivery or go out to get them, but I will continue to buy print books too! Still love the look and feel of a print book, so at least for now, I will not completely swithch over.
(June A, Manning 8:31am April 30, 2011)
this sounds like a really good book
(Debbi Shaw 9:07am April 30, 2011)
I like having both. But will always like having the books in hand best.
(Dawn Staniszeski 9:45am April 30, 2011)
I have recently gotten an ereader and love it. Like another reader, I have 2 TBR piles. I love the convenience of the ereader. I love to read in bed at night and the e-reader weighs less than a book and is less awkward, yet there is nothing like browsing a bookstore or flipping a book open to peruse the writing.
(Renee Brown 10:09am April 30, 2011)
I love choices. I find I purchase books I love in
both electronic and print editions.
(Gayle Oreluk 11:09am April 30, 2011)
I think the options that ebooks provide to readers is great, although I'm more of a mainstream type gal. Many of the e-publishers works don't appeal to me. I am all for variety, but I'm concerned that with all of the options out there it is getting more difficult to separate out the good, from the rather mundane works.
(Renee Grandinetti 11:16am April 30, 2011)
I'm a spreadsheet keeper also. I've just gotten my Kindle so there's not much on it - yet. I think that will change for my beach vacation. But I do like the feel of print books and I think they're easier to skim.
(r w 11:20am April 30, 2011)
I resisted the idea at first but now I love my Nook.
(Maria Munoz 11:26am April 30, 2011)
I'm still a print girl at heart. Especially when the digital version is the same cost as the print. But with the explosion of the digital market, I am finding some excellent talent that I would not have otherwise.

Plus, I love well designed book covers. You can't put a digital with a great cover on a bookshelf to leer at! LOL!
(Cynthia Netherton 11:35am April 30, 2011)
I still go for print books first, but my e-book pile continues to grow and grow! I am loving the sound of your books, have to get my hands on them!
(Colleen Conklin 1:32pm April 30, 2011)
Although I love e-readers, especially since I am in the military and have to travel far too much, there is still nothing like the feel of a book between your hands. I admit that I feel like a little kid in a candy store when I go to the bookstore and find all those wonderful books to read.
(Lauren Emerson 2:19pm April 30, 2011)
I read both print and e-books although I am still reading e-books on a laptop rather than buying an e-reader (waiting for the feature to price ratio to improve). I have bought some indie books through Smashwords - there are some terrific bargains although the quality can vary greatly. I find the on-line browsing experience annoying at all the on-line sites. The best I have used is at Fictionwise.
(Carol Drummond 3:12pm April 30, 2011)
I think the more choices the better. I don't have an ereader yet, but I still buy and read them on my laptop.
(Jane Cheung 3:16pm April 30, 2011)
I still prefer my paperbacks!!!!!!!!
(Joanne Bozik 3:22pm April 30, 2011)
i have so many boxes of books that i even have 3 boxes in the trunk of my car. if i like a book i keep it.
(Jennifer Beck 4:12pm April 30, 2011)
Life is full of choices, somedays I have no problems making them and some days I dither forever. At least in this contest I wouldn't have to choose since I don't have an eReader!
(Diane Sallans 4:19pm April 30, 2011)
i think it is great. the more choices you have the more likely you are to find the books that you want and the more likely you are to broaden your reading horizons.
(Tammy Ramey 4:34pm April 30, 2011)
I think the explosion of the digital market is a good thing b/c it makes
books more affordable. Also, although digital books are more convenient
travel-wise especially for someone like myself who reads genres
depending on my mood, I still prefer paper.

I own TONS of books and dream of someday owning a home with
bookshelves in every room. A digital library is just not the same.
(Mona Garg 5:04pm April 30, 2011)
Maybe I am just not digitally savvy enough but I always prefer printed books... I am glad that digital books are around though as a second option...
(May Pau 5:15pm April 30, 2011)
Congrats on the triple play of releases!
I think the convenience of ebooks is wonderful especially when the itch for a book strikes me at 2 in the morning but I just don't get the emotional connection when reading them that I do with a print book.
Good luck and happy writing!
(Tracie Travis 5:45pm April 30, 2011)
Ebooks are great except that I find myself in a bookstore 24/7. Once I broke down and started reading digital books, I found that I loved the convenience. I still have a ongoing relationship with my local library. Probably always will.
(Pamela Stewart 5:46pm April 30, 2011)
Maybe I'll try a eReader someday. I still like rereading my books.
(Deb Pelletier 5:49pm April 30, 2011)
I have a kindle but still like to have a print book to read also.
(Brenda Rupp 5:57pm April 30, 2011)
I love e-books and I love all the indie authors I have discovered and there little gems of books. They're great books, but I still find myself at book stores looking for paperbacks. It's my first love :) Your a new to me author and I would love to get my hands on one of your books :)
(Jolene Allcock 6:36pm April 30, 2011)
I love both e-books and print books. The one thing I miss is, if you buy a magazine you can smell the perfume samples but you miss this with e-magazines. I like to touch and smell the pages.
(Cheryl English 6:46pm April 30, 2011)
I love the fact that we can choose our reading medium. I still prefer hard copies, though my KINDLE is wonderful.
(Mary Preston 6:46pm April 30, 2011)
This sounds realy good,love e-books, but still read a lot of print books
(Frances Namuth 7:00pm April 30, 2011)
Hello Opal, Please enter me in this fantastic contest that I found on freshfiction.com and God bless you too.
Thanks, Cecilia
(Cecilia Dunbar Hernandez 7:20pm April 30, 2011)
I don't have an e-reader yet; but I am hoping to get a Kindle in the near future. I love that e-books are making it easier for new authors because we will have a fresh outlook that way. As with many others I am on a budget, but I will never give up reading. I like to browse websites such as Fresh Fiction and GoodReads to discover new authors.
(Jody Hollenbeck 7:30pm April 30, 2011)
Personally I prefer to read paper books but ebooks are good in that they offer more choice and they're cheaper. A lot of the ebooks I've read I wouldn't have read in print but they're still really good, although then there are some that people publish themselves which aren't that good. Given the choice I'd choose a paper book but I still think ebooks are alright.
Thanks for the contest, your books sound really good.
(Jessica Sutton 8:05pm April 30, 2011)
I still love books so I have a hard time with ebooks. I love the scent of books, holding them in my hand, turning the pages and the feel. But I hve started with ebooks from library, but I still like books. I must be old.
(Shonda Abercrombie 8:28pm April 30, 2011)
Ebooks are a wonderful opportunity for new authors, I think. Plus, I'm all for saving trees! I have to admit, though, that I'm an old dog having trouble learning new tricks!
(Michele Lawrence 9:14pm April 30, 2011)
I'm not a big fan of the e-book. I have several reasons. The first and main reason is because I'm on a fixed budget, and can't afford to buy a kindle or any other form of reader. Another reason is that these books are putting a lot of publishers, as well as printers and bookstores out of business, because people can just download books instead of get the actual "hard copy" of the book. That brings me to my final point. I'm the type of person that likes to feel the actual book in my hands and flip the pages. I don't think I could get used to using an electronic device, although if I was ever given the opportunity or won one, I'm sure that I would make use of it in some capacity. My books take up a lot of room, but I wouldn't change it for the world!! I enjoy reference books as well, and I know that I've kept a lot of people working by buying these books. A lot of authors are so good, that you want to have a set of their writings. Their covers are also works of art to be enjoyed and shared with others. You are a very busy author. Congratulations on your latest book, and best of luck in your future writings.
(Peggy Roberson 9:25pm April 30, 2011)
Print is still my number one choice, but I love to find new authors and genres with ebooks. There is so much to choose from and this has introduced me to books that I might not have tried otherwise.
(Leni Kaye 9:38pm April 30, 2011)
It's great hearing everyone's opinions. I love to have both print and eBooks, too. I love having a large number of eBooks on my eReader--it's so convenitent--and I love being able to buy them any time of the day and night. I tend to be a night owl and am often still up at 3, 4 or even 5 in the morning.

I love print books, too. I love books with pictures, like for the crafts I do (actually, just read about nowadays), or for dance or costumes, etc. Also, I have a lot of friends who are authors and I always buy their books in print if I can, especially so I can get them autographed!

Peggy, I undersand your concern about putting publishers and bookstores out of business. At the writing conferences and author chat loops I belong to we talk a lot about that. The big publishers have seen this trend coming and are changing their business to incorporate eBooks. St. Martin's Press (part of Macmillan) is the big publisher that I write for and they have had my books in eBook form (as well as print) for a couple of years now. Most of the smaller publishers I know about have been in eBooks from the start, so they are doing very well with the expanding digital market, but then the ones I'm familiar with started out primarily as ePublishers, with print books secondary.

The bookstores are a big concern. The chains are selling eBooks on-line, but will that be enough? And what will the independent bookstores do? I really hate to see bookstores closing and I hope they find a way to stay profitable in the changing market. I'm all for supporting our bookstores and try to get out to my local bookstores as often as I can! I have two sons, and both of them and my husband are avid readers. My sons do not like digital books, so we have LOTS of print books around my house, including novels, textbooks (since both boys are in university), and other books related to their studies.
(Opal Carew 10:00pm April 30, 2011)
I love print and hate it that local bookstores are disappearing. All too often it is hard to find new books unless I go on line. I miss going into a bookstore and finding new authors to add to those I already love just by reading the first pages.
(Sharon Mitchell 10:08pm April 30, 2011)
I am a print person who has no desire to start reading E-books.
(Sheila True 10:39pm April 30, 2011)
I just found an ereader app on my iphone. Its a great way to always have a book!
(DeAnna Alegria 10:51pm April 30, 2011)
The Apple devices are great. I find the iPhone a little small for me to read comofortably, but I've been reading Kindle books on my husband's iPad. The problem is, we always seem to want to use it at the same time!
(Opal Carew 11:05pm April 30, 2011)
I love reading paper books. Your book sounds interesting,thanks for giving me a chance to win it.
(Linda Hall 11:51pm April 30, 2011)
sounds like a keeper, added to my list of books to rea
(Julie Barett 10:31am May 1, 2011)
I love both Print and E-book so that I can have the best of
both worlds. Big name authors and authors willing to write
something different :D

I love the sound of your book The King and I but my first
thought on seeing the title was of Yul Brynner waltzing with
Deborah Kerr :D
(Ilona Fenton 1:22pm May 1, 2011)
I do like choices. I have a sony. I have kindle and nook for pc. Love it.
(Lisa Kendall 1:17am May 2, 2011)
I buy print and ebooks. Do not tend to buy self published books except
from already established authors because editing is an issue. Love
having options on types of stories to read depending on my mood.
(Lindsey Ekland 3:46am May 2, 2011)
I am torn because I like wandering the aisles and the feel of the book in my hands but I have also gotten a Kindle and tip toed into the ebook world which is going okay. I like being able to get some new releases in ebook sometimes months before they come out in print cuz I am impatient but I still go out and buy the print copy when it does come out lol I know I'm weird. I am rapidly running out of space for actual real books so I may have to lean a little more towards digital but we'll see ;)
(Cindi Mitchell 5:24pm May 7, 2011)
Registered users may leave comments.
Log in or register now!