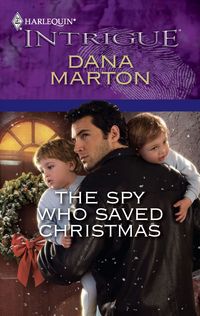 Purchase
The Spy Who Saved Christmas
Dana Marton
Harlequin Intrigue
October 2010
On Sale: October 12, 2010
Featuring: Reid Graham; Lara Jordan
224 pages
ISBN: 0373695020
EAN: 9780373695027
Paperback
Add to Wish List

In one unforgettable moment, Lara Jordan broke all the rules in her play-it-safe handbook and spent an incredible night with Reid Graham, a practical stranger. But before she even had time to bask in her fearlessness, a suspicious fire stole him away and left her pregnant, heartbroken and alone. Until now.

Walking back into Lara's life after two years was never on the operative's agenda. Unfortunately, remaining "dead" was no longer an option once their baby boys were kidnapped. Now, Reid had to convince Lara she could trust he'd sacrifice his own life to bring their children home for Christmas— without admitting the mission might just come to that.
Comments
55 comments posted.
Re: The Spy Who Saved Christmas

Quite the sense of humor you have- "who wants to created spreadsheets and pp presentations in their spare time?" No one I know! Painting is a great hobby. I'll have to check out your work. Personally, reading is my first leisure time love and then knitting.

Your book sounds exciting and full of action. Thanks for the giveaway!
(Karen Gervasi 8:05am October 4, 2010)
Karen, I always get the urge to knit when the weather turns cold. I knit lots of scarves. I badly want to learn how to knit socks.
Dana
(Dana Marton 10:12am October 4, 2010)
I would say my biggest hobby is reading... the more reading the better!!!!! I like to knit too. Dana I did semi succefully made a pair of socks... I am currently working on my second part... When winter rolls around I really really want to go snowboarding.. Not good at it. Spend a lot of time on my butt... But it is still fun.....
(Kelly Mueller 12:46pm October 4, 2010)
I also love painting and my family are eagerly awaiting Christmas...hehe!! I am going to paint my daughter a large landscape for her livingroom for her birthday.

I also love cross stitching and am at the moment in the middle of stitching Christmas cards. I know my family and friends will enjoy them.

Of course, reading is a big hobby and I do that as often as possible and manage three to four books a week!!!

Valerie
in Germany
(Valerie Bongards 1:38pm October 4, 2010)
I read and travel (and read while I travel).
(Anne Muller 1:45pm October 4, 2010)
Reading is my fav hobby, but I also love to draw!
(Colleen Conklin 2:36pm October 4, 2010)
I enjoy reading, drawing, painting, watching movies, practicing yoga,and cooking. I want to learn to crotchet, I've tried,but had problems learning. I'm going to try to learn this artform.
(Leni Kaye 2:39pm October 4, 2010)
Kelly--I'm jealous of your sock success! :-)

Valerie--Wow, a large landscape. I haven't been that brave yet. I'm still practicing on smaller subjects. The Christmas cards sound amazing. Your family are very luck!!!

Anne--I read a lot more than I travel. I LOVE being in far away places, but I HATE getting there. LOL

Colleen--I'm trying to learn to draw better. Someone told me that practicing to draw will make my painting better. Do you have your drawings posted anywhere online?

Leni--Sounds like you're very artistic! I started yoga a few weeks ago. I couldn't go last week and really missed it. I really love how I feel afterwards. How long have you been donig it?
(Dana Marton 2:47pm October 4, 2010)
I love to read. Only tried writing in high school. Watch a little tv at night, but most of the time I'm reading.
(Lena Lee 4:50pm October 4, 2010)
I love to read, knit, crochet & embroider. At the moment I am knitting & crotcheting a patchwork rug.
(Mary Preston 5:01pm October 4, 2010)
I read and play pool for my hobbies/to relax. Also, hang out with my cats. A purring body really does relax you!
(Kelli Jo Calvert 5:17pm October 4, 2010)
I Love to read - wish that could be my job! My latest hobby is renovating my parents house & all the things in it from all my grandparents.
(Diane Sallans 6:26pm October 4, 2010)
How very fortunate you are! Wonderful!
Blessings,
Marjorie
(Marjorie Carmony 6:27pm October 4, 2010)
When I'm not writing or reading I love to scrapbook. Though I can't claim scrapbook as relaxing... :)
(Suzie Thompson 6:54pm October 4, 2010)
Reading and playing golf are my hobbies---love both of them so much that it's hard to find time for work!
(Sue Farrell 7:32pm October 4, 2010)
I have a lot of hobbies. I love to read,crochet,knit,tat,enter sweepstakes and I have several pets as well. I grow poultry for a living so I am at home all the time.
Debby Creager
(Debby Creager 7:42pm October 4, 2010)
Reading is my favorite hobby, whether books or online. I also love going to the beach and taking walks. I've gone through so many hobbies in the past that I'm thinking of cycling through them again. :)
(S Tieh 7:59pm October 4, 2010)
My hobbies include reading, writing fiction, poetry, sewing and home projects and singing. I checked out your website and the art was enjoyable with unique color schemes.
(Alyson Widen 8:45pm October 4, 2010)
I love to cook and to read in order to relax. Something that I would also love to try is ballroom dancing. However, I lack a willing partner.
(G. Bisbjerg 8:47pm October 4, 2010)
I love to read- although I
haven't had as much time
lately; I've started a new job
(and loving it). My daughter
would say I'm addicted to
facebook - especally farmville
& zoo. My reading tends to
the suspense/mystery type --
and for years I subscribed to
Intrigue. Now I buy those at
the bookstore, while my
subscription is the Love
Inspired Suspense. I'm
looking forward to buying "The
Spy Who Saved Christmas".
(Donna Durnell 10:03pm October 4, 2010)
Your book looks great! I love to read and enter online contests. I really wish I could knit, macrame or crochet but just haven't been able to learn. I also love baking so this is one of my favorite times of year!
(Sharla Long 10:10pm October 4, 2010)
I usually read or talk a walk to relax.
(Chantel Williams 10:18pm October 4, 2010)
I love reading even got an e-reader so I could travel lightly; I also knit and crochet.
(Diane Sadler 10:35pm October 4, 2010)
I have done stamp collecting, coin collecting, comic books collecting, reading, gardening,cooking, crocheting...hmmmm. I need to try knitting as a hobby. I haven't done that yet.

Love your books.
(Kai Wong 11:02pm October 4, 2010)
I love reading, dancing when my back isn't bothering me, traveling and spending time with my family as none live close by. Lately I've gotten some beads and have been making book thongs. I love to visit my 95 year old grandmother who still works and plays cards, spends time doing things in her community in her small town.
(Brenda Rupp 11:17pm October 4, 2010)
I'll definately have to read your book, one way or the other!! If you want to have a hobby that works for you, gives you a way to relax, and is fulfilling, you should learn how to knit or crochet. All you need to do in the beginning is start for 15 to 20 minutes in the beginning to get the hang of it until you start to feel comfortable, then you can start with larger time frames. Pretty soon you'll be like me and the other die hards who take their knitting projects with them everywhere in a knitting bag, and knit in the car, and any time they have to wait in line somewhere, or at the doctors' office, or a store, for example. It's so therapeutic and fun to watch the item you're working on taking shape on your needles, and it's more fun when you can give the item to someone you love, and watch their eyes light up with joy when they receive it. My next hobby is to start making items for certain people in need, in memory of my Mother, who passed away. I just need cash flow right now to get some supplies to get started. Then I can get started in that direction. Anyway, the sky is your limit. Do something you find beautiful, and read about it on the internet, or ask your readers if they've done it before. We're here to guide you as friends. Good luck with what you decide.
(Peggy Roberson 12:20pm October 5, 2010)
My hobbies are reading, gardening,
crafts, sewing, traveling, history,a little
bit of everything. Writing, playing
piano, and painting are things I wish I
could do. They take talent which I
have discovered I don't have. I can
still appreciate the results of those
with talent.
I have checked your back list and there
are several books there I plan to read.
I Read the Intrigues and can't believe I
have missed yours. Will fix that soon.
(Patricia Barraclough 12:20pm October 5, 2010)
Thank you for giving me a chance to win your book,I love to read books and crochet, I would like to learn to knit.
(Linda Hall 12:43pm October 5, 2010)
I love reading and playing Monopoly with my kids :)
(Darci Paice 1:13am October 5, 2010)
I'm so glad reading is such a popular hobby! It has always been a huge part of my life. You all gave me some new ideas I'll have to try now. And I definitely won't give up on knitting yet. Those socks will be made!!!! :-)

Wishing everyone a wonderful day!
Dana
(Dana Marton 5:41am October 5, 2010)
Thank you so much for sharing your story with everyone and I would love to paint, but as seeing as a stick figures are about the only things I draw well, yeah. lol
I love to read and I write poetry, these are my main hobbies. I am working out a story and hope to one day be published myself. :)
Best wishes and I hope you reach your 100 more fans soon.
(Chris Jones 9:38am October 5, 2010)
I decorate cakes occasionally. It's an artistic outlet for me. (Sounds kind of funny, but it's true.) I've done a few wedding cakes,and I made a pool table, complete with icing "nets" as the pockets, the same color bed as his real pool table, and tiny little candy pool balls. The cue was a thin, chocolate-coated candy stick. It turned out really well and looked just like his pool table!
(Jan Vautard 10:34am October 5, 2010)
I absolutely love to READ.
(Audra Holtwick 10:41am October 5, 2010)
I love reading , gardering and my kids oh and reading:0)
(Vickie Hightower 12:42pm October 5, 2010)
What are your hobbies? Reading.

What do you do to relax? Sit at the Beach and Read.

What is something you've always wanted to try, something that looks fun to you? Play an instrument.

What's holding you back from trying it? I spend a lot of my time reading fast-paced intriguing books.
(Karen Appleby 3:46pm October 5, 2010)
My hobbies are gardening, flowers, and reading.
To relax I also go to my yard and work or sit on patio and read or watch a good movie.
I always wanted to be a writer and had 3 articles published in local newspaper and have written 2 short stories and have two other stories I need to finish when my life gets back to my "normal", lol.
Love your stories from reading reviews etc. but don't think I have ever read any of your books. Hope I win one this time. Thanks for this opportunity to enter.
(Brenda Hill 4:17pm October 5, 2010)
I love to play poker, read books, watch movies, dance. I've always wanted to try skydiving but just cant get up the nerve
(Mary Lynn Hayes 7:31pm October 5, 2010)
I've never read any of your books before, but they sound amazing
(Jolene Allcock 8:35pm October 5, 2010)
Thanks for a chance to win your book.
(Tiffany Harvey 9:53pm October 5, 2010)
Love to read anything dark, dangerous, paranormal and on and on....your books sound great, I will add you to my list of new authors....from another Book-a-holic!!
(Barb Kettler 11:15am October 11, 2010)
I would have to go with family gathered around the tree to open presents on Christmas morning. I guess that's three- family, tree, and presents. When we can, we make tamales, which are always a special occasion food because they are so time consuming to make (but worth the effort!). Your book sounds exciting.
(Maria Munoz 4:53pm December 12, 2010)
Maria, The Christmas tamale tradition makes so much sense to me. Each tamale is like a little present you get to unwrap.
(Dana Marton 6:49pm December 12, 2010)
Having us all together on Christmas Day; for many years my husband had to work nights including Christmas and it made me very depressed, so I've asked my family to give me this one day a year.
As for baked goods, not really anything comes to mind but we do have a full breakfast in the mornings after stockings are opened: eggs, bacon, fruit, tomatoes, toast and coffee.
(Diane Sadler 8:22pm December 12, 2010)
Diane, I'm with you! Christmas isn't Christmas without the family around. I'm glad you've been able to work it out so that your family is home with you on that special day.
(Dana Marton 11:09pm December 12, 2010)
I love Christmas cards...both sending and receiving. I pin the ones we receive hanging down on velvet ribbons on the wall in our entry way. They become so colorful displayed that way. Folks who visit us during the Christmas season invariably look for their card. I later use the fronts of the cards when wrapping the following year's Christmas packages. Cards are not just left lying around at our house. I also love Christmas carols for they have such an inspiring reaction from folks. What do we bake? Cornbread dressing with chopped up celery and onion and lots of sage. Smells heavenly and tastes the same. Merry Christmas to you!
(Gladys Paradowski 11:46pm December 12, 2010)
I love mysteries and when they're combined with food, I savor them more.
(Alyson Widen 12:14pm December 13, 2010)
I love the Christmas music & we turn it on after Thanksgiving & sing along! I play the piano & it has been a source of joy to me that I get to teach all the kiddies in the family the old Christmas carols. So sweet the little high voices on tune or not raised in angelic song! It's another way to tell the Christmas story. Along with the music, making cookies & fudge ranks right up there. We all get a little over sugared the day of the cooking, but it's like that old I Love Lucy Show where she & Ethel are on the candy line & end up stuffing candy in their mouths. We become a lot more discriminating about what we want to indulge in. A good time is had by all though! Your book sounds like a good read. I love Christmas stories. Merry Christmas & Happy New Year!!
(Jean Merriott 12:58pm December 13, 2010)
Gladys, Christmas cards are a lovely tradition! How wonderful that you are able to reuse them in wrapping the following year. Your gifts must look very colorful.

Mmmmmm.... cornbread dressing!
(Dana Marton 7:05am December 13, 2010)
Alyson, Books and food just seem to go together!
(Dana Marton 7:05am December 13, 2010)
Merry Christmas to you, too, Jean! You paint such a wonderful picture. My eyes teared up when you talked about the sweet little high voices of children.

At our house, it's the same as at yours. When the treats are first made, we descend upon them like locusts, but when the novelty wears off, they sit undisturbed for much of the time. And yet, I can't bring myself to make less. ;)
(Dana Marton 7:08am December 13, 2010)
The two things that mean Christmas to me is being with the people you love, and remembering the Reason for the Season. By that, I mean remembering the real reason for Christmas, and to show a little goodness toward your neighbors or a stranger. Do something nice for someone, and let it come back to you tenfold. As for a favorite dish, since my Mother has passed on, I still make her trademark cookies to this day. I won't be able to be with my family this year since I live too far away, but I will still be making the cookies to share with my husband and company that will come by. That will be my comfort for this Christmas season. Have a Merry Christmas and a Happy New Year!!
(Peggy Roberson 11:12am December 13, 2010)
For us it homemade Cinnamon rolls on christmas morning as a kid I can remeber the smell when I woke and have kept it up for my kids
(Vickie Hightower 6:40pm December 13, 2010)
I would say getting out our collection of christmas decorations, and spending christmas day with my son.
I make a fruitcake from a very old recipe. I use all kinds of dried fruit, nuts, and brandy. It is really good.
(Debbie Penny 8:21pm December 13, 2010)
Christmas cards and a Christmas tree. I'd probably have to add some Christmas music too. I've read the spy who Saved Christmas folks and it's a awesome read. It's one of those books you have to read in one sitting.

Lisa B
(Lisa Boggs 9:23pm December 13, 2010)
My Mother makes a divine steamed pudding - not exactly baked but it's a favorite.
(Mary Preston 4:02am December 17, 2010)
Registered users may leave comments.
Log in or register now!