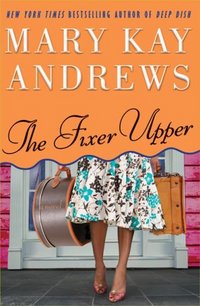 Purchase
Harper
July 2009
On Sale: June 23, 2009
Featuring: Dempsey Jo Killebrew
432 pages
ISBN: 0060837381
EAN: 9780060837389
Hardcover
Add to Wish List

The delightful New York Times bestselling author returns with a hilarious novel about one woman's quest to redo an old house . . . and her life.
After her boss in a high-powered Washington public relations firm is caught in a political scandal, fledgling lobbyist Dempsey Jo Killebrew is left almost broke, unemployed, and homeless. Out of options, she reluctantly accepts her father's offer to help refurbish Birdsong, the old family place he recently inherited in Guthrie, Georgia. All it will take, he tells her, is a little paint and some TLC to turn the fading Victorian mansion into a real-estate cash cow.
But, oh, is Dempsey in for a surprise when she arrives in Guthrie. "Bird Droppings" would more aptly describe the moldering Pepto Bismol-pink dump with duct-taped windows and a driveway full of junk. There's also a murderously grumpy old lady, one of Dempsey's distant relations, who has claimed squatter's rights and isn't moving out. Ever.
Furthermore, everyone in Guthrie seems to know Dempsey's business, from a smooth-talking real-estate agent to a cute lawyer who owns the local newspaper. It wouldn't be so bad if it weren't for the pesky FBI agents who show up on Dempsey's doorstep, hoping to pry information about her ex-boss from her.
All Dempsey can do is roll up her sleeves and get to work. And before long, what started as a job of necessity somehow becomes a labor of love and, ultimately, a journey that takes her to a place she never expected—back home again.
Comments
35 comments posted.
Re: The Fixer Upper

Sandi Shilhanek: Thank you for your thought-provoking commentary.

If you ask me, there's no such thing as empty literary calories. If someone is taking the time and effort to read something, ANYTHING, when there are plenty of other works to read and things to do, then that piece of writing must be filling some sort of need. Or more likely, needs.

They may not be obvious or even apparent to anyone, including the reader. It might be hard to discover and define them. But there's there. And neither ridicule from others nor embarrassment from the reader will make them go away.

If someone picks up a book that's "good for you" rather than what that person really wants to read, what do want to bet it will be put aside for good after the first chapter or two? And even if it's finished, what will the reader get out of it? Nothing. How much did any of us get out writings we hated, but had to read in school? Can we even remember anything about them?

W. H. Auden once said about reading choices: "Pleasure is not an infallible guide, but it is the least fallible guide."

BTW, "the great American novel," or the great any- nation novel, is a poorly-defined term. Nobody can agree upon what it means or which examples qualify. I should know; I have two English degrees. The same would go for "empty literary calories" if anyone took the time and effort to study extensively that which they look down upon.

Happy reading, writing, and blogging!
(Mary Anne Landers 1:14am August 23, 2009)
when people ask me what I read and a respond with romance or fluffy mysteries, you can almost see them snicker, even worse when I tell them I read Harlequin books, but all I say is: to each his own!
(Diane Sadler 8:46am August 23, 2009)
Hi. I definitely think many people think of romance as empty calories. It drives me crazy. Good writing is good writing regardless of genre.
(Maria Munoz 8:59am August 23, 2009)
I don't get any looks now, but when I was a kid it wasn't my family but some of my friends who would tease- I think mostly because the covers made them think that there were no story lines. I have since turned my sister in law and a couple of friends into converts, and I don't get any looks now. I think being around fellow readers has a lot to do with that, but I also think the genre has done a lot of good PR so to speak with authors on the bestseller lists and reports on the affordability of genre fiction more than any other.
(Sara Edmonds 10:05am August 23, 2009)
I know that there are people that believe only books that provoke deep emotions and deep thoughts are the only books
that qualify as literature. I don't read for other people, I read for myself and therefore what I consider to be
great is the only thing that matters.

THE OTHER BOLEYN GIRL was a great read for me, I LOVED every second of it and I have recommended this book endlessly
to everyone who cares for a recommendation. Even when I worked at Barnes and Noble, this would be my staple
recommendation because it had a little bit of something for everyone.

Then there are my other greats, A WALK TO REMEMBER by Nicholas Sparks, because it doesn't matter how many times I read
it I still sob at the same point and continue to do so through out the book.

I do have to admit to being a snob about Stephanie Meyer's Twilight series because I don't like the characters and the
fact that they are so dependent on each other and that Edward is a Beta male. However, I feel I can call this an
empty calorie book for myself because I have read it and I didn't like it and I got nothing out of the experience
except for annoyed. Does that make me a bad reader? Now I have to wonder.
(Meredith Link 11:54am August 23, 2009)
After watching my son's teachers disparage his reading choices I quit worrying about this so much. They hammered on him if he wasn't reading fast enough, or if his selection of books wasn't mainstream enough. They hammered until he quit reading. It's been just recently that he has discovered that escaping into a book is nearly as good as escaping into a video game. He's 24 and amassing a very respectable TBR pile and I'm so proud of him.

Anyone tries to negate my reading choices, they get an earful. Period.
(Cindy Ferrell 12:09pm August 23, 2009)
There are some friends who think of romance in the term you mentioned. But like those who are wishing for ambitious literary reading, others of my friends and family view classics and serious books as inaccessible and undesirable. Personally, I think that people should read what they want. Can't help but notice that because I give my kids pretty free reign on picking up what they like, they have developed into pretty wide-reading bookworms.
(G. Bisbjerg 12:21pm August 23, 2009)
I've heard all the negativity about reading romances, but nobody has ever bothered me about it personally. I read whatever I want.
(Yvonne Hering 12:27pm August 23, 2009)
I have my grandmother to thank for my reading ability. She taught us to read BEFORE we even got into kindergarten, and I read "above my grade level" all the way through high school. We'd get this list of stuff we were supposed to read throughout the course of the year in, say, Sophomore English, and I'd be through with them ALL by the end of October. Of course, that's assuming I hadn't already read them in 8th grade!

Since then, I've read a good portion of what is termed "Good/Great Literature," regardless of country of origin. Some of it I liked and continue re-read. Most of it bored me stiff.

Most of my reading nowadays is romance, mystery/suspense, sci-fi/fantasy, in no particular order, basically whatever is next on the pile. My friends are the same way. (Maybe that's why they're my friends!)

Personally, if it's well-written, I don't care what genre it is, I'll probably read it. Except for grocery lists, of course. Those get a bit TOO involved for me!

Later,

Lynn
(Lynn Rettig 12:42pm August 23, 2009)
Every person has the right to their own opinion, but I do resent the people who look down their noses at romance readers. I feel if they haven't read them they shouldn't critize. My dh sometimes makes snide remarks about what I read but I just ignore it because I know he doesn't read them. If he read them and then said it that would be a different story. One of the guys at work commented on how I just read romance. I said no I also read thrillers, suspense, mysteries and sci-fi. I didn't tell him that those could all be found in romances.
(Joyce Mandle 12:47pm August 23, 2009)
Friends & family know I read just about anything - except self-help, self-improvement books. Sometimes I feel that my book group thinks my suggestions are empty literary calories because there is no "meat" for discussion. But, I feel book group is meant to be fun & our choices should be a wide variety.
(Cheryl Snyder 1:33pm August 23, 2009)
My mother always looked down on my fiction reading; she only read biographies and history type books. A teacher got me started on Nancy Drew in the 5th grade and I've enjoyed fiction ever since. I got my dh into romances and he reads more of them than I do lol. My kids read a bit of everything. Btw, I wouldn't read an Oprah book if you paid me.
(Ilene Pedersen 1:37pm August 23, 2009)
To be "well-read" a person must read a wide variety of books. I devour books. I have read anything from the great classics, to science fiction, to medical journal, and also romance. I think the only criteria for being a great book is that the novel is widely read and loved. End of discussion. Those who look down their noses at the differnt types of books act either out of ignorance or out of guilt for having read and enjoyed something different or with less snob appeal. I got my start reading at the age of 5 and never looked back.I love romance, mysteries, science fiction and a well written "normal" best seller. I don;t care to have people like Orpah push books. Those novels are hyped for the "oh look at me and what I an reading, I am so hip, appeal! Yuck!

Louise
(Louise Roys 1:47pm August 23, 2009)
I get tired of this attitude towards most romance books but have found reading a variety of genres keeps reading fresh for me. Great thoughts Sandi!
(Joy Hoormann 2:32pm August 23, 2009)
I personally believe you can have empty literary calories in any and every genre be it fiction or non fiction. It's more about the quality of what you are reading. Romance is meant to entertain and if it does this with quality writing then those are some very useful calories.
(Desiree Dalton 3:01pm August 23, 2009)
I read whatever I feel like reading! Whether it's a classic or just a romance novel, I love them all. At least I'm reading which is more than i can say of some of my friends!! LOL
(JoAnn White 3:54pm August 23, 2009)
Hi Sandy! Great topic!

Do you that I changed the face of my weekly column in University of Wisconsin-Milwaukee's The Leader because one of my English teachers held Shakespeare in such high regard, but would keep making comments about their being a factory in Canada where they keep cranking out those books implying that they weren't worth reading!

So, to get "even" I started to cover how the face of romance has changed over the years and the different types (category vs. single title), the whole bit.

To me, reading is reading and there are no empty calories.

You probably don't realize it, but romance authors of today do write some thought provoking situations. Anything that gets you to consider what you'd do if it happened to you, is thought provoking.

I've done enough reading to learn in my lifetime (and I still read to learn every time I try to figure out how to do things with my blog), so I like to read for enjoyment.

The next time someone tells you what you're reading is empty calories, point out something that they eat or drink that is empty calories.

When they say that they eat it because it makes them happy or whatever, then say to them, "Well, these books are to me, what [said item] is to you."

They should leave you alone after that, or at least show you a bit more respect.
(Carrie Hinkel-Gill 4:01pm August 23, 2009)
Me and my sister are definitely the readers in the family. We both enjoy reading mangas, romances and YA books. I used to tease my sister about reading mangas as I saw them as comic books for kids. After I read my first one, I was hooked and now I like reading mangas as well. It doesn't matter what you read as you took the time to read it and are enjoying it.
(Jenny Ng 4:19pm August 23, 2009)
Mostly people don't comment on what I read; they know I read strictly romances. I have no family nearby to even care and the friends I have, read books by David Patterson and the like. But who says that what I read is "empty?" I've learned a lot of history from reading historical romances and I'm currently learning about Navajo beliefs from the book I'm reading. I've picked up some self-defense tips from other books and I've seen myself in other characters. I started reading in elementary school and haven't stopped since!
(Trudy Miner 4:33pm August 23, 2009)
My family refers to my romance books as my smut books, they of course are only teasing. I'm not shy about telling anyone about books I read or enjoy. An author of romance works as hard as any other writer. A good read is a good read, no matter the topic.
(Theresa Buckholtz 4:54pm August 23, 2009)
This topic always gets a spirited discussion going. The last person that turned up her nose, to me, about reading romance said she hadn't read one in 50 years! Does she have any idea how much "romance" books have changed in 50 years. I suggested in a nice way she try one again. Personally if what you read pleases you that is all that counts. I do dislike that so many people put down romance books. To me, they are a pleasure to read, I love HEA and seeing how the couple got there. The one I just finished was very intense but still a romance. There are such talented authors out there writing to give us pleasure in reading.

One of my daughters has read several of the books from Oprah's recommendations, she enjoyed them. The one I read that she gave me was so depressing, at least to me, that I may never pick up another one. Someone mentioned that they don't like people pushing books but I think Oprah has encouraged people to read which is a good thing. What I really want to know is what she has against a book that has a HEA and makes you feel good while reading it? I will just keep reading what I enjoy and hope all the rest of you do also.
Take care,
(Donna McClure 6:44pm August 23, 2009)
My mom was an avid reader and inhaled anything and everything that came thru her hands. I must have inherited that gene cause I'm the same way. I don't care much what people think of what I read. If they don't like it, that's their problem and they can just get over it. Besides, my friends and I like to swap books, so usually, anything goes! Besides, empty calories in the brain, chocolate in the tummy. It's a great combination and kinda equals itself out, don't ya think? ;)
(DeeAnn Szymanski 8:20pm August 23, 2009)
My friends look to see what I'm reading. If it's within their tastes, I recommend. I really try to fit the book to the reader.
(Alyson Widen 8:49pm August 23, 2009)
I read just about any genre. My favorites are romantic suspense. From the comments on this blog I agree with the general consensus that the only empty calories are reading a book you intensely dislike and get nothing from reading. I have never found that in anything I chose to read. One of the books I stopped reading in the middle was not because it was empty calories, but because the subject was so intense I had to stop reading. If I ever run out of reading material I will probably begin where I left off.

When it comes to Best Sellers I enjoy seeing a book I read make the list, but it is a plus if I read it before it made the list. Just because something is on the best seller list does not mean the book will interest me.

I've read only one of Oprah's recommendations. I saw the movie first. It is one of the first times I've seen a movie before reading the book and saw that it followed almost exactly except that the last two chapters took place after the end of the movie.

Lots of men read romance. Most of them just don't advertise the fact. Many of the male readers will join in the laughter at readers of romance just to appear macho.

I could care less. I read what I like. If I have to explain to someone it is their problem.

Ray
(Ray Getzinger 9:42pm August 23, 2009)
My family and friends don't share my interest in romance, but they wholeheartedly support my interest. Hub always asks if I need anything from the bookstore when we're near the mall and my daughters ask if there are any books I want if they're going shopping w/out me.

I don't try to read what we're told we should. I like what I like. Period. And that's what I'm going to stick with!

Great topic, Sandi!
(Laurie Damron 9:52pm August 23, 2009)
Most of the people I know don't understand what I see in the books I read because they aren't "realistic" or they don't do anything for the brain. And tell them that's not why I read them. I read them to get away from reality and I work my brain enough at work and with other things that I need something to relax it and the rest of me so that's why I read romances,,,,,,,,,,and I just plain enjoy them. It's not important what you read, as long as you read something. Most of the people I know don't even read a newspaper and that's sad.
(Debbie Beverley 10:03pm August 23, 2009)
I work at a library and there are still a
lot of people out there who think
romance works are "empty calories".
Unfortunately a goodly number of
those are my fellow employees. I am
the only one who admits to reading
romance. The other's claim they like
suspense or something more literate.
Most of what they read still falls in a
romance category, but they don't
realize it. My daughters gave me a
hard time for a while about the
romances I read. My son just rolls his
eyes. I get books on CD and my DH
and I both listen to them (we take
turns since he drives more than I do).
I've given him historical romance and
romantic suspense. He was pleasantly
surprised by the quality of the writing.
I don't just read romance. I read and
listen to everything except erotica and
horror. We just finished Ken Follett's
PILLARS OF THE EARTH and WORLD
WITHOUT END (both fantastic!) and
now he is listening to one by Brad
Meltzer and I'm listening to RUMOR
HAS IT by Tami Hoag. I'll listen to
Meltzer's but Hoag's is a straight chic
lit romance and I know my DH won't
care for it. Yes some of it is escapism,
but we all need that once in a while.
Look at what people are watching on
TV.
(Patricia Barraclough 11:19pm August 23, 2009)
Sandi, another great topic. I read lots of different books and I don't consider any of them empty literary calories. I'm sure The National Enquirer could care less about being called non-literary, they must be laughing all the way to the bank, since I think they have a pretty strong reader base. So even tho' everyone say's they don't read it -- lots of somebodies are. I remember hearing of a university professor wrote mystery books but since this type of writing would be considered not worthy by her colleagues she used a pseudonym. Oh please! Read what you like. Life is too short.
(Pam Nolan 11:21pm August 23, 2009)
I am a ready of everything
that has written words.... I
don't consider anything I read
empty literature. But I know
lots of people who do consider
them empty literature. But
when I pat attention, no
matter what it is I read, I
learn a lot. A sentence or a
comment will send me to the
internet looking it up and
learning why it was used and
what it really means.
(Melissa Tackett 7:01am August 24, 2009)
Hi, I come from a family of readers, my Mom loved books and had a big book case full you'll always see her with a book in her hand I grew up with books and love them and since the time my 2 girls were babies I read to them, when my oldest was 2 she would get a book and sit down and make up her own story to go with each picture, she would have you or anyone that came over sit down with her so she could read the book to you. Now at 14 years and 15 year old's they both have their own book cases and lots of books, my husband too is a book lover. I think it's very important to teach kids when they are so young to enjoy books.
Penney
(Penney Wilfort 9:52am August 24, 2009)
I have the right to read, without defending, any genre I wish. Anyone has the right to voice criticism. I pay them no heed.
(Chelsea Valleau 10:17am August 24, 2009)
I've always had to defend my reading choices to my family--except to my father, whose historical novels were the books that brought me to love history and thus historical romances--though I admit that I generally get more out of the novels than the romances in the way of history. One sister-in-law disdains the feel-good of romances in favor of "family" books like sagas. I rarely raise my reading choices with friends anymore. I just keep reading what I like. Oh yes, I've also ended up with some very weird books as gifts from my other sister-in-law, usually books that were on sale and featured vampires and the like, a category that I eschew since seeing a biography of Vlad the Impaler, a model for Dracula. Definitely "yuck" material in my book.
(Sigrun Schulz 3:04pm August 24, 2009)
Excellent topic, Sandi -- as usual. . .

I loved some of the comments, like the one about reading the grocery list. :-)

My husband thinks my books are empty calories -- "trash", as he puts it. Last time he made that comment I threw one at him and told him until he read one and knew what was in it he was not allowed to comment on what I read. I actually said to him, "At least I exercise my brain, instead of sitting and staring at the boob-tube all evening." He didn't like that very much at all, and actually has held his tongue about my books since then.

I'll read almost anything that falls into my hand, except historicals and anything war-like. Gore doesn't bother me, but violence does. I guess I'm just weird.

I usually have a cover on my books. Not so people can't see "what" I read, but so my husband can't keep track of "how many" I read. ;-)
(Donna Breitkreuz 4:30pm August 24, 2009)
I am a reader. My family is a family of readers. There were no books considered empty calories in my family. If you read, you were normal!!! What a shock then, to come to the real world and find that there are more boob toob viewers than readers. It was also a shock to encounter people who had opinions of certain genres (the empty calorie literature), and looked down on those who did not read the classics. I read what I want. To do otherwise is to take away my freedom to choose and to do as I wish. So bleah to those who think otherwise!!!
(Anne Harris 8:46am August 25, 2009)
I'm a reader and there are no books considered empty calories with me. I read a little bit of everything, but romance books are my favorites. Since I've been entering contest, I've started reading books that I wouldn't normally be attracted to, and have found them to be interesting. Thanks for the giveaway!
(Brenda Rupp 1:19pm August 25, 2009)
Registered users may leave comments.
Log in or register now!