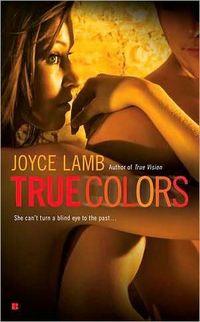 Purchase
She can't turn a blind eye to the past...
True #2
Berkley Sensation
January 2011
On Sale: January 4, 2011
Featuring: Alex Trudeau; John Logan
384 pages
ISBN: 0425240355
EAN: 9780425240359
Mass Market Paperback
Add to Wish List

Alex Trudeau has everything she ever wanted. She takes pictures for the local paper, she's rescued a family of mutts, and hot police detective John Logan has finally asked her out. But then a near-death experience unearths an intense psychic ability she never knew she had…
John Logan moved to Lake Avalon, Florida, to escape a lifetime of hardship. When his darkest secret comes to town with revenge in mind, Logan lands the woman of his dreams in a serial killer's crosshairs…
With their lives on the line and Alex's hallucinatory flashes dragging her deeper into the twisted mind of a maniac, Logan and Alex face the ultimate test. The tension is electric, but to survive they'll have to look more than skin-deep—they just might not like everything they find…
Comments
65 comments posted.
Re: True Colors

Sounds like a great book. Romance but also very intriguing and suspenceful!!
(Dawn Staniszeski 9:31am February 13, 2011)

(Kim Adsit 10:00am February 13, 2011)
I am so out of the loop!! Where I live, I can only pick up 3 tv channels, and those are out of Canada, so half of the time, it isn't even worth turning on the television. I haven't seen anything decent in quite a while, so I mostly listen to the radio, do my volunteer knitting class, and read. What a life, huh? Your blog did fill me in on what I've missed, and your latest book does sound like the perfect thing to fill in the rest of the blanks. Thank you for the perfect morning wake up!!
(Peggy Roberson 10:07am February 13, 2011)
I loved Farscape also. I wouldn't tell my sfifi friends all the romantic feelings & thoughts the shows gave me. The daydreams that show gave me were great. I thought i was the only one who noticed...
(Felina Pence 10:14am February 13, 2011)
Loved your True Colors and True Visions. When will Sam's story be out? I can watch that episode of Buffy over and over again. I also like Oz seeing Willow from afar and falling instantly in love, and how this built over several episodes until they finally met.
(Maria Munoz 10:21am February 13, 2011)
I truly am not using Buffy/Angel as my opinion because you referred to it,when I read the tweet those series immediately came to mind. I was actually going to go with Spikes true love for Buffy(that I feel he never even fully accepted himself-it was a constant internal struggle). The same for Buffy,I felt she loved him also,but was either afraid to 'let go' of Angel or just scared of giving her heart again-so she made empty excuses as to why they could never be. We heard a glance of Spike's true feelings in the musical episode(I loved his song!). When Buffy would use Spike as a confidante(ie:her alley confession about being in Heaven),and when she was down/needed to getaway-it always led towards Spike. When he used the medallion in the end and told her he loved her,although she didnt say it back,you just knew. As sad an ending it was, I think Spike was at peace giving his life for the woman he loved,but truly could never have a life with her.
(Kim Adsit 10:25am February 13, 2011)
You said you like one of your romantic couple, to be pushed to the limit, to do something dramatic for the other. I like exploring the idea of how long does a person wait, even for love, when facing rejection. How long before "ok, that's enough" kicks in. As I myself have said "there are somethings you just can not do to me, not even for love." Exploring that line, where one changes to the other is interesting. Plus how do they handle that line, sulk off to nurse their wounds, start all over again, so many choices.
(Felina Pence 10:34am February 13, 2011)
This sounds like the king of book that you can get lost in. I can't wait to read it. Sounds great.
(Beverly Slattery 11:13am February 13, 2011)
the idea of the book sound great and the cover is a knock
out hope to see it more
(Desiree Reilly 11:21am February 13, 2011)
Joyce,
Thank you for sharing your book with us today.. I have to admit I never was into Buffy.. Just never felt it... I do love paranormal romances it is almost all I read.. I think my most romantic scene has to be from the Notebook.. Darn movie made me cry way to much!!!

Thank you for a chance to read your book.
Kelly
(Kelly Mueller 11:35am February 13, 2011)
Joyce, I haven't really watched any of the shoes you've listed (but the one
episode of McSteamy's introduction to GA - Yowza!) but I think your books are
fabulous, so I'm glad they inspired you!! Congrats on all your success!
(Virna De Paul 12:14pm February 13, 2011)
I cannot comment on TV relationships because we have not had (by choice) a
television in over thirty years. We prefer to read. There are plenty of fictional
romances to inspire/or not available today. Could I choose one--not really.
There is always a new one to check out and with advertisement breaks--hoorah!
(Sandra Spilecki 12:28pm February 13, 2011)
Castle and Becket are one of my favorite couples, too---I also really like his mother and her adventures into love life. What about the couple on Burn Notice---I think they are pretty hot, too.
(Sue Farrell 12:31pm February 13, 2011)
This looks like a trilogy that I would enjoy reading. Thanks for introducing it and yourself to me today...
(Colleen Conklin 12:39pm February 13, 2011)
True Colors sounds like a interesting book.
(Anna Speed 12:40pm February 13, 2011)
Of the shows you mention, I only know Buffy the Vampire Slayer and it was the layers of meaning to dialogue, the humor, and the emotions of the characters that drew my attention and kept me riveted.

TRUE COLORS sounds like an exciting read and I am curious about how the heroine would handle her "gift". It does sound like a difficult one to bear.
(G. Bisbjerg 12:40pm February 13, 2011)
I've been wanting to watch CASTLE and have heard good things about it.
I'm blanking on TV romantic relationships. But, movie-wise, I loved the
scene in AN OFFICER AND A GENTLEMAN where Richard Gere carries
Debra Winger out of the factory.
(Mona Garg 12:44pm February 13, 2011)
Hi, everybody! What GREAT comments! This is why I love, love, love romance readers!

Dawn: Thanks for dropping by and commenting!

Kim: Hi! Are you there? Hello? Kim?

Peggy: How do you live on 3 TV channels? I can't even imagine. Yet, it sounds perfect for a writer like me who's very easily distracted. If something is shiny, it'll entertain me for hours.

Felina: Woo hoo!!! A fellow Farscaper. I know exactly what you mean. That show ruined me for days. I would stay up until 5 in the morning watching episode after episode on DVD. I was lucky that I watched it that way, cuz I would have gone nuts having to wait to find out what happened next. The John-Aeryn romance, to me, is one of the best ever.

Maria: Thanks for the True love! : ) Sam's story is scheduled for December. I'm eager for it to come out, cuz it's my favorite among the Trues. It's now called True Shot, by the way, instead of True Calling.

Kim: There you are! Whew, I thought we'd lost you. I loved the Spike-Buffy relationship, too. The contrast between the innocent Buffy who fell for Angel with the broken Buffy who fell for Spike was incredible. And the fact that I could root for Spike-Buffy when I was so devoted to Angel-Buffy kind of blew me away. My all-time favorite scene with Spike and Buffy was when Buffy was sitting on the porch steps after learning her mother was ill, and Spike shows up with the shotgun, determined to end Buffy once and for all. But then he sees her stricken by grief, and he puts the gun down and sits next to her to console her. I loved that!!! He set aside his own anger and angst to comfort her. That was true love, to me. Joss Whedon is a writer god.

Felina: Hello again! Excellent point. I'm not much into it when couples hurt each other repeatedly then keep going back to each other. There gets to be a point where enough is enough. How can you possibly be happy with someone who repeatedly breaks your heart? To me, finding your true love also
(Joyce Lamb 12:48pm February 13, 2011)
Hey, it's Joyce again. Apparently there's a word limit on comments. Doh! Here's the rest of that string:

Felina: Hello again! Excellent point. I'm not much into it when couples hurt each other repeatedly then keep going back to each other. There gets to be a point where enough is enough. How can you possibly be happy with someone who repeatedly breaks your heart? To me, finding your true love also means finding a way to accept that person for who he is without trying to change him. I mean, you should fall for who he IS, not who you want him to be, right? There are so many levels to love. Which, for a romance writer, is a wonderful world to explore.

Beverly: I would love for the Trues to be king of the world! : ) Like Rose and Jack in Titanic, though, not like James Cameron when he won the Oscar. : )

Desiree: I know! I love the True Colors cover. Doesn't the heroine look like a young Heather Locklear?

Kelly: Isn't it funny that Nicholas Sparks insists that he doesn't write romance novels yet the romances in his books are among the most wrenching? I suppose he can get away with saying he doesn't write romance cuz his stories generally don't have happy endings. But, still, great romances dominate his books. He needs to get over it. I can guarantee he'd have a fabulous time hanging out with romance writers. : )
(Joyce Lamb 12:51pm February 13, 2011)
Virna: Only three months until Chosen by Blood! Woo hoo!!! Thanks for stopping by. You rock!

Sandra: I'm impressed when people can live without TV. I would definitely read a lot more. And, oh my, I could never begin to list all the romances in books that have inspired me through the years. In fact, I was tempted to try that as a blog topic, but the choices were too overwhelming. Happy reading!

Sue: I know what you mean! I love all the relationships on Castle. They're so very well done, even the friendship between Esposito and Ryan. And the drawn-out romance between Castle and Beckett isn't making me as impatient for them to get together as similar TV couples in the past. I think it's cuz I'm really enjoying the subtle baby steps they take each episode.
(Joyce Lamb 12:51pm February 13, 2011)
I don't watch alot of tv, but I did watch lost. The scenes with Kate and Sawyer, were always really good.
twoofakind12@yahoo.com
(Debbie Penny 12:52pm February 13, 2011)
Colleen: I really enjoyed writing the Trues. It was sooooo fun to explore the sisters' psychic abilities.

Anna: True Colors was certainly interesting to write!

G. Bisbjerg: Yes, Alex has a tough time with her "gift," the toughest time of all the Trudeau sisters. Being inside a serial killer's head is NOT fun. Some of the book was hard to write, because it gets pretty dark and twisted.

Mona: Oh, yes, the Officer and a Gentleman scene. I love that one, too! Who wouldn't want to get literally carried away by our true love?!? I'm going to have to go on a diet before that can happen, though. Or maybe I could carry him off. : )
(Joyce Lamb 12:57pm February 13, 2011)
Debbie: Oh, I know!!! I loved the triangle with Sawyer and Jack and Kate. And they were all such wonderfully drawn characters. I always rooted for Sawyer and Kate, though, cuz they were such lost souls and so perfect for each other. And, well, Sawyer without his shirt on ... Who could resist? : )
(Joyce Lamb 1:01pm February 13, 2011)
I am just getting into vampire books, haven't read yours yet, looking forward to it.......thank you. Joanne

Oh I lied, I have read some.....Twilight, all of them and one other Vamp book.........but I do like them......
(Joanne Bozik 1:25pm February 13, 2011)
I do love Castle and Buffy. There is another scene in "Bones" with FBI Special Agent Seely Booth and Forensic Anthropologist Temperance Brendon (aka Bones). Booth and Bones were confronting a federal judge on a murder of the singer. The judge insulted Bone's intelligence and Booth couldn't do anything to defend Bones without being suspended. Bones went ahead and punched the judge twice and he fell down the stairs. Booth commented to Bones, "You are so hot. I have been meaning to do that."

It definitely takes a girl to take charge of the situation.
(Kai Wong 2:18pm February 13, 2011)
Sounds like a great book, can't wait to read it.
(Mary Smith 3:03pm February 13, 2011)
Buffy and Angel, I loved their relationship and the back and forth.....of what to do save the world or save the Love.
(Barbara Ryan 3:21pm February 13, 2011)
Hiya Joyce! Looks like I may have to start watching Castle...right after I finish your books! : ) Thanks for being here and sharing!
(Katie Bryan 3:27pm February 13, 2011)
I love the relationship between Jack and Liz on 30 Rock. They have chemistry, but it's not a romantic relationship and according to Jack it's a mentorship. I love how Jack gives Liz great romance relationship because she's so clueless.
(Jane Cheung 3:30pm February 13, 2011)
Alas, I rarely watch TV these days except for the news or the occasional movie. My own preference for fun on screen interactions is clever quips with some rivalry thrown in while a relationship evolves over time.
(Carol Drummond 3:36pm February 13, 2011)
My preference is to read - so, I rarely watch tv anymore...
(Sara Brockunier 3:39pm February 13, 2011)
I love to read instead of watching TV. Your book sounds interesting. Thanks for giving me a chance to read it.
(Linda Hall 4:03pm February 13, 2011)
I love LOST, Buffy and Castle. I pretty much like all of the Joss Whedon shows. Buffy, Angel, Firefly etc. I like the way he writes characters and especially relationships. He writes so the characters have great banter between them. Snarky, sarcastic and multi-layered dialogue. LOST had just as genius when it came to writing relationships.
(Stacie Deramo 4:03pm February 13, 2011)
Farscape was a never miss for me. I read, but I'm also a TV freak.
(Lisa Kendall 4:27pm February 13, 2011)
Gotta love Castle. This is one I never miss. I even often
rewatch it or watch the reruns.
(Lisa Richards 4:33pm February 13, 2011)
Hi Joyce, I loved Cold Midnight and can't wait to read the books in your True
Trilogy! Thanks! Shelly Ash
(Shelly Ash 4:38pm February 13, 2011)
Someone mentioned 'Lost' already, but the heat between Kate & the delicious bad-boy Sawyer were wonderful.
(Mary Preston 4:48pm February 13, 2011)
Yeah for Castle - it's such fun! Besides "sizzling romance" is always a good thing.
(Diane Sallans 4:50pm February 13, 2011)
I usually don't watch T.V. so I have never seen your shows. I do enjoy reading and look forward to your new sexy book.
(Kathleen Bianchi 5:10pm February 13, 2011)
more good reading YIPPY!!!
(Melisa Clark 5:20pm February 13, 2011)
Enjoyed your blog. Sounds like a great read.
(Sheila True 5:59pm February 13, 2011)
Good subject! My favorite TV couple was Maddie and David on "Moonlighting".
(Renee Pajda 6:08pm February 13, 2011)
Oh yeah! I agree with all of your choices in heros. My fave's too.
(Lina Gardiner 6:16pm February 13, 2011)
Sounds like a great book!!
(Brenda Rupp 6:23pm February 13, 2011)
What a great blog article! I'm completely behind in my Castle episodes, must catch up!! Also, I honestly haven't read any of your books before, Joyce, but I'll be next in line to grab a copy. They sound like really great reads! =)
(Amanda P 6:28pm February 13, 2011)
I love paranormal romance. Would love to read this book.
(Tabitha Monroe 7:18pm February 13, 2011)
I don't watch too much on TV I'm usually reading. But I did enjoy Buffy and Angel also Moonlight when they were on.
(Diane Sadler 7:46pm February 13, 2011)
Hello again! So cool to see so many readers tuning in!

Joanne: I haven't tried the Twilight books yet. Not sure Bella and Edward could outdo Buffy and Angel, though I love the whole glowing thing I've heard about.

Kai: Oh, yeah, Bones! I love that show, too. What I love best is that David Boreanz's character is so different from the broody Angel in Buffy. And, wow, when he takes his shirt off … I'm sorry, what were we talking about?

Mary: I hope you get a chance to read it!

Barbara: I'm so glad I never have to choose between love and saving the world – at least not yet.

Katie: I'd prefer you get your own book done so we can talk about that here! : )
(Joyce Lamb 8:26pm February 13, 2011)
Jane: I'm right there with you, Jane! Liz and Jack crack me up. And 30 Rock is such a smart sitcom. I like the Michael-Holly romance on The Office, too. Who knew it would be so darn sweet?

Carol: I'm a sucker for banter, too. That was one of the things that kept me tuning into Moonlighting way back when I was, oh, 3 or so. ; ) Yeah, sure, I was 3 then. Uh huh.

Sara: I admire your ability to ignore the TV. Wish I had that kind of resolve!

Linda: I would probably read more than watch TV if I didn't spend all day looking at a computer monitor. My peepers get tired. (Yes, I'm just making excuses now.)

Stacie: The only Joss Whedon show I couldn't get into was Dollhouse. I'm not sure why. And, oh, I love the snarkasm, too. I first got hooked on snarkasm when the movie Heathers came out back in the late '80s. That movie rocked!
(Joyce Lamb 8:40pm February 13, 2011)
Isn't it funny how romance is the reason for soap operas? Of course there's the social issues and the heartbreaks and the deaths, but under all of it most of the bad guys are at their best when they have their soul mate by their sides. Just imagine all the times they've come back from the dead to be with their soul mate, only to find they're just a little late and he or she is married to someone else or pregnant with someone else's baby. It's classic no matter which show you watch.
(Christina Harrison 8:42pm February 13, 2011)
Lisa Kendall: I miss Farscape as much as I miss Buffy. I've even gotten into reading the Farscape comic books, which are actually pretty good.

Lisa Richards: I love rewatching episodes of Castle, too. It's fun to pick up on stuff I missed the first time. And, well, I could watch Nathan Fillion read the phone book.

Shelly: Thanks for Cold Midnight shout-out! : )

Mary: Yes, the Sawyer-Kate heat was amazing. Maybe that's why Sawyer often looked like he was sweating. Interesting how some guys still look so hot when they're sweaty. I want one of those!
(Joyce Lamb 8:50pm February 13, 2011)
Hi Joyce. I really enjoyed Cold Midnight and True Vision...both are excellent books!!! I don't have any interesting romance-inspiring scenes to contribute because I don't get a chance to watch much TV. I just enjoy the scenes that writers such as you create for us to read about!!
(Lisa Evans 8:51pm February 13, 2011)
Diane: Funny you should mention "sizzling romance." That just happens to be the tag line on my Web site. Or maybe you already knew that and are pulling my leg! : )

Kathleen: True Colors is pretty sexy. There's a nice little side benefit of Alex's psychic ability that appears during her lovemaking with Logan. So hot!

Melissa: Yippee squared!

Sheila True: Love your last name. It's almost as if the True trilogy is just for you.

Renee: I just mentioned Maddie and David! Great minds. Moonlighting kinda lost it for me once they got together, though.

Lina: Hey, I know you. : )

Brenda: I hope you get a chance to read it.

Amanda: You definitely must catch up on the Castle episodes. The one I wrote about is one of the best ever.
(Joyce Lamb 8:56pm February 13, 2011)
Tabitha: I love paranormal romance, too. I desperately wanted to write it but also wanted to stay away from what others already do so well, such as vampires, shapeshifters and werewolves, oh my. That's why I went with the psychic thing. Plus, I was too lazy to create a whole mythology to go with the vampires, etc. The Trues are grounded in this world.

Diane: The most anxious summer I've ever spent was the summer that followed the season finale where Buffy killed Angel. I could not wait for the season premiere. Yes, I really am that much of a dork.

Christina: You are so right! I used to think I would be a soap opera writer someday. And I guess I kinda am. Let's see: Amnesia? Check. Brought back from the dead? Check. Love triangles? Check. Hmm.

Lisa: Thanks for the Cold Midnight and True Vision love. : ) I hope you get a chance to check out True Colors. It's super dark and twisted, if you like that kind of thing.
(Joyce Lamb 9:04pm February 13, 2011)
I agree that Castle invites the writer, Nathan Fillian, to fill the space between the lines like reenacting the crime scene. I like the psychic ability reading a person's past to fill in the reasons for the resulting behavior and the heavy weight of baggage lugged around for years.
(Alyson Widen 9:38pm February 13, 2011)
I use to watch both Buffy and Farscape. I currently watch Castle. I agree that the relationships on those shows were/are great.
(Ginger Hinson 10:03pm February 13, 2011)
One Hero I remember fondly is Sam Beckett from Quantum Leap.
I loved that show. Sam is separated from his wife, and bouncing about through time, correcting problems that went wrong with other people. I thought it was a bad ending that, instead of re-uniting him with his wife, he apparently continutes to correct other relationships off screen. I just wish the producers would make a reunion show for Quantum Leap, and we find out what happens to the cast.
(Ann Garland 2:00am February 14, 2011)
This book sounds like a very exciting read. Please enter my name for (hopefully!) a chance to win a copy!!
(Connie Fischer 8:31am February 14, 2011)
I enjoy any mystery novel with romance intertwined; of course with lots of underline sexual tension.
(Diane Chenier 10:05am February 14, 2011)
I no longer watch TV so I can't comment on Castle (tho I did see a video of their kiss, loved it). I did watch Buffy though & I own FARSCAPE....how awesome those shows were. I love how they reversed the roles w/ Aeryn & John. One of my all time fave shows & I love that fans got them to end it properly & not leave us hanging!
I'd love the opportunity to read your books...I know I'll be looking for Found Wanting & your True Series sounds really good too...
(Ivy Truitt 10:36am February 14, 2011)
There are only a few shows i watch on t.v. now but one show i dare not miss is the Vampire Diaries this was totally not something i thought would interest me but my husband talked me into watching it and i got pulled in !! Love the characters and especially the bad boy brother Damon that is secretly in love with his brother Stephan's girlfriend. I haven't watched the other shows but i do love this one you should try this show which i recomend watching from season one (they're in season 2) that way you get the true appreciation for the story: ) I would love the chance to be a winner for these books they sound wonderful !!
photoquest(at)bellsouth(dot)net
(Lori Barnes 11:02am February 14, 2011)
Don't really watch much tv...but there does seem to be a lot of vamp books and television shows!
(June Manning 11:12am February 14, 2011)
Hi! This is Joyce, who's thrilled to see more comments! : )

Alyson: Wouldn't it be nice to have such a psychic ability? You could find out why other some people are boneheads. : ) I wouldn't want the same ability as the heroine, Alex, has in True Colors, though. It's a bit more hyped-up than I could handle. Although it does have its fun moments.

Ginger: Another Farscape watcher! Woo hoo!!! I'd have a tough time deciding which show I would love more to see return. Buffy seemed to have a good, satisfying ending. I guess Farscape did, too, but there were some unfinished storylines, such as what the heck Aeryn was up to when she left John then returned with Scorpius. That seems like some rich territory to cover story-wise.

Ann: Oh, yes! Sam Beckett! And I love, love, love Scott Bakula. He was recently on the show Chuck playing Chuck's dad. I was so happy to see him. I hear his series Men of a Certain Age is good, too, but I haven't seen it. Yet! I agree that the ending of Quantum Leap was disappointing, though it was good to know lots more relationships were going to be repaired.
(Joyce Lamb 3:47pm February 14, 2011)
Connie: Consider yourself entered. : )

Diane: Me, too! Sexual tension is everything when it comes to romance. To me, that's what makes the couples mentioned here so interesting and lovable.

Ivy: You own Farscape?!?! Me, too. My favorite episodes never get old. One of my favorites is the one where everyone switched bodies. Crackers Don't Matter, I think it was called. That one cracks me up every time. Maybe I'm just easily entertained. : )

Lori: A friend of mine recommended Vampire Diaries, too. It's on my list to check out. Thanks for the nudge to start from the beginning!

June: There are indeed a lot of vamp books and shows. You'd think people would get tired of the vampire storyline, but it's done so well on shows like Buffy, True Blood and Vampire Diaries – and with twists that make each story unique. I bet vamps are going to be around for a loooooooong time.
(Joyce Lamb 3:48pm February 14, 2011)
I missed getting to stick with the chat- (It's hard without a computer-I just have a regular phone),hopefully soon,getting a chance like this amazes me because it hits me-holy...Someone famous I love is 'talking' to me it's surreal-and Thank you 100x's over-I had a great V-DAY after all&hope you did too,I look foreward to more of this
(Kim Adsit 8:01pm February 14, 2011)
Registered users may leave comments.
Log in or register now!