Sara Reyes | Do You Glom?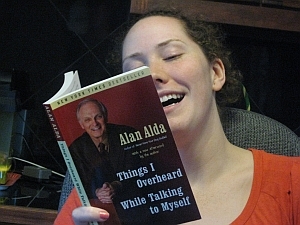 Gwen Reading
I've been thinking about the characteristics or traits of a bookaholic recently. Maybe it's time for introspection or I'm bored, no matter, I've been thinking about "stuff" and one of those is why do I call myself "addicted to reading." I am. I read every thing. I read the paper. In today's world that might be old fashioned but I enjoy fighting with the paper to get to the next part of an article. And it's always a battle for me. The paper NEVER cooperates and folds nicely on the creases. I also read abandoned brochures. Sure some day I might buy that lake property in Arkansas, it could happen. I read any magazine left around unless it's too grimy or in a doctor's office. I never read magazines at a doctor's office because I've got the theory stuck in my head the previous readers were sick and I'm sick enough thank-you-very-much. But I do read magazines when I'm waiting at the stylist. Those handlers when I think about it have just as many sick germs as the doctor's office. Hmm. Well, most days while I wait I read my phone because it has email and NPR on it, so I can connect. Anyway, the point is I read obsessively and all the time. Enough that I've labeled myself as addicted to reading.
But one of the most misunderstood descriptions of an addicted reader is glomming. Non-readers really don't get it. First, my definition of "glom" is the search for ALL published material by an author or within a series. Glomming is the act of finding and acquiring said material. Glommer is the person who performs the search. I've only glommed for twenty or so authors in my life. Or at least the life I remember. One of my first glomming incidents was discovering the world of Pern and dragons and obsessively collecting all the Anne McCaffery Pern books. I even picked up her non-dragon books and was delighted. Another author was Mary Stewart. She may have been my very first, beginning in junior high. Wow, she wrote of a sophisticated world that was a universe away from Lancaster County, Pennsylvania. Filled with spies, murders, intrigue and international European settings. I loved her. Then she wrote Merlin books and lost me. Ah, well. It wasn't my time for Merlin, maybe later. After my European adventures I discovered Jane Aiken Hodge. Ah, European, but not just England. She tossed in France, Russia, Poland, Vienna, and Savannah. She made European history in high school come alive for me.
More recent gloms have included Lois McMaster Bujold and Janet Evanovich. the Bujold Vorkisian universe and characters are ones I revisit yearly, almost as a ritual. The Evanovich I sold. Sometimes books hold up and sometimes they do not. It's sad when you go through a glomming adventure, finally collect all the books and then settle in for a good solid week of reading and then feel left down. It happens. But it's more the case you'll glom and have a wonderful adventure of reading a new-to-you author who delights with every book, or at least makes you feel it was worth all the effort.
Recent glomming has been made so much easier with the Internet. Ten years ago you discovered new authors from reader groups, yahoo or listserves. That's how I found Mary Balogh, Jo Beverly and Mary Jo Putney. I had some of their books but never realized they had whole series! Then groups like book store junkies formed of like-minded people who could help you find and price books. I remember being SO excited when a package would arrive filled with books from a far away state or country. It was like Christmas and birthday rolled up into one. But no one in my family "got it." They seriously could not understand my excitement over plastic wrapped used books. Better than an Amazon package because those packages contained something that a glommer treasured, a book or two to complete a set.
Today I have a good friend who will hunt down books for me, and I love her! Amazon and other sites will help you find entire backlists easily and quickly and give you and idea of what they're worth. But there is still the joy in the hunt. Of wandering into a used book store or garage sales with a book table or boxes or into a thrift store and finding that one book you've been looking for and not having to spend $30 to acquire.
But things are changing, now old backlists are being issued as Kindle versions so that search may not be so hard. And the annoyance of finding the book you're reading is number 8 in a series and only the last three are still in print, so good luck in finding the missing ones that will explain all those nasty gaps you just don't get may finally have come to an end. And maybe if an author doesn't sell book three of a trilogy to their old publisher, it will still see the light of day in an e-version. I have high hopes!
So are you a glommer? If so, who have you glommed? How do you do it? Search in stores personally? Hire / commission a glommer? or do you buy online?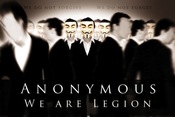 Until next time...

Get out there and READ a book...
Sara Reyes
DFW Tea Readers Group
Join us at Readers 'n 'ritas November 12-14, 2010! with Sherrilyn Kenyon and more guests

See you on the Twitter (@FreshFiction)
PS comment and you could win signed books in this weekend's blog contest. Two WINNERS!!!
Comments
30 comments posted.
Oh I totally understand what you're saying...I'm completely obsessed with Lisa Jackson's books and I've been glomming ?? her books for as long as I can remember...some of them I've had to track down at my local used bookstore since the normal retail chain didn't carry in stock nor could I order it in. Another author that I've done that with is Jayne Castle, Tami Hoag, Lisa Gardner, Lora Leigh. Right now I'm actively collecting all the backlist works from Shiloh Walker, Cynthia Eden, Beth Kery and Terry Spear.

Happy Hunting
(Anna Hoque 11:11am April 3, 2010)
I remember first glomming in the good old bookstore- I would find one book by an author and when I would go check out, the clerk (at Waldens) told me "Did you know, this is part of a series" or in the case of Nora Roberts, "Did you know, this author also writes under this name..." I miss those days. Now I have my beloved DFW Tea group informs me and then I hunt the series down on the Internet. But I do miss those good old days.
(Sara Edmonds 11:30am April 3, 2010)
My first glomming was in the local library where I first discovered romance novels. I remember when I first read all the Jayne Ann Krentz books that they had and then discovering she also wrote as Amanda Quick (& others) and then finding all the Amanda Quick books. I also discovered authors & their backlists with bookstore junkies. With the library, email & internet I read through each author's backlist then found a new author. I started with Jayne Ann Krentz/Amanda Quick, Nora Roberts, Dorothy Garlock, Julie Garwood, Judith McNaught, Linda Howard and then Suz Brockmann.
(Summer Sharp 11:49am April 3, 2010)
Oh yes I glom and I totally understand! I do most of my on line now! I have done so for Constance O'Banyon, Elizabeth Hoyt, Shari Anton and Elaine Levine just to name a few!
(Gail Hurt 12:33pm April 3, 2010)
Of course I glom. LOL. Susan Mallery, Robyn Carr, Catherine Anderson, Jill Shalvis, Patti Berg, Lori Foster, Rachel Gibson to name just a few. I have a long list.

And to think I almost missed this giveaway. LOL.
(Pat Lieberman 2:09pm April 3, 2010)
I have glommed. I did it most recently with Carla Cassidy, Lora Leigh, Sharon Sala and Beverly Barton.
(Jane Cheung 2:41pm April 3, 2010)
I am a glommer. At one pint I
had all the J.D. Robb books,
but since had to free up some
shelf-space. Previous gloms
include Madeleine L'Engle,
Andre Norton, Marion Zimmer
Bradley, Anne McCaffrey,
Phillis A. Whitney, Mary
Stewart, Ursula K. LeGuin,
Charles DeLint. Currents
include Shelly Laurenston and
a few new Urban Fantasy
authors who have only written
a few books as yet.
I mostly glomm online,
although John K. King Books is
only 30 minutes from here, and
a MARVELOUS multi-floored
warehouse filled with used
books!!!!
(Diana Troldahl 2:41pm April 3, 2010)
I didn't realize there was a name for it.. lol
My first was Anne McCaffrey.. all of her series;then Mercedes Lackey. Wonderful reading. I hunt by internet. Easier to do with the internet yes, but getting very hard to do with a budget. I figure it will take years with some authors :(
(Jo Ann Jansing 2:53pm April 3, 2010)
Me, too! I carry a list of authors in my purse. Unless I am looking for a specific book 9i.e., part of a series), then I just look for the author.
(Karin Tillotson 3:13pm April 3, 2010)
Yes, I'm a glommer. On The Steamy Side by Loisa Edwards is my most recent find. It just came out and I reserved to be first in line, before the liabrary got it. I'll go after the titles found in links as recommended reading when the subject suits my fancy.
(Alyson Widen 3:18pm April 3, 2010)
Yes I'm a glommer. My first Julie Garwood book I picked up at a used bookstore and was completely hooked; so I was the owner if she could find me more of Julie's books. She got me a few but then I had to order all the ones I was missing from a bookstore and wait for them to be delivered.
(Diane Sadler 3:30pm April 3, 2010)
I think that I can honestly say that I am a "Readaholic". Anything that is there, I read.
Blessings,
marjorie
(Marjorie Carmony 3:55pm April 3, 2010)
I a glommer! Beverly Barton, Robyn Carr, Janet Evanovich, Catherine Coulter and Stephanie Bond. Have all their books....When I find a new author, I find all their books in a series and read the first thru last. I get hooked if I like their type of writing! I'm hopeless! LOL
(JoAnn White 4:39pm April 3, 2010)
I've been glomming all my life. I started with Georgette Heyer (her Regencies AND her mysteries), August Derleth, Anne McCaffrey (EVERYTHING!), Madeline L'Engle, Ursula Ge Guin, Phyllis Whitney, Mary Stewart, Jane Aiken Hodge AND her sister Joan Aiken (England and Cape Cod for her settings), etc., etc., etc. I'm still a glommer. I expect to be a glommer until the day I die. Then god help whomever cleans out my house!! I hope they like to read!!!

Later,

Lynn
(Lynn Rettig 4:53pm April 3, 2010)
If I find an author I absolutely MUST read I indeed do GLOM. It's a compulsion I cannot ignore.
(Mary Preston 7:02pm April 3, 2010)
When I find a new to me author that I really like I will try to buy all her books.New if possible, if not I will buy at the usb!
(Martha Lawson 7:12pm April 3, 2010)
I glom, but my daughter is the untimate glommer. She spends a fortune buying every single book by authors she likes. I am more conservative, but I do love reading an entire series by the same author. Luckily my daughter and I share books. My husband is into reading about wars and the military and he and a friend exchange those books. Sharing does help some with the expense. I am definitely not into ebooks. I like a book in my hand.
(Gladys Paradowski 8:02pm April 3, 2010)
Yes I definitely glom. If I find an author I like, I check the list of his or her other books listed in the book. Then I check a discounted book store I go to or ask my mom to look for me or check my library.

I love these bundle giveaways.
(Karen Triolo 8:10pm April 3, 2010)
Yes, I do understand and I do glom. The ones that I recall off hand would be Laura Kinsale, Ann Bishop, Kim Harrison...was always excited to go to used bookstores to find the out of print installment of a series or general earlier works of an author I was excited about.
(G. Bisbjerg 8:46pm April 3, 2010)
Oh, I'm definitely a glommer.
I remember when I read the
first book in the "In Death"
series. I spent the next month
running down every book in the
series, then the next year
reading them in 4 to 6 book
bunches. I frequently find a
book by an unknown author(to
me) fall in love and set about
collecting everything in that
particular series. I don't
glom necessarily get
everything they write as this
has left me disappointed in
the past but if it's a series
you better believe I'm going
hunting. This is the biggest
reason I use PaperBackSwap and
BookMooch. They frequently
will have out of print books.
(Lisa Richards 9:05pm April 3, 2010)
I have only glommed one author: Sandra Hyatt. Luckily for me in that it wasn't a long search(and yet not luckily for me because I'm not getting any more books in the meantime), she is a new author. I have read her only two books so far, but I am watching for her third to hit the market this year. Can hardly wait....

As for how I glom, I check out recent author blogs and author web sites. Most authors are online these days (although a few aren't)!

I have never bought a book online YET, but I will be this year, as I've been given some gift cards.
(Elaine Seymour 9:10pm April 3, 2010)
I do that and find out I don't and I will not know where the first ones are
(Patricia Kasner 10:58pm April 3, 2010)
This is the first time I've heard the word "glommer". It's a perfect description for me. I have all the Agatha Christie, Ellis Peters, Janet Evanovich (Stephanie Plum and in betweens), The Kellerman's, Jonathan and Faye. I wait at the bookstore for Sue Grafton's novels on their first day. All of those, I have the first printing.
(Sandra Dickey 5:55am April 4, 2010)
I am definitely a glommer. The few authors I have glommed are Joyce Carol Oates, Dean Koontz, Stephen King and Jodi Picoult.
(Joanne Reynolds 7:24am April 4, 2010)
I'm a glommer too. Whenever I found that I particularly liked a book by an author, I've tried to get all the books by her/him. Some are the first 3 and last 3 that you mention; Jayne Ann Krentz, Elswyth Thane, Mary O'Hara, Elizabeth Lowell, Lisa Gardner, Thomas B. Costain, Elizabeth Peters, and uncounted others, as well as their pseudonyms. I'm sort of an all-or-nothing girl.
(Sigrun Schulz 9:59am April 4, 2010)
I started reading J.D. Robb several years ago, then my Husband got hooked on them. I went to a used book store & bought every copy of her books. We still enjoy all of her books plus several others. I enjoy series but it's hard to wait for the next book. I keep the series books & reread them. I have two walls full of book plus a closet. My Husband say we need to get rid of some of them but it's to decide which ones. I do give them to the local library.
(Pat Wilson 12:17pm April 4, 2010)
Yes, I'm a bookaholic and a glommer too. Altho I didn't know there was a name for collecting all the books written by any particular author. I'm that way about Mary Jo Putney, Jo Beverley, Stephanie Laurens, Suzanne Enoch, and many, many more. My TBR shelves number 900+ books just waiting to be read. Now, I don't usually start reading a series UNTIL I have them all in my possession. I'm working on Jo Beverley's Company of Rogues (11 books) right now. I have 3 down, 8 more plus a 3-story anthology tie-in to go. Most of the books I have, I've had for quite awhile and got most of them at UBS, Half.com and eBay. Most of what I have are original issue.

As soon as I'm done reading a book, I put it up for sale at half.com or trade at Paperback Swap. And, I'm sorry to say, but I haven't been to my 2 favorite UBS for a long, long time.
(Karen Haas 12:36pm April 4, 2010)
I totally understand what you are saying. At one time I had glommed so many authors that I had over 6000 books in my personal library. I did have to reduce the size of that so to free up space I decided if I had not read one of the authors in over a year I would give those books to the nearest Nursing Home. Now I am finding myself looking for those very books. LOL. Guess that some of us just can't help it when we find an author that intrigues us or captures our heart.
(Cindy Olp 11:57pm April 4, 2010)
I guess I am sort of a glommer. Early
on, before I realized what I was doing
it was Mary Stewart, Daphne Du
Maurie, and Kenneth Roberts. I had
read one or two of their books and
kept my eyes open for any others. We
were military and moved a lot, so I
kept myself in check. However, since
we retired my collection has exploded.
Julie Garwood was the first author I
went out searching for all her books.
Janet Chapman was the second. Zane
Grey Louis L'amour, and Tony
Hillerman are recent collections. With
most other authors, it is more a case
of getting all the books in a series. I
am as likely to look for groups of
books on a topic. I like old books and
collect them.
I think the search for books is a big
part of the fun. I have more books
than I will ever be able to read and still
get more. A true Bookaholic - a sign
my daughter gave to me for Christmas
several years ago. And no, my family
doesn't understand, they tolerate.
(Patricia Barraclough 7:18pm April 5, 2010)
Yes, I too am a unrepentant glommer. It started innocently enough with Jayne Ann Krentz/Amanda Quick, progressed to Nora Roberts/JD Robb...then came the summer of Evanovich & Laurell K Hamilton. I now knew I had a problem..I needed more bookshelves! Back in February Kindle for PC came out, and now there are authors I glom, strictly there: Lorelei James & Tymber Dalton come to mind. But I truly think that being a glommer just means that you are a fan of said author. Now I know I only named a few but most every author whose an auto-buy for me, was at one time someone I glommed.
(Sandi Logsted 10:57am April 11, 2010)
Registered users may leave comments.
Log in or register now!