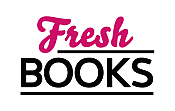 Perfect Books to welcome spring...March Reads
About Fresh Fiction
FreshFiction is a web site designed to provide easy, accessible, and informative data to popular fiction readers on current authors and their available books. We specialize in genre fiction: romance, mystery, suspense, thrillers, horror, science fiction, fantasy, contemporary, graphic and action novels. FreshFiction.com consists of author pages, book pages, reviews, columns, blog, book reviews, news, and contests.
We have an active online database of authors and books growing daily with input from our researchers, reviewers and columnists. All books in our database include basic information: ISBN, publisher, publication date, genre. Additional information includes the cover image, price, tagline, summary, primary characters, setting location, period, excerpt and note from author or publisher. The information is displayed on a book page incorporating provided information, purchase links and author backlist.
Our author information includes basic information: publicity photo, biography and available back list. The author page displays the information with links to each book in their list and optionally to the author's website.
If you join us as a registered member of Fresh Fiction, you can be notified via email when authors publish a book no matter who the publisher. You can also join our community and leave your thoughts on book and review pages. You're also able to create your own shopping lists. Contests are easy to enter with a single click. There is NO COST to join FreshFiction.com, simply register and log in when you visit us.
Our Team
Our columnists provide information on current and upcoming releases. Candace Havens is the managing editor for FYI Television, and a nationally syndicated entertainment columnist, who has interviewed just about every celebrity there is in Hollywood and written thousands of articles. She's also the entertainment critic providing the latest on TV, film and celebs for the radio station 96.3 KSCS. Other columnists include Jennifer Vido, Shanna Swendson and Rosemary Clement-Moore.
The Fresh Fiction Blog is a team effort by Fresh Fiction team members and readers. Each day we host guest authors, reviewers and readers. The blog reflects ideas and opinions of active popular fiction authors and readers and invites interactivity by other readers.
Our staff of reviewers under the direction of editors (Pat Richardson, Loa Ledbetter, and Marie Munoz) provide professional, copy edited reviews of current books. We're actively reviewing upcoming books in all popular fiction genres as well as books generally featured on the top media outlets. Most of our books are received from publishers and authors to be reviewed. We are not paid by authors or publishers to provide reviews, positive or otherwise.
Our Publications
The Fresh Fiction newsletter is published each week to over 170,000 subscribers. Each edition is themed and includes spotlights on authors, books, reviews, contests and our columns. We also publish a daily newsletter Fresh Press covering the previous day's appearances of books and authors on national media programs, including NPR radio programs, the morning news shows, daytime programming, late night talk shows and weekend programming. Plus our daily Fresh Pick newsletter highlights a reader selected book and author. Other monthly newsletters include Fresh Thrills covering mystery, suspense and thriller titles and Fresh Passion for the spicy side of fiction.
Another popular section is our monthly contests -- inviting readers to enter to have an opportunity to win prizes while learning about new-to-them authors and books.
Our Conference
Each year we sponsor Readers 'n 'ritas, a festival for readers and authors. Held the second weekend of November in North Texas, we spend quality time talking and breathing books!
Advertising
Advertising opportunities are available in the Fresh Fiction newsletters: Fresh Press (daily), Fresh Pick (daily), Fresh Fiction News (weekly), Fresh Passion (monthly), Fresh Thrills (monthly); on FreshFiction.com, Featured Books -- five per month are showcased on most pages running in a side bar, articles in newsletters, banners, contest and specialized promotion (author website links, notes on book and author pages, side bar advertisement). Our rates are listed on our Media page.