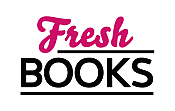 Read some great books in April...you'll be blooming!
Privacy Statement
Personal Information
Your personal information will never be sold or given to any third party. Any information submitted by you to FreshFiction.com will be used solely to allow us to contact you via email on genre specific authors. If you enter a specific author contest, we may share your email address with that author only. By entering any contest at FreshFiction.com you are granting permission to be added to our general Fresh Fiction News mailing list. You may unsubscribe at any time and you will not be added to our list again.
How can you stop receiving email from us?
Each email sent contains an easy, automated way for you to cease receiving email from us, or to change your information. If you wish to do this, simply follow the instructions at the end of any email.
Why do I get newsletters from you?
There are only three ways to be subbed to our mailing lists:
signing up for a contest
subscribing to a newsletter at Fresh Fiction Newsletters
sending a request to us to subscribe you to a mailing list
You can always change your subscriptions or unsubscribe completely by visiting subscription center or sending a note to Info at Freshfiction dot com.
---
Fresh Fiction Contests Official Rules
To provide fair and equal chance of winning any Fresh Fiction-sponsored contest on our site or in our daily emails, we provide these official rules. Please review these rules before entering any Fresh Fiction contest. Where there is a discrepancy between the official rules below and any contest details provided with a specific contest, the specific contest rules apply. If you have questions, write to contests@freshfiction.com for assistance. NO PURCHASE NECESSARY TO PARTICIPATE OR WIN. PURCHASE WILL NOT IMPROVE YOUR CHANCES OF WINNING. All winners must be 18 years of age or older, unless otherwise stated and/or posted.
GENERAL RULES:
How to participate in a contest: Winners of contests will be chosen at random from the entries received via the contest page at Fresh Fiction. Only one entry per email address used to send the email will be considered for contest entry, unless multiple entries are specifically allowed in the contest description. Unless otherwise specified in an individual contest description, no person may enter any contest more than once using multiple email addresses. Fresh Fiction is not responsible for and will not consider as potential contest winners any incomplete or incorrect entries. Forms sent but not received by Fresh Fiction (for any reason) are also not eligible to win.
How we choose winners: Winners are chosen at random from all entries received by the contest closing date specified in the contest description. All closing dates and times are described in Eastern Standard Time (EST) unless otherwise noted in the contest description.
How we contact winners: Fresh Fiction will email any winners of contest or contests a "winner confirmation email" to the "sender" email address used to enter the contest, and the person receiving and replying to the winner notification email will be considered the winner unless that person specifies another person as the winner. Fresh Fiction or designate will mail the contest prize to the address supplied by the recipient of the winner announcement email. The winner must claim the prize by email response to the winner notification email within 20 days of the date Fresh Fiction sent the winner notification email. Failure to respond shall mean that the winner forfeits the prize. Fresh Fiction is not required to award elsewhere any prizes forfeited by the chosen winner(s).
Each prizewinner must supply Fresh Fiction with his/her legal name and mailing address.
Winners may not request substitutions of prize winnings. All winners are solely responsible for any and all taxes and/or fees, and all such additional costs that may be incurred.
Neither Fresh Fiction, Fresh Fiction sponsors, nor employees of Fresh Fiction or individual sponsors may be held liable for any warranty, costs, damage, injury, or any other claims incurred as a result of usage of any winners of a prize once winner has taken possession of the product. Fresh Fiction is not liable for any loss arising out of or in connection with or resulting from any contest promoted by Fresh Fiction.
If the specified prize becomes unavailable due to unforeseen circumstances, Fresh Fiction may substitute a prize of like or equal value.
Management, employees and families of Fresh Fiction are prohibited from winning any prizes awarded by Fresh Fiction.
Fresh Fiction reserves the right to alter any rules of any contest at anytime. If you have any questions or complaints about a Fresh Fiction contest, please contact contests@freshfiction.com
SPECIAL RULES FOR CONTESTS INVOLVING THE SUBMISSION OF PHOTOS, TEXT OR OTHER MATERIAL:
Entries selected for display and to win "best of" contests and any other contest requiring photo, text or other content from the entrants will be judged entirely at the discretion of Fresh Fiction.
By submitting any photo or information to Fresh Fiction, you hereby grant to Fresh Fiction and its affiliates, subsidiaries, licensees and assigns, an irrevocable, perpetual and royalty-free right to use, reproduce, edit, display, transmit, prepare derivative works of, modify, publish and otherwise make use of the submitted photo or other information in any and all media, whether now known or hereinafter created, throughout the world and for any purpose. In addition to other things, the rights granted to Fresh Fiction include but are not limited to the right to resize, crop, censor, compress, edit, feature, caption, affix logos to, and to otherwise alter or make use of the submitted photo; By submitting any photo or information to Fresh Fiction, you hereby represent and warrant that the submitted photo or information does not and shall not infringe on any copyright, any rights of privacy or publicity of any person, or any other right of any third party, and you have the right to grant any and all rights and licenses granted to Fresh Fiction herein, including but not limited to all necessary rights under copyright, free and clear of any claims or encumbrances; You acknowledge and agree that Fresh Fiction shall have no obligation to post, display or otherwise make publicly available any photo or information submitted by you, and may, in its sole and unfettered discretion, remove, edit, modify or delete any photo or information that you submit to Fresh Fiction; You understand and intend that any photo or information submitted by you to Fresh Fiction may be available for viewing, rating, review and comment on by the public, and understand that comments or ratings with which you disagree or are unhappy about may be published or otherwise become associated with any photo or information you submit to Fresh Fiction. By submitting any photo or information to Fresh Fiction, you hereby waive any privacy expectations that you may have with respect to any such photo or information submitted by you to Fresh Fiction. You hereby agree to hold Fresh Fiction and its affiliates, subsidiaries, licensees sponsors and assigns harmless from and against, and hereby waive any right to pursue, any claims of any nature arising in connection with the inclusion in, publication via or display on any Fresh Fiction site or in our email newsletters, or any other use authorized under these Terms, of any photo or information submitted to Fresh Fiction by you; Photos or information submitted by you to Fresh Fiction shall be the property of Fresh Fiction, and Fresh Fiction shall have no obligation to preserve, return or otherwise make available to you or others any photos or information so submitted.