Jillian Hunter | The Mistress Memoirs

February 20, 2013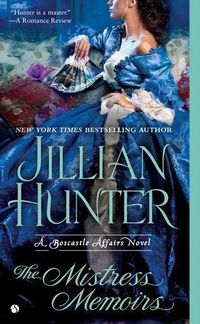 Boscastle Affairs

March 2013
On Sale: March 5, 2013
Featuring: Kate Walcott; Sir Colin Boscastle; Mrs. Georgette Lawson
352 pages
ISBN: 0451415329
EAN: 9780451415325
Kindle: B009D3G3EC
Paperback / e-Book
Add to Wish List

Also by Jillian Hunter:
The Countess Confessions, February 2014
The Mistress Memoirs, March 2013
The Duchess Diaries, February 2012
A Bride Unveiled, October 2011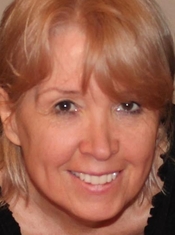 In THE MISTRESS MEMOIRS, one of the secondary characters, Mrs. Georgette Lawson, is writing a biography of her life as a courtesan. Her ghostwriter is her capable companion and governess to her children, Miss Kate Walcott. The two women have come to the conclusion that they need a steady income for the future. Their plans are interrupted by the return of the scoundrel who broke Georgette's heart, Sir Colin Boscastle. His own neglect aside, Colin is not pleased in the least to learn that his enemy has become Georgette's protector.
Interview With A Rogue
I found Sir Colin Boscastle alone in the paddock the day after he had arrived at the manor house for a reunion with his former lover. It must have been a shock for Colin to discover that his first love is sleeping with his enemy. He was not, by his own admission, in the best temper for this interview.
"So, Sir Colin, how does it feel to be home at last?"
"Home? This isn't my home. It belongs to another man. I won't stay a moment longer than necessary."
"Then Mrs. Lawson was not happy to see you? There seemed to be some fireworks celebration in the garden when you arrived last night. Did she arrange that in your honor? Were you surprised?"
"Surprised? Those weren't fireworks. They were a barrage of flaming arrows set off by a drunken mob. I had to shield Georgette's governess from attack before I could make it to the front door. One of the arrows caught me on the shoulder."
"That sounds like an awful way to spend an evening."
"It began well enough. At least for me. I kissed the governess in the garden before I realized I had mistaken her for Georgette."
"How could you make a mistake like that?"
"Wishful thinking, I suppose. They could pass for sisters in the dark."
"And have they forgiven you?"
"I'm not sure it matters whether they have or not. Mrs. Lawson and her household have been left unguarded by her so-called protector in a village where she is despised for her profession."
"Are you willing to assume the role of guardian?"
"I might." (grins) "If I can persuade the governess to surrender her power to me. She seems to be the only person anyone obeys in this house."
"Isn't that taking advantage?"
"I'll tell you who has taken advantage—it's those two women. Do you know that Miss Walcott is helping Georgette write her memoirs, and that the first chapter is devoted to me?"
"Well, that's an honor."
"Honor is not a word I would use in describing my past relationship with Georgette. We were young and driven by passion."
"How far did you drive, if you don't mind me asking?"
"Of course I mind. My past escapades are damned embarrassing. Assuming those memoirs are printed, the entire world will know. Worse, my brothers will have enough fodder to talk about me for life."
"You've been gone from England a long time, Sir Colin. How do you know that your brothers haven't caused a few scandals of their own?"
"Good point. (grins again) Have they?"
Intriguing no? Let us know what you think and you may win a copy of THE MISTRESS MEMOIRS
Comments
63 comments posted.
Re: Jillian Hunter | The Mistress Memoirs

Long separations that result in misunderstandings, acts of necessity for
survival, and heartfelt reunions are always good for a story. This interview
raises some questions. Why did he have to leave the country for such a long
time? How come he doesn't know what his brothers have been up to? How
come he was away looking for his enemy when that individual was obviously
around at home to step into our heroes place when he left?

It seems there is only one way to find the answer to these questions, read the
book. Sounds like it will be fun with a bit of danger thrown in.
(Patricia Barraclough 1:32am February 20)
I love a complicated story, this sounds like it has many twists and turns!
(Darci Paice-Bailey 1:40am February 20)
I wonder how this story will turn out. Is Colin really the hero or is he a villain.
(Kathleen Yohanna 2:43am February 20)
Sounds great!!
(Susan Dyer 8:17am February 20)
definately sounds interesting, that must have been some homecoming :)
(d Kenney 9:31am February 20)
I LOVE your books!!! Hope I win!!
(Bonnie Capuano 9:36am February 20)
It sounds like the only way to get the answer is to read the book. It sounds like another winner. Thanks for a chance to win. Best of luck with it!!!!
(Nancy Reynolds 9:42am February 20)
I absolutely love "character interviews". I always get a big kick out of them, and also a laugh.

Your new book sounds wonderful, and just the type of book that I love to read. I adore anything with mystery, intrigue, romance, and most of all, a "Happy Ever After".

Thank you for this chance to win "The Mistress Memoirs". The cover is gorgeous.
(Diane Diamond 9:55am February 20)
Sounds like another great book! Cant wait to read this one and find out what has been going on with this family
(Julie Parrish 10:16am February 20)
Love the excerpt. :) Sounds like a terrific book!
(May Pau 10:45am February 20)
Ooooh...this sounds fun! Thanks for the chance to win.
(Sue Galuska 10:52am February 20)
Thank you for the warm welcome! I think there are some surprises in store for you. The characters didn't exactly do what I thought they would. A rake, his first lover, and her companion made for a lively triangle!
(Jillian Hunter 11:23am February 20)
Sir Coline sounds very interesting---but I think the 2 ladies will be the winners in this one.
(Sue Farrell 11:58am February 20)
This book sounds terrific! I'd love to win!
(Mary Hay 12:07pm February 20)
Sounds very interesting... always enjoy character interviews... so much fun to see how they answer questions!
(Colleen Conklin 12:17pm February 20)
Thank you all for the good energy! It's always nice to have some encouragement before a book comes out. Sue, I think you're right. Kate and Georgette find exactly what they have always wanted!
(Jillian Hunter 12:53pm February 20)
Definitely sounds lively! May have to read it and find out what went on behind the scenes!
(Clare O'Beara 1:17pm February 20)
..looks...good
(Kent Cook 1:22pm February 20)
Sounds really good!
(Gail Hurt 1:41pm February 20)
Love the interview and the character - this is definitely on my list as a must!!
(Carla Carlson 1:46pm February 20)
I truly enjoy English Romances, and I believe that your book will not let me down. In fact, after reading the excerpt your provided, it seems that the style you used is slightly different from other Authors. Not only did it pull me in a little earlier, but it seemed to be just a bit slightly Americanized, and a bit of fun from the get-go, so I know that the rest of the book is going to be very enjoyable as well. The cover is breathtaking!! I love the pose of the woman, and her dress is stunning!!
(Peggy Roberson 2:17pm February 20)
Sounds like a good read
(Ava Curtis 2:51pm February 20)
VERY INTRIGUING INDEED LOVE THESE KINDS OF BOOKS THEY ARE
MARVELOUS. LOVE YOUR BOOKS THEY ARE THE BEST TO READ. LOVE TO
WIN THIS CONTEST. I NEVER WON ANYTHING IN MY LIFE AND I REALLY
WANT TO WIN THIS EXCELLENT CONTEST.
(Shelly Caggiano 4:00pm February 20)
Well, I hope the book will be a bit of fun from the get-go, and I agree with you and Diane that the cover is gorgeous.

I'm glad you enjoy the books, Bonnie. Good luck!

By the way, I have a contest running with several other authors on Facebook. Come and enter if you a moment.
(Jillian Hunter 4:02pm February 20)
Yes, your book "The Mistress Memoirs" sounds very intriguing
and a very interesting read for sure. I love the book cover
too. Love that blue and white dress. Great choice for a book
cover. Thanks for the fantastic contest and I Pray that I win
too. God Bless You with Success always. Thanks, Cecilia CECE
(Cecilia Dunbar Hernandez 5:04pm February 20)
This sounds like a wonderful book to read on these cold winter evenings while I'm all wrapped up trying to keep warm. Nothing better than a good book
(Shirley Younger 5:09pm February 20)
That's lovely, Cecilia! Thank you. Best of luck!
(Jillian Hunter 5:10pm February 20)
Sounds wonderful to me.
(Theresa Norris 5:18pm February 20)
I love stories that have separated lovers who reunite after some time. Its always
feisty and the passion is doubled. I would love to read, "The Mistress Memoirs".
(Xoun J. Phetchamphone 5:38pm February 20)
Thank you for the chance to win. I think it sounds very entertaining.
(Sally Hannoush 5:40pm February 20)
Sir Colin sounds like fun. And the cover is gorgeous!
(Marcelyn Shuler 5:40pm February 20)
Sounds like fun!!
Blessings,
Marjorie
(Marjorie Carmony 6:28pm February 20)
Loved the excerpt. Would love to get to read the whole story. Thanks for the chance to win it.
(Carol Woodruff 6:28pm February 20)
Love your books and would enjoy winning
(Shelly Itkin 6:37pm February 20)
Sounds interesting ,I also want to know what his brothers have been up to.
(Deb Pelletier 6:54pm February 20)
Sounds wonderful, I need to read more historical romance!
(Lisa Richardson 7:01pm February 20)
Sounds like a great book.
(Diana Thomas 7:02pm February 20)
Great cover on your book. Would like to read. Thanks for sharing.
(Belinda Payne 8:10pm February 20)
You are all such a nice group! Deb, you will get to catch up a little with Gabriel and Sebastien.

Shelly, thank you!

I forget to mention that besides the Facebook contests, I have a contest going on my website.
(Jillian Hunter 8:32pm February 20)
This sounds like another great read from Jillian Hunter. I cant wait to read it.
(Emily Bowes 8:49pm February 20)
I can't wait to find out more!
(Cheryl McEwen 8:56pm February 20)
Love historical romance! Enjoyed the excerpt and would love to win a copy of the book. Thanks for the giveaway.
(Bonnie Hometchko 9:22pm February 20)
Oooooooo!! This looks like a good book! I'll be checking this one out whether I
win, or not. Thanks for the chance to win!
(Charlotte Mercer 9:31pm February 20)
The very title "rogue" is intriguing. This excerpt is one of the most-enticing I have read in a long time. I am very anxious to learn the outcome.
(Gladys Paradowski 9:31pm February 20)
I'll have to check this book out win or not!
(Laura Gullickson 9:42pm February 20)
LOVE! I can't wait to read this new series!
(Chelsea Brooks 9:47pm February 20)
I would have liked to read a little more, that was pretty sketchy info... not enough that the excerpt would entice me "have" to buy the book, but maybe enough to make me look for another blurb on the inside or on the back of the book.
(Donna Holmberg 10:00pm February 20)
Can't wait for the new series!
(Alisa Jenkins 10:08pm February 20)
I admit it! I love a good scandal. Yippee!
(Jennifer Beyer 10:11pm February 20)
Sounds wonderful! And what a beautiful cover! You really lucked out - I've seen a few lately that are not flattering at all.
(Molly Wilsbacher 10:20pm February 20)
Sounds like a good read. I love rogues, can't wait to read the book.
(Rita Wray 10:40pm February 20)
Super cover--can hardly wait to read it.
(Debbie Rudder 10:49pm February 20)
Sounds great. Thanks for a chance to win.
(Amy Milne 10:58pm February 20)
The new book sounds interesting!
(Linda Gibson 11:20pm February 20)
I think I want to read more. Just fabulous.
(Mary Preston 12:39pm February 21)
I love a good (bad) rogue, too. If anyone wants to read the first chapter, it is posted on my website. Everyone is so nice here I wish I could do more giveaways!
(Jillian Hunter 2:20pm February 21)
Looking forward to another great book
(Linda Daley 6:05pm February 21)
sounds good; I love historical romances!!
(Barbara Studer 9:29pm February 21)
Hi Jillian!

I always love your stories because I have an all male
household (one husband and two sons) and your "heros" are
always as clueless as my gaggle of men! I already have a
feeling that somehow you'll mange to have Colin realize that
what he thought he wanted isn't true at all and Mrs. Lawson
will soon not seem that important after all while her
governess he won't be able to forget!

I'm not only intrigued - I'm dying to find out what type of
mischief is going to happen next!
(Jeanne Miro 9:47pm February 21)
Would love to read the book, sounds exciting and MUST find all the answers!
(Diana Kaye 1:10am February 22)
Jeanne, it must be fun to have an all male household! My husband is outnumbered here, but I'm crazy about my nephews, and they were my daughters best friends growing up.

Diana, yes, please, read the book to find all the answers! lol
(Jillian Hunter 3:54pm February 22)
Yes so many unanswered questions. I do want to know what Colin was doing for 12 years and who his enemy is and why he is an enemy.

I'd love to read The Mistress Diaries. Kate sounds like she has a lot of spunk. I do want to know how she ended up as a courtesan's maid and a ghost writer too!!

Lot's of mystery and intrigue! I want to read it now!
(Laurie Gommermann 5:55am February 23)
I love Jillian Hunter stories with their strong heroines and manly heros, but to me this particular plot doesn't appeal as much as if the hero were to get back together with his former mistress, or if he were contacting the mistress on behalf of a friend or relative and then met the companion. I feel the same about romances where one person ends up in a relationship with a former sibling's spouse or ex-spouse.
(Dana Wong 6:51pm February 27)
Registered users may leave comments.
Log in or register now!