Christy Fitfield | Confessions of a travel junkie!

February 17, 2013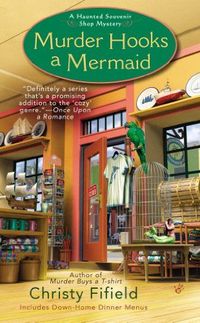 Haunted Souvenir #2

January 2013
On Sale: December 31, 2012
Featuring: Glory Martine
304 pages
ISBN: 0425251845
EAN: 9780425251843
Kindle: B0095ZP2NG
Paperback / e-Book
$7.99
Add to Wish List

Also by Christy Fifield:
Murder Hooks a Mermaid, January 2013
Murder Buys A T-Shirt, March 2012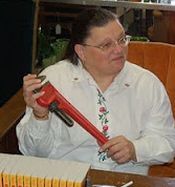 Hi, I'm Chris, and I'm a travel junkie. 
I love to travel, any time, any place.  I subscribe to "hot deal" feeds from airlines and travel aggregators, and I read the Saturday Travel section the way some people read pornography, savoring every detail.  I can spend hours poring over the websites of hotels and casinos, tour operators and cruise lines, tacky roadside attractions and staid museums.  In my mind I have planned excursions to every state in the Union, and every continent on the globe.
I've dreamed of space flight, or going where so few have gone.  Until I actually walked through the Space Shuttle at Kennedy Space Center and realized that claustrophobia and space flight would never mix.  At least not until we get that lovely cruise liner from the opening of 2001: A Space Odyssey.
I've had other travel dreams, some of which I've been able to realize-like that trip to Kennedy Space Center-and some I haven't.  There have been almost-trips that got canceled by circumstances beyond my control, and pie-in-the-sky trips that never got beyond the "maybe someday" stage.  Right now my husband and I are planning a long road trip for the end of summer.  I'm confident it will happen, but there's still several months to go.  A lot can happen in that time.
I think those travel dreams are part of why I write the things I do.  It allows me to go to the places I wish I could go, or revisit places I've been.  It gives me the opportunity to read travel articles and look at websites and read blogs, all in the name of research.  I have had the good fortune to be able to write about places where I will probably never travel, like Moscow, and places where I visit regularly, like Reno (which was the halfway point on trips to see my granddaughter).  Writing the two Alias books was one of the most fun things I ever did, because I got to spend time looking at exotic destinations-and dreaming about driving to Prudhoe Bay.
My current mystery series is set in the Florida panhandle.  I fell in love with the Gulf Coast when I visited the first time, more than twenty-five years ago.  The sand was so fine and white that it looked like snow to an Oregon native like me.
The Florida panhandle is on my short list of near-future destinations, along with Mount Rushmore, and a return trip to Washington DC.  The "someday" list?  Well, pretty much everywhere else, with France close to the top.
Where would you like to go?
One commenter will win a set of signed books: the first two in the Haunted Souvenir series
Comments
53 comments posted.
Re: Christy Fitfield | Confessions of a travel junkie!

I am fortunate to have traveled quite a lot in my 84 years but regret to have missed the Scandinavian countries.
I hope that you have Alaska on your list.
Blessings,
Marjorie
(Marjorie Carmony 1:44pm February 17)
I look forward to going to Europe and Hawaii. After the kids are out of college and we have extra money again those are the two places that top my list!

Thanks for the chance to win.
(Sue Galuska 1:46pm February 17)
I want to go back to Nemacolin Woodlands in Pennsylvania near
Falling Water and tour the caves, have a massage and go wading
in the pool that has a swim up bar. It's funny that you don't
have to leave the water to get a cool drink.
(Alyson Widen 2:10pm February 17)
Ireland is at the top of my want to go list...I've been almost
to all 50 states and even Canada...but my heart just screams
"Take me to Ireland"...LOL
I love the post.
(Bj Gaskill 2:50pm February 17)
There are so many places I want to see. I have the same passion about traveling. I know I
probably won't get to go see them all but at least I can go to some. Some places include,
The Angkor Temple in Cambodia, The Himalayan Mountains, Petra in Ma'an Governorate, Jordan &
many many other wonderful places.
(Xoun J. Phetchamphone 3:48pm February 17)
Top of my travel list is Egypt, besides the Moon, even with its current strife to stand at the foot of the pyramids or in the shadow of the sphinx would be magical. If you go to England and tour Stonehenge you can get a free special pass to walk among the stones during sunrise or sunset, you just write for the pass from the government. Safe travels!
(Janis Milford 3:50pm February 17)
LOVE YOUR BOOKS THEY ARE MARVELOUS AND I WOULD LOVE TO WIN. I
NEVER WON ANYTHING IN MY LIFE AND I WANT TO WIN THIS CONTEST.
PICK ME!!
(Shelly Caggiano 3:50pm February 17)
LOVE YOUR BOOKS THEY ARE MARVELOUS AND I WOULD LOVE TO WIN. I
NEVER WON ANYTHING IN MY LIFE AND I WANT TO WIN THIS CONTEST.
PICK ME PLEASE
(Shelly Caggiano 3:51pm February 17)
I really don't enjoy traveling, just a stay close to home person. If I had to pick someplace to go it would be the state of Washington to visit the oldest grandson.
(Sheila True 3:59pm February 17)
As a military brat, I spent my youth travelling all over the place; then, as an adult I discovered sweepstakes for trips, and in the past 8 years I've won three - two to Mexico and one that I used as my honeymoon trip (the big one). My honeymoon was a 22-day trip around the world. We left Delaware and went from San Francisco, CA to Beijing, China to Bangkok, Thailand to Rome, Italy to Normandy, France to Paris, France to Maastricht, Holland to Amsterdam, Holland and then home. It was a trip of a lifetime, and I loved every minute of it, but I still dream of an Alaskan cruise and a visit to Australia. I enter sweepstakes for trips about 40 times each month, so odds are I'll win another trip one day.. maybe this time it will be another dream trip.
(Donna Holmberg 4:10pm February 17)
There are so many places I'd enjoy visiting and seeing. At the top of my list would be Hawaii and New Zealand. Thanks for the opportunity for a chance to win your great books!
(Rich Cook 4:28pm February 17)
For health reasons I cannot fly but would love to take a long drive across country to California--I live in Pennsylvania so it would be wonderful stopping along the way
(Shirley Younger 4:57pm February 17)
Oh Christy, never stop dreaming and enjoy those side trips that are so like reading a book. With the right description and places to meet other people, you can drop right into a story to be written and envelope oneself. I'm sixty-nine and just applied for my first passport. I may be a bit slower, but the desire and stamina is still there.
(Rosemary Simm 5:10pm February 17)
I would like to visit Vianne, France and maybe Honduras to see the ruins there.
(Connie Schultz 5:21pm February 17)
I would love to vist Hawaii.
(Kiki Winn 5:26pm February 17)
The one place I've always wanted to go is London. I'm fascinated with the history, the theater, and the monarchy.
(Sandi Shilhanek 5:55pm February 17)
I loved to win as when i was younger i loved to go places, know with my health going bad reading about the places is the only way to enjoy travel through books, love to win....thanks
(Kimberly Hoefs 5:55pm February 17)
I do like to travel, so far have been taking cruises in the Caribbean. Would love to travel to Europe and Alaska.
(Nancy Bradford 6:23pm February 17)
I wish my job was to stay home and read everyday! But, as a single mom, I'm obliged to go to work and support us. Your books sound amazing and I would be honored to win them! Thanks for this opportunity!!! Best of luck on your new adventures!!
(Sandie White 7:16pm February 17)
I love to travel. The crowds now make me want to stay home and read your books about traveling. Just like I am there. Hope I WIN as really need more good mysteries with travel. I would love to win...Thanks for your great reads.
(Shirley Sego 7:18pm February 17)
What a question ~ where wouldn't I want to go? My #1 bucket list is Paris, followed by London....then Maui...and I think New Zealand would be such an adventure! YOu are so lucky to have traveled the world. Our fav place in Florida is Sanibel Island. We have been going there since the '70's and it still hasn't lost its charm or isolated island feel.
(Susan Coster 8:01pm February 17)
hawaii , thanks for the chance
(Debbi Shaw 9:00pm February 17)
In the last few years, I've become quite the travel junkie myself. I think my current top wish list destination would have to be the Polynesian Islands, but since I don't see myself going there anytime soon, I'll settle for wherever I can manage to book a ticket to next.
(Rosie Bindra 10:20pm February 17)
I would love to travel to Scotland,Ireland and England. Thanks
for the contest and looking forward to reading your books.
(Teresa Ward 10:30pm February 17)
Reading the synopses from these books reminded me of the books
I used to read called the Boxcar Children!
Wow, I would love to read these, blast from the past.
(Rachael Whitzman 10:33pm February 17)
Oh! I would also like to travel to Ireland :)
(Rachael Whitzman 10:33pm February 17)
I,too, love to travel. I tell everyone that "G" stands for Gladys and "G" stands for G0. If you wish to visit a fabulous place, visit Banff Springs. Alberta, Canada. The gardens and the scenery there is gorgeous.
(Gladys Paradowski 10:37pm February 17)
i want to go to germany and see where i was born. im a army brat.thanks for the chance.
(Jennifer Beck 10:38pm February 17)
Oops! That should have been "tbe gardens and scenery "ARE" gorgeous. My English Professor might see this. LOL
(Gladys Paradowski 10:42pm February 17)
I want to go to Sicily and the Aeolian Islands - that is my dream trip. I am always looking into the travel sites, the tourist sites, even those Rick Steves travel shows. I can almost smell and touch being there.
I want to visit family (distant) there, see where my great grandparents once lived, worked, and traveled.
Sometimes it is important to go to the past to find your future and I want to go there.
(Carla Carlson 11:30am February 18)
Having shared trips to Reno and Vegas. I want to visit Europe next. Maybe Scotland or Paris. I would love to see the Louvre.
(Rose Prescott 12:17pm February 18)
Fellow travelholic here! The very top of my list (and it's a long one) are the Galapagos Islands
(Kathleen Conner 12:28pm February 18)
Wonderful post. I enjoyed it so since travel is unforgettable.
I would love to travel to Italy.
(Sharon Berger 12:44pm February 18)
Because I live so close to a major lake, as well as other tourist areas. I haven't really thought about traveling to other places, although I do have a dear friend who lives in New Orleans, that I would love to see. Outside of that, I'm content to stay in my own backyard, where I have all 4 seasons, as well as the beach, the woods for my backyard, and my friends. I have quiet when I need it, and have plenty that I can get into with my Husband and 2 kittens. My adventure days are winding down. Now I can sit back and read about your adventures!!
(Peggy Roberson 1:43pm February 18)
I love cozy mysteries! your books sounds really great. Thanks for the post!
(Molly Wilsbacher 3:09pm February 18)
I'd like to go back to Washington D.C.
(Sandy Giden 3:44pm February 18)
I'd love to visit England, Scotland and Ireland.
(Mary Chin 3:51pm February 18)
Chris,
You'll have to visit Mt. Rushmore. I was there many years ago and it is fantastic. It's amazing the size of the Presidents and the amount of work that went into them. A sight you'll never forget! One of my favorite places I'd love to travel to would be Hawaii. I've seen many photos from others that have been there. The flowers alone are so breathtakingly beautiful (paradise indeed)! Would love reading your cozy mysteries which sound really wonderful!
(Linda Luinstra 4:36pm February 18)
I really would love to visit Ireland!
(Susan Dyer 5:39pm February 18)
There are so many wonderful places I would like to visit. I would love to revisit Hawaii for our wedding anniversary and I have always wanted to travel to Australia.
(Bonnie Hometchko 7:53pm February 18)
My top location would be Florance Italy. My reality would be somewhere back east (New York, Chicago). Right now I'm happy to make a road trip with good friends for a weekend.
(Sandie White 11:54pm February 18)
I have been lucky enough to visit Scotland, Paris, Switzerland, Turkey, London, Sherwood Forest, Arizona, Nevada, Chicago and Racine. And I live in Ireland! So I cannot complain of not having travelled. However I'd love to visit the ancient Egyptian sites, see Australia and the Mayan temples, the beautiful islands of Hawaii. I love seeing other ways of life and other natural environments.
(Clare O'Beara 7:52am February 19)
Hawaii... Love to visit the beach and the sunshine... especially now!
(May Pau 1:58pm February 19)
So many places I'd love to travel!
I think I want to visit Northern Scotland most.
All those sheep (I am a fiber artist) and men in kilts!
(Diana Troldahl 2:57pm February 19)
Wow. You guys and gals have given me even more ideas! Australia, New Zealand, Hawaii, Ireland! All places I would love to see. Didn't know about the passes for Stonehenge at sunrise-what a great idea! And Highclere Castle, where they film Downton Abbey *sigh*
Alaska cruise? Would love to try one!

Oh, my! I think I may have to give up my job and just travel. But I need the job to pay for the travel. What to do? What to do? :-)
(Christina York 3:01pm February 19)
Just come visit each one of us who posted, andy you'll have a cheap vacation all across the country. Make Delaware your first stop, and come visit me!
(Donna Holmberg 8:56pm February 19)
I've been lucky have been traveled by car, by boat, by plane
but there are still many places I haven't been to and the
list goes on and on. Wish I could win a big lottery and be
able to travel weekly but that's wishful thinking on my
part. But I'll keep buying those lottery tickets. Who know
maybe I'll hit the big one and be able to travel to places I
haven't been but sure want to go to.
(Shirley Kulesza 9:27pm February 19)
I want to travel to Alaska, Hawaii, Africa, Australia, and Europe.
(Kai Wong 9:51pm February 19)
England would love to visit all the famous sites!
(Jackie Morris 10:18pm February 19)
I would love to go to Alaska, it sounds like a beautiful place. I would also like to go to Hawaii. I grew up in Australia so I have been back there many times to visit family. I was born in Finland and we moved to Australia when I was a child so it would be nice to see the country I was born in.
(Rita Wray 11:48pm February 19)
If given the opportunity I would travel into outer space.
(Mary Preston 4:01am February 20)
I live in Minnesota--so right now I'd like to go anywhere warm!! Hawaii sounds wonderful.
(Sue Farrell 11:56am February 20)
I would like to visit New Zealand. The scenery in Lord Of The Rings was beautiful!
(Linda Gibson 11:28pm February 20)
Registered users may leave comments.
Log in or register now!