Shirley Sego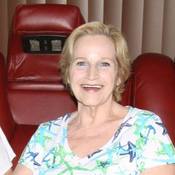 Features & Posts
No posts found.
65 comments posted.

Re: Pouncing on Murder (1:38pm December 18, 2015):

I would love a chance to win this book! This offers a great
read plus you learn about making Maple Syrup. Thanks for
the chance to win you fantastic read and wish you a Merry
Christmas. Keep writing so we will keep reading as you
make it addictive.

Re: Love, Dogs And Other Catastrophes (1:22am December 12, 2015):

Animals always seem to add to the story. I love it when
the owners talk to them like they answer. I do this
myself. I am a dog person, enjoy cats if they are
someone else's but enjoy petting the kitty kat. Thanks
for this giveaway.

Re: Smart, But Dead (9:48am September 30, 2015):

I love to read and if it is weird that is wonderful. I
enjoy it all. Must read this book as it fits me to a tee.

Re: A Geek Girl's Guide to Murder (4:02pm September 8, 2015):

I love to go and hang out at libraries.

Re: The Bones Will Speak (1:50pm August 14, 2015):

I enjoy thrillers with a touch of romance. What an
interesting life you have and so glad you still have time
to write forensic books that captivate the reader.

Re: Double Mint (3:51pm July 24, 2015):

Casinos sound fun but not for a Book Club Meeting. Too
noisey and to many distractions.

Re: Snow White Lies (9:26pm June 21, 2015):

Sounds like a delightful read with lots of Evil Twists to
keep you glued to each page. Very creative plus romantic.

Re: Collared For Murder (2:22pm June 17, 2015):

My little rescue dog will get his toys out of his basket
and toss them to catch or chase. He will play by himself
and enjoys it..but I will play with him. He doesn't like
the vacum sweeper and trys to attack it. When a storm is
coming for rain...he will qiver and I have to put his
thunder shirt on which helps but doesn't eliminate his
stress and he will hide under a blanket or desk. Have
had him 3 weeks and his is obedient and trained. Love
him dearly and is a loving addition to our senior family.

Re: Murder Freshly Baked (2:03pm June 14, 2015):

You have it all, Mystery, Romance, Danger and Murder with
twists & turns that keep you glued to the pages. Love the
recipes too.

Re: Past Crimes (2:19pm February 24, 2015):

You have my attention with the publication of Past
Crimes!! Looking forward to reading about each character
and your insight as you write in a manner that it compels
the reader to keep going and unable to put your book
down. Keep these fantastic reads coming please.

Re: Meow If It's Murder (6:43pm January 13, 2015):

I enjoy reading mysteries that include animals as it is so
much fun and exciting. This sounds like my kind of read.

Re: It's A Vampire Christmas (12:58pm December 15, 2014):

Love Vampire stories. Great to have a wonderful exciting
read in front of the Christmas Tree and relax with
Christmas music playing softly in the background while
you enjoy this awsome book. Wish you and yours the Best
of Holidays and thanks for this chance to win you
fantastic book.

Re: If the Shoe Kills (10:52pm November 18, 2014):

Spending Thanksgiving by myself and a recent widow reading
helps me to fill the void. Great read "If the Shoe Kills"
sounds like a delightful read to keep my mind occupied and
enjoy the twists of the plot. Keep these great reads
coming. Thanks.

Re: Stirring The Plot (8:52pm September 30, 2014):

All of the mysterious circumstances just weave the web to pull you into the story that you can not put this book down. Love magic with witches, spells and slight of hand to bring this to a boil of mystery. OOOoooooh what will happen next ...keep reading to find the answer. Just love Daryl Wood Gerber can twist the story so a reader is in to the thick of it. It is spellbinding for sure.

Re: A Shot of Red (6:56pm April 23, 2014):

I have never been abroad. This book sounds like a whirlwind
of excitement and looking forward to reading it.

Re: The Roses Underneath (10:55pm January 31, 2014):

Art is our history and should always be preserved. Congrats on your first novel: THE ROSES UNDERNEATH. I
love the book cover and book title too! Your book sounds fantastic. Thanks for the opportunity to win a copy!

Re: The Trigger (3:14pm January 1, 2014):

two plots have overlapping characters and come together in an unexpected twist. This keeps this interesting,,,oh yes very.

Re: Everlasting Enchantment (9:03pm December 6, 2013):

sorcery and seduction are a perfect combo for me and then she is also a shapeshifter. A panther no less. So sleek and beautiful. Want to win this book so I can jump into the read. Hope to WIN this book so badly. Thanks for the giveaway. Keep on with these unique reads. :}

Re: When Mountains Move (4:56pm September 12, 2013):

I HAVE to get your books to read. They sound great. Again, thanks for the chance to win.

Re: Honeymoon To Die For (2:19pm September 11, 2013):

A great cover will pull a reader straight to that book. Then I will glance thru a few pages to get how the book reads. Some will pull you in page by page. Like bread crumbs to perk your interest so to speak. Thanks for you wonderful giveaway. Looking forward to this read.

Re: Damek's Redemption (1:20pm September 9, 2013):

I enjoy both vampires and werewolves. I'm anxious to read your book. Thanks for your giveaway and love the cover!

Re: The Dervish (12:23pm September 8, 2013):

This sounds
like a fascinating book to read about Turkey culture. I
would love to win and read your book this Fall. Thank You for this giveaway.

Re: Magic Rises (3:16pm July 19, 2013):

I love this series, can't wait to read Magic Rises. Hope i win a copy! Thanks for the giveaway.

Re: Magic Rises (11:05am July 17, 2013):

I am fascinated about shapeshifters and
would love to win and read your new book this summer
Thanks for this great giveaway.

Re: Jungle Fire (3:26pm July 10, 2013):

Your book sounds so interesting that I really look forward to book. Enjoy all settings. Expect this book to really climb the charts for being a best seller. Congrats and continue with such enjoyable reads.

Re: The Seven-Day Target (4:45pm April 29, 2013):

Love to read romance with suspense as it gives a wonderful
twist to keep you reading.

Re: Murder Hooks a Mermaid (7:18pm February 17, 2013):

I love to travel. The crowds now make me want to stay home and read your books about traveling. Just like I am there. Hope I WIN as really need more good mysteries with travel. I would love to win...Thanks for your great reads.

Re: Finding Home (1:06am January 14, 2013):

I really enjoy mysteries, romance and
romantic comedies. Sounds like my kind of read. Hope I am
blessed with winning your book I Would love to read this book.

Re: A Little Bit Wicked (4:07pm December 29, 2012):

Hope to be more organized in 2013. Thanks for your awesome give way. Hope to be a winner as would like your book to read.

Re: Too Close For Comfort (9:03am December 5, 2012):

Never shot a gun. Your books are Great Reads. Hope I am fortunate to WIN this book as it sounds so exciting. Happy New Year and Merry Christmas to you and yours. : )

Re: Christmas Confidential (4:22pm November 28, 2012):

Nothing special here. I still cook as if all the kids are here and have loads of food for my hubby & me to eat...plus left overs. Guess you could say this is our tradition. Always had extra case anyone pops by I can offer them something to eat. Wish a Merry Christmas to all the readers..enjoy your books.

Re: Against His Will (10:46am October 8, 2012):

This is a must read book.

Re: Diary of a Vampire Stripper (10:00am September 26, 2012):

Love Vampire stories and this sounds very interesting with fun. First I have heard of a Vampire Stripper so this has to be a fun read. Can hardly wait to get this. :)

Re: Boyfriend From Hell (10:53pm September 24, 2012):

You book has sparked my interest. Has lots of ideas rolled into a series of WOW ideas to keep the reader wanting more. Appreciate your offering this contest to win a superb book and hope to be lucky to win a copy. Thanks : )

Re: Death on a Longship (11:50pm September 2, 2012):

This sounds like a wonderful suspense book with lots of interesting twists to keep you sharp. I am afraid of boats but you cat sounds like one of a kind. Myself am a dog person but appreciate others who have fantastic cats. I enjoy swimming...just not boats. Joy to you for such talent. Hope to be lucky to win this sea worthy read. Love to read. Thanks : )

Re: Fool For Love (12:30pm August 29, 2012):

The cover is a keeper, very beautiful. Yummy cupcakes plus a gorgeous man makes me drool. LOL

Re: In the Line of Duty (2:26pm August 26, 2012):

Super book with great characters. Love the Cop is a woman which gives a wonderful twist. Hope to be selected to receive this fantastic new read. Thanks for giveaway. Smile : }

Re: Not the Marrying Kind (1:33pm August 25, 2012):

Would love to win this book as it sounds like a terrific read. The divorce party planner is very interesting tie in. Keep the reads coming. Good writing. Hugs : )

Re: Dark Crossings (11:05pm July 11, 2012):

Your book sounds very interesting. You have a mix which makes for a enjoyable read plus a mystery. Looking forward to reading your book and hope to win a copy. Thank you and keep writing with such charming style.

Re: Sins Of The Angels (1:53pm June 24, 2012):

Hope to win these great reads as they sound fantastic!!

Re: Missing (3:06pm March 7, 2012):

The second book in this series is titled "The Search". This sounds like a very interesting series to follow. Looking forward to when you have it all come together.

Re: Hunter Of Shadows (10:46am December 2, 2011):

Love to read books that you can't put down. I call these "Whoa Reads". You have that special way to bring the reader into the story. Your pull the reader into a story that teases,excites and makes us follow each twist to keep going til the end. Oh so sad, the end. We are addicted and want more. Thank you for all of your creative reads and looking forward to each and every one to follow.

I love paranormals because of you.

Re: Waking Up Dead (12:56pm November 26, 2011):

Wow! This has intrigue for the reader. I love all of the premise for the Great Read and can hardly wait to get a copy.

This is a Way over the Top Winner offering good charactors to keep you hanging on to keep going...such excitement and fun.

Hope I get lucky here. Thanks for all you wonderful books.

Re: North of Need (12:17pm November 6, 2011):

Your Books sounds like my kind of read. The cover is Great and hope To get your book. Thank you

Re: Stay (11:14am September 17, 2011):

Sounds like a book I must read, so hope to win one. If I fail shall buy one. This is a Book which will be a fun read. Keep these wonderful stories coming as they are my kind of addiction. LOL

Re: Linnette, The Lioness (12:21pm July 21, 2011):

So many wonderful reads , it is so hard to
select....hum....must ponder....klunk...cant decide and it
hurts to ponder or think.....close my eyes and just
pick...wheeee. smile : )

Re: More Make It Fast, Cook It Slow (9:05pm February 23, 2011):

Looking forward to you slow cooking book. I dont like cooking and this sounds perfect for myself and hubby.

Re: Kiss At Your Own Risk (12:52pm January 12, 2011):

Keep your books coming. They are such Great Reads. Thank you and Hugs.

Re: The Snow Globe (9:26am November 3, 2010):

I love snow globes. They reflect "Happy Childhood Memories". The Snow sparkles like diamonds, making snow angles & snowmen plus making up snow games. Indoors or out the snow sparkles and looks like a fantasy land where you can make it into whatever your dreams maybe.

Re: Grave Witch (10:12am October 18, 2010):

WOOT WOOT This ia a must read for me. Love the cover and the intro. I find the romance and the spirit world very electric ...You have me intrigued. Keep the spirits rolling..LOL Give us more of your sizzling reads. Thanks

Re: The Bride's Necklace (3:26pm September 27, 2010):

The cover does it for me. One glance & if it catches my eye then I will pick the book up and check out the story line.

Must say I prefer the any of your covers EXCEPT the clutch.

These beautiful necklaces takes you away with the exciting story that is connected to the beauties.

Keep writing and I will keep reading. You are awsome and talented. Appreciate your sharing these delightful ing reads with all of us.

Re: The Bride's Necklace (1:03pm September 19, 2010):

I Enjoy jewelry and with a story this even better. Love the covers with The Necklace! Also very much taken with "The Bride's Necklace." The cover drew me to the book. The first page made me have to buy the book to continue the read.

Your writing style I enjoy and always keep an eye out for your upcoming books.

Thanks for such wonderful reads and keep them coming.

Re: Demonkeepers (4:46pm April 14, 2010):

I want your book Please. I have not read your books but they ALL sound so cool. Take me to the dark side with your adventures and excitment....They all sound so sexy with action and who knows what evil lurks around the next corner ...hummm??

Re: On The Steamy Side (5:01pm March 23, 2010):

I love all your books. Great read and offer a dash of this and that. Whip it together and simmer into a Fantastic Read. Thank you and keep them coming.

Re: Promise Me Tonight (5:16pm February 12, 2010):

This wins my Heart. I go for the Bad Boy. Love to tame the Wildness but still keep love live! Also Sam Elliott is the Love of my Life...in my dreams.

Keep the Fantastic Reads coming. Great Story....Be still my beating heart...Woot Woot.

Re: Dark Legacy (11:59am November 18, 2009):

The paranormal has always intrigued me. Read lots and enjoy all types of book. Yours has me drawn into the web of intrigue to which I find it to be a "Must Read"!! Great Job and love the info reviews through "Fresh Fiction" sure helps me to find the Best Reads such as "Dark Legacy"~ Thanks.

Re: Demon Ex Machina (3:00pm October 5, 2009):

My Fav is the Soccor Mom who hunts Demons Series.....GREAT READS ...Keep up the Wow Job.

Re: Beloved Vampire (6:49pm August 17, 2009):

You are the Best Vampire writer as far as I am concerned. You make your Vampires MORE by being complex, unique and just so sexy. Gotta Love your books. Thanks for filling our thirst for Vampires.

Re: Breaking Loose (12:15pm August 14, 2009):

You have got it all. Romance, in all forms imagined. WOW...it sure cant get any better than that. You Rock.
Thanks for being there for us with less imaginations...you are greatly needed.

Re: The Cowboy From Christmas Past (1:24am August 12, 2009):

I am recovering from eye surgery and would be devestated if it were not success and was blind.Your book helps to face getting older...keep a up note and looking ahead.

Re: The Diva Takes The Cake (8:26pm July 23, 2009):

Stop the Wedding there has been
an unexpected event develope.

I love your read is refreshing, hints of unfortunate things to watch for , then wham...total
crunch pushes you to read, read on ...to get to the..mystery of who did what to who...and will we catch whoever it is before the Wedding Ceremoney???

How exciting.

Hope to win a copy of this new book of your. The covers are "snappy" ..stand out from most.

Re: Swimsuit (11:46am July 18, 2009):

the Women\'s Murder Club this past year, but it didn\'t take me long to collect all the books. It\'s one of my favorite mystery series.
I wish they would bring it back to TV as enjoyed it when it was on. I Appreciate & envy the show of friendships among the Women's Murder Mystery Club Group.

Re: Earth Guys Are Easy (11:21pm July 15, 2009):

Anyone with a weight loss ~ Congrats...I am on a life long diet ....and ping pong back and forth...so big hand for your success with weight loss.

I love acorn squash..favorite is to bake it in the oven with butter and sprinkle of brown sugar wrapped in foil...
Yummy....small wedges can be fixed this way and cooked on outdoor grill.

Great way to perhaps WIN a Book of yours ....Sounds like a wonderful read....

Have a Great Day.

Music..Anything Frank Sinatra and I like doo wop or oldies from 42-59 ...All are good.

Re: By Hook Or By Crook (1:14pm July 13, 2009):

The titles of your books are so compelling that you need to read your book just to find out what happened, who and why.

Keep writing my friend.
Shirley

Re: Seducing an Angel (9:11am June 27, 2009):

Thanks for your wonderful books!
They make reading enjoyable. You Interest and Romance together into refreshing stories to be enjoyed so very much. Life is Good. Thank You